Chicago has been an innovative force on the dance scene for more than 100 years. The city rocked the dance world in the 1920s when it debuted an eclectic mix of classical ballet and modern moves. Chicago is also where African American, West Indian, and other global dance traditions were propelled into the mainstream. Even famous dance moves, like the Cha-Cha Slide, Footwork, the Polka Hop, and house dance, were all born here.
We could go on with the history lesson, but it's much more fun to see Chicago dance for yourself. Waltz over to our historic theatres, public parks, museums, and universities to experience everything from classical ballet and tap to percussive and contemporary dance, performed by celebrated local, national, and international companies.
Here are a few of the many Chicago dance companies, venues, and events to check out.
Chicago dance companies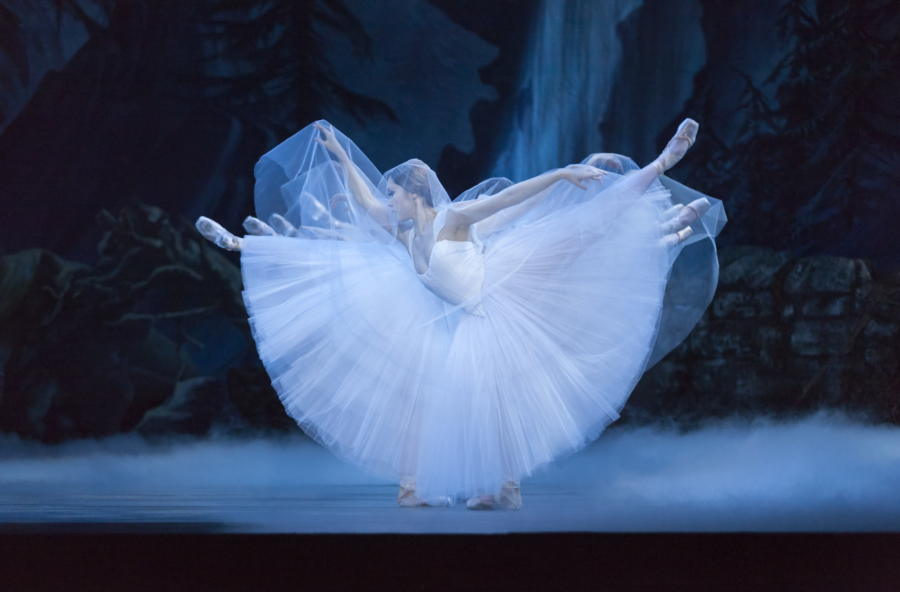 Chicago Repertory Ballet
If you think you know ballet, think again. Chicago Repertory Ballet continues Chicago's groundbreaking ballet tradition by challenging audiences' preconceived notions of the genre. Classical and contemporary dance come together in extraordinary performances that have been wowing Chicago audiences for over a decade.
Chicago Tap Theatre
Chicago Tap Theatre tells stories through tap, making the style accessible and relevant to everyone. At the same time, the company creates performances that take tap into uncharted territory, constantly evolving its techniques and methods that continue to surprise their audiences.
Deeply Rooted Dance Theater
Chicago has been celebrating African American dance traditions for almost a century. The aptly named Deeply Rooted Dance Theater taps into American and African American dance and storytelling styles, and collaborates with famed choreographers known for everything from modern dance to ballet. Check out Deeply Rooted's eclectic performances at the Harris Theater for Music and Dance in beautiful Millennium Park.
Giordano Dance Chicago
Giordano Dance Chicago brings "all that jazz" to the Chicago stage, with new and innovative choreography that celebrates one of America's leading dance styles. For half a century, the group has performed in over 1,200 cities around the world, and created more than 165 original works. You can see Giordano Dance Chicago performances at Harris Theater for Music and Dance in Millennium Park.
Hubbard Street Dance Company
Hubbard Street Dance Company's extraordinarily original performances have been pushing the creative boundaries of contemporary dance since 1977. The company tours nationally and internationally throughout the year, and performs right here in Chicago at the Harris Theater for Music and Dance and the Museum of Contemporary Art MCA Stage.
Joffrey Ballet
Point your toes in the direction of the historic Lyric Opera House, home of the Joffrey Ballet, renowned the world over for classical ballet, modern dance productions — and, in true Chicago style, a combination of the two. The largest dance company in Chicago, the Joffrey Ballet has been one of the region's premier dance companies for more than 65 years.
Jump Rhythm Jazz Project
The Jump Rhythm Jazz Project taps into that deeply human instinct to express ourselves through dance and motion. A range of emotions are on display at their high-energy performances, which celebrates the role of voice and movement through a fusion of dance and song.
Ballet 5:8
Ballet 5:8 is a female and minority-led company that creates original ballet experiences drawing from life, faith, current events, and diverse perspectives. Since its founding in 2012, Ballet 5:8 has presented more than 45 critically acclaimed ballets. You can enjoy Ballet 5:8's dynamic performances at Harris Theater for Music and Dance, Athenaeum Center for Thought & Culture, Navy Pier, National Museum of Mexican Art, and more.
M.A.D.D. Rhythms
Check out M.A.D.D. Rhythms' Tap Jams, a dance series that pays tribute to influential dancers of decades past, and the contributions they made to tap as "America's art form." All of M.A.D.D. Rhythms' passionate shows are a window into tap's history, versatility, and expressiveness.
Muntu Dance Theatre
This innovative company performs modern interpretations of African and African-American dance and music. Pulling inspiration from both ancient and contemporary works, Muntu (which means "the essence of humanity") strives to preserve African dance traditions while creating new works that build upon them.
Visceral Dance Chicago
Bold, progressive, and contemporary — Visceral Dance Chicago bridges every style imaginable. The company is all about expressing raw human emotion through physical movement, creating stunningly beautiful works. You can see Visceral's latest performances at Harris Theater for Music and Dance in Millennium Park, among other venues.
Chicago's contemporary dance venues
Dance Center of Columbia College
The Dance Center of Columbia College is constantly exploring the extraordinary. Founded by groundbreaking choreographer and educator Shirley Mordine in 1969, the center puts a spotlight on contemporary Midwestwestern dance companies.
Harris Theater For Music and Dance
For starters, the location couldn't be better — on the grounds of beautiful Millennium Park. Then there's the unique venue — a minimalist wall of glass giving you a window onto the Harris Theater lobby before descending into the subterranean auditorium. Here, you'll see some of the city's leading dance companies, including Hubbard Street Dance Company, Deeply Rooted Dance Theatre, Visceral Dance Chicago, and Giordano Dance Chicago.
The Ruth Page Center for the Arts
An incubator for artistic energy, The Ruth Page Center for the Arts is dedicated to developing great dancers and connecting them with the community. The nationally recognized center was founded by international dance icon Ruth Page. Today, they're dedicated to keeping her vision alive, presenting awe-inspiring performances that constantly push dance in exciting new directions.
Links Hall
A home for performers across disciplines, Links Hall is an artistic incubator and venue dedicated to supporting local artists. For the past 40 years, Links has hosted residency and sponsorship programs, artist-curated festivals, low-cost studio rentals, and more. They also offer regular performances of new work from a diverse selection of dancers from across Chicago.
Museum of Contemporary Art MCA Stage
There's more to the Museum of Contemporary Art than, well, contemporary art. The intimate Edlis Neeson Theater is a cutting-edge venue, staging today's boundary-pushing contemporary dance (as well as theatre and music). Performances have included experimental step-dance collaborations, adaptations of American folk dance, and exciting new works.
Chicago's dance festivals and events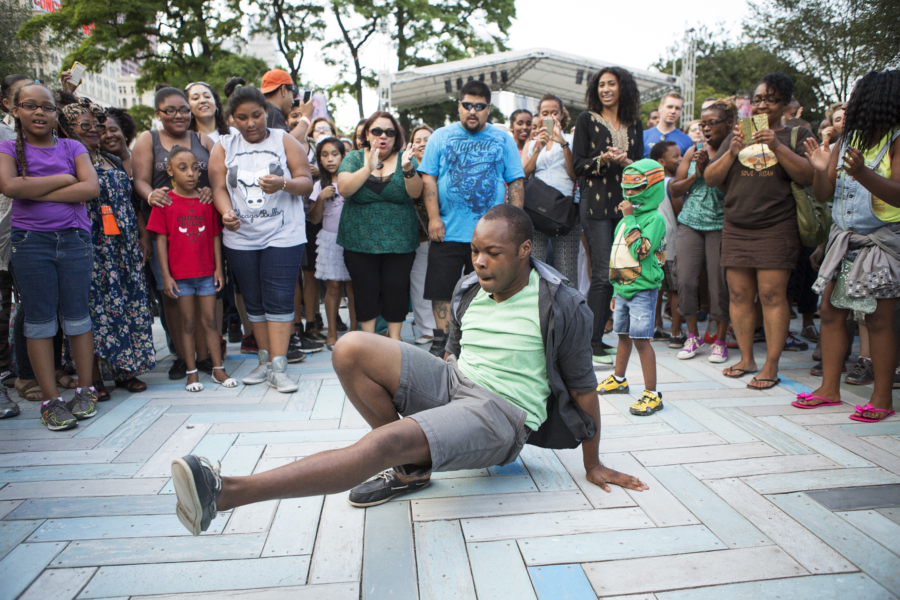 Chicago loves dance so much, we've dedicated a whole month to it. For the past 10 years, Chicago Dance Month has offered a rich schedule of performances, events, classes and more all over the city.
If you're visiting over the summer, come show off your moves — and learn some new ones — at Chicago SummerDance's outdoor dance party. The Spirit of Music Garden in Grant Park turns into an urban dance floor, with live music, dance performances, and free lessons in everything from swing to samba.
The party also travels to Chicago's neighborhoods with Chicago Dance In The Parks. Expect free outdoor concerts and dancing featuring professional dancers and contemporary choreographers in local neighborhood parks.
For a real toe tapper, check out Rhythm World, an annual summer festival of tap and percussive dance by the Chicago Human Rhythm Project. The festival culminates with a week of performances at venues across the city, featuring local, national, and international tap dance companies and solo artists.
DanceAfrica Chicago showcases African and African American dance, music, and folklore, hosted by Muntu Dance Theatre. The festival includes performances, events, and workshops with local talent and artists from around the world.
Also by the Chicago Human Rhythm Project, Stomping Grounds is a two-month festival celebrating the city's acclaimed percussive dance companies. Throughout the festival, you can find performances by diverse groups of artists from multiple ensembles in neighborhoods all across Chicago. The Grand Finale performance is held at the Harris Theater in Millennium Park.
And at the Auditorium Theatre you can attend Dance For Life, an annual summer event that brings together leading Chicago dance companies to benefit The Dancers' Fund and HIV/AIDS research through Chicago Dancers United. The Auditorium Theatre also presents a diverse array of programming from local, national, and international dance companies, including Alvin Ailey American Dance Theater, American Ballet Theatre, Ballet Folklórico de México, Giordano Dance Chicago, Hubbard Street Dance Chicago, and more throughout the year.