When deciding which of Chicago's neighborhoods to explore next, Rogers Park should be at the top of the list. This lakefront community ranks as one of the city's most diverse neighborhoods, where you'll discover over 60 spoken languages, a treasure trove of cultural experiences woven throughout the thriving arts district, a diverse selection of small independent shops, an international dining scene, and the bustling Loyola University campus. Here's a guide to spending a blissful day in Rogers Park.
How to get to Rogers Park
Rogers Park is easily accessible with several public transportation options. Chicago Transit Authority (CTA) buses 22 (Clark), 147 (Outer DuSable Lake Shore Express), and 151 (Sheridan) each have stops in the neighborhood, and CTA's Red, Purple, and Yellow 'L' train lines each service Rogers Park. Additionally, the Metra Union Pacific North line is also an option.
For bikers, the Lakefront Trail is an excellent and scenic route for getting to and around Rogers Park. If you're looking to rent a bike, there are several Divvy stations around the neighborhood, including at Loyola University, the Rogers Park Metra Station, and at Morse Avenue and Glenwood Avenue.
Rogers Park arts scene
Public art is essential to the Rogers Park community and abundant throughout the area.  Strolling along Howard, Clark, Glenwood, and other streets will bring you face to face with eye-catching, beautiful murals.
The Mile of Murals, a community-based public art initiative, lies along Glenwood Avenue. Totaling over 14,000 square feet of painted walls, the Mile of Murals includes 14 bold and vibrant large-scale works. The artworks reflect the history, culture, and spirit of Rogers Park spanning five block-long pieces, seven viaducts, and one overpass.
And art lovers can't miss the Glenwood Arts District, home to a vibrant mix of art studios and galleries, live music venues, and acclaimed theatres. It's also the location of the Glenwood Avenue Arts Fest, a weekend festival featuring more than 100 local artists showcasing their studios and selling handmade goods.
Rogers Park theatres and venues
Rogers Park is home to numerous performing arts venues, creating original works and showcasing incredible local talent.
Beaches in Rogers Park
Rogers Park boasts a collection of beaches to swim, lay in the sand, and take in our dynamic skyline.
Loyola Beach is a scenic stretch of lakefront that's popular for swimming, walking, and admiring the gorgeous vistas. In addition, there's a more than 40-acre park with a fieldhouse, baseball field, courts for basketball, sand volleyball, and tennis, and a playground. The beach also features a 600-foot wall filled with colorful murals and beachfront eatery Ropa Beach Cabana, offering bites and refreshing treats.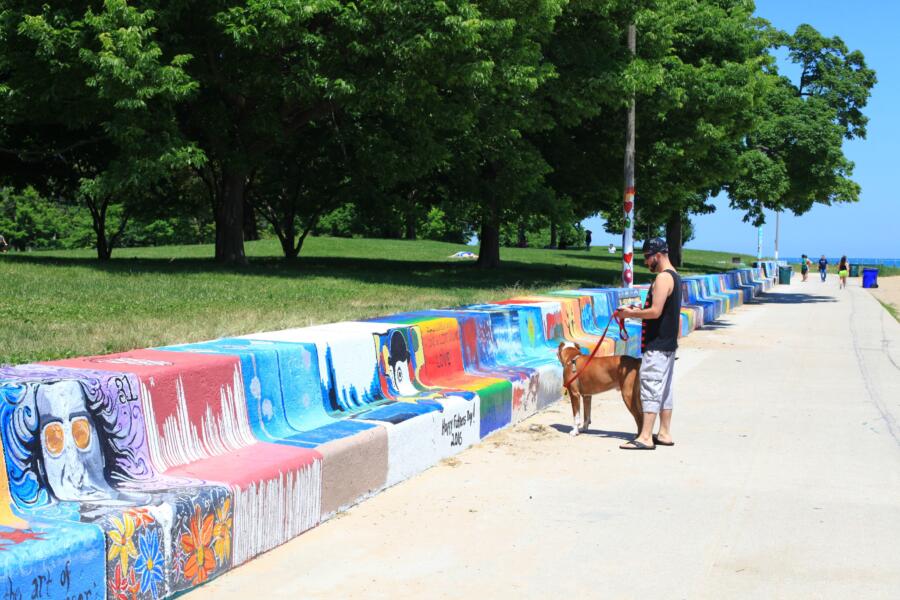 Leone Beach is perfect for any looking to unwind on the sand, swim, or try out some water activities. There's access to the Lake Michigan Water Trail for kayaking, canoeing, and other non-motorized paddle sports. The nearby park contains almost two acres of native dune and oak savanna.
Other nearby beaches include Tobey Prinz Beach, Marion Mahoney Griffin Beach (also known as Jarvis Beach), Hartigan Beach, and North Shore Beach — all great spots to soak up the sun and relax away from the hustle and bustle of the city.
Restaurants in Rogers Park
Rogers Park is bursting with culinary gems, as one would expect from a community of such diversity. Take a trip around the world by visiting several of these neighborhood eateries beloved by locals.
Redz Belizean Restaurant is a family-owned business providing authentic Belizean staples since 1996. Enjoy favorites such as oxtail, red snapper, kingfish, tamales, rice and beans, conch, and more.
Caribbean American Bakery sells Jamaican-style pastries, bread, vegetarian and meat versions of savory patties, and jerk cuisine. Huge crowds flock here for a taste of home.
Romanian Kosher Sausage Company has been a full-service, family-owned butcher shop since 1957. People travel from afar for their chopped liver, corned beef, and pastrami.
Visit Asahi Roll Sushi for authentic Japanese cuisine and sushi rolls made fresh in front of you.
Honeybear Cafe is a local, BYOB breakfast and brunch spot with a terrific atmosphere and delicious food and coffee. The french toast is out of this world delicious.
The Fish Keg is another family-owned operation, serving fresh seafood daily for over 50 years. Enjoy hand-breaded shrimp, fish, chicken, and other seafood favorites from their extensive menu. They also make their cocktail and tartar sauces in-house.
Stop in Bop N Grill, a local staple since 2009, to try one of their Korean-influenced burgers and bowls.
Finally, end your day at Le Piano, an intimate venue built around a grand piano with some of Chicago's finest pianists at the keys.