Chicago's Christkindlmarket is a hub for traditional food, warm beverages, charming musical performances and quaint Christmas-y goods that the entire family can enjoy. This year, the event has moved from Daley Plaza in downtown Chicago to the internet. While you may not be able to stroll among the stalls, you can hide from the cold weather and enjoy the best shopping and bites from the comfort of your home.
Here's a rundown of how to experience the virtual Christkindlmarket Chicago, now open through Dec. 31, 2020.
Shop handmade and traditional wares (online!)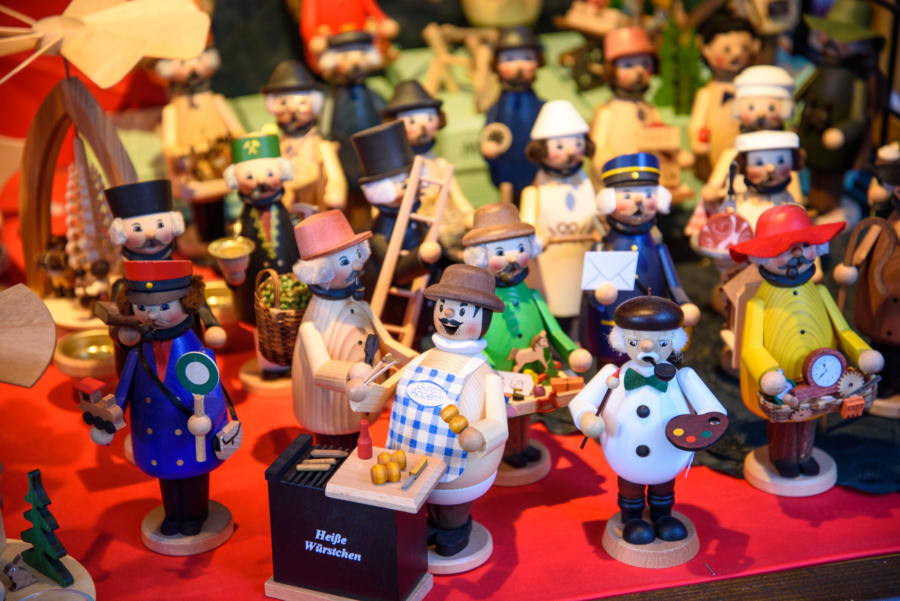 The classic Christkindlmarket vendors are available online, offering a wide variety of German crafts and gifts. You can purchase some items directly from Christkindlmarket's online marketplace, which has gift boxes, clothing and accessories, ornaments, decor, and more. Or browse list of official vendors providing additional goodies.
Visit the Irish Sisters or Winterborn Alpaca for warm and cozy sweaters, gloves, shawls, socks, caps and more. Bespoke Gift and Eastern European Treasures (plus many more vendors) carry holiday trinkets and gifts such as nutcrackers, animal figurines, hand-painted pottery, candles, and beyond.
Stock up on pewter, glass, and wood ornaments at Bavarian Traditions. Or get really into the Christkindlmarket spirit with traditional German clothing (and Krampus scarves!), hand-made in Chicago at Rare Dirndl.
Sip a hot drink (at home!)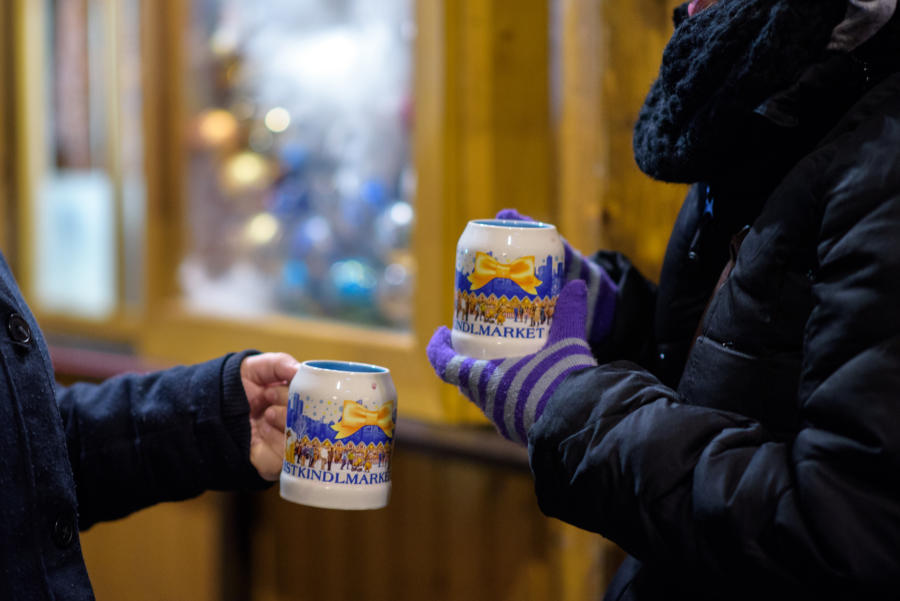 Getting a stein filled with glühwein (hot spiced wine) and strolling throughout the market to find a delicious snack is a classic Christkindlmarket activity. And collecting each year's mug is a time-honored tradition.
While there won't be a 2020 mug, the Christkindlmarket's online marketplace has Christkindlmarket mugs from previous years available for purchase. Grab the boot-shaped, heart-shaped or kettle-shaped mug you need to complete your collection, then navigate over to Austrian Lodge's website for a bottle (or two) of glühwein.  
Not a fan of wine? There are plenty of other hot drinks to choose from, such as cocoa from Bob's Belgian Hot Chocolate and tea from Himalayan Chai. 
Eat traditional German food (delivered to your door!)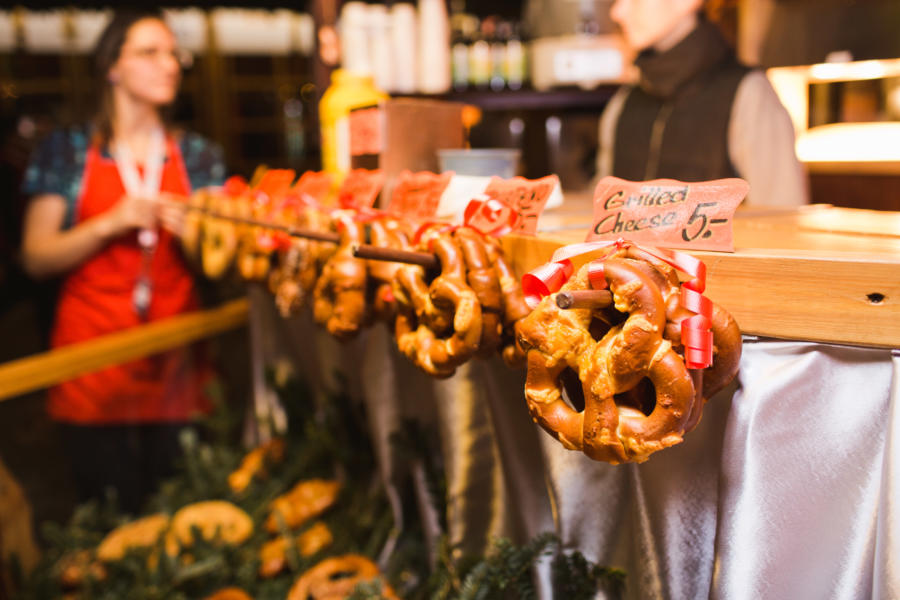 You don't need to go to Germany to try some of its local fare: just go online! Check out Christkindlmarket's food vendors for a wide selection of imbiss (German street food).
For instance, pick up some currywurst — German sausage with Indian spices — and kebab from DönerMen. Order mouth-watering cheeses, such as alpine raclette, from Baked Cheese Haus. Select delectable dips and spreads from A Spice Above.
On the sweeter side, Sweet Castle delivers on its name with morsels of chocolate, candy, cookies, stroopwafels and more. Bienes Honighaus has honey in every form you can imagine (candy, beeswax candles, etc.) and Pemberton Candies offers English Toffee. And Completely Nuts offers those cinnamon roasted almonds, cashew, pecans, and peanuts that you can smell from a mile away.
Catch a fun holiday event (from your living room!)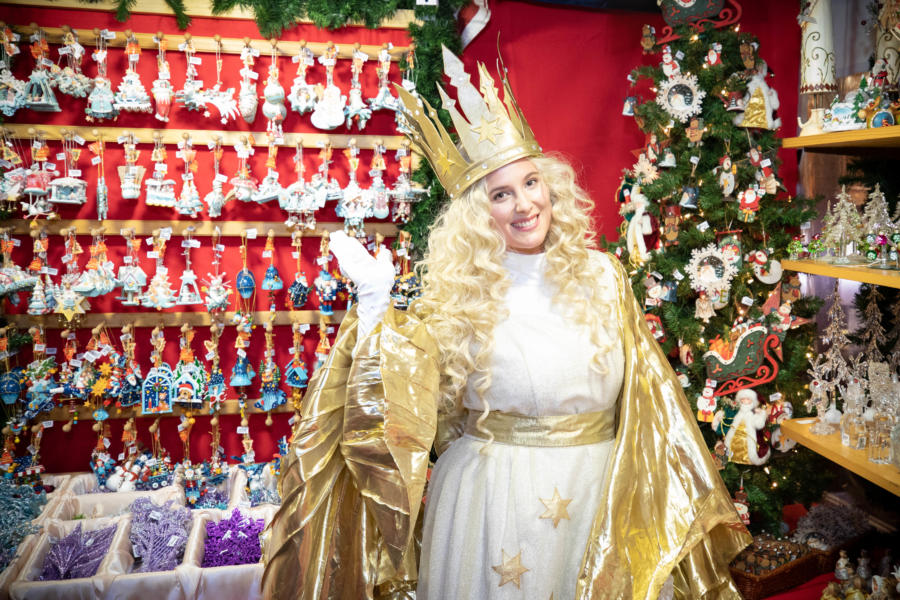 The Christkindlmarket runs through Dec. 31 and there are plenty of family-friendly virtual events until then — many of which are free — including cooking demonstrations, trivia night, German language courses and Christkind Story Time. Check the events calendar for more information and to register.
For more kid-specific activities, sign up for the Kinder Club. This free membership includes a newsletter with activities and information about Christkindlmarket, complete with links to virtual activities from scavenger hunts to printable coloring books.