Many of us will be staying home for the holidays this year, but that doesn't mean you can't still experience Chicago's award-winning dining scene. Our city's restaurants go all out for the most wonderful time of the year, with festive holiday menus that are perfect for a Christmas dinner, a Hanukkah feast, or just a special meal at home.
Here's our (always growing) 2020 guide on where to order a holiday dinner in Chicago for delivery and carryout.
Where to order Hanukkah dinner in Chicago
The Peninsula: Celebrate Hanukkah at home with cheese blintzes, salmon and bagel plate, matzo ball soup, whole roasted chicken, latkes, and sweet treats including sufganiyah and rugelach. The menu is $75 per person (four person minimum per order). Pick up is available Dec. 10 through 18.
Aba: Enjoy Hanukkah favorites with a twist from Aba. Available for all eight nights, order garlic hummus, matzo ball soup, roasted brisket, and potato, parmesan and brussels sprout latkes. Pick up available Dec. 10 – 18.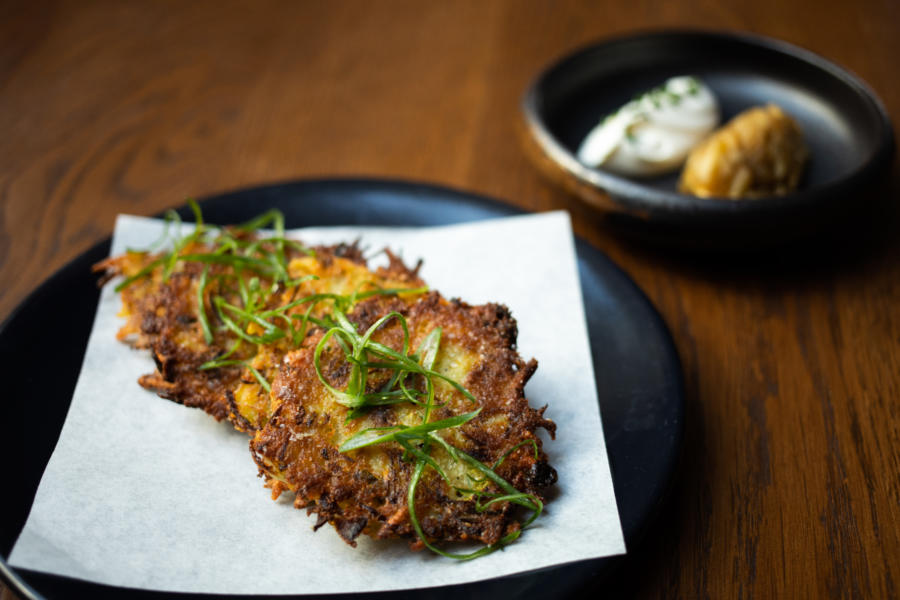 BOKA: Chef Lee Wolen is preparing a special menu of Jewish classics to celebrate the Festival of Lights. BOKA's Hanukkah at Home for two includes beef brisket or roasted salmon, served with whitefish spread, latkes, matzo ball soup, challah, homemade gelt, and more. Pick up available Dec. 10 – 18.
Bistronomic: The Hanukkah menu from Bistronomic features a three-course meal for $45 per person with smoked salmon salad, rainbow carrot velouté, glazed beef short ribs, roasted Amish chicken, and pear financier. Pick up is available for Dec. 10 – 12 and 15 –18.
Swift & Sons: Enjoy a Hanukkah feast with a wide selection of traditional dishes, fully cooked and ready to enjoy. Options include brisket, potato latkes, chopped chicken liver, mini challah loafs, and more. Available for pickup or delivery on Dec. 11.
The Smith: Celebrate Hanukkah with a takeout meal for the whole family. Check their menu for upcoming specials.
RPM Steak: This prix fixe meal of holiday favorites includes challah bread with rosemary-herb butter, potato latkes with apple sauce and sour cream, traditional matzo ball soup, slow-cooked brisket, and more for $80 per person. Orders must be placed 48 hours in advance.
Somerset: Order a Hanukkah feast to enjoy at home from Somerset. Choose from slow cooked organic brisket, truffled chicken, cedar roasted salmon, plus a package of traditional sides like whitefish rillette, latkes, and jelly donuts. Pick up available Dec. 10 – 18.
Beatrix: If your family has a sweet tooth, you'll want to check out this Hanukkah cookie decorating kit from Beatrix. The kit includes six themed cookies, plus piping bags and sprinkles. Pick up and delivery available Dec. 8 – 18.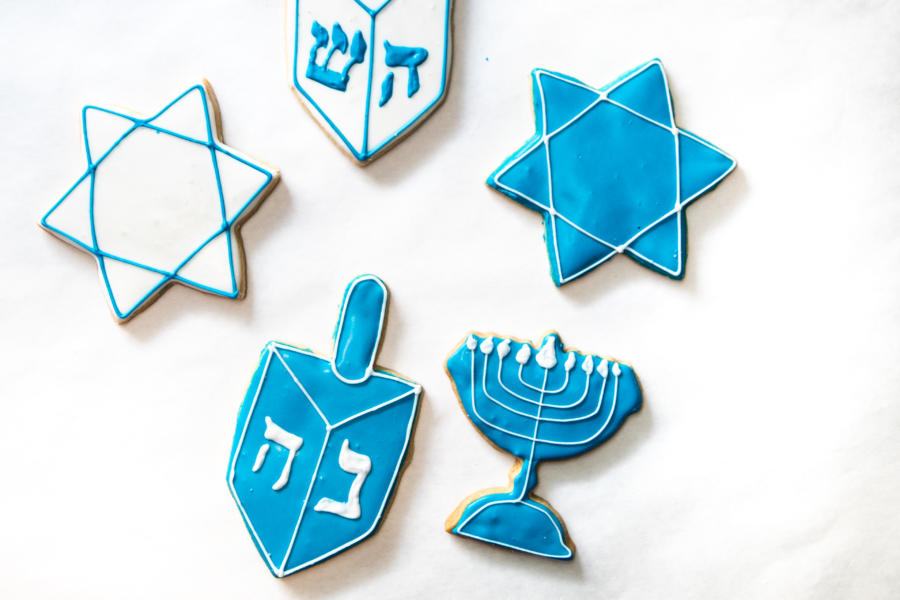 Honey Butter Fried Chicken: This Avondale favorite is celebrating Hanukkah with latkes (served with honey butter, of course) and jelly donuts (tahini butter and raspberry jam to be exact) for the whole week of the holiday. Same-day pick and delivery available.
Prime & Provisions: This steakhouse is serving up at-home, reheatable Hanukkah packages for two to eight people at $45 per person. The menu include matzo ball soup, salad, latkes with applesauce and sour cream, brisket, kugel, and kosher wines available to add on. 
Manny's Cafeteria & Deli: This classic deli has all your favorite dishes, including sweet and buttery noodle kugel, bagels, baked whitefish, matzo ball soup, and their famous pan-fried potato latkes. Pick up and local delivery available.
Galit: Beginning Dec. 10, this modern Middle Eastern restaurants will be offering a Hanukkah meal for two ($80) with their famous hummus, latkes, falafel, stuffed cabbage, and more. You can also add on caviar, sufganiyot, and kosher wines. Pick up and local delivery available.
Where to order Christmas dinner in Chicago
Big Jones: Enjoy a curated Christmas Eve meal for two, featuring Big Jones' beloved Southern fate, plus a batch of celebratory holiday punch. Pick up available Dec. 24.
Momotaro: Start a new holiday tradition with authentic Japanese fare from chef Gene Kato, who's offering playful holiday packages like the 'Soy to the World' sushi platter. Orders due Dec. 20.
Haisous Vietnamese Kitchen: Celebrate Christmas with a multi-course Vietnamese feast. Dine on braised octopus salad, lemongrass ribeye roast, a seafood medley, and more for $80 per person. Pick up available Dec. 24.
The Bristol: Have a luxe holiday with The Bristol's Christmas dinner at home packages (starting at $125), with dishes like prime rib, honey glazed pork belly, truffle potato gratins, eggnog bread pudding, and an optional caviar and champagne package.
Frontier: Take advantage of the holiday meats special at Frontier for the entire month of December. Choose from smoked prime rib, beef tenderloin, and turkeys of various sizes. Plus, side dishes that serve eight to ten that are cooked and ready to be reheated. Orders due Dec. 18, pick up available Dec. 24 and 25.
Alinea: Celebrate the holidays with an indulgent dinner from the team behind Alinea. Feast on a poultry pie, comforting winter sides, and a traditional Christmas yule log dessert for $85 per person. Pick up from Lincoln Park on Dec. 22 – 24.
El Che Meat & Provisions: It's a carnivore's Christmas at El Che. Their holiday meal for four ($150) includes a chateaubriand beef tenderloin roast ready for the oven, plus creamed spinach and twice baked potatoes. Pick up available on Dec. 23.
Sepia: This Michelin-starred spot is offering special takeout packages for Christmas. The package for two features a choice of grilled rack of lamb ($180) or rack of Berkshire pork ($165), along with salad, smoked salmon rillettes, and sticky toffee pudding, Pick up available Dec. 23 and 24.
ROOH: Feast on progressive Indian cuisine from ROOH in the West Loop. Choose from a meal for one or four people, with lots of vegetarian options. Plus, a portion of proceeds will go to Streetwise.
The Duck Inn: This Bridgeport staple is serving a traditional Christmas dinner for four ($250), with duck fat Yorkshire pudding, potato casserole, creamed kale, and either prime rib or a whole rotisserie duck for the main course. Pick up on Dec. 23.
Robert et Fils: Enjoy a classic Christmas goose, a popular tradition in Europe, with this takeout offer from a new North Center spot. Limited quantities are available, call the restaurant for more details.
Nobu: This high-end spot is offering an Asian-inspired Christmas feast for two, with prime filet and lobster, chicken teriyaki, signature sushi rolls, and a dark chocolate buche de noel ($285). Pick up available Dec. 24 and 25.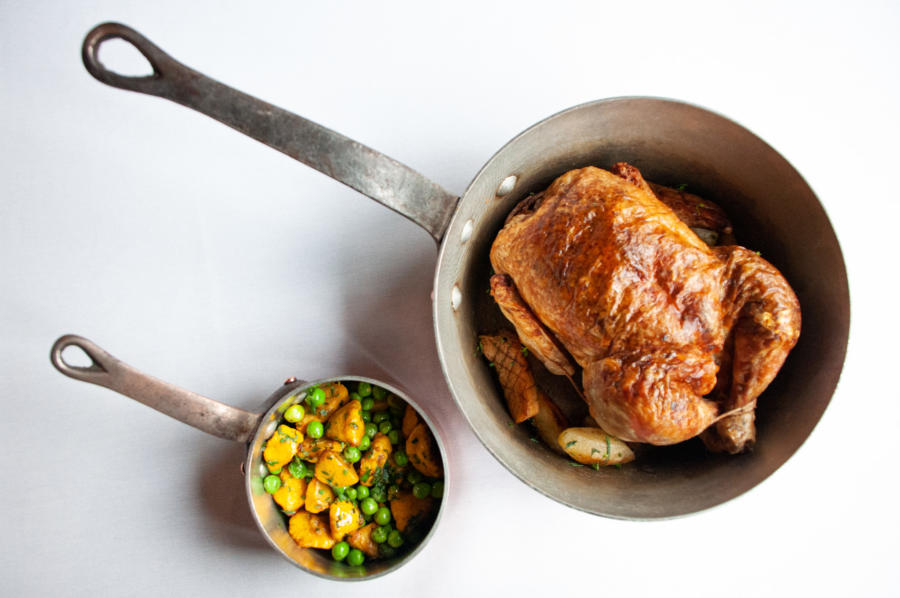 Gemini: Feed the whole family with this takeout feast serving four to six people ($395). The meal includes rolls and salad, lobster bisque, prime rib roast, potato gratin, and chocolate peppermint cake. Orders due Dec. 20, pick up available Dec. 23 and 24.
Tortoise Supper Club: Indulge in a prime rib holiday meal for four ($235), including lobster bisque, corn and cheddar casserole, mashed potatoes, green beans, and a whole cherry pie. Orders due Dec. 21, pick up Dec. 24.
Wood: Order a take-and-heat holiday dinner from this award-winning Lakeview spot. Choose from entrees like honey-glazed smoked ham, dry-aged whole duck, and beef wellington, plus a variety of add-on sides and desserts. Orders must be placed four days in advance.
Siena Tavern: Celebrate Christmas with chef Fabio Viviani and his Siena Tavern feast. The menu includes honey mustard ham, scalloped potatoes, caramelized brussels sprouts, parmesan crusted rolls, and so much more. Orders due Dec. 20, pick up available Dec. 22 – 24.