Whether you're looking for a night out or staying home for the holidays this year, there are plenty of ways to experience Chicago's award-winning dining scene. Our city's restaurants go all out for the most wonderful time of the year, with festive menus and specials that are perfect for an out-on-the-town holiday feast or just a special meal at home.
Here's our (always growing) 2023 guide on where to enjoy a holiday meal in Chicago for brunch, dine-in, delivery, and carry out.
Where to enjoy a dine-in holiday dinner in Chicago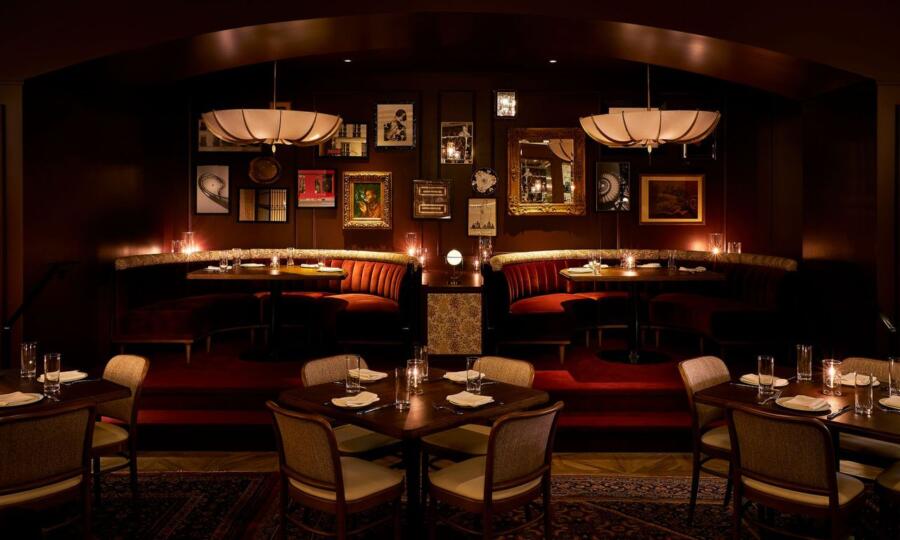 Christmas dinner in Chicago
Take a culinary trip through the Mediterranean this holiday season with Avec. The Christmas Eve feast will feature six islands and dishes inspired by the regions.
Treat yourself to classic elegance this Christmas Eve with Prime & Provisions tasting menu and sommelier wine pairing. Courses include crab cakes, filet mignon, red wine braised beef cheek, and more.
Enjoy Christmas Eve and Christmas Day dinner at Oda Mediterranean in Andersonville. Guests will enjoy Oda's full menu of Turkish-Georgian fare, plus fun seasonal cocktails.
Kinzie Chophouse's Christmas Eve menu begins with welcome bites before guests dine on a multi-course menu of prime rib roast, dry-aged lamb chops, glazed filet of black cod, and a vegan option of lion's mane mushroom filet with chimichurri.
Celebrate Christmas at Artango Bar and Steakhousewith a live band, flamenco show, and a three-course meal on Christmas Eve and Christmas Day.
Experience timeless Catalan traditions at Mercat a la Planxa inside the South Loop's Blackstone hotel on Christmas Eve and Christmas Day.
Osteria Via Stato will offer a special menu inspired by the chef's family's traditions on Christmas Eve. The menu will contain an abundance of seafood dishes from across Italy, plus desserts and sides.
Spend a magical Christmas Eve fireside at Tortoise Supper Club listening to live jazz while dining on Chef Pablo's Christmas Eve specials.
Heritage Restaurant and Caviar Bar will present Study of the Feast of the Seven Fishes on Christmas Eve. The annual whole-table shared dining experience is sure to be one to remember.
In the West Loop, Gioia Ristorante e Pastificio will be serving seven deluxe fish specials on Christmas Eve to honor the Italian-American tradition of the Feast of the Seven Fishes. There will also be special cocktails and wine pairings.
French brasserie Venteux is rolling out a show-stopping holiday feast on Christmas Eve centered around a whole salt-baked fish presentation. The prix fixe Christmas on the Coast dinner will also highlight a selection of seafood-forward dishes.
Let RPM Italian dazzle you on Christmas Eve with their rendition of the Feast of the Seven Fishes. The four-course menu will include bay scallops with blood orange and champagne vinegar, Maryland crab with Dijon aioli, prawns with Sicilian caponata, and more.
The historic Chicago Firehouse Restaurant will be offering a special Christmas Eve meal, with festive options like roasted chestnut soup, prime rib, baked brie, and eggnog cheesecake.
Celebrate Christmas Eve at Siena Tavern with a four-course tasting menu featuring favorites like burrata, broiled salmon, and braised short rib. Enhance your experience with black or white truffles.
Hanukkah dine-in specials
Aba will be serving up their ultra-crispy latkes, made with potatoes, Brussels sprouts, and parmesan throughout the Festival of Lights.
In Andersonville, Fiya will offer a Hanukkah feast with five courses, including latkes, brisket, house-cured salmon, and a babka loaf.
Soak in the festive glory of Eight Crazy Nights at The Graystone Tavern, the city's original Hanukkah pop-up experience. The menu involves a wide selection of holiday food and cocktails.
The annual family-style dinner at Split-Rail will feature braised brisket, noodle kugel, matzo ball soup, plus plenty of wine and holiday cheer.
Summer House in Lincoln Park will be serving a variety of latkes, including a classic rendition, smoked salmon, and braised leeks. Make a reservation today to try them all.
Where to order a holiday dinner to-go in Chicago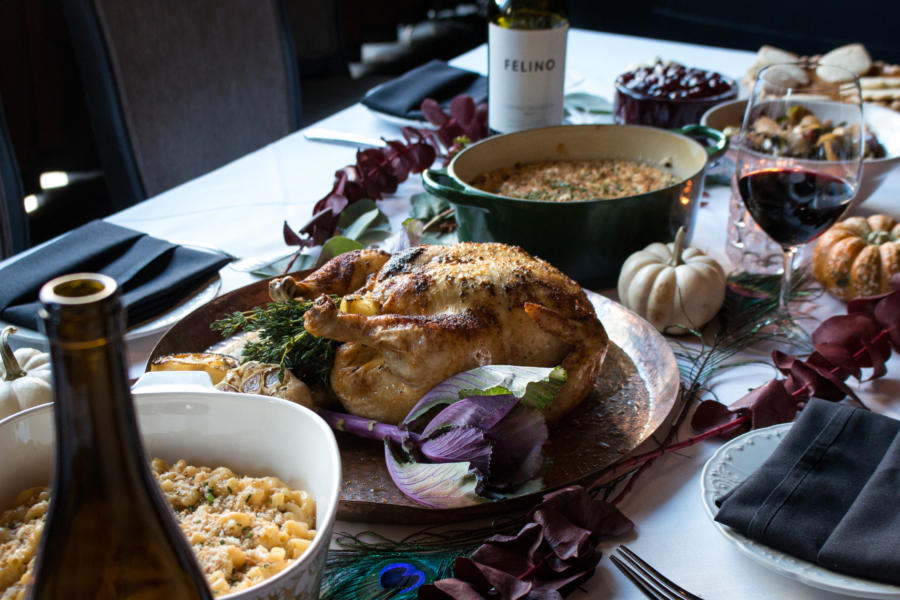 Christmas dinners for delivery and carry-out
Virtue will be serving a Southern Christmas feast, with gumbo, short ribs, Christmas ham, and all the sides you need for a memorable meal at home.
Chef Thai will be preparing eight special dishes for HaiSous Vietnamese Kitchen's at-home Christmas Eve dinner, including octopus salad, crispy pork rolls, and roasted quail.
Have a luxe holiday at home with The Bristol's Christmas to-go, with dishes like gruyere fondue, red wine braised short ribs, Basque cheesecake, and more.
Take advantage of the holiday meats special at Frontier this December. Choose from smoked prime rib, beef tenderloin, and turkeys, plus shareable sides.
Feast on progressive Indian cuisine from ROOH in the West Loop. Their Christmas tandoori chicken dinner serves four and includes a whole chicken with a flavorful cashew sauce, served with plenty of sides.
The Duck Inn, a Bridgeport staple, is serving a traditional Christmas dinner for four, with duck fat Yorkshire pudding, potato casserole, creamed kale, and either prime rib or a whole rotisserie duck for the main course.
Hannukah meals and dishes for delivery and carry-out
Pick up a Hanukkah feast for two from Publican Quality Meats, including brisket, latkes, kugel, chocolate babka, and more.

A Chicago classic, Manny's Cafeteria and Delicatessen is a go-to during the Festival of Lights. Choose between a whole roasted chicken or brisket, then add sides like glazed carrots, apple sauce, and more.
Load up Nutella sufganiyot, smoked fish, and the famous hot-smoked pastrami at Steingold's Deli in the Lakeview neighborhood.
The Goddess and the Grocer has a full catering menu of Hanukkah treats, like matzo ball soup, maple glazed, mini salmon latkes, noodle kugel, and braided challah. Desserts include sufganiyot from Do Rite Donuts.
Sam & Gertie's will serve a vegan Hanukkah feast with meatless versions of the classics — brisket, whitefish salad, matzo ball soup, and more.
Where to find a holiday brunch in Chicago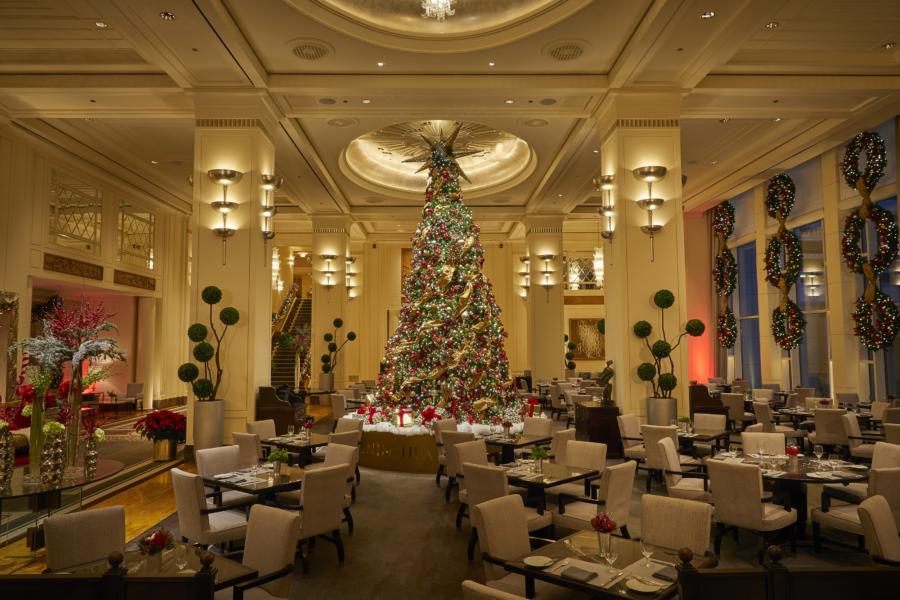 Indulge in the famous Christmas Day brunch buffet in The Lobby at The Peninsula. The extravagant menu includes carving stations, a seafood display, sushi, charcuterie, dim sum, desserts, and more.
The Albert will host a Christmas Day brunch featuring turkey, ham, and prime rib — plus champagne.
Travelle at the Langham will host an elaborate Christmas Day brunch. The delectable spread includes a buffet, carving, seafood, and dessert stations.
Celebrate the season on a luxurious Christmas Eve gourmet brunch cruise aboard the Odyssey Chicago River. Guests will experience a chef-prepared 3-course, plated holiday brunch, full-service bar, and DJ while admiring the city's iconic skyline.
Andros Taverna in Logan Square will offer an array of specials for Christmas Eve brunch, like Christmas Tsoureki bread —  filled with chestnut cream, chocolate ganache and topped with white chocolate glaze.
Kroll's Restaurant in the South Loop will host brunch with the Grinch on Dec. 17. Hang out with the Grinch while enjoying holiday food and beverages and Grinch movies playing in the background.
Santa Clause also stops by Carnivale for brunch on Dec. 18. So throw on your favorite Christmas sweater and enjoy an all-you-can-eat holiday buffet consisting of paella, omelet and carving stations, seafood, pastries, and more.
Looking for more ways to celebrate the holidays in Chicago? Check out this year's holiday pop-up bars and our pick for New Year's Eve dinner in Chicago.