If you're not planning to stay home for the holidays, this is the perfect time to experience Chicago's award-winning dining scene. Our restaurants go all out for the most wonderful time of the year, with special seasonal menus and festive decor galore. And there's something for everyone, whether you're looking for a special Christmas dinner, a Hanukkah feast, or just a nice night out.
Here's our (always growing) 2019 guide on where to go for a holiday or Christmas dinner in Chicago:
Tortoise Supper Club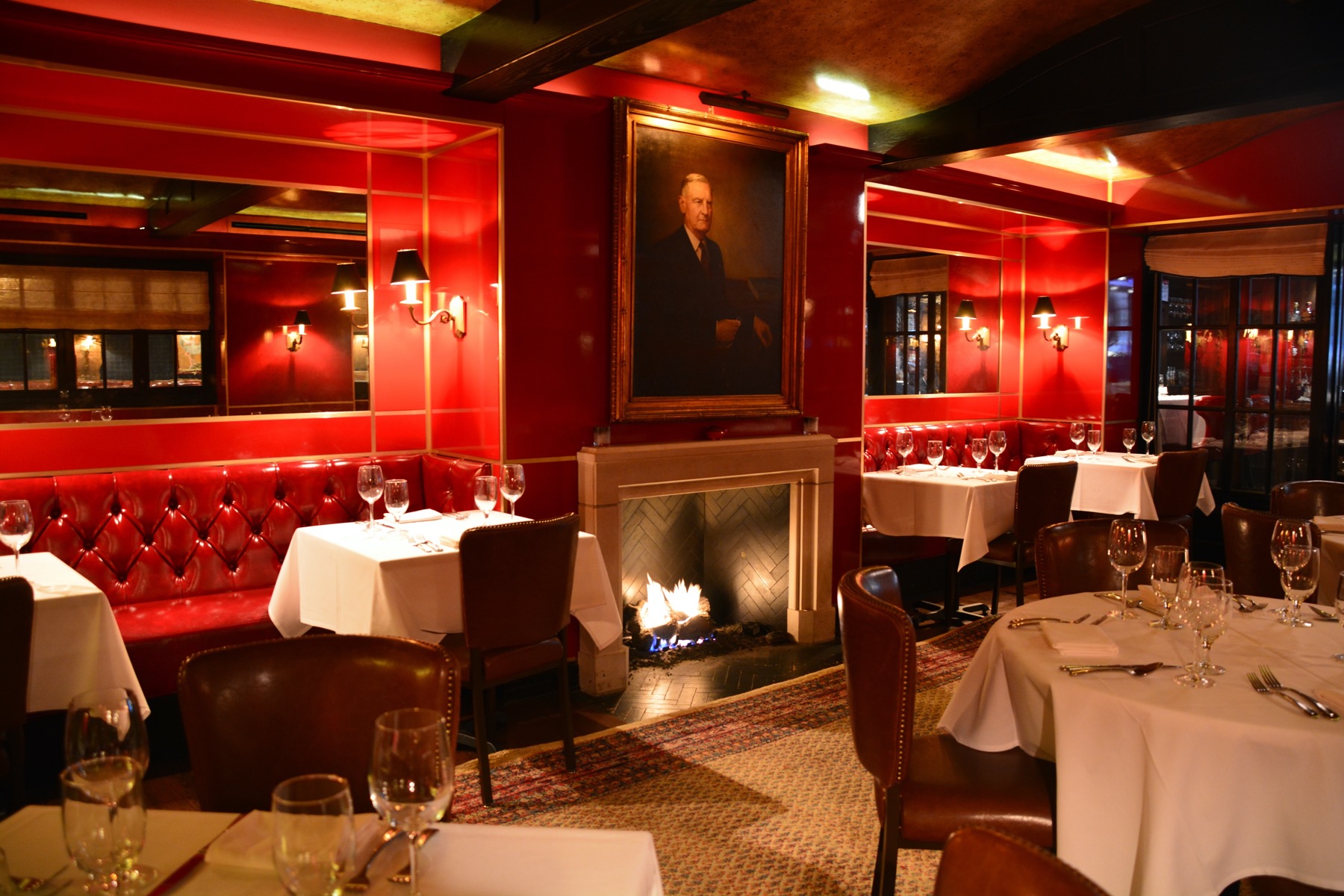 Open Christmas Eve
Sit fireside in the cozy Red Room at Tortoise Supper Club. The elegant spot will be decked out in festive decor throughout the holiday season. Make a reservation for their evening of holiday carols on Dec. 9 or for Christmas Eve dinner, with seatings from 4 – 8:30 p.m. 350 N. State St.
The Lobby at The Peninsula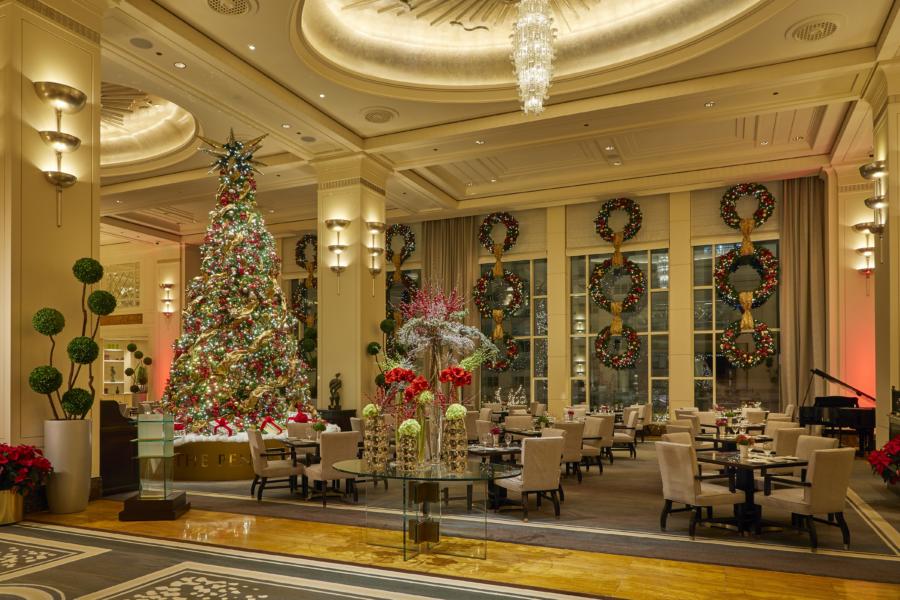 Open Christmas Eve and day
Enjoy an unforgettable holiday meal in one of Chicago's most lavish hotel lobbies. The holiday specials at The Lobby include a five-course prix fixe dinner on Christmas Eve featuring caviar, truffles, foie gras,Kobe beef, and more. Their Christmas day brunch includes  bourbon glazed ham, slow roasted prime ribs, Shanghai Terrace's famous Peking duck carving station, a grand seafood buffet station, and more. 108 E. Superior St.
STK Chicago
Open Christmas Eve and day
This modern steakhouse in River North will be offering a special holiday dish this year. For dinner on Dec. 24 and 25, enjoy a prime rib special with truffle madera sauce, along with the STK's entire regular menu. There's also a holiday children's menu available. 9 W. Kinzie. St.
Travelle at The Langham
Open Christmas day
Gather your friends and family for an extra-special holiday meal at Travelle. During the day, a spectacular Christmas brunch will include 14 stations of holiday favorites for $175 for adults, $50 for children. In the evening, enjoy a four-course dinner featuring luxe holiday favorites, like roasted beef tenderloin, for $100 per person. 330 N. Wabash.
Margeaux Brasserie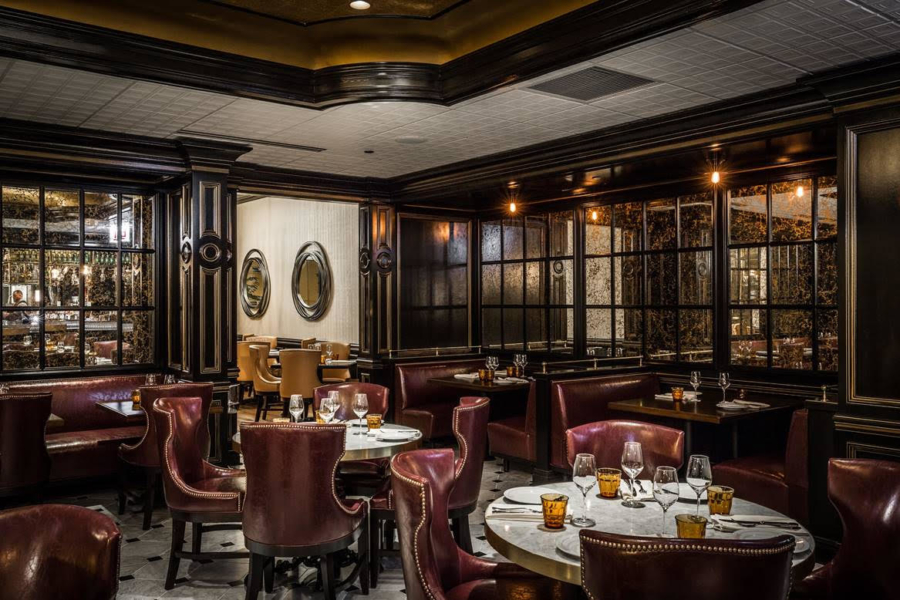 Open Christmas Eve and day
Margeaux Brasserie, the upscale French restaurant inside the Waldorf Astoria, will be open for both Christmas Eve and Christmas day. On the 25th, they'll be serving a festive a la carte brunch and their special holiday menu for dinner. The three-course dinner meal includes four options per course for $85, with a holiday kids menu for $19. 11 E. Walton St.
The Albert
Open Christmas Eve and day
Enjoy a delicious holiday meal in eclectic surroundings at The Albert in the Streeterville neighborhood. Their holiday menu for Dec. 24 and 25 includes tons of seasonal dishes like confit vegetables, roasted heritage turkey, maple glazed root vegetables, seasonal pies, and more. 228 E. Ontario St.
Siena Tavern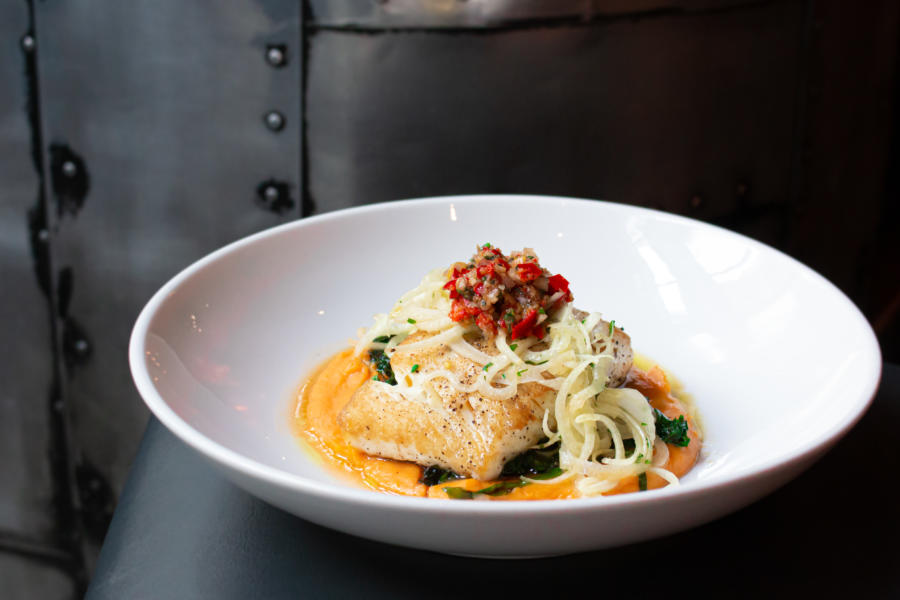 Open Christmas Eve
Siena Tavern, the contemporary Italian hot spot in  River North, will be serving their full menu, plus off-menu dishes only available on Christmas Eve. Chef Fabio Viviani will be crafting options like pan-seared Chilean sea bass, filet mignon, and a butterscotch crème brulée. And champagne specials will add a celebratory touch to the holiday meal. 51 W. Kinzie St.
Cafe Ba-Ba-Reeba
Open Christmas Eve
Create a new family tradition at this local favorite tapas restaurant. On Christmas Eve, Cafe Ba-Ba-Reeba will let you choose from dozens of delicious, super-shareable tapas to customize your own holiday dinner, including their signature paellas served tableside. 2024 N. Halsted St.
Lockwood Restaurant and Bar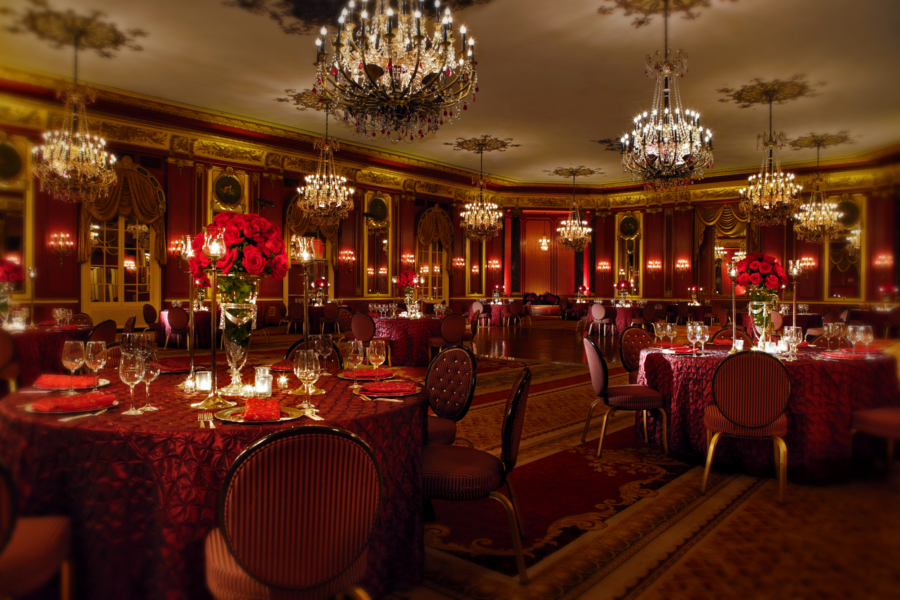 Open Christmas Eve and day
Located inside the historic Palmer House, Lockwood is the perfect setting for a festive dinner. Check out the gorgeous tree in the ornate lobby, then take a seat for a traditional Christmas meal — the special is prime rib with horseradish, Yorkshire pudding, gruyere potatoes, roasted brussels sprouts and heirloom carrots. There will also be champagne specials and plenty of holiday spirit. 17 E. Monroe St.
Bar Roma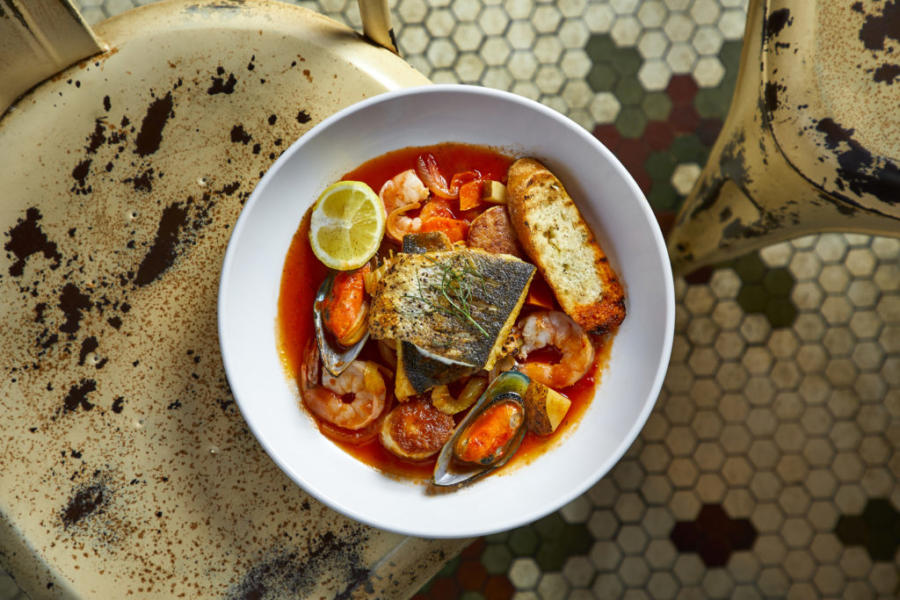 Open Christmas Eve
Bar Roma, located in charming Andersonville, will welcome guests for a celebratory Christmas Eve dinner. Along with their regular Italian dinner menu, they'll be serving a rustic Italian seafood stew made with Mediterranean sea bass, clams, Dungeness crab, shrimp, scallops, and more in a white wine broth. 5101 N. Clark St.
Camellia Room at The Drake
Open Christmas Eve and day
Enjoy a Christmas dinner in the Camellia Room overlooking Lake Michigan and The Magnificent Mile. Located inside the historic Drake Hotel, the Camellia Room will be serving a special holiday feast for Christmas diners. The Christmas Eve dinner includes a visit from Santa, live carolers, and a photographer to capture family memories. 140 E. Walton Place
Maple & Ash

Open Christmas Eve
This swanky Gold Coast steakhouse will be hosting holiday diners for an unforgettable Christmas eve. Indulge in over-the-top dishes at Maple & Ash like black truffle lobster thermidor — a half lobster stuffed with king crab meat and topped with béarnaise and bubbling gruyere. 8 W. Maple St.
Artango Bar & Steakhouse
Open Christmas Eve and day
Artango Steakhouse and Bar will welcome holiday diners for a three-course, prix fixe menu on both Christmas Eve and Christmas Day. The special menu features the choice of appetizer, entree and dessert, plus live Latin jazz and holiday music, for $65 for adults and $24 for children ages 4 – 12. 4767 N. Lincoln Ave.
Bistronomic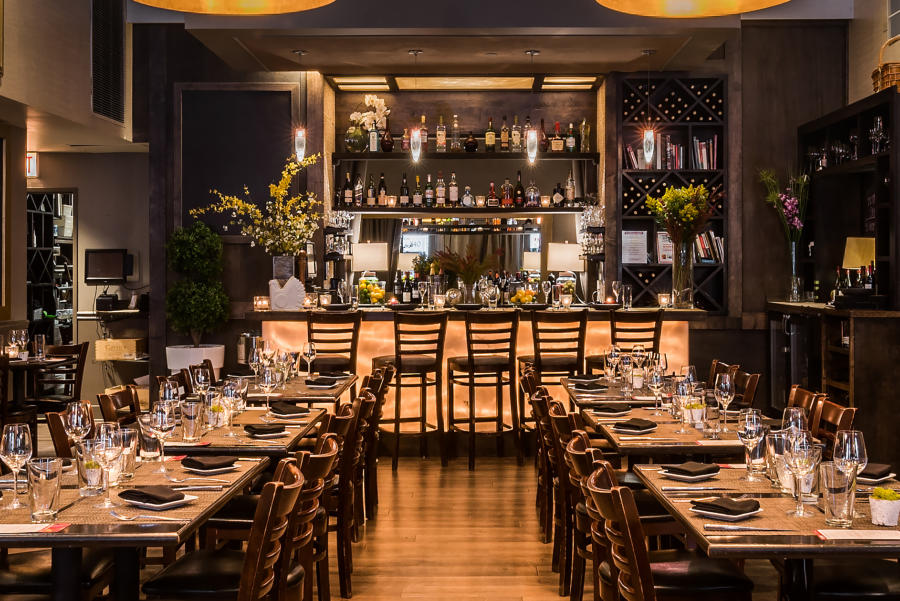 Open Christmas Eve
Bistronomic will be open on Christmas Eve serving brunch, lunch, and dinner. For brunch and lunch, enjoy a two-course meal with bottomless mimosas for $39. For dinner, indulge in a three-course menu for $70 featuring roasted rack of lamb and seared Maine diver scallops. A two-course children's menu will be available for $20. 840 N. Wabash Ave.
NoMi
Open Christmas Day
This contemporary French, located just off The Magnificent Mile, will be offering their lavish Christmas brunch buffet. Located inside the inside the Park Hyatt, NoMi's Christmas brunch is available for $155 for adults and $45 for children. 800 N. Michigan Ave.