In This Issue
---
A Note From David Whitaker, President & CEO
Welcome to fall – and with it, the end of two-thirds of our operating year. A key barometer for the year's "destination performance" is hotel data (Smith Travel Research's weekly reports) obtained by 133 participating hotels in the Chicago Central Business District. As you can see by the charts I've included, for the first eight months of the year (January thru August) Hotel Room Demand (hotel rooms consumed) is up 1.3% compared to this point last year, representing just over 100,000 additional room nights consumed. This growth of 1.3% is tracking behind our projected growth of 2 to 2.5% increase for the year. We are in the midst of an outstanding September (Demand is up 8.9% for the first 3 weeks of the month) so we will continue to watch carefully where we will be at the end of nine months and onward to year's end.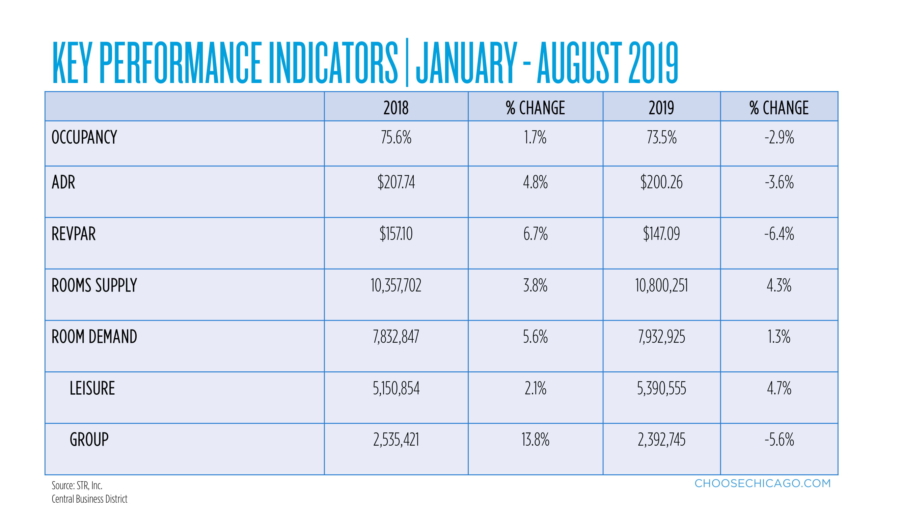 An encouraging trend through August is that Leisure Demand is pacing up 4.7% for the year (an increase of just under 240,000 room nights consumed year to date). Group Demand (including conventions) is pacing down as we predicted – down 5.6% (approximately 143,000 rooms behind last year's pace). This includes the well-discussed and anticipated loss of two major citywide conventions that met here in 2018 and not scheduled to call Chicago home in 2019. One will be returning next year and the other the following year. This said, we are on pace to welcome and host 39 major citywide conventions at McCormick Place this year.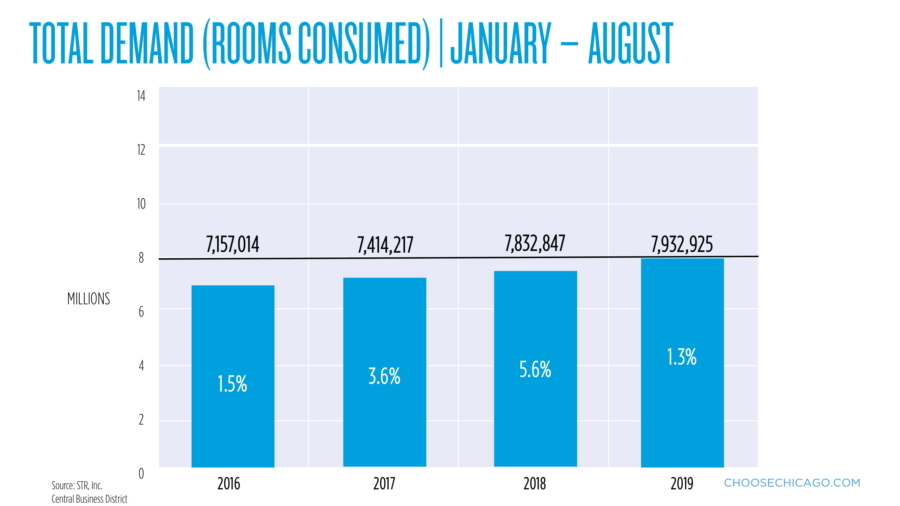 The overall net gain of 100,078 rooms consumed to date is due in part to a concerted effort to grow our leisure visitors. The additional graph included further illustrates the four-year steady growth of Total Room Demand (rooms consumed) including significant growth over the past four years in Leisure Room Demand (a four-year average of 4.8%). Group Demand remains cyclical comparing one year to the next. The current results for Group Room Demand in 2019 remains ahead of the pace set in 2016 and 2017.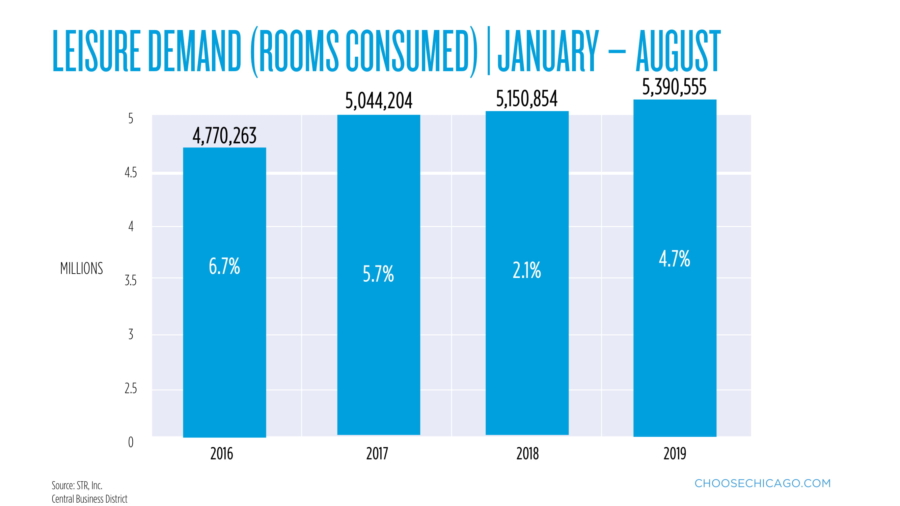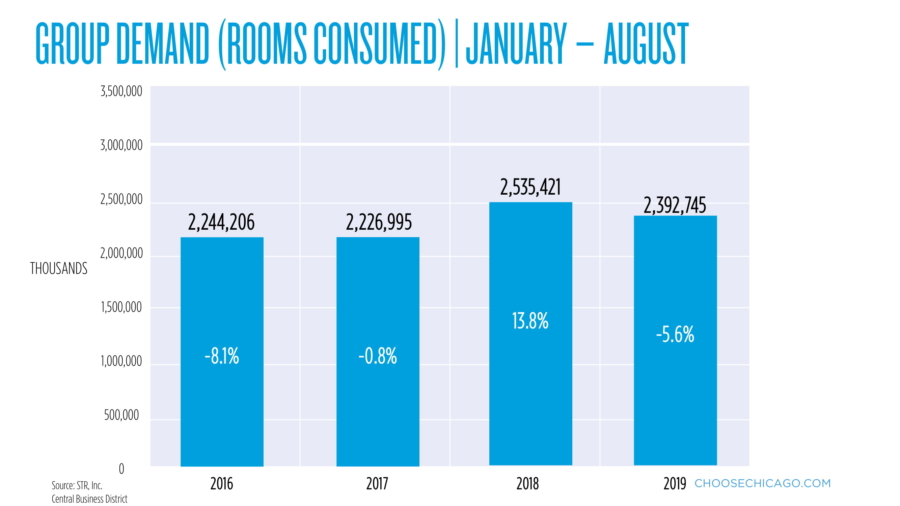 Lastly, this is another year of increased Hotel Room Supply: five new hotels have opened so far in 2019. The increase in Supply of 4.3% is outpacing the increase in rooms consumed and is dampening occupancy points and as a result, the ability of hotels to increase rates. We simply have to continue to strive toward increasing visitor volumes that exceed increase in additional hotel supply.
I would also like to take this opportunity to add to the welcome as Mayor Lori Lightfoot has just appointed Glenn Eden (executive vice president of Weber Shandwick) as Choose Chicago's new board chair. Attached is a bio of Glenn. His seasoned experience, subject matter expertise and civic involvement will serve Choose Chicago and our partners well. I look forward, as does Glenn, to having many opportunities for Glenn to meet and interact with our members and partners in the months to come.
I would be remiss if I did not thank and acknowledge the incredible commitment of time, energy and passion for both Choose Chicago, our team and our city as demonstrated these past six years by our outgoing Chair – Desiree Rogers. I cannot find the words that capture the leadership and support she has extended to me in my role and again the many, many accomplishments that Choose Chicago has been a part of under her tenure as Chair.
We will continue to update you on the variety of activities underway as we push toward year end and our defined goals of winning future convention and meetings business for the city, welcoming and hosting record-setting meetings this year and sharing our story around the country and the world and helping promote and sell this amazing community.
Speaking of, I would like to take this time to share with you a link and invite you to visit the newly launched Choose Chicago website. We are extremely excited about the added features and ways to navigate the site that we believe will help to define a visitor's Chicago experience, inspire awareness and travel to Chicago and assist in trip planning and itinerary building. Feel free to drop me a note as to what you like or what you perhaps think is missing as we continue to build a travel portal to and through Chicago and our many neighborhoods. Drop me a line at DWhitaker@ChooseChicago.com. A special note to acknowledge our Vice President of Marketing, Rita Chen, and her amazing team that made this new website launch possible (and an added note of thanks to our advertisers who help make this expanded investment a reality).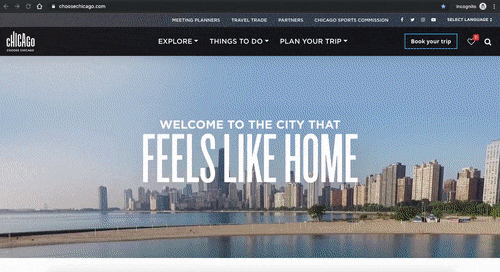 Visit the new choosechicago.com
---
Welcome Glenn Eden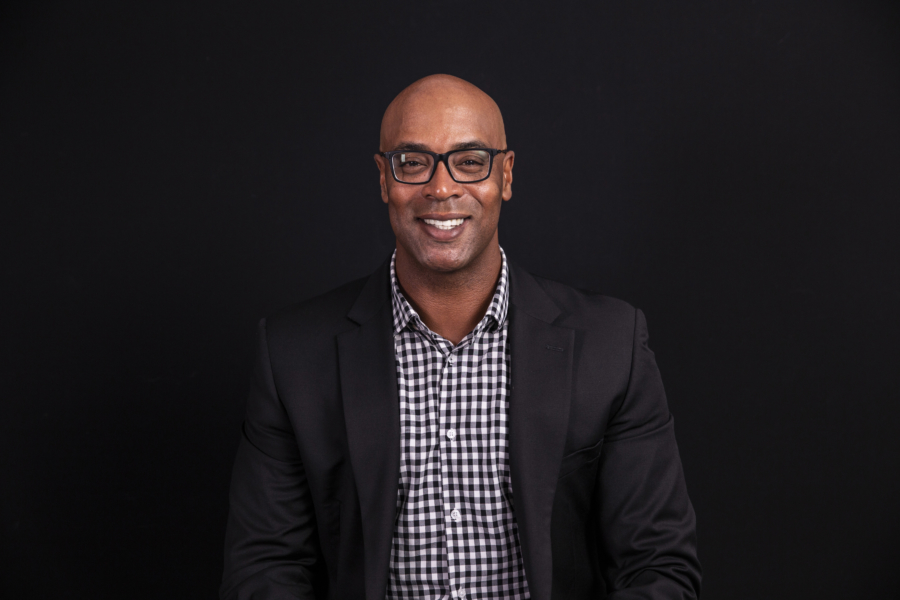 As a twenty year seasoned veteran at Weber Shandwick, one of the world's largest and leading public relations firms, Glenn is responsible for the creation and implementation of strategic PR, corporate reputation and executive visibility plans for technology, financial services, manufacturing and government clients. He also has a proven track record of advising and counseling companies and government entities on media relations strategies to insure media coverage that successfully raises awareness, visibility, and understanding of their products/services, and favorably supports their overall business objectives. Glenn has advised the City of Chicago's Department of Innovation and Technology, City Tech Collaborative, IBM, Abbott, Nuveen Investments, the U.S. Department of Treasury, Motorola, Mattel, Lenovo, Google, Gogo, Qualcomm, and others.
He is an advisory board member of the Illinois Technology Association's (ITA) Midwest Internet of Things Council. Glenn is also an executive oversight committee member of The Array of Things Project, the world's first urban sensing initiative based in Chicago. He also serves on the Illinois Institute of Technology's Computer Science Department Advisory Board. In 2016, he was named to Chicago Inno's '50 on Fire' honor roll for outstanding contributions to Chicago's tech and innovation ecosystem. Glenn is a member of Chicago United's Leaders Council. He is currently a member of Chicago International Film Festival's Black Perspectives Committee. Glenn also served as the Chairman of the Art Institute of Chicago's Evening Associates Board from 2007 to 2011 and was instrumental in helping the museum leadership launch the Modern Wing opening in 2009. Glenn received his undergraduate degree from the University of Michigan.
---
New Choose Chicago Board members
New Board Members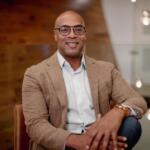 Glenn Eden
Board Chair
Strategic Communications Advisor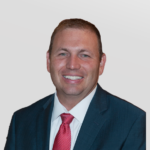 Robert G. Reiter, Jr.
President
Chicago Federation of Labor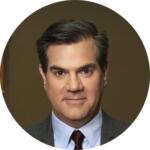 James Rondeau
President & Eloise W. Martin Director
The Art Institute of Chicago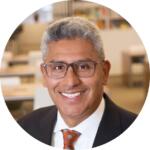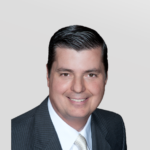 John Wells
General Manager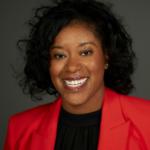 Nykia Wright
Chief Executive Officer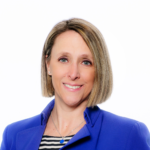 Elizabeth "Betsy" Ziegler
CEO
1871/CEC - Chicagoland Entrepreneurial Center
---
The Choose Chicago Customer Advisory Board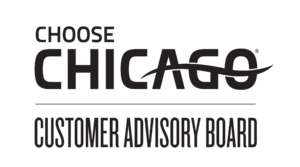 The Choose Chicago Customer Advisory Board (CAB) is an intimate group of the leading association, trade show and corporate meeting professionals and organizers that meet regularly in Chicago. Choose Chicago, in partnership with MPEA/McCormick Place/ASM Global convenes this important group every 9-12 months as a sounding board for new initiatives and projects to provide valuable insight and input into Chicago's meetings and events industry to ensure we remain at the forefront.
Approximately 15 members of CAB last met at the end of July/beginning of August. In addition to Choose Chicago and MPEA/McCormick Place updates, several important industry-wide topics were discussed in addition to strategic housing initiatives and room block best practices as well as Choose Chicago's newest Client Services initiative, 1933. American Airlines, Strategic Partner of Choose Chicago and sponsor of the CAB also provided an overview of their meetings product line as well as key new updates to their fleet.
---
Partnership
Choose Chicago Welcomes 18 New Partners
Dining
Club 77
Dick's Last Resort
Grant Park Bistro
Lips Drag Queen Show Palace Restaurant & Bar
Entertainment/Talent/Speakers
DJ Sara Kay
General Service Contractor
The Expo Group
Gifts and Promotional Products
The Stevens Group
Hotels
Hyatt Place Chicago Wicker Park
Museum/Gallery/Exhibition
Wrightwood 659
Chicago Restaurant Week Registration Now Open
Don't miss the opportunity to participate in the 13th annual Chicago Restaurant Week promotion taking place Friday, January 24 – Sunday, February 9, 2020. Last year's event featured 396 restaurants, served 566,384 dinners and generated over $23M in direct spending at Chicago area restaurants during a traditionally slow time of year. Be a part of the most highly anticipated culinary event of the year. The deadline to register is October 30, 2019.
Learn how you can participate in Chicago Restaurant Week
New Choose Chicago Student Partnership Program
Choose Chicago has launched the tourism industry's first Student Partnership program. The goal of this program is to increase visibility to Chicago's tourism and hospitality students within the broader visitor industry – growing a strong group of advocates and future industry leaders.
Student partners will be able to leverage a variety of benefits that include, but not limited to:
Networking and educational opportunities with industry professionals designed especially for the students
Industry related volunteer opportunities
Access to Choose Chicago industry news, events, and market research
Eligibility to apply for new Choose Chicago Future Leader Award ($5,000 value)
We are excited about the potential to grow this program and look for meaningful ways to work with our partner organizations to better serve the students. More information will be shared about future events and opportunities for you to participate in.
Partner Profile: Margeaux Brasserie
Josephine Baker, Gertrude Stein, Ernest Hemingway, American Jazz and good food were the hallmarks of Paris in the 1920s. The Waldorf Astoria's Margeaux Brasserie has brought its recreation of a bygone era and menu to 21st century Chicago.
---
Global Development
Brazilian Market Gains Momentum
The Brazilian market is gaining momentum as we find more leisure travelers visiting Chicago. In 2018, the annual market share to Chicago was up 15.1%.
The Global Development team participated in the Visit USA Brazil roadshow from August 5-9, 2019. The roadshow took place in Campinas, Curitiba & São Paulo. Between the three cities, an impressive 1,449 travel trade professionals were educated & trained on Chicago as a destination. Choose Chicago highlighted some of our available tourism products, and presented new and exciting updates happening in the city. This exposure enhances the agents' interest in our destination and encourages them to sell Chicago to their clients.
Maximizing our presence in-market, Choose Chicago also conducted sales calls. In São Paulo, we met with Agaxtur & Orinter Tour & Travel. In Curitiba we met with KLAS Tour Operator & Incentive, MGM Tour Operator, BRT Tour Operator, & SCHULTZ Tour Operator. The goal of these sales calls was to grow the tourism product offerings (hotels and attractions), train/update teams on new product offers and obtain feedback on how Chicago is perceived. By better understanding the market needs, we can tailor itineraries to fit their client's desires and offer the best Chicago experience for each leisure visitor. We also assess what they are using to sell the destination and what tools they may need to be better equipped in showcasing Chicago.
---
Meetings & Conventions
McCormick Place Update
September 2019 is ALL about conventions!!
Starting the month, Chicago welcomed over 15,000 Starbucks leaders from all over the country for the first time. Did you know that Chicago was the first city outside of Seattle to open a Starbucks retail store? How fitting that Starbucks would choose Chicago for it's first Leadership Experience in over seven years!
Following Starbucks, we will be hosting six other major large-scale Conventions and Meetings at McCormick Place bringing in just under 100,000 attendees from over 150 countries.
| Meeting Date | Lead Name | Peak Room Nights | Total Room Nights | Attendees |
| --- | --- | --- | --- | --- |
|   Sep 4-7, 2019 | Starbucks 2019 Leadership Experience | 7,200 | 25,300 | 13,000 |
| Sep 8-12, 2019 | (American Society for Industrial Security) ASIS 2019 Global Security Exchange (GSX) | 8,200 | 34,200 | 20,000 |
| Sep 14-17, 2019 | (American Society for Radiation Oncology) 2019 ASTRO Annual Meeting | 5,400 | 25,900 | 11,500 |
|   Sep 15-18, 2019 | (American Health Information Management Association) AHIMA Annual Convention 2019 | 2,600 | 10,900 | 5,000 |
| Sep 22-25, 2019 | Water Environment Federation – 92nd Annual Technical Exhibition & Conference (WEFTEC 2019) | 8,900 | 35,600 | 22,000 |
| Sep 24-26, 2019 | US Foods 2019 Vendor Forum | 600 | 840 | 950 |
| Sep 25-28, 2019 | (North America Spine Society) NASS 2019 Annual Meeting | 3,500 | 12,300 | 8,200 |
The Collection at McCormick Square Introduces Two New Spaces
The Collection at McCormick Square announces two new meeting venues: The Tap and the recently restored American Books Company (ABC) Building. These venues will serve as multi-purpose social and professional gathering spaces for events of all sizes.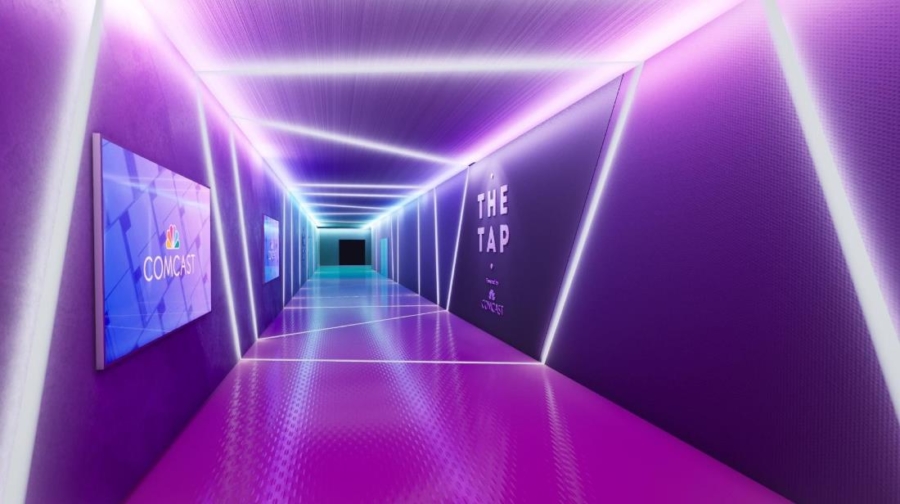 "We are thrilled to be opening such innovative and adaptable spaces," said Lori T. Healey, CEO of Metropolitan Pier and Exposition Authority. "This is an exceptional opportunity for our guests to be limitless when creating their event."
The ABC Building is a five-story Chicago landmark building connected to the Marriott Marquis. Core elements of the building from 1912, such as its original main entrance, foyer, and lobby, are paired with contemporary décor, elegantly blending past and present. Following its November 2017 restoration project, the ABC Building has hosted everything from cocktail parties to team building sessions.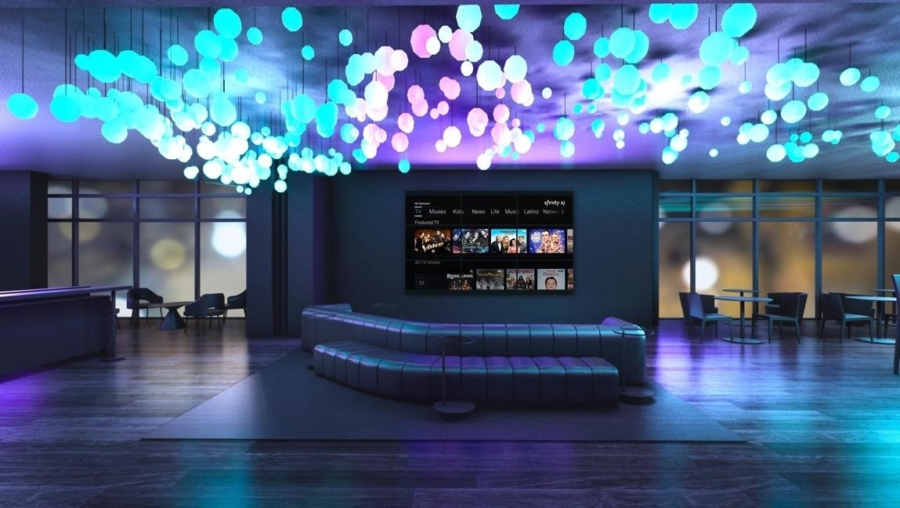 Features of the ABC Building include:
29 meeting rooms
Flexible first floor event space, with capacity up to 880
On-site kitchen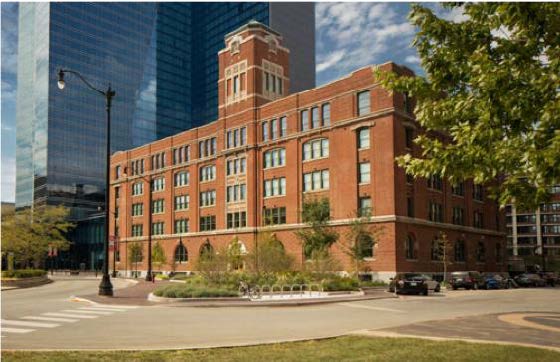 The Tap will be a 15,000 square feet multifaceted space located at the intersection of the West Building, Wintrust Arena, Marriott Marquis and Hyatt Regency. Construction began in August and the project will be complete by early 2020. This meeting space is bookable for private events, also acting as a coffee shop by day and bar by night. With plug and play capabilities during business hours and pre and post- game activities in the evening, this facility has something for all The Collection visitors.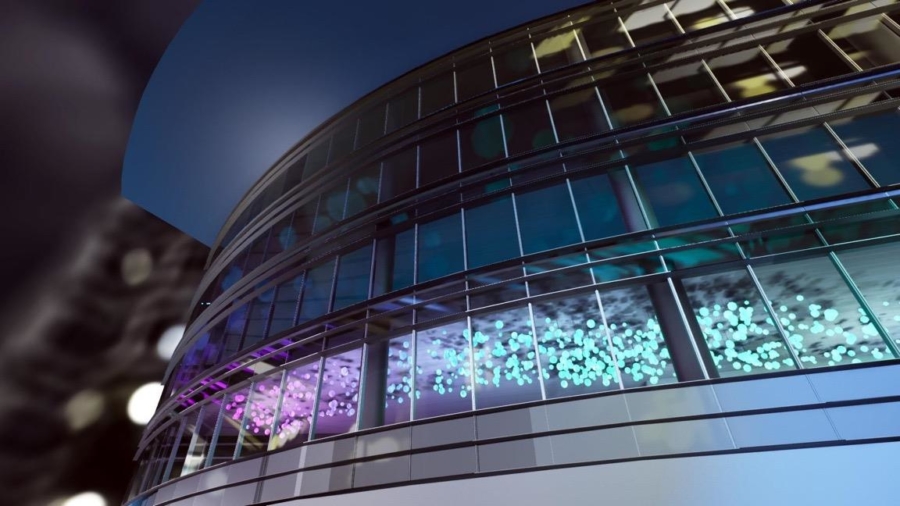 "This will be a great addition to the fan experience at Wintrust Arena," said Kara Bachman, executive director of Chicago Sports Commission. "Since it's neighboring Wintrust, I predict The Tap will be a popular destination during 2020 NBA All Star Week along with the many upcoming events being held at Wintrust".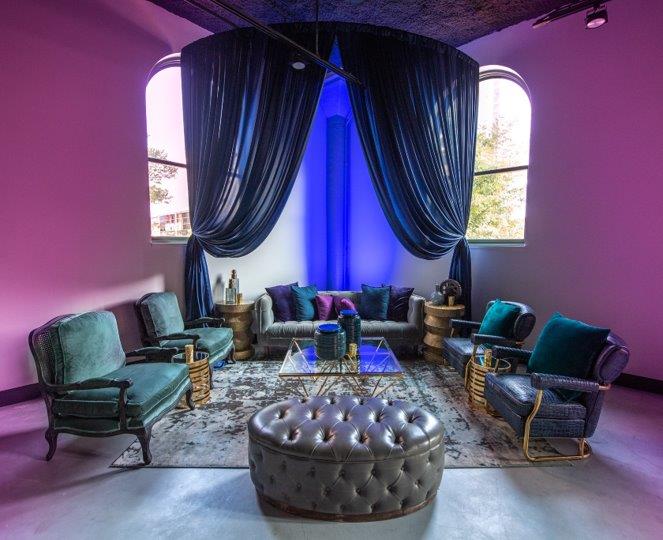 "It's a priority to our organization to deliver on what our client's value," said Healey. "From listening to our stakeholders, it's clear that our event venues need to not only be modern, but also moldable to a variety of sustainable needs."
About the Collection at McCormick Square
The Collection at McCormick Square offers unmatched flexibility and lets you define the space based on your needs – the space does not define your event. With access to three hotels (Marriot Marquis, Hyatt Regency McCormick Place, The Hiltons at McCormick Place), a multi-purpose event center, and McCormick Place, you have a variety of choices of meeting spaces to choose from and a bustling surrounding neighborhood that is booming with delicious dining and fun nightlife options. With more than 170 flexible breakout spaces, 6 exhibit halls, and ballrooms ranging from 9,000 to 103,000 square feet, the Collection at McCormick Square provides flexibility and options for all of your meeting or event needs.
Choose Chicago Ambassadors
Courtney Cawley Gray, a Choose Chicago Ambassador who works with Levy Restaurants at Guaranteed Rate Field, graciously hosted Choose Chicago's most involved Ambassadors in a VIP Suite at the Chicago White Sox game this summer. The Choose Chicago Ambassadors are an integral part of Choose Chicago and the 'We're Glad You're Here' program, donating over 450 hours of volunteer service each year.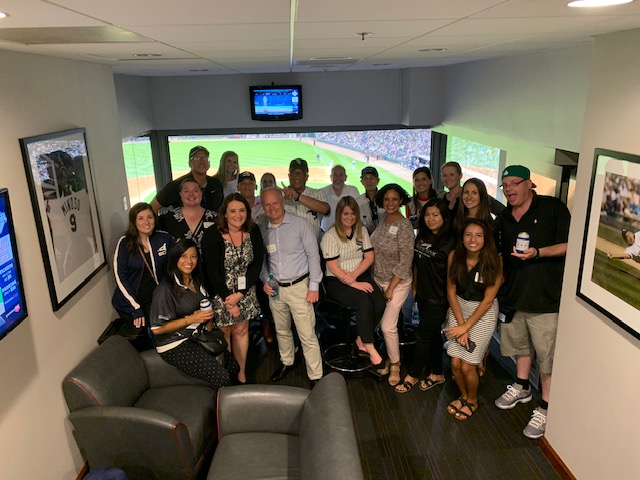 ---
Cultural Tourism & Visitor Services
Celebrating the World's International Greeters
Earlier this month, the world celebrated the 27th anniversary of a unique global organization: the volunteers in disparate geographies who make up the International Greeter Association. It's their job to take visitors on personal tours of neighborhoods and other areas of interest in cities all over the globe.
The International Greeter Association celebrated its 27th anniversary on September 7. With operations in Chicago and more than 120 other cities worldwide, the association was launched in New York in 1992, eventually becoming an international phenomenon with the establishment of The Global Greeter Network in 2005. Since then, every day, in 38 countries, more than 3,500 private citizens have volunteered their time to show tourists in nearly 150 destinations worldwide what makes the city they are visiting special. In 2019, the Global Greeter Network changed its name to the International Greeter Association after becoming a legal entity.
Chicago's Greeter program began in 2002 under the Chicago Office of Tourism. In 2012, when the Chicago Convention and Tourism Bureau and the tourism portion of the Chicago Office of Tourism and Culture merged, the Greeter Program became part of the city's newly named tourism organization, Choose Chicago.
"Chicago Greeter is once again seeing record numbers of visitors with 60% being international guests," says Choose Chicago's Greeter Program Manager Katie Law. "We now have more than 200 Greeters who have met with over 10,000 visitors. We're thrilled that our newest service, 'Chicago Riverwalk InstaGreeter,' has seen a 100% rise in participation over 2018. The request for a Greeter that can offer another language has increased more than 25% from 2018."
This was the fourth International Greeters Day celebration. Law says this year's commemoration included Greeter walks to Bronzeville, Old Town, Pilsen, Chinatown, Loop, Chicago Riverwalk and Millennium Park.
Chicago's Greeter program caters to both domestic and international visitors. The top countries represented are Canada, France, the United Kingdom, Germany, Australia, China, Germany and Spain. Domestically, the top U.S. states with visitors that use the service are Illinois, California, Texas, New York, Florida and Michigan.
Anyone interested can sign up for a greeter at chicagogreeter.com. To find out what countries/cities that have a Greeter service visit internationalgreeter.org.
---
Marketing
Choose Chicago Hosts 3rd Annual Global Influencer Tour
From July 11-16, Choose Chicago's Marketing and Media Relations teams hosted our 3rd Annual Global Influencer Tour with 34 top Influencers from eight key markets (Brazil, Canada, China, France, Germany, Japan, Mexico, UK).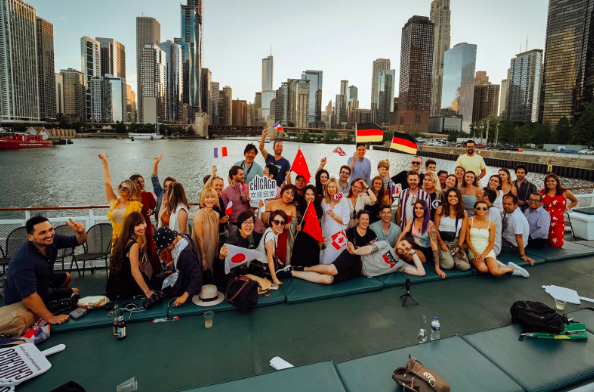 During the visit, the group experienced the many diverse activities our city offers. From a private breakfast at Skydeck Chicago to cruising along the Chicago river on the architecture river tour and attending key events such as Taste of Chicago and Windy City Smokeout, the Influencers were never short of content to share with their followers with the goal of inspiring them to come experience Chicago personally. Together, the group of Influencers have a combined following of 9.1 million (Instagram), 8.4 million (YouTube), 2.6 million (Weibo).
---
Media Relations
Choose Chicago's Media Relations team hosted over 90 members of the media on individual media visits and group press tours to Chicago in July and August 2019. The media coverage generated these two months resulted in approximately more than $8 million in media value. A sampling of stories published in July and August 2019 included:
Viag, Faça um roteiro LGBT em Chicago e se encante por essa cidade linda e vibrante
Qual Viagem, Super Dica Chicago
Flight Network, The Essential Sips and Bites in Chicago
Cityline, Summer in the City
Mundo Ejecutivo, Así es la bella y encantadora ciudad de Chicago
Hemispheres (United Magazine), Three Perfect Days: Chicago
Lonely Planet, The best ballpark food around the US
Asahi Shimbun Digital & TRAVEL, Exploring Chicago's Must-See Art Spots
Asahi Shimbun Digital & TRAVEL, Enjoy photogenic gourmet in Chicago
Urbis, Chicago, a design story
RollingStone.fr, Freewheelin' Zegut, episode 1 : Chicago, the city of Chess and Blues Brothers
focus.de, It doesn't always have to be New York: Best tips for 48 hours in Chicago 
bild.de, Camping in the "Windy City"
Daily Express, Culture club thriving in the art of the city
Daily Mail, Yes it's my kind of town
---
Chicago Sports Commission
USWNT Makes Soldier Field Final Stop on World Cup Victory Tour
US Women to Face Korea October 6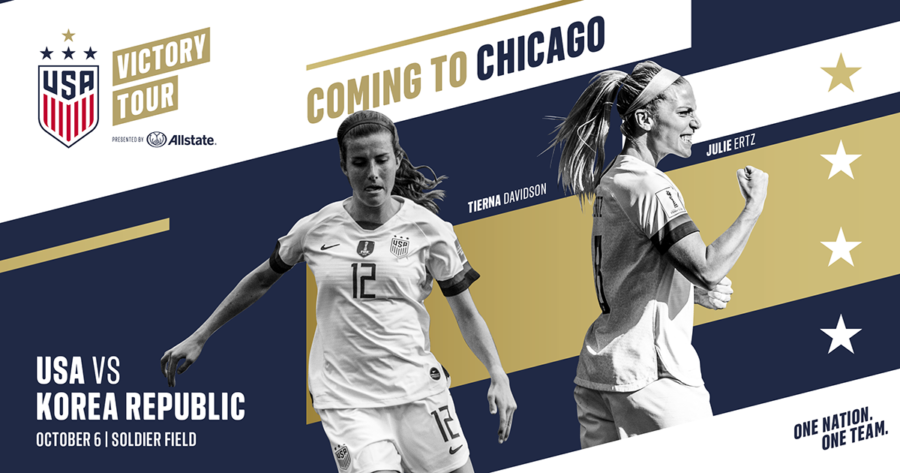 The defending FIFA Women's World Cup champions will take on Korea at Soldier Field as the last stop on their victory tour. Starting at 1:00pm, the game marks the final match for legendary Team USA coach Jill Ellis. Don't miss your chance to see the USWNT World Cup Champs – get your tickets now! Tickets