In This Issue
---
A Note From David Whitaker President & CEO
As always, thank you for your continued collaboration and support. In this edition of The Destination, we have now received updated Smith Travel Research (STR) hotel performance data for the month of June as well as for the first 6 months of the year. After an up and down first 5 months it is encouraging to see positive growth in demand (rooms consumed), with June figures as reported by our partner hotels showing overall demand up 2.2%. June is a vivid example of the ups and downs as well, in that leisure demand was up 104,900 room nights consumed, but group demand was down 77,263 room nights for a net gain of 25,731 room nights. June ends the month with room demand projected to be up 2.2%. The challenge remains however, in that hotel room supply in June 2019 compared to June 2018 was up 5.1% far outpacing the growth in demand and impacting related occupancy and rate percentages.
The first half of 2019 will end with overall room demand up 36,447 room nights consumed (a relatively flat year compared to this time last June; demand is currently up 0.7%). Supply, however, continues to increase year-over-year and has increased 4.1% in the first six months, with Chicago on pace to open seven new hotels this year. The welcomed 4.5% increase in leisure room nights consumed (an increase of 163,033 room nights) is negated by a decline in group room nights (down 126,039) with the net increase not keeping up with increased supply.
Choose Chicago and our partners will continue to closely monitor several major conventions and major special events scheduled for the coming months to help us better gauge how the full year will end – and we will continue to share these numbers with you.
Also in this month's edition, please plan to attend our next Partner Update on July 30th beginning at 8:00 am as our marketing and partnership team preview the launch of our new consumer website (ChooseChicago.com). Our meeting will include a focused discussion on increased opportunities for partner listings, added exposure for partner advertising and significant increases in opportunities for sponsored content.
And a special shout out from me and our entire team who, along with many key partners, celebrated our very own Lori Adlesick (vice president of Industry Relations and Special Events), who was honored by BIZBASH and named to their prestigious Hall of Fame. It was a special night, but more importantly, an evening celebrating a stellar career of professionalism, collaboration and expertise – congrats Lori!
David Whitaker
President & CEO
---
By the Numbers
Key Performance Indicators
June 2019 Preliminary
| | 2018 | % Change | 2019 | % Change |
| --- | --- | --- | --- | --- |
| Occupancy | 90.3% | -0.7% | 87.9% | -2.7% |
| ADR | $281.51 | 5.2% | $262.15 | -6.9% |
| RevPAR | $254.32 | 4.4% | $230.38 | -9.4% |
| Room Supply | 1,282,980 | 3.6% | 1,348,155 | 5.1% |
| Room Demand | 1,159,069 | 2.8% | 1,184,800 | 2.2% |
| Leisure | 656,858 | 2.8% | 761,758 | 16.0% |
| Group | 481,690 | 3.1% | 404,427 | -16.0% |
January – June 2019 (Preliminary)
| | 2018 | % Change | 2019 | % Change |
| --- | --- | --- | --- | --- |
| Occupancy | 72.2% | 1.9% | 69.8% | -3.3% |
| ADR | $202.74 | 2.7% | $197.65 | -2.5% |
| RevPAR | $146.36 | 4.6% | $137.95 | -5.8% |
| Room Supply | 7,697,034 | 3.9% | 8,015,030 | 4.1% |
| Room Demand | 5,557,715 | 5.9% | 5,594,162 | 0.7% |
| Leisure | 3,590,742 | 3.8% | 3,753,775 | 4.5% |
| Group | 1,864,067 | 10.6% | 1,738,028 | -6.8% |
---
Partnership
Choose Chicago Welcomes 15 New Partners
Architectural/Cultural Tours
L Stop Tours
Associations/Organizations
Pulse Technology
Stasher
The Celebration Society
Dining
Kinton Ramen
Nepal House Nepali & Indian Cuisine
Entertainment/Talent/Speakers
Steve Haffner, speaker and mental performance specialist
Event Management/Production
Event Solutions by LBG
Jasculca Terman Strategic Communications
Parking
ABM
Rentals
AFR Furniture Rental
Special Event Venue
Killerspin
Krypton VR Lounge
Special Interest Tours
Chicago Hauntings
Translators/Interpreters
Interpro Translation Solutions
Register for the July Partner Event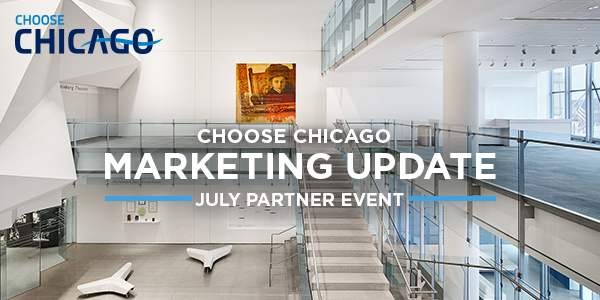 Please join Choose Chicago and our key marketing partners, Envisionit and Miles Partnership, as we share updates on the upcoming launch of our new website and our new partner advertising opportunities. We will also be showing the new partner listing page design and what are the steps to take to make the most of your listing.
If you're looking for ways to increase your organization's web traffic and awareness, you won't want to miss this update. We highly recommend attendance from your colleagues focused on the success of your marketing, communications, or public relations efforts.
Date:
Tuesday, July 30, 2019
Time: 
8:00 – 9:00 a.m. Registration, breakfast & networking
9:00 – 10:00 a.m. Presentation
Location: 
Venue SIX10
610 S. Michigan Ave.
Chicago, IL 60605
Cost: 
Complimentary
Special thanks to our partners:

Venue SIX10,a premiere Chicago event site, features a 10-story faceted window wall that provides stunning panoramic views of Chicago's skyline, Grant Park, and Lake Michigan. Venue SIX10 offers a variety of event spaces including a 409-seat theater, 13 state-of-the-art breakout rooms and expansive event galleries. With numerous design awards, Silver LEEDs certification, catering provided by a select group of Chicago's finest caterers, and impeccable service, Venue SIX10 delivers an experience second to none.
Chicago Golf Classic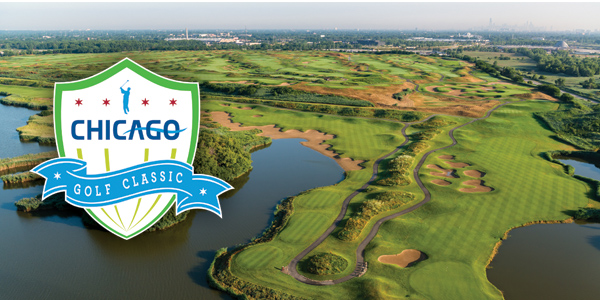 Thursday, October 10, 2019
Harborside International Golf Club – Chicago
11001 S. Doty Avenue East
Chicago, IL 60628
Come out and support the Choose Chicago Foundation for a great day of golf and networking. This fundraising event will be providing money to the Foundation and will be used to support our new Choose Chicago Future Leader Award which will be rolling out this year.
Schedule:
8:00am – Registration, Driving Range and Putting Green Open, Breakfast, Mobile Pro Shop
10:00am – Shotgun start
2:30pm – Reception in the clubhouse
Not a golfer? There are still many opportunities to be involved in this annual hospitality industry event. Other sponsorship opportunities include but are not limited to: beverage cart, food, putting green, driving range, beverage, gift, reception, prizes etc. Call or email Lori Adlesick today to discuss how you can get involved: ladlesick@choosechicago.com or 312-567-8496.
Your purchase is helping to support the Choose Chicago Foundation's efforts and may be tax-deductible beyond face value. You should consult with your legal or tax advisor as to the tax deductibility of this contribution.
Pricing:
Foursome with Hole Sponsorship: $3,000
Includes:
Foursome
Sponsorship of a hole
Signage on hole
Logo acknowledgement on cart GPS for your hole
Two staff members to staff your hole (optional)
Breakfast for four golfers plus two hole staffers
On-course food for four golfers plus two hole staffers
Reception for four golfers plus two hole staffers
Use of locker room, practice range, driving range
Golfer gift for four golfers
Tax exemption for supporting the Choose Chicago Foundation
Foursome Only (no hole sponsorship): $2,500
Includes:
Foursome
Breakfast for four golfers
On-course food for four golfers
Reception for four golfers
Use of locker room, practice range, driving range
Golfer gift for four golfers
Tax exemption for supporting the Choose Chicago Foundation
Hole Sponsorship Only (no golf) : $1,000
Includes:
Sponsorship of a hole
Signage on hole
Logo acknowledgement on cart GPS for your hole
Two staff members to staff your hole
Breakfast for two hole staffers
On-course food for two hole staffers
Reception for two hole staffers
Use of locker room
Assumes some type of prize/giveaway will be provided at hole
Tax exemption for supporting the Choose Chicago Foundation
Individual Golfer: $650
Includes:
One golfer
Breakfast for one golfer
On-course food for one golfer
Reception for one golfer
Use of locker room, practice range, driving range
Golfer gift for one golfer
Tax exemption for supporting the Choose Chicago Foundation
To register click here.
For more information contact Lori Adlesick at ladlesick@choosechicago.com.
Cancellations received less than one week out are non-refundable. 
---
Two Chicago Frank Lloyd Wright Properties Named to World Heritage List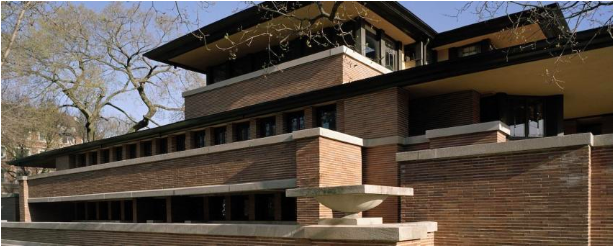 Two Chicago-located Frank Lloyd Wright structures have been named to the World Heritage List, joining globally iconic structures like the Taj Mahal and the Statue of Liberty on the prestigious listing.
Eight buildings by Frank Lloyd Wright, including the Robie House in Hyde Park and the Unity Temple in suburban Oak Park, were named to the United Nations' list of the world's most significant cultural and natural sites.
Established in 1978 and recognizing more than 1,100 sites, the World Heritage List celebrates places of "outstanding universal value."
In its nomination, the conservancy stressed how the Wright buildings spoke to emotional as well as functional needs, were inspired by nature's forms and principles, and responded to changing American lifestyles, especially by making homes more casual and related to the outdoors.
Wright's buildings influenced the course of architecture "in both North America and beyond," the conservancy said in its nomination.
In addition to Hyde Park's Robie House and Oak Park's Unity Temple, the World Heritage List also recognized our neighbors to the north in Wisconsin. Taliesin, Frank Lloyd Wright's 600-acre home in Spring Green and Jacobs House in Madison were among the eight U.S. buildings named to the List on Sunday, July 7.
---
Global Development
USTA'S IPW
Choose Chicago had the rare opportunity to be one of two presenting destination partners at the American Airlines Asia Pacific Divisional Sales Conference from May 21 to 23.
From June 1-5, Choose Chicago attended U.S. Travel Association's IPW in Anaheim, California. IPW is the industry's leading international inbound travel trade show, generating more than $5.5 billion in future travel to the United States. More than 1,300 international and domestic buyers attended from more than 70 countries.
Choose Chicago educated buyers and showcased Chicago's offerings as a leisure destination, available tourism products, what's new, and providing them with resources to better sell our destination to their clients. With increased interest in Chicago's leisure offerings, more buyers have confirmed that they are carrying Chicago's products. As a result, the Global Development team has been able to introduce niche activities and dive deeper into itinerary building for buyers looking to enhance their product offerings.
IPW provided the opportunity to meet & build relationships with new buyers from multiple countries as well as existing buyer clients. The Global Development team handled four appointment books, conducting an impressive 155 face-to-face business appointments with leading international and domestic travel buyers. Choose Chicago shined in its visually stunning 10X30' booth, drawing in foot traffic in addition to its appointments. Near the Choose Chicago booth were partners: Chicago Department of Aviation (O'Hare & Midway International Airports), Skydeck Chicago, Chicago Architecture Center, Chicago's First Lady Cruises, 360 CHICAGO Observation Deck, Museum of Science & Industry Chicago, Shedd Aquarium, Field Museum, & Wendella. Choose Chicago thanks our partners for their support in highlighting Chicago.
Additionally, the Media Relations team met with global journalists during the Media Marketplace.
IPW hosts unique networking opportunities through events & lunches to maximize our time with buyers and continue to build relationships. Choose Chicago hosted a VIP Client Dinner at Morton's Steakhouse for 21 key travel trade professionals, 24 media, & 10 Choose Chicago members.
---
Meetings & Conventions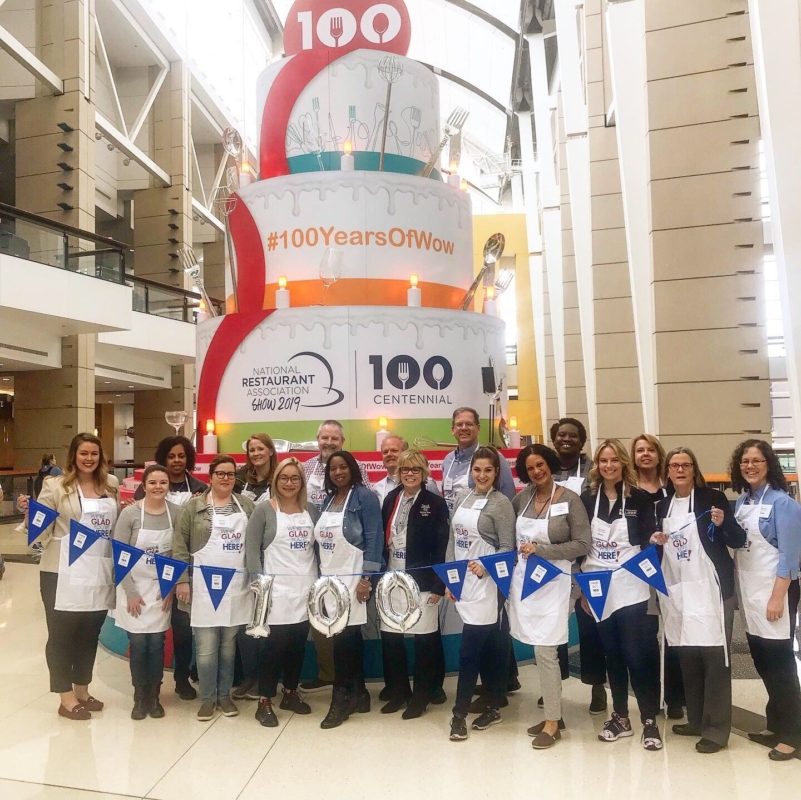 Q2 Convention Highlights
National Restaurant Association's Restaurant Hotel-Motel Show – Celebrated their 100th Anniversary with over 70,000 attendees.
Choose Chicago's volunteer Ambassador's assist Mary Pat Heftman, Vice Chairman, Winsight Exhibitions (second from right) in welcoming attendees to the National Restaurant Show as NRA celebrated it's NRA's 100th Anniversary at McCormick Place in Chicago.
ProMat 2019 & Automate 2019 (co-located shows) – ProMat and Automate experienced their largest show in their 34 year history.
Star Wars Celebration 2019 – This was the first time The Star Wars Celebration was held in Chicago. They experienced the fastest ever sellout of their Thursday – Sunday tickets.
National Confectioners Association's Sweets & Snacks Expo – Sweets & Snacks Expo 2019 enjoyed a global presence from more than 90 countries and over 15,000 attendees. More than 825 companies, including over 200 new companies, exhibited at the Expo.
American Society of Clinical Oncology's ASCO 2019 Annual Meeting – ASCO set an attendance record of over 42,000; a record-breaking number of hotel room nights used and a sold out exhibit floor.
KeHE Distributors, LLC. KeHE Holiday Show 2019– KeHE enjoyed their largest show ever, including sold out exhibit space and over 30 million orders placed on the show floor.
Salesforce Connections 2019 – Salesforce experienced its highest-ever attendance with over 12,000 attendees.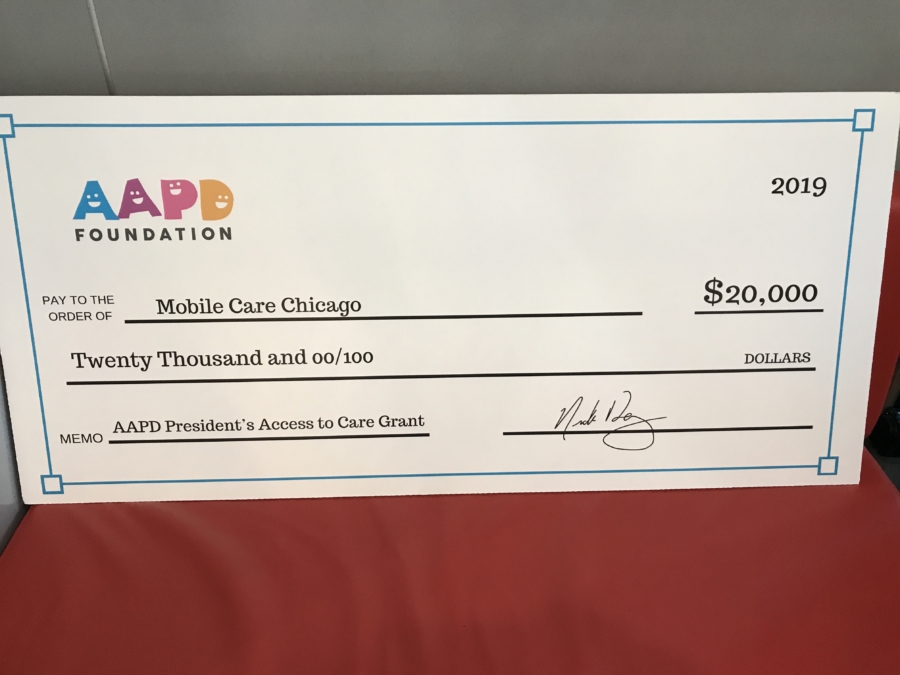 American Academy of Pediatric Dentistry 2019 Annual Meeting – AAPD's Foundation donated $20,000 to Mobile Care Chicago. Mobile Care Chicago provides free dental care to children in underserved areas of the city.
Chicago Convention Clients Give Back to the Local Community
There is a growing trend for Corporate Social Responsibility initiatives during conventions. Choose Chicago sincerely thanks the following clients for conducting these CSR projects in Chicago, and leaving a positive footprint on our city!
The American Society of Clinical Oncology's Conquer Cancer Foundation raised a record-breaking $1 million+ for cancer research through a myriad of fundraising efforts in Chicago during ASCO 2019.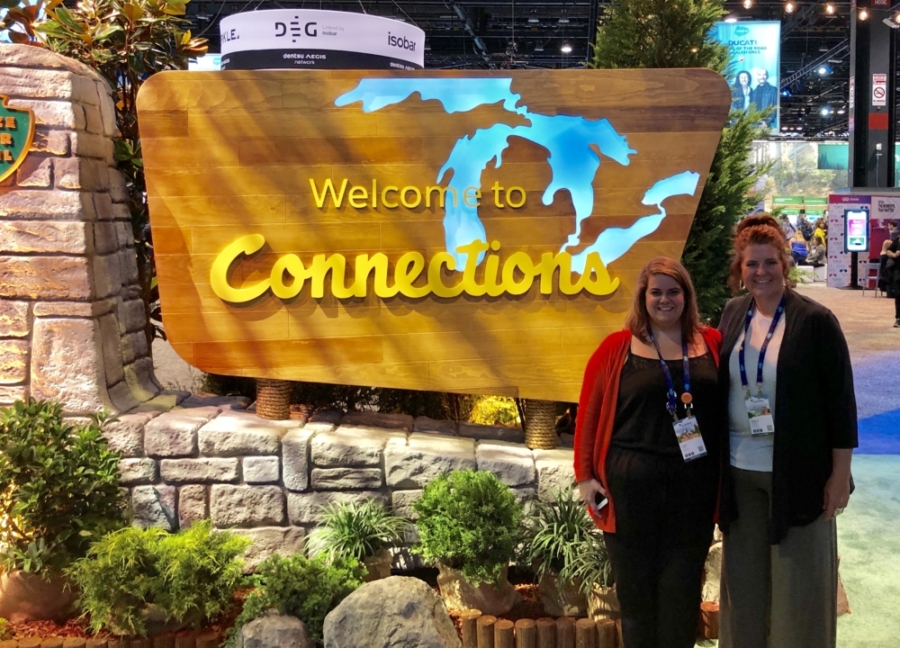 Salesforce Connections 2019 – Salesforce donated $1 million to Chicago Schools and committed to adding 1,000 new jobs in Chicago over the next five years. For the second year in a row, Salesforce teamed up with Chicago Public Schools and worked closely with Chicago's Solorio High School to help build a new Early College STEM School pathway, provided specialized IT training, and increase exposure to postsecondary education and tech careers. Salesforce employees also serve as volunteers and mentors for i.c.stars, a local workforce development organization that aims to create a more diverse, equitable workforce.
Modern Language Association – MLA donated books to Chicago Public Schools.
International Housewares Show – The IHA Gala raised funds for multiple charities including five local charities including Family Shelter Service, Hands of Hope, Salvation Army, Sertoma Centre and Together we hope. The IHA Gala has raised over $20m in the last 21 years.
Marriott International – Marriott conducted 45 service projects during their meeting, benefiting causes such as homelessness, education, arts, and neighborhood revitalization.
American Urological Association – AUA donated supplies to Cradles to Crayons.
American Society for Radiation Oncology – 2019 ASTRO Annual Meeting donated $1,000 to the Survivor's Circle
KeHE – KeHE donated leftover food to the Chicago Food Depository
Major Upcoming Q3 2019 Citywide Conventions
First time in Chicago: Reed Exhibitions ComplexCon 2019
7/20 – 7/21
Estimated attendees: 5,000
www.complexcon.com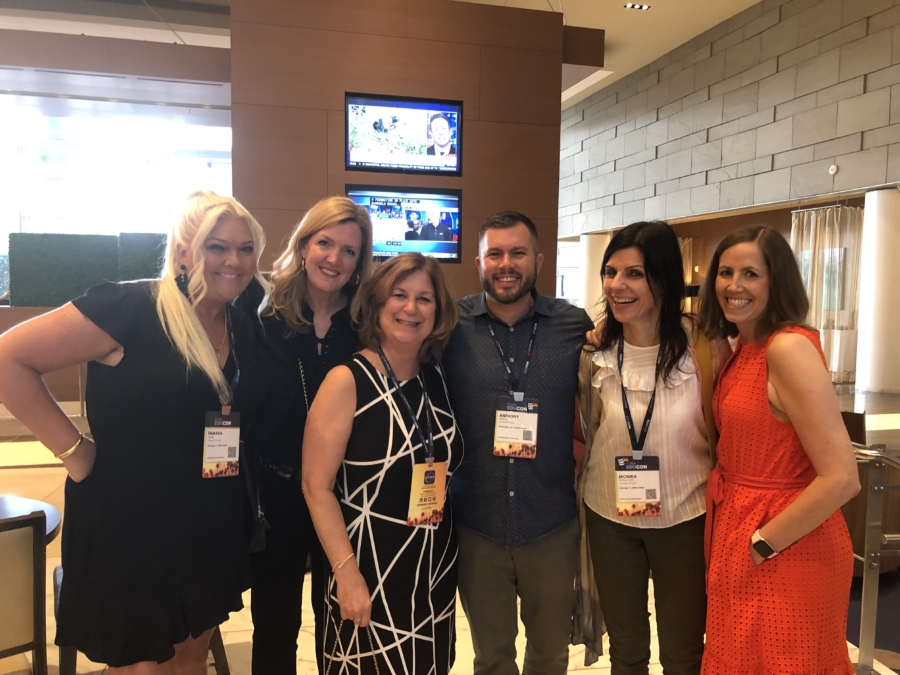 Global Business Travel Assn – GBTA Convention 2019
8/5 – 8/7
Estimated attendance: 7,000
PCMA EduCon was held June 25 – 28, 2019 in Los Angeles. Members of the Choose Chicago Sales and Client Services teams to connect with clients and develop a better understanding of business events, such as how social impact programs can make a difference at events
---
Choose Chicago Industry Relations & Special Events vp Receives Bizbash Award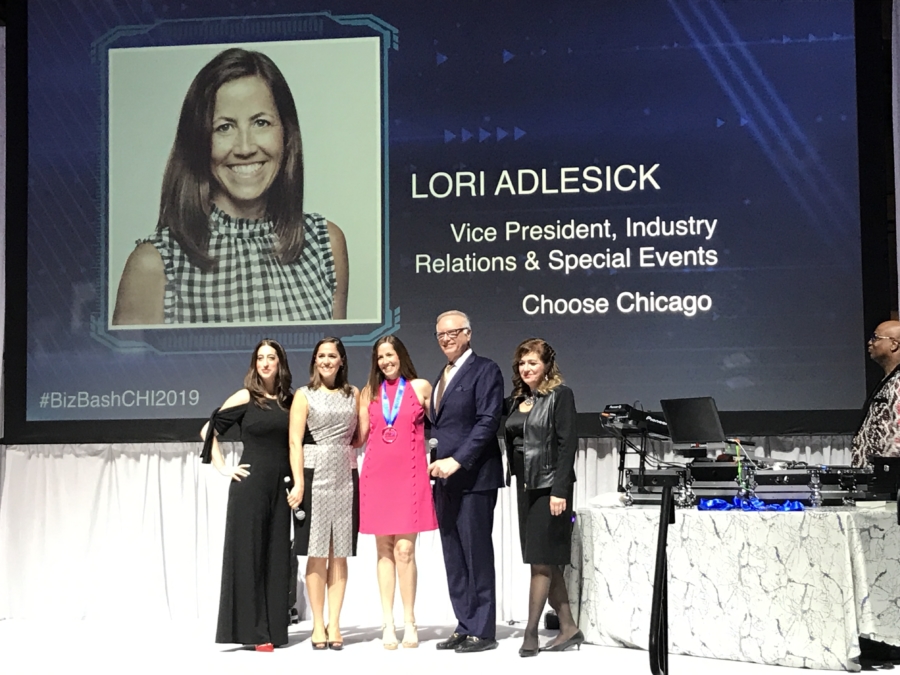 ---
Media Relations
Choose Chicago's Media Relations team hosted 45 members of the media on individual media visits and press tours to Chicago in June 2019. A sampling of stories published in June 2019 included:
---
International Marketing & Media Relations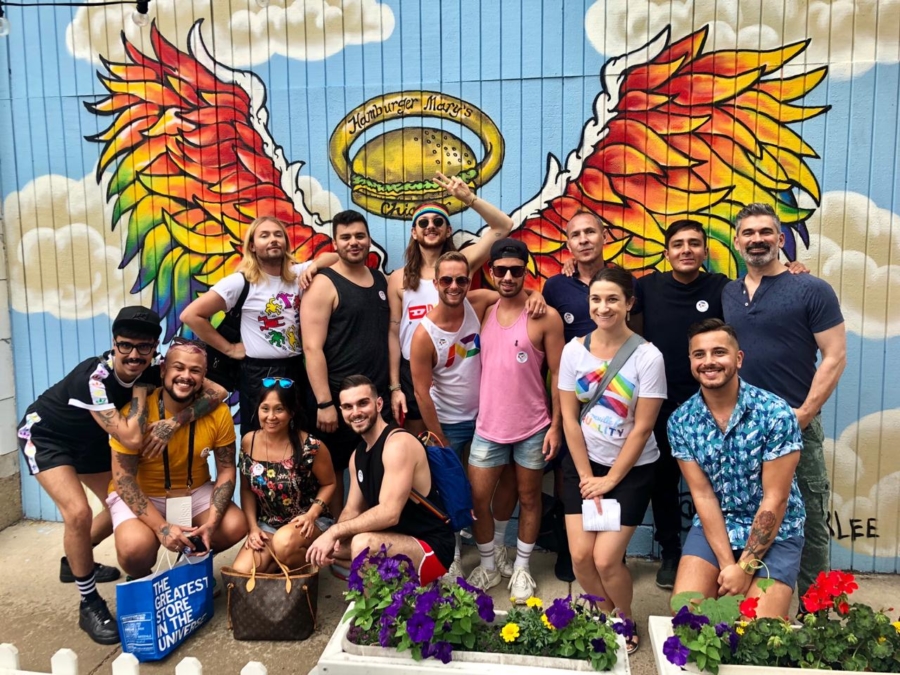 In celebration of Pride Month, Choose Chicago's Media Relations and Marketing teams hosted a group of top global LGBTQ social media influencers from five key markets – Brazil, Canada, Germany, UK and Mexico from June 26 – July 1. During this time, the group participated in various Pride festivities such as the inaugural Pride in the Park as well as walked alongside the White Sox float in the 50th Pride Parade. The group also immersed themselves in Chicago's LGBTQ history via tours of Andersonville and the Legacy Walk. The Influencers shared their Chicago experience with their followers via social media which led to an increased awareness of Chicago's vibrant LGBTQ scene. All the Influencers have a combined audience of 2.52 million (Facebook), 2.31 million (YouTube), 1.47 million (Instagram), and 337, 659 (Twitter) and we thank all of our partners who co-hosted the group with us. Thank you to our partners who rolled out the rainbow carpet and warmly welcomed them to Chicago!