The spookiest season of the year can also get pretty expensive. Whether it's splurging on the perfect costume or shelling out for a bar package, Halloween can be a scary time for your bank account.
But fear not. You don't have to have a bare-bones Halloween just because you're on a budget. Here are some of the best cheap things to do and see in Chicago for Halloween:
Catch a classic horror flick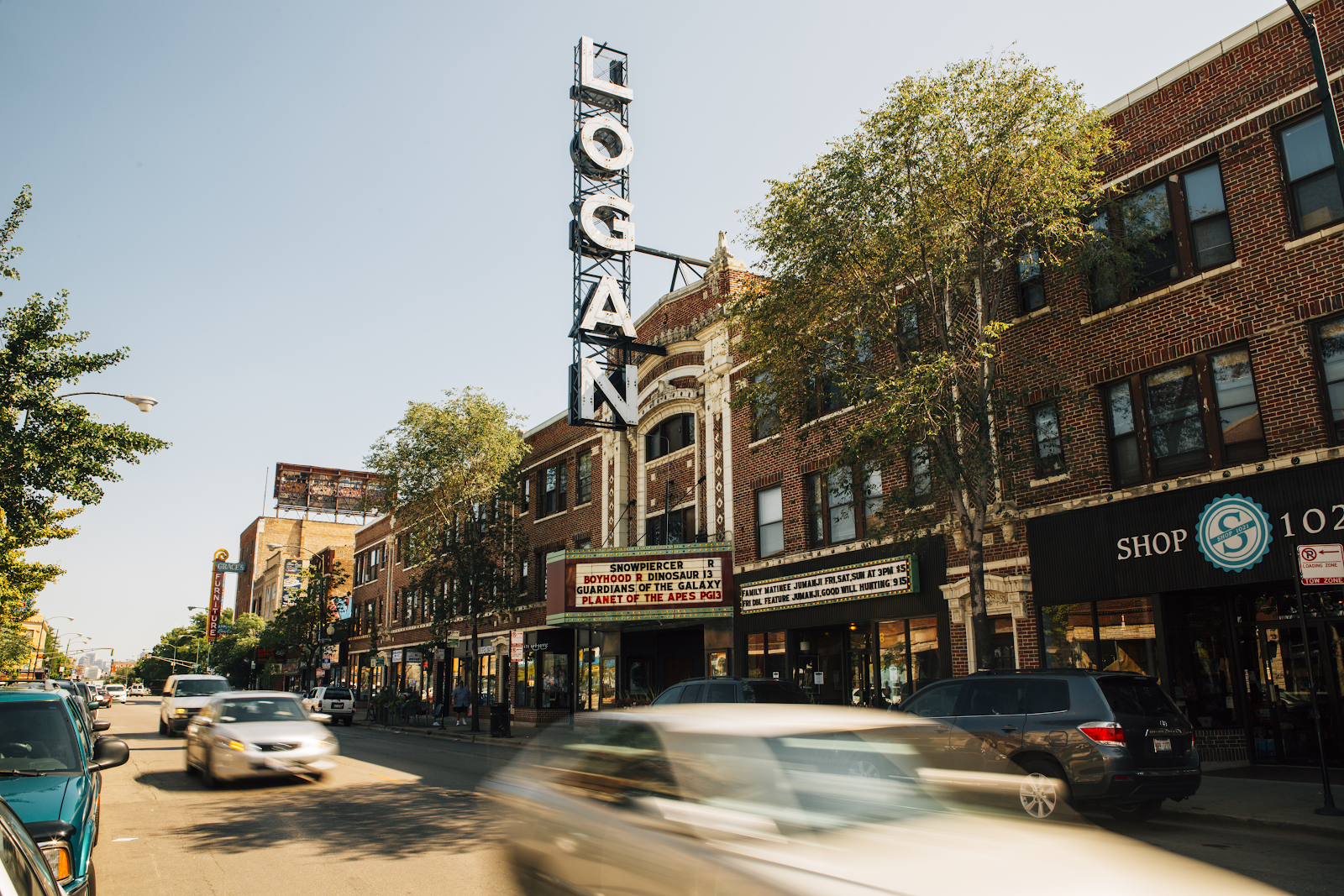 Cost: $0-$9
Several local spots will be showing a selection of hair-raising horror films that are guaranteed to keep you up at night.
Northerly Island
Stay warm while getting the chills at Campfire Horrors. The Chicago Park District hosts these free outdoor screenings that include a cozy campfire, s'mores and horror classics. Movies start at 7 p.m. every Friday in October.
The Logan Theatre
October is all about horror at this classic movie house. Their Horror Movie Madness series runs all month and features fan-favorite flicks, such as A Nightmare on Elm Street, Psycho, Friday the 13th, Halloween, Rosemary's Baby, The Shining, and many more. Tickets are only $9, so grab some treats and join them for a late night showing — if you dare.
The Music Box Theatre
The Lakeview theater is here to remind you that things do indeed go bump in the night. They'll be playing classic Universal films from the golden age of horror, resurrecting some of the most iconic monsters, murderers and madmen on the silver screen. Grab a matinee ticket for just $8 to see Dracula, The Mummy or Murders in the Rue Morgue.
J. Parker
Get your fall film fix (and scope the views) at J.Parker. The Lincoln Park hotel will be screening movies on the rooftop every Monday at 7 p.m. for the month of October. Selections range from classic to modern day horror. Snag a spot early, and don't forget the complimentary popcorn.
Walk with the undead at a Chicago Ghost Tour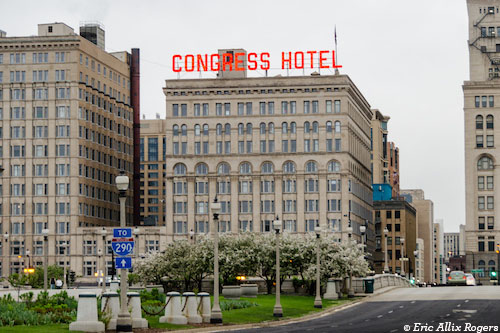 Cost: Free, plus a tip for your guide
Chicago has a long, fascinating history — and that includes supernatural lore, too. The Chicago Ghost Tour delves into the darkest corners of the city, from the most haunted hotels to the high-profile serial killers that called the city home.
The pay-what-you-want walking tour lasts about two hours and covers just over a mile. Chills-and-thrills seekers will get a glimpse of The Congress Hotel, Chicago's old red light district, haunting sites from the S.S. Eastland Disaster, tales of H.H. Holmes and John Wayne Gacy, and more.
Check out the full schedule and make sure to make a reservation before you go.
Take advantage of Halloween bar specials and events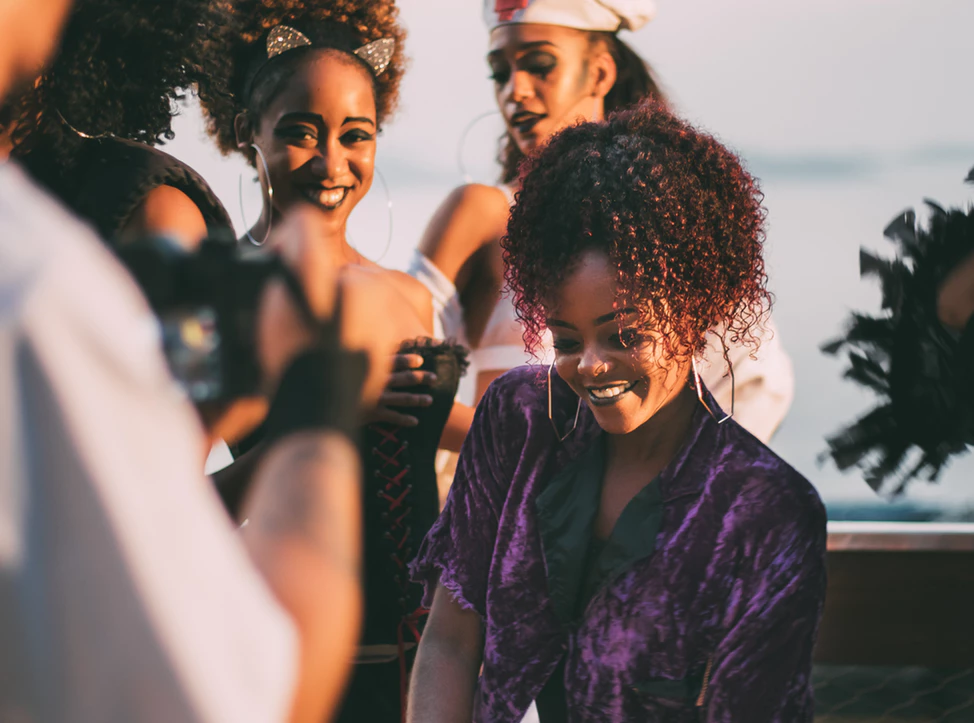 Cost: Varies
Chicago loves Halloween, so it's no surprise that an array of local bars and restaurants are getting in the spirit. Check out these budget-friendly picks:
The Promontory
Throw on a costume and dance the night away to local DJs. Trick or Treat at The Promontory, a stylish Hyde Park eatery, kicks off at 9 p.m. and is sure to be a howling good time. Save some cash by getting your ticket for just $10 in advance.
Headquarters Beercade
Walk into your favorite horror film at this immersive, nightmare-inducing event on Saturday, Oct. 27. Guests can interact with scenes straight out of Friday the 13th, Scream, and Nightmare on Elm Street. Free to attend, the event will also feature Halloween cocktails, a costume contest with cash prizes and a live, horror-themed Burlesque show.
Chicago Athletic Association
Dance like it's your last night on earth at the Underworld's Fair on Saturday, Oct. 27. The annual bash puts a dystopian spin on the World's Fair of 1893. For just $25, guests will get access to the party in the hotel's historic Stagg Court, plus a complimentary welcome drink.
Sheffield's
This year's free pumpkin carving event will take place on Thursday, Oct. 25 at 6 p.m. The Lakeview bar will supply the pumpkins and carving tools, you just bring your best ideas. Make sure to get there early, while there's plenty of pumpkins to choose from.
Hopewell Brewing Company
Celebrate Halloween and the release of the Ride or Die cans at Hopewell Brewing Company. This Logan Square spot is hosting Hopehell Booing on Saturday, Oct. 2. The no-cover event will include frightful and festive decorations, tarot readings, spooky movies, costumes, magic tricks and more. The party starts at 1:00 p.m. and will go late into the night.
Celebrate the fall season at a Chicago park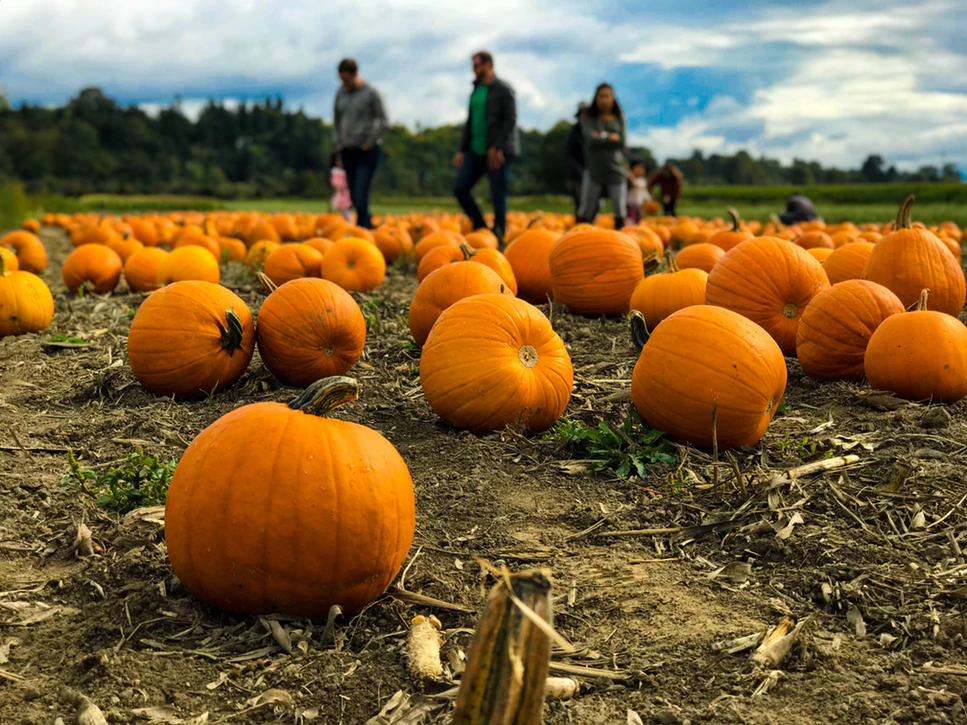 Cost: Free
The Chicago Park District has a jam-packed fall schedule with events across the city. And the treat is that most are free or low cost.
Grab your best costume and check out the community halloween parties at Mandrake Park, Rainey Park, West Lawn Park, Loyola Park, and Moore Park. On Oct. 27, there are haunted houses at Taylor Park, Kennicott Park or Fosco Park, plus more on Halloween at Douglas Park or Foster Park. And through Oct. 27, you can stop by various parks to pick your own pumpkin.
Watch the Haunted Halsted Halloween Parade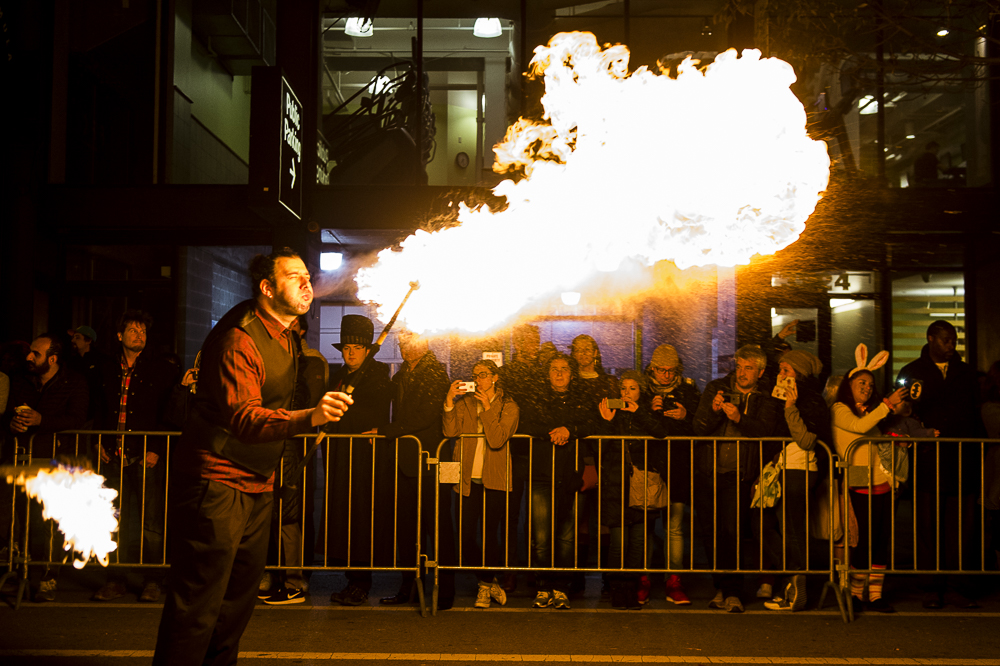 Cost: Free
Show off your best costume or just hang back and watch the show at this frightful fest, named one of best Halloween celebrations in the U.S. by Fodor's Travel. The packed with mesmerizing performances from local groups, including a flash-mob Thriller dance, Lakeside Pride Marching Band, fire performers from the Chicago Full Moon Jam, and more.
Register to walk in the parade for a chance to win a part of the $4,000 in cash and prizes. Costume categories are theme, group, drag, and (of course) scary. The parade starts at 7:30 p.m. on Belmont and will march north on Halsted to Brompton Ave.
Get spooked a ghost story open mic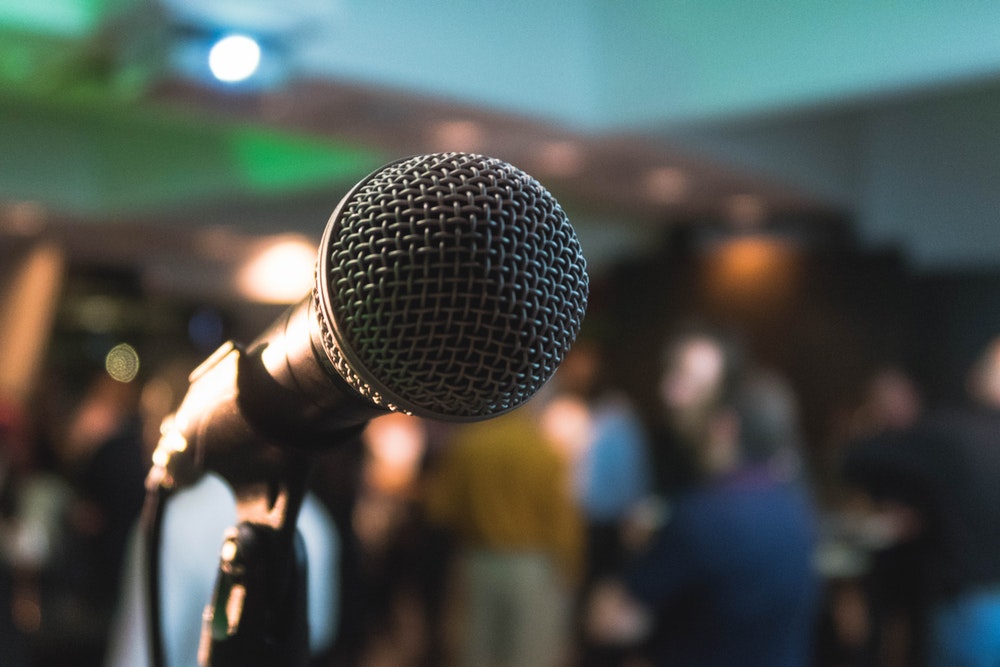 Cost: Free
Hears true tales of the supernatural, guaranteed to give you goosebumps. All are welcome to share their scariest stories at this at this ghostly open mic on Monday, Oct. 22.
The Native, a neighborhood bar in the heart of Logan Square, is offering a free can of Old Style to all participants. Hosts Sam Edgin & Aja Hacksaw will kick it off with real stories of growing up in haunted houses starting a 7 p.m.
Rack your brain at Halloween trivia
Cost: Free
After brushing up on your horror classics, it's time to put your spooky smarts to the test. Joe's on Weed will be hosting free horror movie trivia at 8 p.m. on Halloween night. Teams of two to six will get quizzed on facts about films like Halloween, Nightmare on Elm St, and Scream.
Prizes will be awarded for the top five team. Teams can make reservations at joesbar.com/trivia or by contacting events@joesbar.com. Walk-in teams are welcome on a first-come, first-serve basis.
Attend a pizza party and costume contest
Cost: Free
Like pizza and the paranormal? You'll love this spooky pizza party and costume content at Chicago's new U.S. Pizza Museum at the Roosevelt Collection on Saturday Oct. 27.
Come dressed as your favorite slice to compete in the party's costume contest. You can also get creative with the pizza box art and pizza box folding contests. After the party, take a tour of the museum's hallowed halls celebrating all things pizza.
See the spooktacular Arts in the Dark show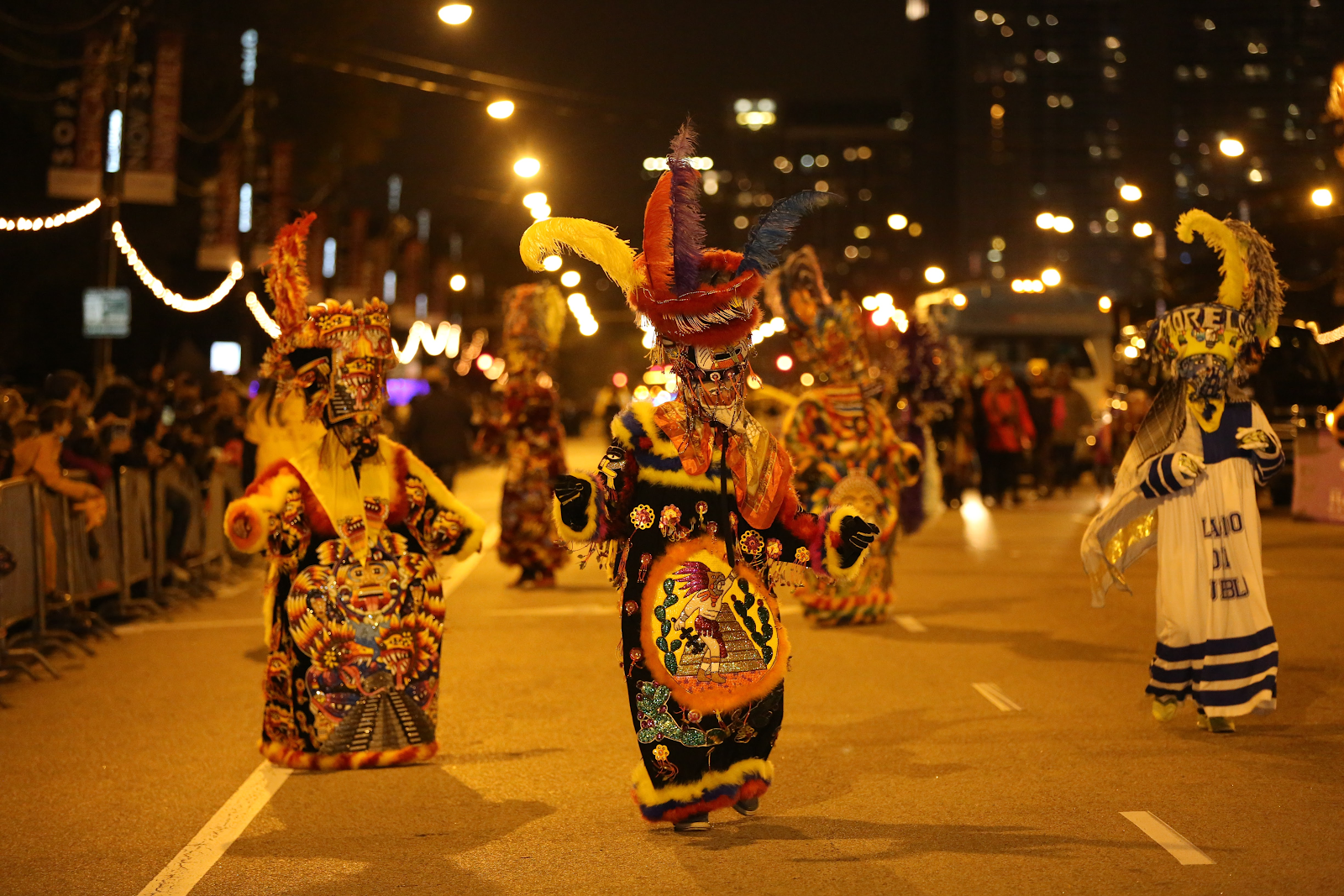 Cost: Free
Experience an eerie and enchanting evening at Arts in the Dark. The annual parade brings together some of the city's best cultural institutions, like the Art Institute, Lookingglass Theatre Company, for a magical presentation of unique floats, puppets, performances and more.
The parade is on Saturday, October 20th from 6 p.m.-8 p.m. on State St. and will head south from Lake to Van Buren.