Meet a few of the people behind Chicago's many notable LGBTQ+ owned businesses — from the dynamic force that is Women and Children First to the diva deliciousness of Kit Kat Lounge & Supper Club and the fun-for-all watering hole Big Chicks.
Come as you are — you'll fit right in here.
Ramesh Ariyanayakam, Kit Kat Lounge & Supper Club

Kit Kat Lounge co-owner Ramesh Ariyanayakam describes the divalicious dinner-and-a-show venue as "Old Hollywood meets South Beach, which explains the classic black-and-white movies streaming in the background, and decor that oozes glamour from every pore."
At the Kit Kat Lounge, contemporary cuisine is served with table-side performances by a cast of talented divas. "We provide an interactive entertainment experience," says Ariyanayakam — plus a long and dreamy cocktail and martini list ranging from The Ruby Slipper (vodka, triple sec, and ruby red grapefruit juice) to the Berry Manillow (vodka, creme de cassis, and a splash of lime).
Plus, Kit Kat Lounge also features a drag brunch, during which you can people watch and soak in "all the gay realness on the street," says Ariyanayakam.
Ariyanayakam's top picks for a trip to Chicago
According to Ariyanayakam, there are three absolute must-dos for anyone visiting Chicago: Number one is taking an architectural boat tour along the Chicago River and out on to Lake Michigan. Second, pay a visit to 875 N. Michigan Ave., formerly known as the John Hancock Center. You'll find 360 CHICAGO here, an innovative observation deck home to the thrilling TILT experience.
Lastly, Shedd Aquarium at lakefront Museum Campus offers amazing up-close experiences with sea creatures from around the globe. Best of all, it shares its campus location with the Field Museum and Adler Planetarium. Over the summer months, Shoreline Sightseeing Water Taxis will take you on a scenic ride directly from Navy Pier or Willis Tower to Shedd Aquarium and back again.
Kit Kat Lounge, 3700 N. Halsted St., Boystown
Lynn Mooney, Women and Children First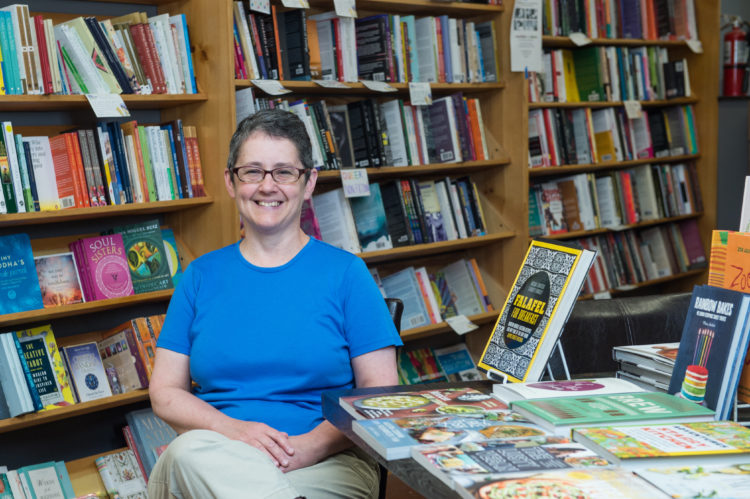 Women and Children First is a bookstore that's been a dynamic force on Chicago's literary scene for some 40 years. The list of legendary women authors who have read here includes Gloria Steinem, Maya Angelou, Hillary Clinton, Alice Walker, Eve Ensler, Amy Tan, Sandra Cisneros, Allison Bechdel, Margaret Atwood, Gwendolyn Brooks, and Sara Paretsky.
The story behind Women and Children First is an interesting one. It was opened in 1979 by Ann Christophersen and Linda Bubon, who both studied literature in grad school. Time and again, they found that works by many of the female authors they wanted to study were nearly impossible to find. Writers like Virginia Woolf, such a staple of the canon today, were considered obscure, and most bookstores and libraries just didn't carry them. So they decided to open a feminist bookstore and make it their life's work to ensure women's voices would be heard.
In August 2014, long-time employees Lynn Mooney and Sarah Hollenbeck assumed ownership of the legendary independent bookstore and LGBTQ+ community anchor, with the goal of turning "even more of the store over to community space," Mooney explains. "Also, we wanted to update our vision of feminism. Feminism is intersectional now. We are working harder than ever to embrace the issues of gender and sexuality, race, culture, and ability."
Sappho's Salon is one of the bookstore's many monthly events, featuring expressions of queerness, gender, and feminism with entertainment that ranges from music and dance parties to burlesque and comedy. Regular book readings, author appearances, and other special events ensure Women and Children First remains central to the Andersonville community.
Mooney's favorite local spots for visitors
Mooney loves Andersonville's independent spirit, which is reflected in its locally owned stores and eateries. A couple of favorites include the quirky retail market at Andersonville Galleria, garden center-meets-greenhouse-meets-gift-shop Gethsemane, and framing and gift store Foursided.
Favorite food and drink spots include Candyality just across the street from Women and Children First. "It's a local, woman-owned business that helps you figure out your candy personality (I'm definitely chocolate)," says Mooney. For dinner, she adds, "There's nothing better than slurping garlicky mussels together at Vincent, just half a block east of Clark on Balmoral. But the back room at Lady Gregory's, with its library and fireplace, is pretty great, too."
Women and Children First, 5233 N. Clark St., Andersonville
Michelle Fire, Big Chicks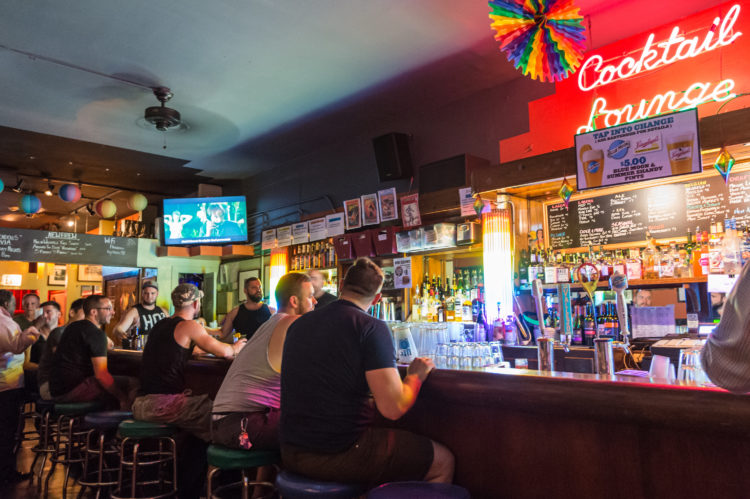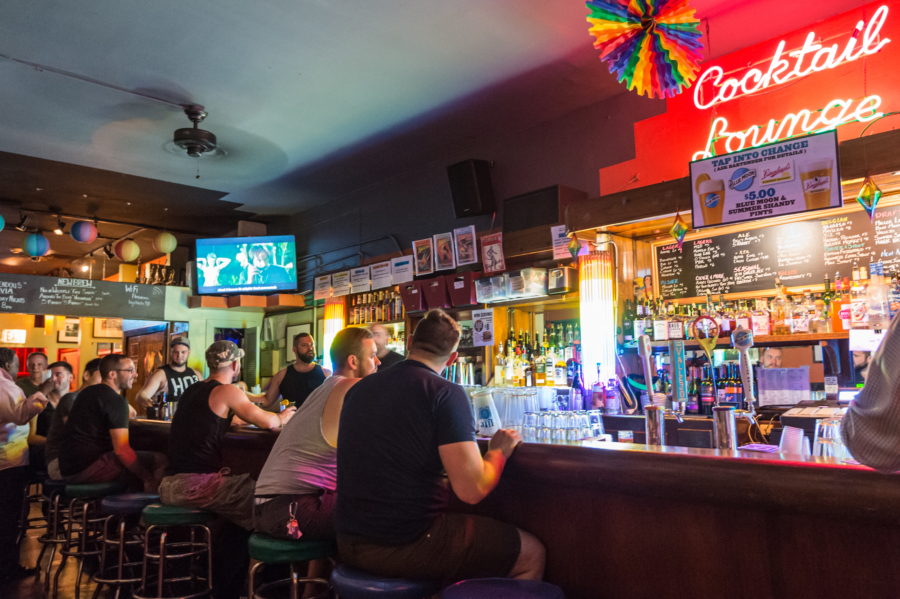 Michelle Fire opened Big Chicks back in 1986, and from the very beginning it's been one of the most welcoming bars in Chicago.
"Big Chicks has always been a friendly meeting place for gay men and women, neighborhood friendlies, and out-of-towners," Fire explains. "It has had a wide range of customer demographics, from age diversity to gender diversity, since the beginning."
Fire has turned Big Chicks into an integral part of Chicago's LGBTQ+ and Uptown communities. The bar has sponsored many LGBTQ+ sports teams, held political fundraisers, hosted benefits for AIDS and HIV organizations, and hosted artistic performances. The popular venue has also organized various LGBTQ+ friendly events, including Homolatte, a queer all-inclusive dance party, and much more. Because of its longstanding service to the LGBTQ+ community, Big Chicks was inducted into the Chicago LGBTQ+ Hall of Fame in 2016.
Another notable characteristic of Big Chicks is the incredible artwork and photography on display there. The walls of the bar and its adjoining sister brunch and lunch spot, Tweet, are decorated with over 150 pieces of original art, and include favorite works from Fire's private collection. Local, national, and international names such as Leon Golub, Abelardo Morell, Ruth Bernard, Weegee, and Lisette Model are all part of the collection.
"Many of these artists can be seen in museums around the world," Fire explains. "It's fun to have a drink in front of a Diane Arbus photo."
Fire's go-tos for visitors
"Start with a lakefront walk/bike ride/car trip up Lake Shore Drive to Tweet, to eat and do a self-guided tour of the artwork," says Fire. "With the whole day ahead, I would head back downtown," starting at the Chicago Cultural Center, to check out the beautiful Tiffany mosaics and stained-glass dome, the largest of its kind in the world. After this, Fire suggests a stroll down Michigan Avenue to see great photography at the Gage Gallery at Roosevelt University, then a jaunt over to the unmissable Art Institute of Chicago. "Then you can walk over to Macy's and look up at the beautiful mosaic ceiling in the center."
The Cadillac Palace Theatre, where you can take a backstage tour, is another classic Chicago experience. Fire is also a big fan of the many architectural boat tours you can take along the Chicago River and on to Lake Michigan, which she says is one of the finest ways to get a unique perspective on the city, as well as many of Chicago's loveliest buildings.
For dinner, she recommends hitting Boystown to try Wood for award-winning dishes from their wood fired oven. Then perhaps a cocktail along the Halsted strip. "Of course, you could always end up back at Big Chicks for a night of dancing on Fridays and Saturdays," she adds. "Bed. Rest. Start again."
Pilsen is another neighborhood Fire highly recommends — particularly for its fine street murals and the acclaimed National Museum of Mexican Art, which in Fire's opinion "is one of the best museums in the city" (best of all, admission is free).
Big Chicks, 5024 N. Sheridan Rd., Uptown