Chicago is one of the most inclusive cities in the country, with a long and vibrant LGBTQ+ history. Come explore the local museums, tours, and landmarks that celebrate our Chicago's LGBTQ+ heroes, history, and culture.
The Legacy Walk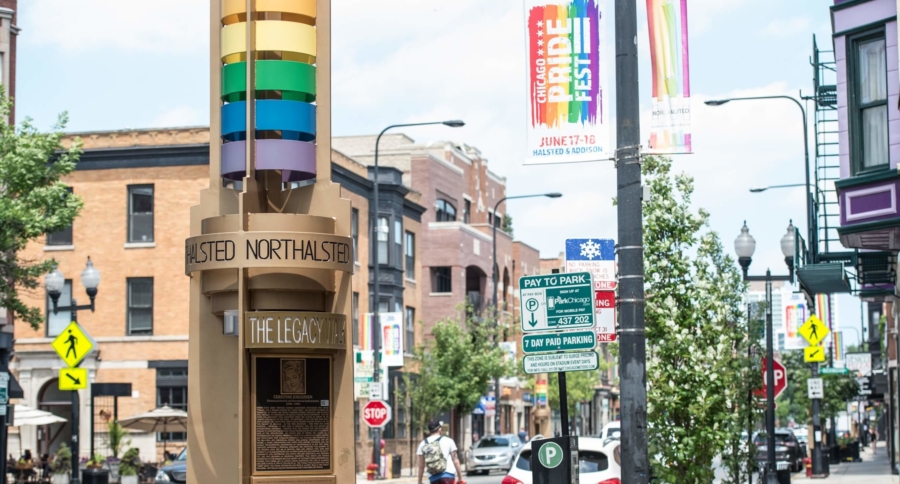 Chicago's Northalsted (also known as Boystown) neighborhood is where you'll find the only outdoor LGBTQ+ history museum in the world.
The Legacy Walk features 35 (and counting) rainbow memorial markers, commemorating the life and work of notable lesbian, gay, bisexual, and transgender heroes. The markers, which are fixed to 25-foot rainbow monuments, bring the city's rich LGBTQ+ legacy to life on the streets of historic Boystown.
Take a private tour of the Legacy Walk to hear anecdotes about the inductees, not to mention the fascinating story behind this unique attraction. Learn more about the Legacy Walk.
Halsted Street from Belmont Avenue to Grace Street
Jane Addams Hull-House Museum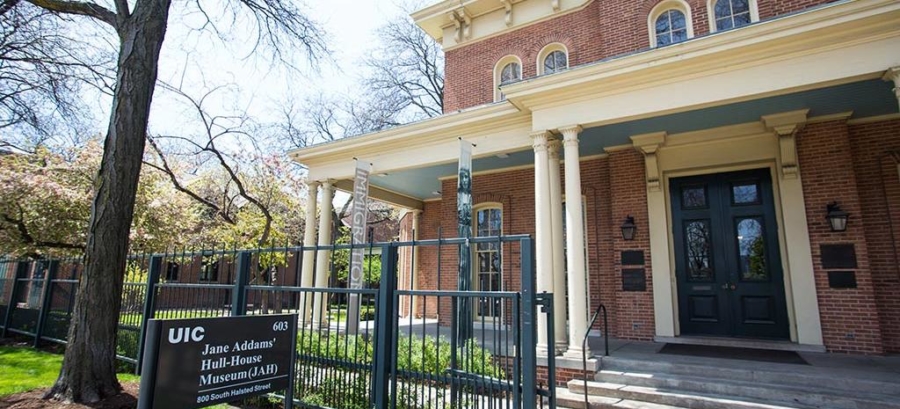 Jane Addams was a social justice pioneer, author, and champion for those who lived on the margins of society. She was also a feminist and suffragette who brought attention to poverty, child labor, public health, race relations, adverse working conditions, and many other important social issues. In 1931, she won the Nobel Peace Prize, becoming the second woman to receive that honor.
A National Historic Landmark, the Jane Addams Hull-House Museum remains dedicated to peace advocacy and social justice, while also featuring an impressive display of furniture, photographs, and artwork from the period. Explore with a guided or self-guided tour.
Jane Addams Hull-House Museum, University of Illinois at Chicago, 800 S. Halsted St., Little Italy. Free admission.
The Leather Archives & Museum
The Leather Archives & Museum is nestled on a quiet street in residential Rogers Park. Founded in 1991, the museum celebrates the history of fetish culture and the queer community, and remains the only institution in the country dedicated to the compilation, preservation, and maintenance of alternative sex culture.
Take a self-guided tour through eight fascinating exhibition galleries, including the Dungeon, featuring S&M and bondage equipment, a leather bar diorama, a leather history timeline, a guest artist gallery, and 20 murals by the celebrated erotic artist Etienne.
Leather Archives & Museum, 6418 N. Greenview Ave. Rogers Park, Thursday and Friday 11 a.m. – 7 p.m. and Wednesday, Saturday and Sunday 11 a.m. – 5 p.m. Tickets: $10 general admission; $5 students, seniors, and military personnel. Visitors must be 18 years or older. 
Gerber/Hart Library and Archives
Gerber/Hart Library and Archives was founded in 1981 as a depository for the records of lesbian, gay, bisexual, transgender, and queer-identified individuals and organizations. Today, it's the Midwest's largest LGBTQ+ circulating library, with over 14,000 volumes, 800 periodical titles, and 100 archival collections.
The library's progressive exhibits cover everything from Chicago's drag revolutionaries to a collection of Pride memorabilia. Guided tours of the library also are available during open hours.
Gerber/Hart Library & Archives, 6500 N. Clark St., Rogers Park. Wednesday and Thursday 6 – 9 p.m., Friday noon – 4 p.m., Saturday 10 a.m. – 4 p.m. Free admission, $5 suggested donation
Free Chicago Greeter tours
See LGBTQ+ Chicago like a local, with a local, with free Chicago Greeter walking tours. Led by the people who know the city inside and out, you'll explore authentic Chicago — its fascinating histories, diverse cultural traditions, iconic landmarks, and off-the-beaten-path gems.
A recipient of TripAdvisor's Certificate of Excellence, awarded in recognition of consistently great reviews from travelers, these 2 – 4 hour insider tours are conducted in over a dozen languages and can be customized to focus on special-interest areas such as architecture, foodie culture, and, of course, LGBTQ+ Chicago.