Are you traveling through one of Chicago's airports with kids in tow? Both O'Hare and Midway International Airports offer special family amenities that can help make your trip more enjoyable. From spaces designed specifically for children and parents to fun art scavenger hunts, your stop at the airport may just be a highlight of your family trip.
Fun for kids
Parents can take a break while their kids play in the Butch O'Hare Family Lounge at O'Hare Airport, located just beyond security in Terminal 2. There's colorful seating, device charging stations, and stroller parking for families traveling with infants. Catch live weekly entertainment, particularly around the holidays, including musicians, caricature artists, and more.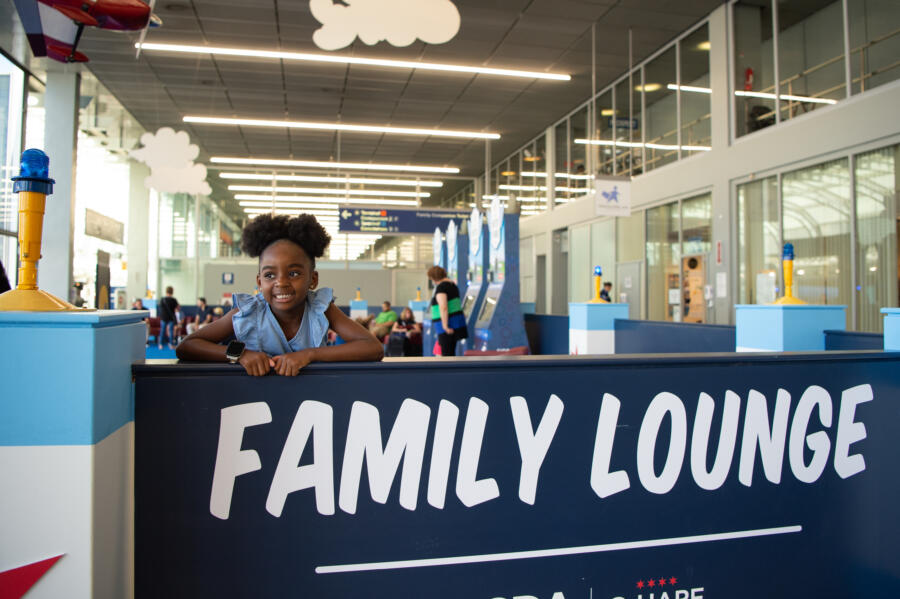 Keep the kids busy with a Chicago Airports Activity & Coloring Book, filled with fun facts and games, available for free from visitor information booths at both O'Hare and Midway airports. You can also download your own digital copy, in both English and Spanish.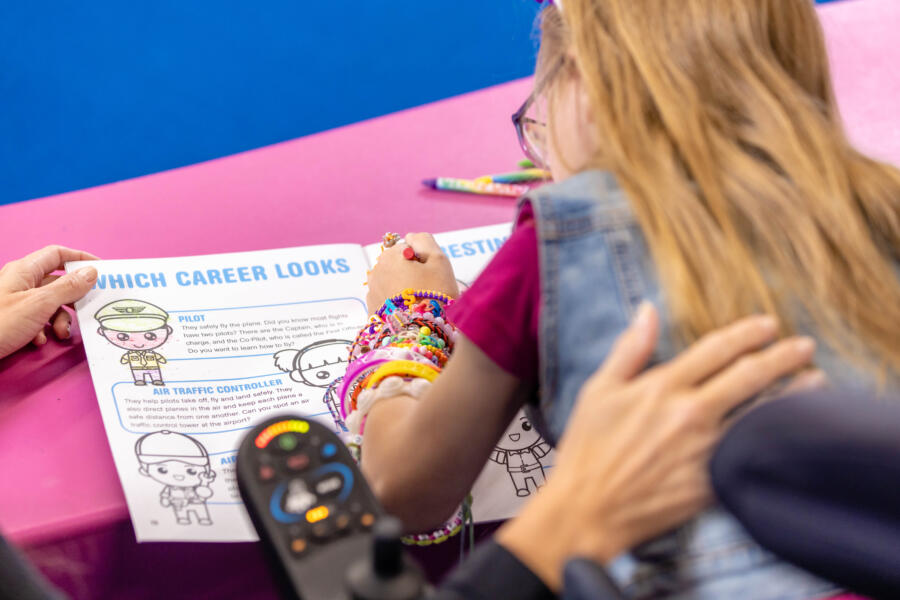 Take the kids on an art scavenger hunt while you wait for your flight. O'Hare is home to an amazing collection of public art. Some of the pieces to seek out include the Field Museum's four-story brachiosaurus dinosaur skeleton model in Terminal 1; a replica of the World War II Wildcat fighter plane flown by airport namesake and Medal of Honor recipient Butch O'Hare in Terminal 2; the impressive Hall of Flags in Terminal 3 that represents each country American Airlines serves; and The Sky's the Limit, a 744-foot-long kinetic neon sculpture of light and sound found in the underground walkway between Concourses B and C in Terminal 1.
Check out the public art at Midway, where two family favorites are the SBD Dauntless Dive-Bomber plane hanging from the ceiling in Concourse A and the Tuskegee Airmen Commemorative, a colorful glass mural located in the ticketing hall.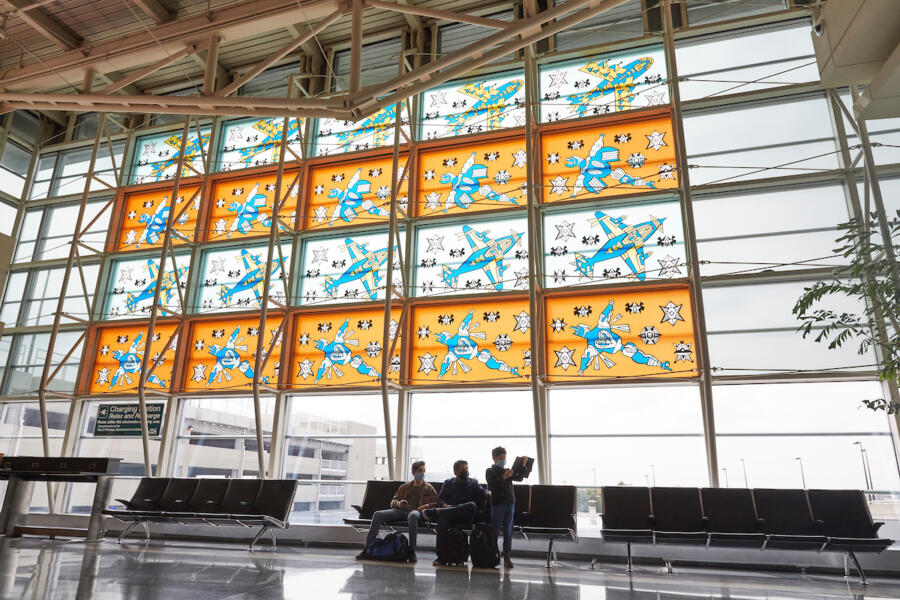 Of course, a big highlight is just watching the planes pass by. Find a big window to see all the action on the airfield!
Family airport amenities
Spacious Mother's Rooms, located in each terminal at O'Hare and Concourse C (next to the Yoga Room) at Midway, provide a tranquil space for mothers to nurse, use a breast pump, or take care of young children. Each Mother's Room features comfortable seating, a sink, electrical outlets, a diaper changing surface, and soft lighting.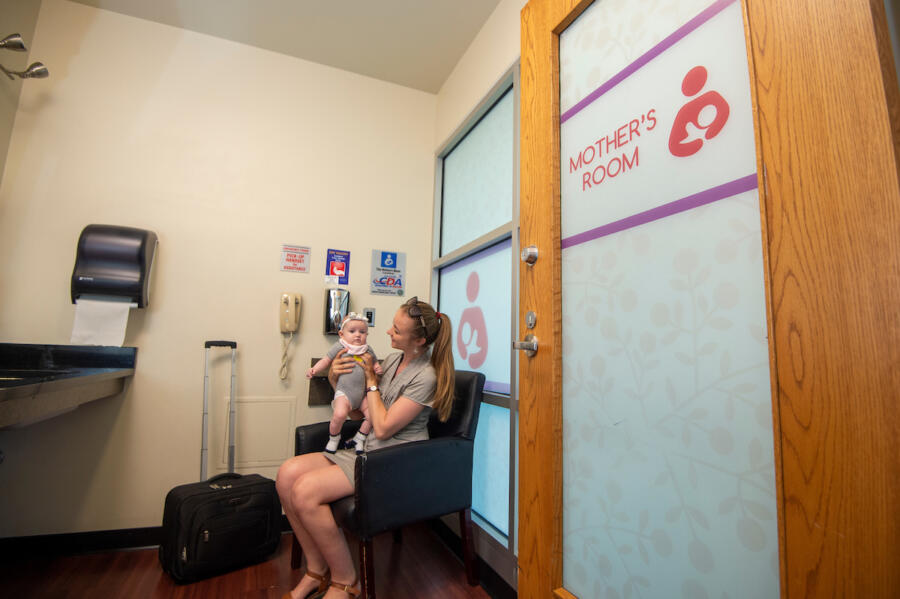 Freestanding Lactation Pods, designed by Mamava, offer a private space for mothers to nurse or pump while on the go. Lactation Pods can be found at Terminals 1, 2, and 3 at O'Hare, and Concourse A at Midway. In addition, changing stations for young children are available in most restrooms and all gender toilets throughout both airports.
Family dining and shopping
There are plenty of kid-friendly restaurants at both O'Hare and Midway airports. Most restaurants provide highchairs and offer kids' menus. And some feature fantastic views of the airfield.
At O'Hare, kids can watch planes take off and land at the Jazz Food Court in Terminal 1. You can also see planes on the ground at O'Hare from Tuscany Restaurant in Terminal 1, Wicker Park Seafood & Sushi in Terminal 2, and Chicago Cubs Bar & Grill and Macaroni Grill in Terminal 3.
For a good view of planes at Midway Airport, grab a seat at either the Central Market dining area or Concourse A Food Hall, where a stop at Nuts on Clark is also recommended for a sweet treat of gourmet popcorn like the popular Chicago mix — Original Caramelcorn and Cheesecorn.
Check out some of the Kids' Meals offered at O'Hare and the Lil' Flyers Kid's Menu from Midway. Other all-ages favorites include the flatbread pizzas at The Goddess & Grocer at O'Hare Terminal 5 and the famous "Cheezborger" from Midway's Billy Goat Tavern & Grill.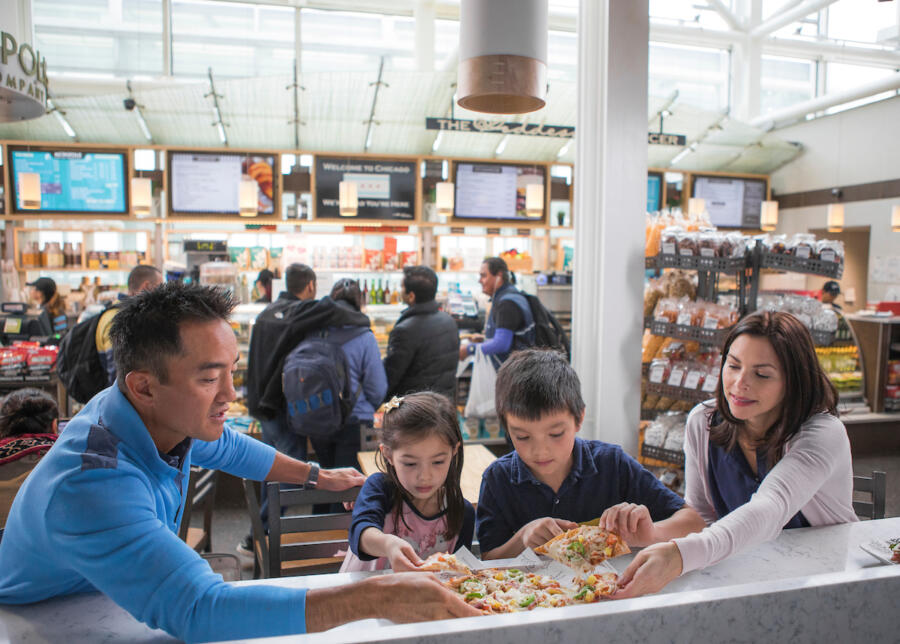 When there's extra time until boarding, it's easy to spend hours at FAO Schwarz (Midway Concourse A) shopping for games and toys with the kids. A new addition to both airports are fun vending machines selling Lego sets (O'Hare Terminals 2 and 5) and Build-A-Bear (Midway Central Market).
Visit the website to learn more about O'Hare and Midway International Airports and follow @fly2ohare and @fly2midway for more tips and great pics — you can tag and share your travel photos, too, the next time you're flying through.