Chicago's theater venues offer more than just space wrapped around a stage. From a sleek, six-level rotunda to an ornamented foyer, several city theaters offer grand venues for events.
The Chicago Theatre Grand Lobby
Nestled within the historic Chicago Theatre (perhaps most recognized by its iconic CHICAGO marquee that glitters on State Street in the Loop) is the Grand Lobby, modeled after the Royal Chapel at Versailles. The elegant space soars five stories tall and features promenades, chandeliers and a grand staircase inspired by the Paris Opera House, ascending to various levels of the Great Balcony. Hold a cocktail reception for 700 or a banquet for 110 guests. The Grand Lobby is also ideal for product launches or press conferences.
Lyric Opera House Grand Foyer
The three levels of this Art Nouveau and Art Deco hybrid — home to the Lyric Opera of Chicago — make the Grand Foyer a versatile venue for any type of event. Guests enjoy the hand-detailed ornamentation adorning the ceiling, balconies and fixtures; meeting professionals appreciate amenities like backstage tours and costume displays; and vendors enjoy direct access from Madison Street. Plan a banquet for 150, a theatre-style event for 356, or use both the main floor and mezzanine to accommodate 1,100 guests.
Symphony Center Rotunda
Victory Gardens Biograph Theater Prince Charitable Trusts Event & Rehearsal Room
The historic Biograph Theater (famed as the site where notorious bank robber John Dillinger was gunned down by FBI agents in 1934) is listed on the National Register of Historic Places and now home to the renowned Victory Gardens Theater. The Prince Charitable Trusts Event & Rehearsal Room is set behind the theatre's historic facade and overlooks the recognizable marquee through large, beautiful Palladian windows. Host a cocktail reception for 200 or a seated dinner for 90 guests.
Theater on the Lake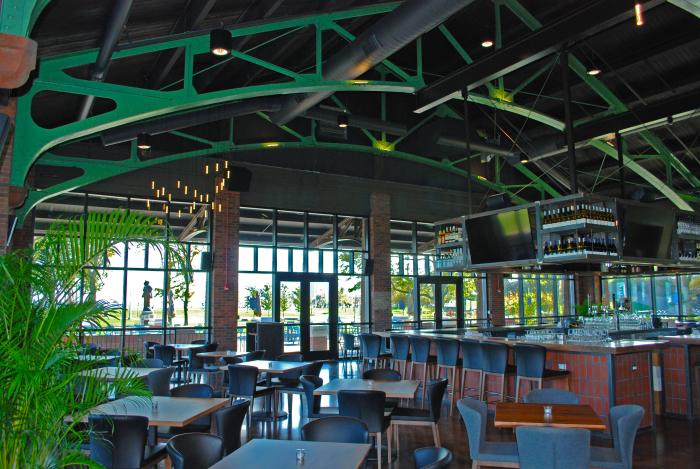 The Yard at Chicago Shakespeare
This exciting year-round theatre venue's unique crescent-shaped design is made up of individual mobile towers (comparable in size to a city bus turned on its end) that can be configured into a variety of shapes and sizes, accommodating audiences ranging from 150 – 850 people. The Yard joins Chicago Shakespeare Theater's other two venues: a 500-seat, courtyard-style theater, and the 200-seat Theater Upstairs. Plan a private party or champagne reception prior to the show in one of Chicago Shakespeare's lobbies or in the English-style Pub.