October is a fun-filled time in Chicago, with endless Halloween events and fall-themed celebrations happening all month long. Start filling up your calendar with mystical evening parades, spooky ghost tours, food festivals, architecture events, and more — there are seemingly endless ways to celebrate the start of the fall season in Chicago. Here are a few of the events and activities we're most excited about this month.
Top events in Chicago this October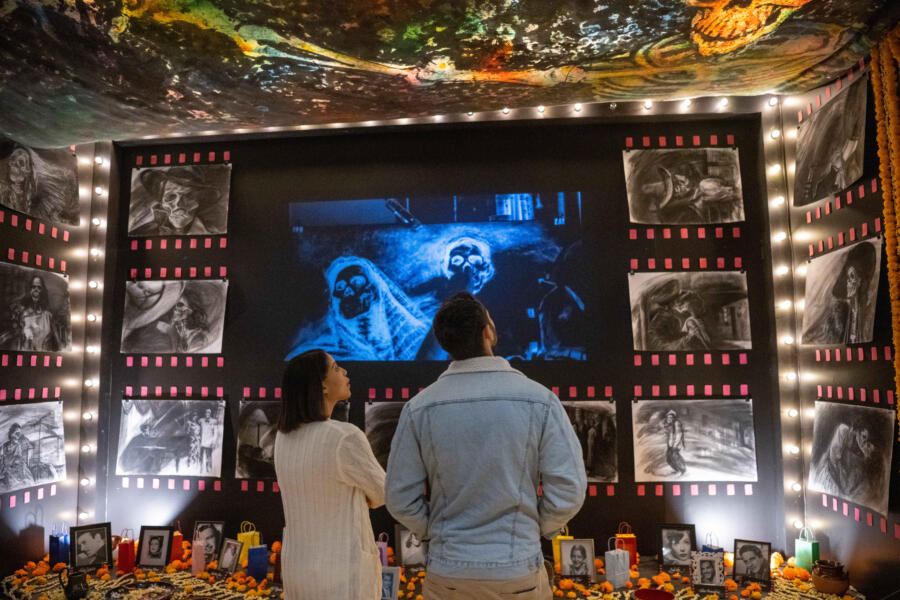 Hear global beats at World Music Festival (Oct. 1): Wrap up this year's edition of the World Music Festival Chicago with Madalitso Band at The Hideout.
Attend the inaugural Chicago Exhibition Weekend (Sept. 29 – Oct. 1): More than 50 galleries, institutions, and artist-run spaces will present exhibitions, unique programs, and extended hours.
Step back in time on the Historic Pullman House Tours (Oct. 8): Enjoy exclusive interior access to the area's well-preserved historic homes during this 50th annual event.
Learn about Day of the Dead customs (through October): See an artistic take on Día de Muertos traditions at this annual exhibit by the National Museum of Mexican Art.
Visit the Chicago Architecture Biennial (through October): Experience the future of architecture at this ground-breaking event, the largest architecture and design exhibition in North America.
Catch a film at the Reeling Film Festival(through Oct. 8): This year is the 41st edition of the Reeling Film Festival, which showcases a variety of LGBTQ-centered stories.
Cheer on the runners at the Chicago Marathon (Oct. 8): There's something special about marathon weekend in Chicago, when runners from around the world complete 26.2 miles through the city's neighborhoods.
Hear Native American musicians on Indigenous People's Day (Oct. 8 – 9): This free two-day festival, now in its fifth year, will be a showcase of musicians from Native American and Indigenous communities
Catch a screening at the Chicago International Film Festival (Oct. 11 – 22): North America's longest-running competitive film festival presents hundreds of movies and short films to Chicago film lovers.
Visit the Fine Arts Building for an anniversary celebration (Oct. 13): This historic space in the Loop will be celebrating 125 years with a free concert, artist demos, and more.
Check out the Night of 1,000 Jack-o'-Lanterns (Oct. 11 – 22): The Chicago Botanic Garden will display over 1,000 hand-carved pumpkins, plus live carving demos and seasonal treats.
Watch Ballet Folklorico at the Field Museum (Oct. 14): Celebrate National Hispanic Heritage Month with this traditional performance by local dancers.
Go behind the scenes during Open House Chicago (Oct. 14 – 15): This one-of-a-kind free architecture festival takes you inside the city's most unique buildings, skyscrapers, and landmarks.
Catch a show during the Chicago International Latino Theater Festival (through October): Discover emerging voices in the local Latino theatre community during this multifaceted fest.
Be mesmerized by Arts in the Dark (Oct. 21): This whimsical evening parade celebrates Halloween as the artist's holiday, with creative puppets, floats, and performances on downtown State Street.
Don't miss the Haunted Halsted Halloween Parade (Oct. 31): This spooktacular evening includes fun and themed performances, a costume contest with an awards ceremony, and an aftershow with a dance party.
More things to do this October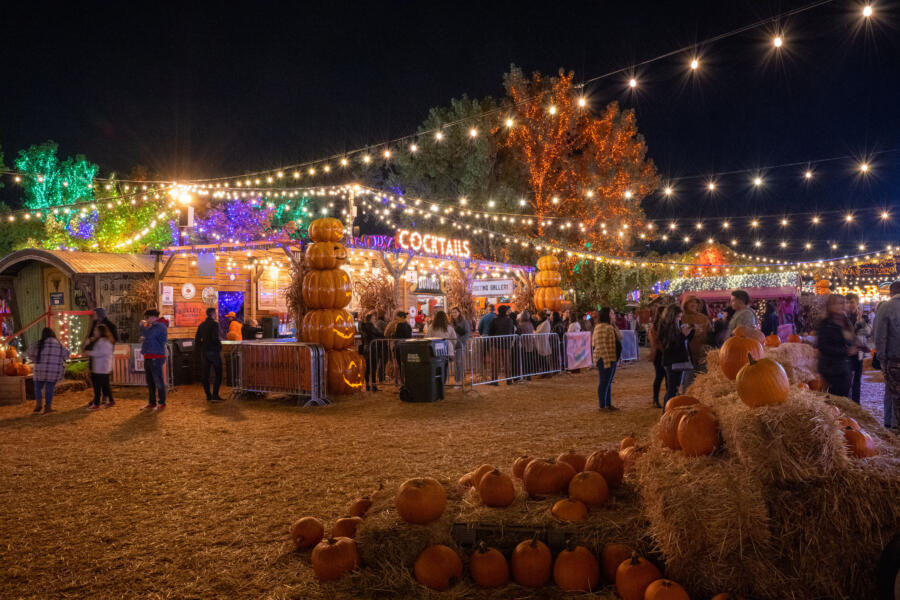 Celebrate Oktoberfest in Lakeview (Sept. 29 – Oct. 1): Lakeview East will be hosting its first Oktoberfest event with live music, food, drinks, and activities for the whole family. 
Get a dose of culture from Chicago Humanities (through October): The fall festival brings a range of performances and conversations from today's top cultural figures. 
Try fall treats at Apple Fest (Sept. 30 – Oct. 1): The 36th annual Apple Fest in Lincoln Square is a tradition to mark the arrival of fall and will include plenty of apple-focused food and drink vendors.
Enjoy a family-friendly Oktoberfest at The Northman (through Oct. 2): The German festivities head to the Riverwalk, with live music and kid-approved activities. 
Grab tickets for Holy Ghost Bingo(starts Oct. 6): The Greenhouse Theatre Center is home to Holy Ghost Bingo, hosted by a former nun, which will include a night of Halloween trivia, a costume contest, and more. 
Sip wine at the Lincoln Park Wine Festival (Oct. 6 – 8): This year is the seventh annual wine fest that transforms Jonquil Park into an open-air market featuring food and wine samples galore. 
Enjoy Oktoberfest at Time Out Market(Oct. 7): Time Out Market has a day full of Oktoberfest activities, including live music, a stein hoisting contest, German band performances and storytime, face-painting, and more.
Cheers to the Chicago Beer Festival(Oct. 7): Visit the Field Museum for a one-of-a-kind beer festival featuring 65 breweries showcasing their favorite seasonal brews and select museum exhibits.
See Bob Dylan at the United Center (Oct. 7 – 8): The iconic Bob Dylan headlines the United Center for a two-day show of his Rough and Rowdy Tour.
Check out Boo at the Zoo (Oct. 7 – 22): On weekends this month, Brookfield Zoo showcases a variety of Halloween-themed activities with photo opps, corn mazes, creepy carousels, and zoo chats. 
Check out Cinema of Screams(Oct. 10): The American Writers Museum is hosting a one-night Halloween deep-dive into the world of our favorite horror films, which will include a costume contest, movie trivia bingo, arts and crafts, and specialty cocktails to boot.
Explore the Field Museum's Boo with Sue(Oct. 13): Come in costume to the Field Museum for an after-hours, family-friendly exploration of the museum's exhibits. 
Dress up for the Chicago Vampire Ball(Oct. 13): The Tip Top Tap Ballroom at the Warwick Allerton Hotel transforms for a night to welcome the Chicago Vampire Ball with costume prizes, live music, tarot card readings, and more.
Head to the Morton Arboretum for the Glass Pumpkin Patch(Oct. 13 – 15) The annual glass pumpkin patch features various exhibits, showcasing artists that turn bits of glass into molten pumpkin masterpieces. 
Eat your heart out at the Great Food Expo(Oct. 14 – 15): The Great Food Expo is headed to the Donald E. Stephens Convention Center for a two-day, food lovers conference, featuring endless samples, shopping, panels from celebrity chefs, and so much more.
Shop the Chicago Artisan Market (Oct. 15): Morgan Manufacturing in Fulton Market is home to the fall Artisan Market, welcoming hundreds of food, jewelry, art, home, and art vendors.
Snag tickets for Hamilton(through October): The beloved Broadway musical is back in Chicago, telling the story of Founding Father Alexander Hamilton, and his epic legacy.
Watch live Ballet 5:8 performances (Oct. 18 – 21): The premier dance company is performing at the Athenaeum Center, telling an enthralling, thought-provoking story through ballet.
Run a 5K race through Rosehill Cemetery(Oct. 21): The ever-popular Rosehill Cemetery Crypt 5K is back, featuring a run through the cemetery at night via candlelight. There's a post-race party at Fireside Tavern.
Watch Art on The Mart (through October): Catch the new fall program of this evening lights display debuting this month, featuring exciting new collaborations. 
Check out BOO-Palooza at Wicker Park(Oct. 21): This family-friendly fall festival takes over Wicker Park for a neighborhood celebration of all things fall.
Sip seasonal drinks at Cider and Ale Fest (Oct. 21): Enjoy hard ciders and seasonal beers from 30 different vendors with a backdrop of natural beauty at the Morton Arboretum. 
Get spooked at the Music Box of Horrors (through October): The annual horror-themed film festival features 24 hours of spooky film favorites and also will include special guests, giveaways, vendors, and more. 
Celebrate fall at Jack's Pumpkin Patch Pop-Up (through October): With pumpkins galore, this family-friendly, autumnal pop-up also includes a corn maze, axe throwing, food trucks, carnival games, fortune tellers, and more. 
Head to Navy Pier for the Slow & Low Festival(Oct. 21): Chicago's lowrider festival returns to Navy Pier for this year's cultural celebration and exhibition of the lowrider artistic community. 
Check out Nightmare on Clark Street(through October): Deuce's Sports Bar in Wrigley transforms into an immersive, creepy, and over-the-top haunted house experience throughout October.
Visit Spooky Zoo at Lincoln Park Zoo(Oct. 21): Who wouldn't want to trick-or-treat on the zoo grounds? Lincoln Park Zoo hosts a free, one-day trick-or-treating extravaganza for all ages, including family-friendly entertainment.
Trick or treat at Navy Pier's Spooky Saturday (Oct. 28): Come in your Halloween best to Navy Pier for a family-fun day of trick or treating with the waves of Lake Michigan as your backdrop.
Snag your tickets for the Haunted Halloween Ball(Oct. 28): The annual Halloween Ball takes over the Congress Plaza Hotel for a night of spooky fun, including a costume contest, live DJ music, food, drink, and more.
Find the best deals at Maxwell Street Market (through October): The weekly Maxwell Street Market is a Chicago tradition filled with live music, family activities, plenty of shopping from local artisan vendors, and lots of food, drink, and fun.
Watch a movie at the Rooftop Cinema Club (through October): The Emily Hotel is home to this rooftop movie series including everything from classics to new releases.
Celebrate the start of autumn at Fall Fest (through Oct. 29): From pumpkin carving to a harvest maze, various rides, and more, this family-friendly free event at Lincoln Park Zoo is the perfect way to kick off a new fall season.