No one relishes the sunshine and blue skies more than Chicagoans. We take everything outside during the summer months, even our workouts!
From yoga at Lincoln Park Zoo to circuit training along the shores of Lake Michigan, options for getting your heart pumping and working up a sweat are limitless. Grab your running shoes and yoga mat and get ready for the sun with these extraordinary summer fitness opportunities.
Fitness at Lincoln Park Zoo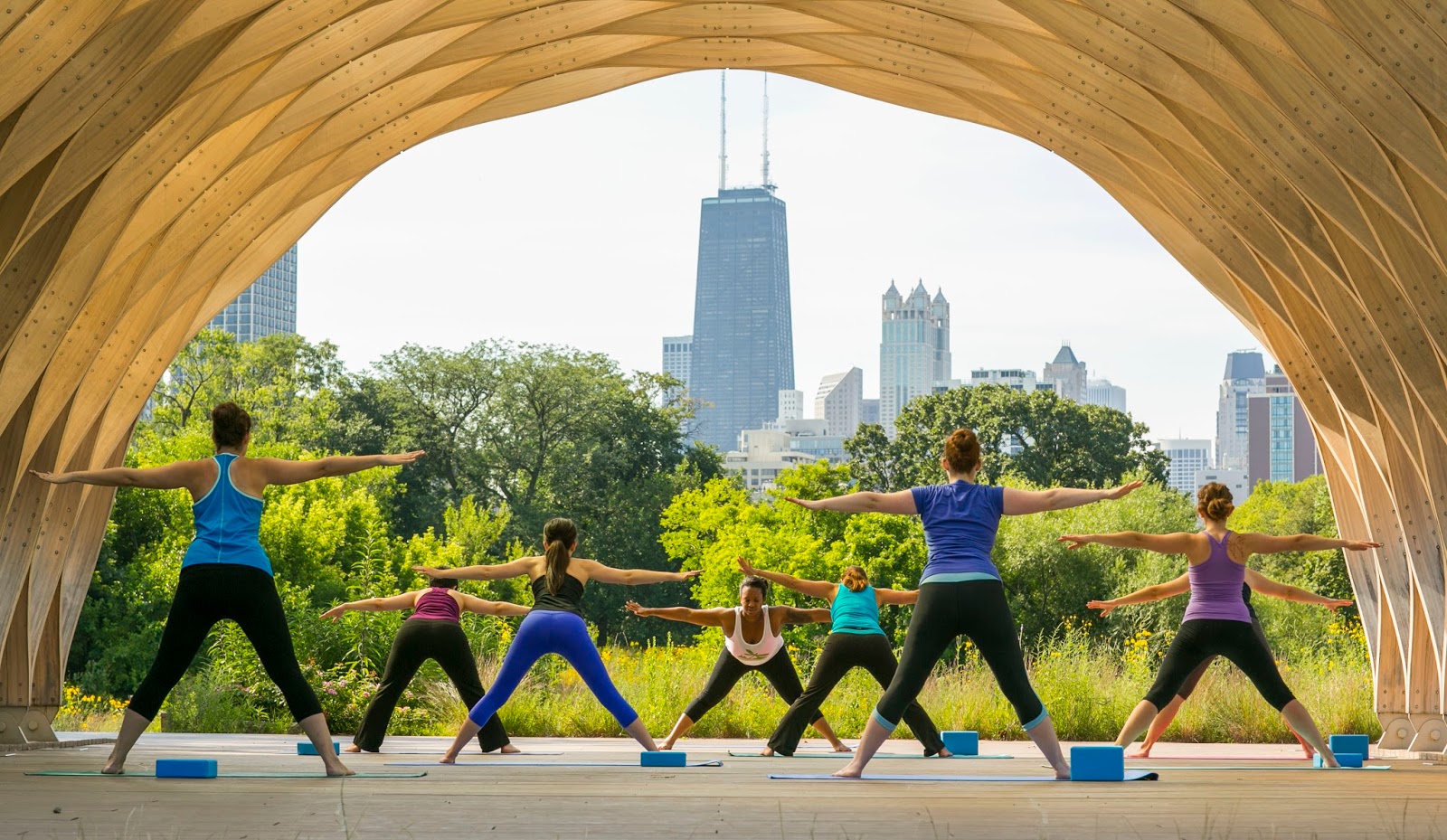 Photo Credit: Lincoln Park Zoo/Todd Rosenberg
Why meditate in a stuffy, indoor yoga studio when you can find your center amidst the waving prairie grasses, sunbathing turtles, graceful swans, and paddling ducks at Lincoln Park Zoo's Fitness at the Zoo Series. New this year, America's oldest free zoo is rolling out a schedule that boasts more than 100 professionally taught classes, including Power Vinyasa Yoga, Happy Bodies Yoga, Parent and Toddler Yoga, Circuit Training, Zumba, and more. Planning to run a 5K  this summer? Prep with the Zoo's Run Club, which will take you on scenic runs through the zoo and surrounding park area, while stopping for conditioning workouts to get you in running shape. Check out the full schedule and pre-register for classes here.
After your workout, take a stroll through Lincoln Park Conservatory, a beautiful oasis of exotic plants, and the perfect place to meditate on nature.
FREE! Fitness on Navy Pier
Lake views, city views, boats, cruises, fireworks, theaters, restaurants, bars, carnival rides, museums. a winter garden — it's really no surprise that Navy Pier (600 E Grand Ave) is one of Chicago's number one attractions. It's also a great spot to get in some FREE yoga and group fitness classes. From circuit training to cardio yoga, there's a drop-in class guaranteed to meet your fitness goals, while also offering inspiring views of the gorgeous city skyline and the glistening lake. Bonus: these classes are absolutely free, and taught by some of the best instructors in the city. Check the full schedule for class times and locations.
FREE! Workouts at Millennium Park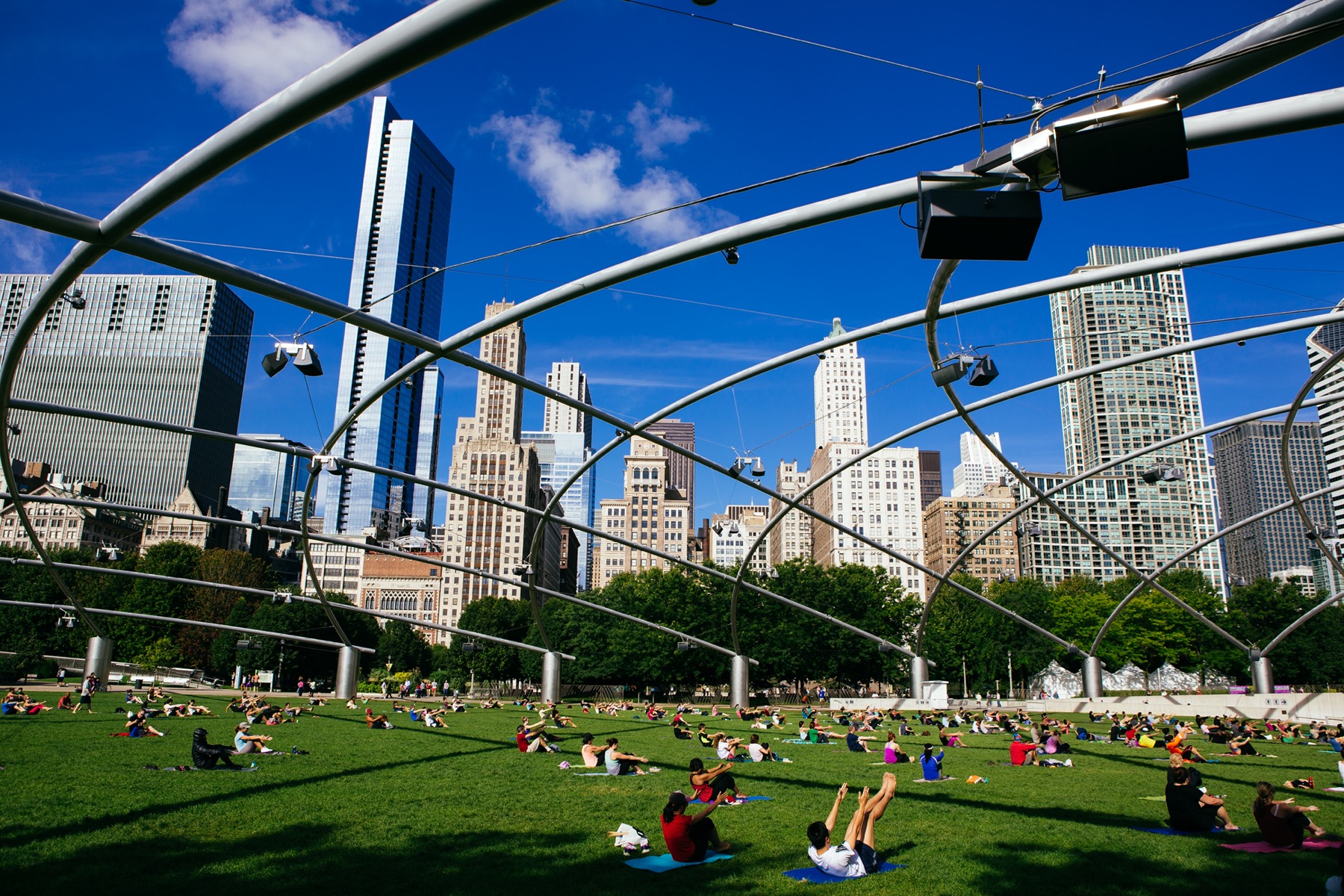 Photo Credit: Adam Alexander Photography
Millennium Park will once again offer free workouts this summer, and, honestly, there's really nothing more inspiring than Jay Pritzker Pavilion glistening in the summer sun to motivate your workouts. All you need to do is show up on the Great Lawn on Saturday mornings from June 2 to September 1, and your instructors will guide you through a calorie-burning, muscle-toning, zen-finding routine. These fab free workout sessions are 45 minutes long, with classes in Tai Chi, Yoga, Pilates and Zumba.
Post-workout, plan on cooling down with a stroll through the lush Lurie Garden or meditating over art history at the Art Institute of Chicago.
Wanderlust 108 at Grant Park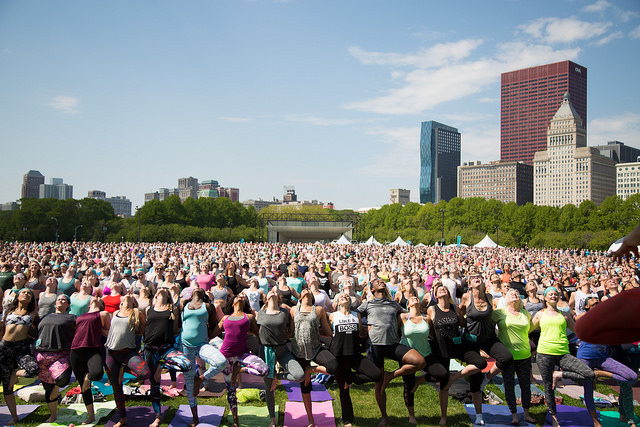 Photo Credit: Taylor Leiby for Wanderlust 108 Festival
Yoginis near and far will descend on Grant Park early this summer for a yoga celebration like no other. Wanderlust 108, will bring yoga workshops, meditation and movement to the park's wide expanse of green. "This year's Wanderlust 108 promises to be a don't miss event because we're creating a one-of-a-kind, pop-up festival in Grant Park, that incorporates the best parts of every Wanderlust experience — particularly the focus on community, mindfulness, healthy living and celebration — and making it fun, accessible and affordable," says Kimberly Small, one of the festival organizers. "This year, for the very first time, we are offering a choice of tickets at different price points to so that attendees can truly create their own adventure." Check out the full list of fun.
Check out the Chicago Festival and Event Guide for more on Chicago's jam-packed schedule of outdoor events.
Yoga on North Avenue Beach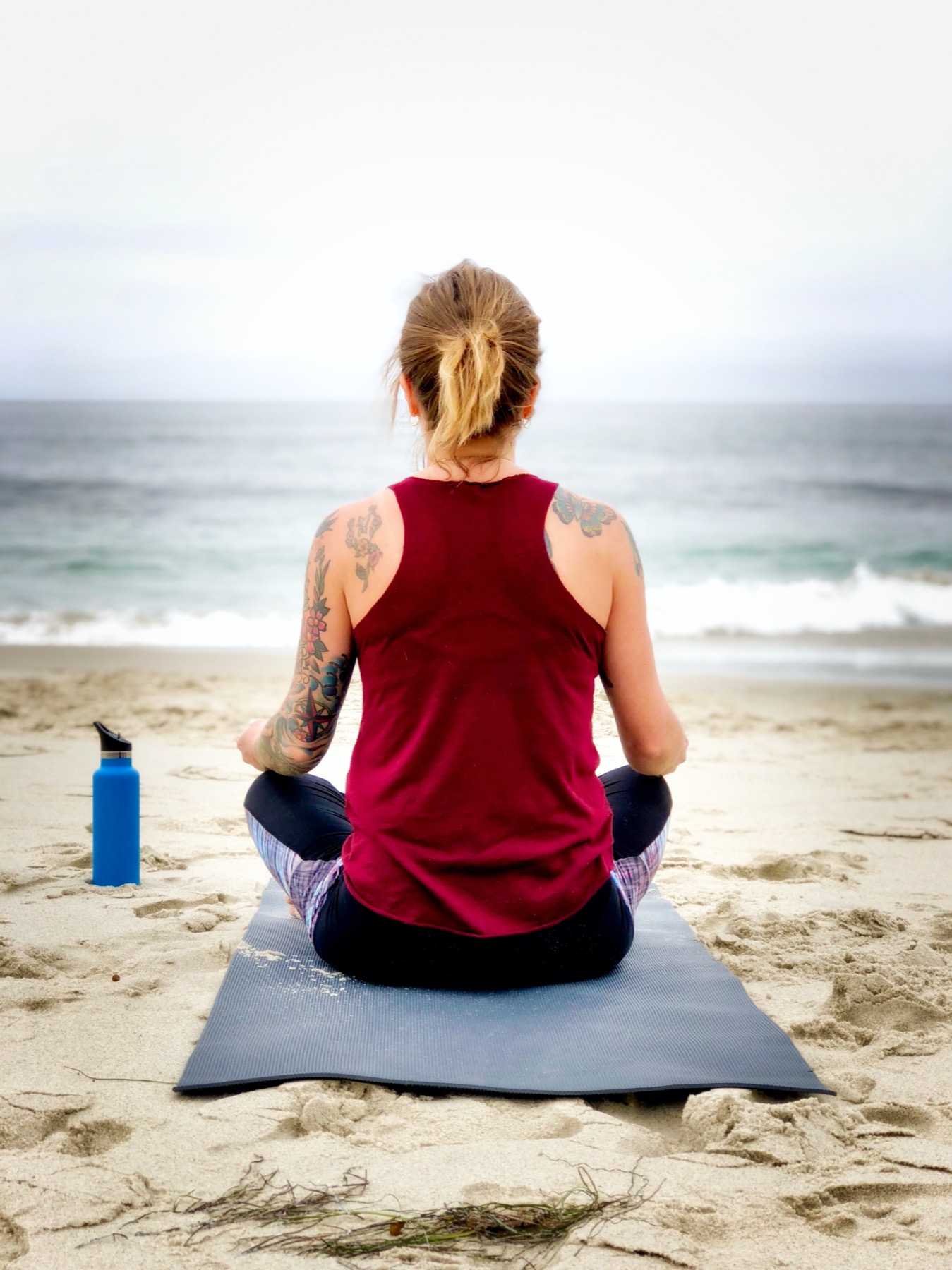 Photo credit: Jennifer Regnier
Watch both the sun and the moon rise on the sandy shores of Lake Michigan, with Sun & Moon Beach Yoga. A daily line up of morning and evening classes, accommodating everyone from beginners to advanced yoginis, promises zen as you take in the calm waters this summer. Just unfurl your mat on North Avenue Beach (1600 N Lake Shore Dr) and get ready to soak in the beauty and serenity that surrounds you. Check out the full summer schedule and season pass information. 
Get to know all about Chicago's Beach Scene.
Stand-up paddleboarding on Lake Michigan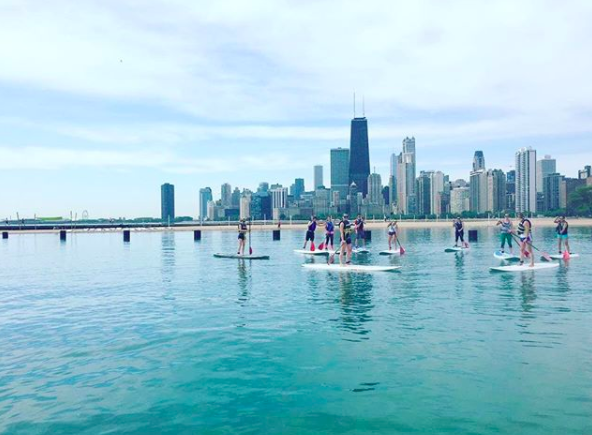 CrossTown Fitness has teamed up with Chicago SUP, one of the city's premier stand-up paddle-board outfitters, to offer one-of-a-kind total body workouts this summer. Stand-up paddleboarding is a hybrid of surfing and kayaking that made its way to Chicago by way of Hawaii. There are two class offerings — 7:45am Total Body Beach Bootcamp and 8:30-9:30am Paddleboarding — available on Saturdays June through September. Chicago SUP hut is located just south of Castaways Bar and Grill on North Avenue Beach (1600 N Lake Shore Dr). For rental info, community paddleboard excursions, and SUP lesson details, visit chicagosup.com.
Get to know all about Chicago's Beach Scene.
FREE: SummerDance at Grant Park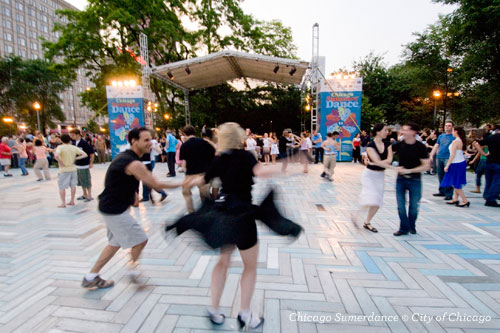 @ Chicago SummerDance, Grant Park
Dancing is the workout that doesn't ever feel like "work." Chicago's annual SummerDance series in Grant Park (337 E Randolph St) offers free instruction followed by an evening of music and dance under the stars. Make a beeline to the Spirit of Music Garden in Grant Park, an urban dance space that will host the sounds of 48 different live bands and DJs over the course of the summer. Lessons are taught pre-performance by some of the city's top dance instructors of all genres. Check back for updates on dance class dates and times.
Check out the Chicago Festival and Event Guide for more on Chicago's jam-packed schedule of outdoor events.
Fitness at the Field Museum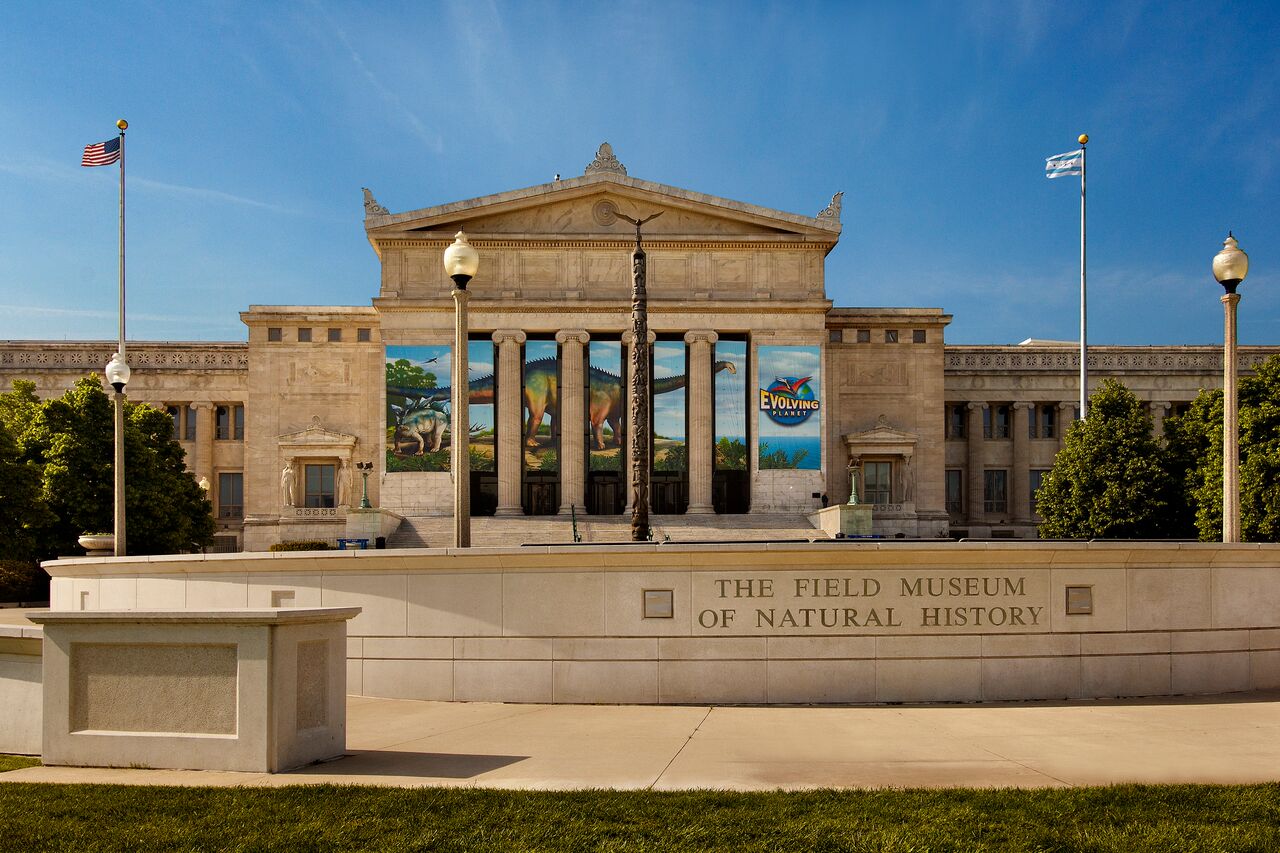 Heading to the museum campus? Get there early enough for a workout session with the new Fitness at the Field initiative. Every Sunday morning from 8-9 am, July 9 through August 20, the Field Museum of Natural History (1400 S Lake Shore Dr) will host outdoor fitness classes on the Northwest Terrace. Take your pick from Zumba dance, Bar Method and Bootcamp, all taught by the friendly instructors from Fitness Formula Clubs. See what's on the schedule.
Check out Chicago's Museum Campus and vibrant museum & arts scene.
Yoga Among the Butterflies at Peggy Notebaert Nature Museum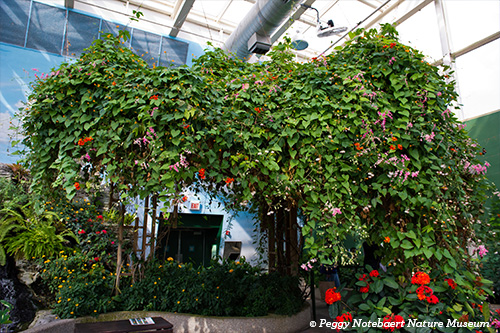 On Saturdays through August from 8:30am to 9:45am, take a rejuvenating yoga class in the Judy Istock Butterfly Haven at Peggy Notbaert Nature Museum. The 2,7000-square-foot-plus Butterfly Haven houses over 40 species of exotic butterflies and several stunning bird species from the Southern hemisphere, and comes complete with serene pools, scented flowers and tropical trees. BYO mat. Cost: $15/class. Must 18 years of age or older to participate.