On Oct. 8, 2019, Chicago Fire Football Club Owner and Chairman Joe Mansueto stood on the pristine Soldier Field grass, ready to address a collection of fervent Chicago Fire supporters and a host of civic leaders, including Mayor Lori Lightfoot, along with Chicago's press corps.
Under clear blue skies, Mansueto — the founder of Morningstar Inc., who one month prior had assumed sole ownership of Chicago's Major League Soccer team — formally announced that the Chicago Fire would reclaim Soldier Field as their home venue in 2020 following 14 years in suburban Bridgeview. The move represented a much-anticipated homecoming for a Football Club that had enjoyed considerable success while previously playing matches in Chicago's iconic lakefront stadium from 1998–2001 and again from 2004–2005.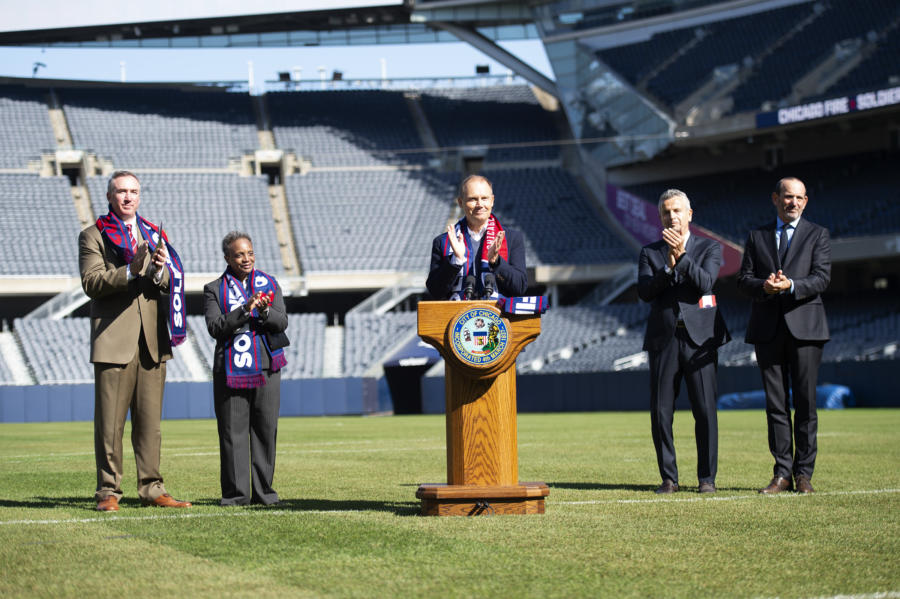 Stand for Chicago
Of course, what was meant to be a year-long celebration of the Club's return to Soldier Field and downtown Chicago didn't materialized as planned in 2020. Just nine days before the Chicago Fire's scheduled Homecoming match on March 21, 2020 — an anticipated sellout with 60,000+ fans set to fill Soldier Field — the MLS season was halted due to the COVID-19 pandemic.
Despite the untimely delay, the events of 2020 only magnified the significance of Chicago Fire FC's move back to the heart of the city. Through the work of its Football In The Neighborhoods program and deep-rooted partnerships with groups like Chicago Public Schools and the Chicago Park District, the Club focused on serving those most in need and amplifying the voices of community leaders.
Vision (partially) realized
Five months after its originally scheduled home opener, the Chicago Fire hosted their first MLS regular season match back at Soldier Field on Aug. 25, 2020, playing in front of empty seats rather than 60,000+ passionate supporters. Nevertheless, a picturesque, late-summer lakefront evening served as the backdrop as an inspired CFFC side delivered a performance to match the historic occasion, defeating FC Cincinnati 3-0.
As the team continues to settle into its new lakefront home, hope remains high that in the near future the Club will see the return of fans to Soldier Field, where all of Chicago is invited to stand together, sing in unison, and celebrate the world's game in our world-class sports city.
Reserve your place in line for 2021 Chicago Fire FC tickets today!
Blazing forward
As the Club and its supporters look forward together with hope for 2021 and beyond, Mansueto and the Fire are forging headlong into a new Major League Soccer season set to begin on April 3.
Second-year head coach Raphael Wicky will return with a core of established players, like forward Robert Berić (Major League Soccer's second-leading scorer in 2020), Bolingbrook native and U.S. Men's National Team player Mauricio Pineda, and dynamic midfield duo Gastón Giménez and Álvaro Medrán. Alongside 2021 newcomers like Ecuador Men's National Team defender John Espinoza and up-and-coming Bulgarian international Stanislov Ivanov, Wicky's men will look to make Soldier Field a fortress and push the Club toward MLS Cup glory.
Off the field, the Chicago Fire announced an all-new visual identity project — including a new crest — in which fans and supporters have been invited and encouraged to participate. In 2022, as the Club celebrates 25 seasons in Major League Soccer, the Fire will take the field in kits bearing a new crest — one that reflects the spirit of both Chicago Fire FC and the city we call home.
The Club's landmark local media rights agreement with WGN-TV, Chicago's Very Own, will also continue in 2021.