As the city continues to reopen, many Chicagoans still haven't returned to the office full time. Working from home is a great, responsible option for those who are able to do so — but the monotony and lack of work-life separation can be a drain on your productivity and personal time.
Luckily, many Chicago hotels are offering a safe way to break up your work routine. These packages and special offers allow workers to use a hotel room as a "home office" for the day. You'll get a quiet, clean place to be productive, often with extra perks like snacks and meals. Plus, you can even take advantage of hotel amenities like the pool or fitness center.
The Kimpton Gray: In the Loop, the Kimpton Gray is offering a "Home Office" package for local workers. The Gray gives guests a tranquil space to work for a few hours or overnight. The package includes bottled waters, a phone charger/international converter, earbuds, hand sanitizer, in-room Keurig coffee, $20 mini bar credit for refreshments, and flexible check-in and checkout.
Hotel Lincoln: Hotel Lincoln is welcoming remote workers with Midwestern charm and sweeping lakefront views in Lincoln Park. Enjoy your own flexible work space in a hotel suite, featuring complimentary coffee and WiFi, starting at $150 per day. You can even bring your furry assistant — dogs are welcome in your hotel "office" and can enjoy perks like pup-friendly ice cream and personal water service.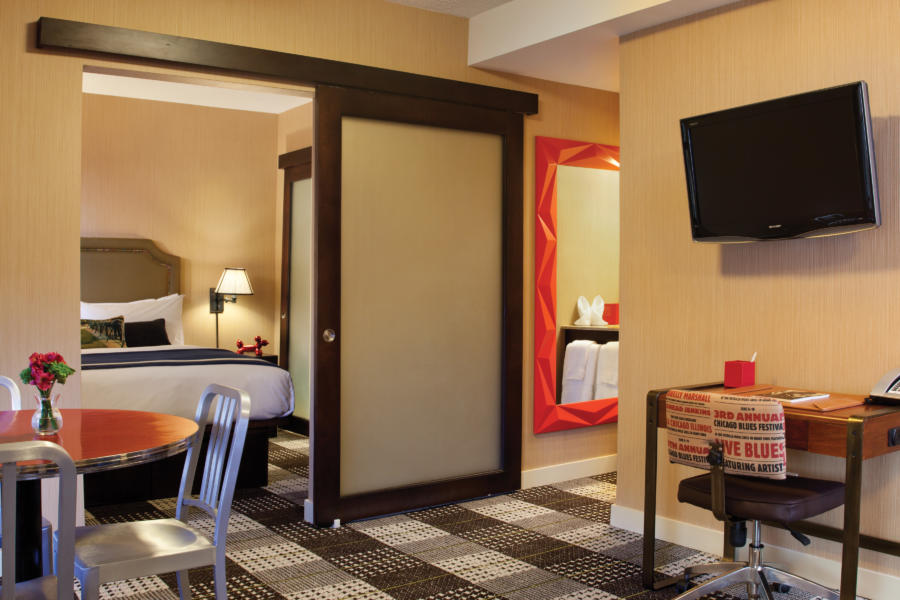 The Godfrey Hotel: Whether you're looking for a change of scenery or reliable WiFi, The Godfrey Hotel has a special offer geared toward Chicagoans working remotely. The "WFG" (Work from Godfrey) Package allows locals to book guest rooms for a low day rate and enjoy a spacious desk area, in-room Keurig coffee, high-speed internet, views of the city, and more. You can even enjoy a post-work CBD cocktail kit in select rooms.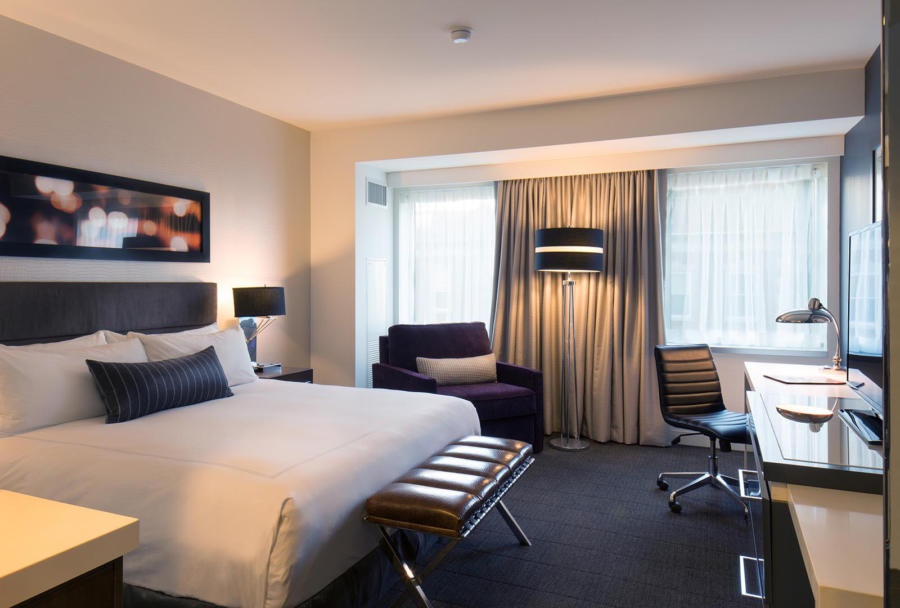 Swissotel Chicago: Mix up your remote work routine with a day at the "Swissôffice" at Swissotel on the Chicago River. This offer, which can accommodate up to three people, gives guests an all-day office space, complimentary WiFi, access to the penthouse fitness center, and free breakfast, lunch, and mid-day snacks. Book online or by emailing sch.social@swissotel.com.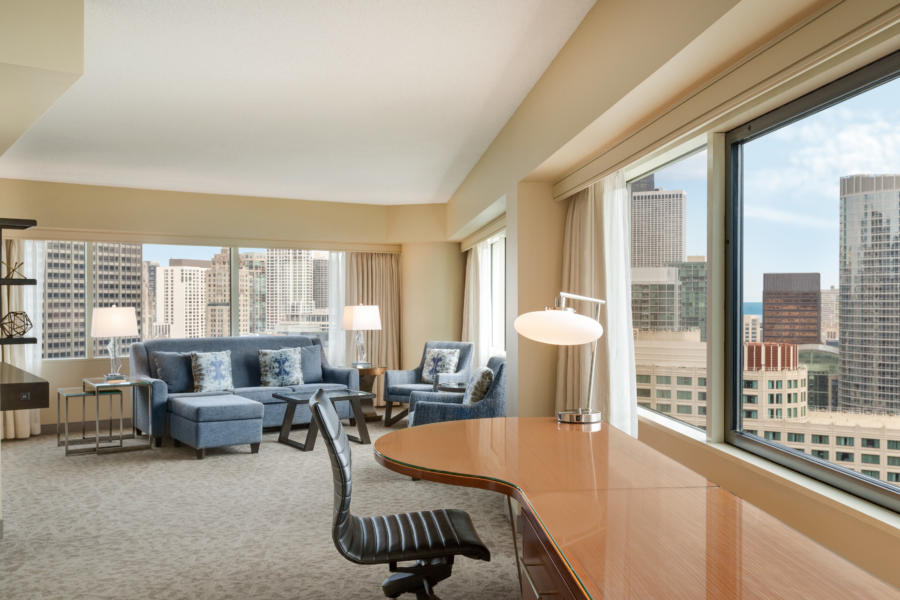 Hotel Julian: On Michigan Avenue, Hotel Julian is offering an affordable option for remote workers. Their rates start at just $69 a day for access to a room with Millennium Park views from 8 a.m. – 5 p.m. In the lobby, their modern steak bar About Last Knife is offering 15% off for remote workers, so you can skip the brown bag lunch or enjoy an after-hours cocktail.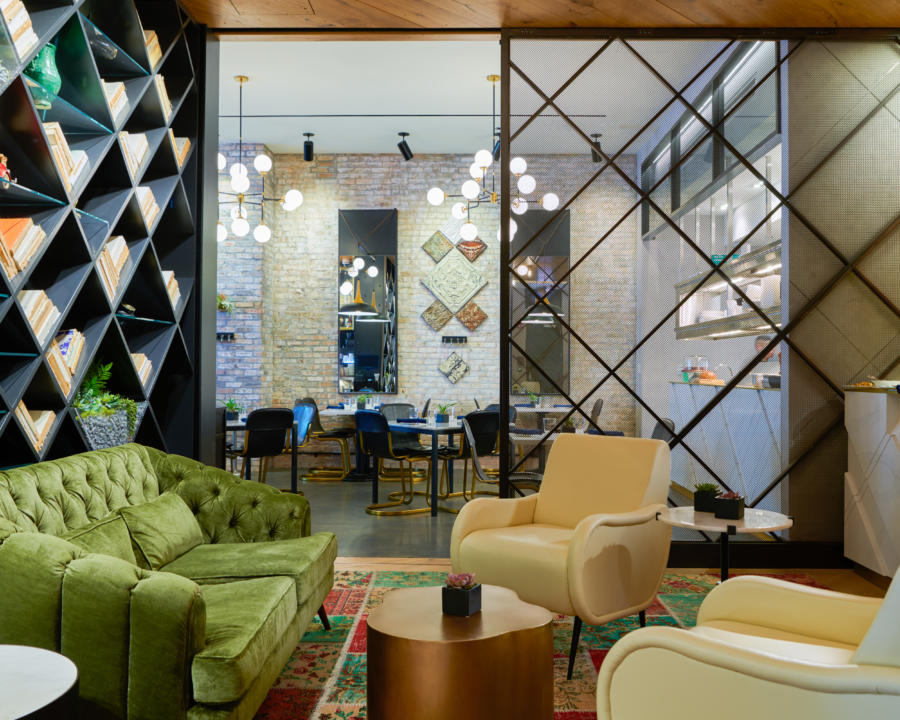 Thompson Chicago: Escape to a quiet oasis at the Thompson in Gold Coast for some fitness, fine dining, and maybe even some work. Enjoy a discounted day rate on a guest room, which includes a delivered lunch from Nico Osteria. The offer also includes free printing services, in-room snack bar and bottled water, and access to the fitness center equipped with Peloton bikes. Turn your visit into an overnight stay for just $50 more.