There's a lot to love about the Old Town neighborhood in Chicago. This charming pocket of Chicago feels like a different city in itself with endless Victorian-era architecture, tree-lined streets, and narrow brick alleyways. While it's got plenty old world charm, the neighborhood is also known for its thoroughly modern nightlife scene.
Wells Street in particular is Old Town's bustling bar and restaurant hub. This main stretch between North Avenue and Division Street stays busy way past midnight, with beloved dive bars, trendy new watering holes, and late-night food options. Here are some of our favorite places to spend a night out in Old Town.
The Second City

One of the best ways to kick off a night in Old Town is with a show at The Second City. This famed improv theatre launched the careers of some the most notable names in comedy: Alan Arkin, Bill Murray, Steve Carell, Amy Poehler, and so many more. With multiple stages and live shows every night of the week, you'll definitely be able to catch a sketch or improv show before hitting the town. Find tickets here.
Old Town Ale House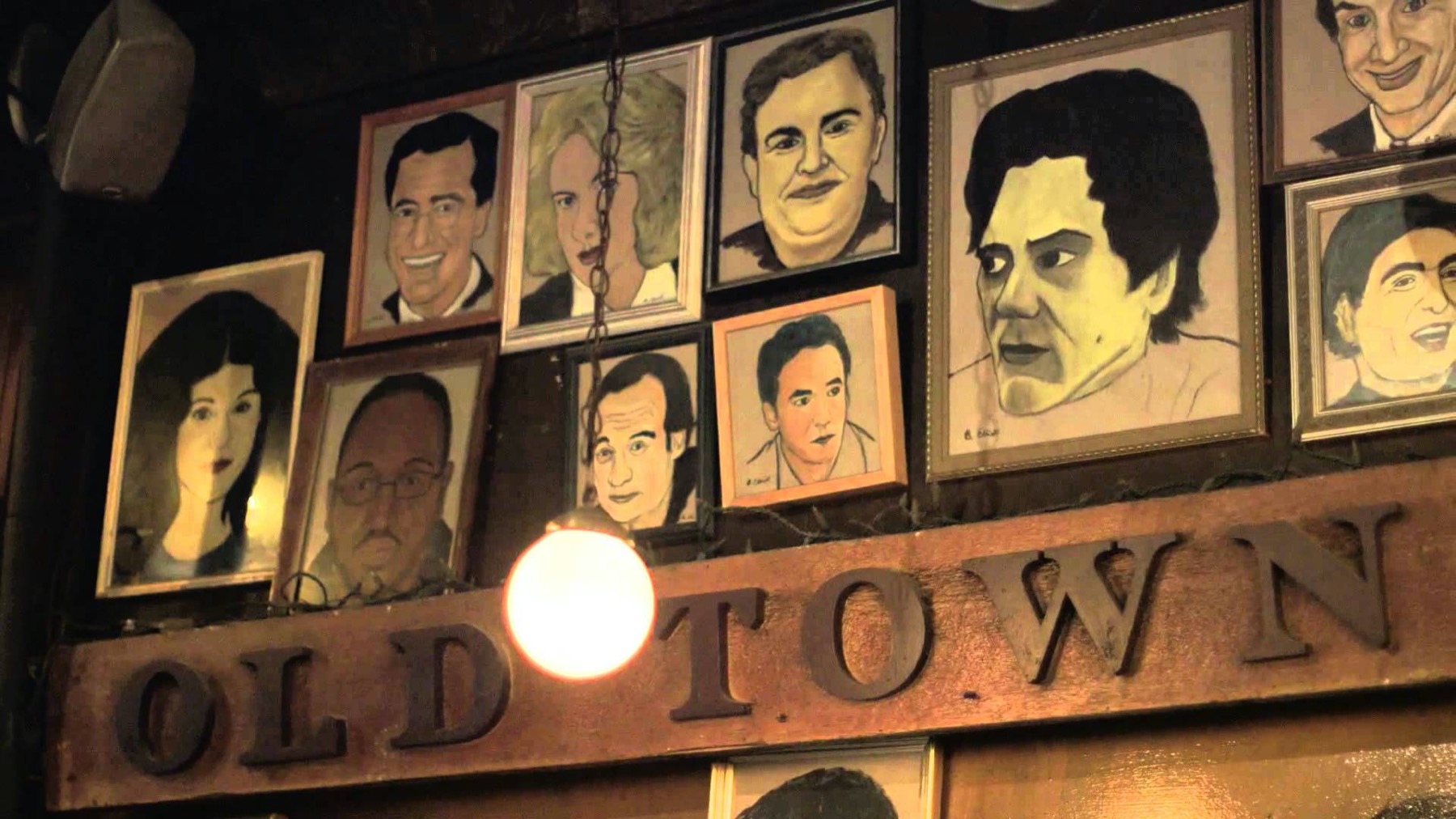 Directly across the street from The Second City lies one of Old Town's most iconic dive bars: Old Town Ale House.  Old Town Ale House is a no-frills, cash-only landmark in the heart of this historic neighborhood. The interior is filled with the owner's original portraits, with subjects ranging from local celebrities to famous politicians. And it was a favorite haunt of Anthony Bourdain and Roger Ebert, who called Old Town Ale House "the best bar in the world that I know about."
Twin Anchors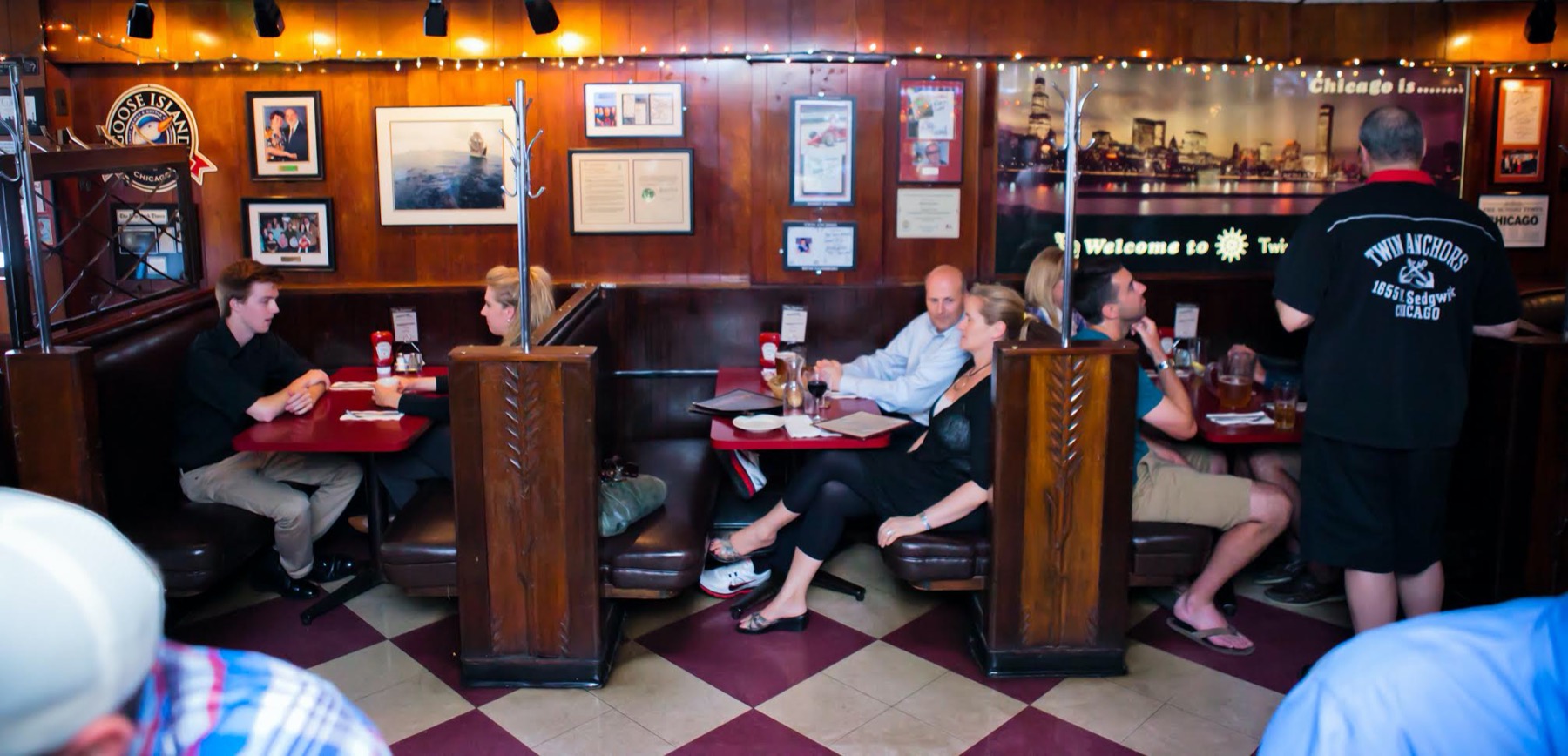 Established in 1932 and often frequented by Frank Sinatra back in the day, Twin Anchors is a neighborhood favorite for visitors and locals alike. It's hard not to feel at home in this family-run tavern that's been dishing out slabs of their famous ribs, amongst other items, for almost 90 years. Cozy up in a booth, read up on the tavern's history, and enjoy an evening spent in a classic Chicago institution.
Happy Camper
It's always a party at Happy Camper. This Wells Street spot is always packed for game days, bingo brunches, happy hour…really anytime. The interior is outfitted with tire swings, an airstream, and fun neon signs, and the menu is loaded with cheeky cocktails, creative pizzas, and crave-worthy sides (don't skip the Goat Stix). Open from brunch through late night on the weekends, this Instagram-friendly spot will have your pizza fix (and happy vibes) at all hours of the day.
Old Town Pour House
Not to be confused with Old Town Ale House, Old Town Pour House is a larger restaurant and bar with a modern look and feel, plus over 90 craft beers on tap. With a full bar menu ranging from shareable snacks to sandwiches, entrees and more, Old Town Pour House is a great option for dinner and drinks during a night out in the neighborhood. If you find yourself out and about in the later hours, stop by and enjoy the late night menu, served from 11 p.m. onwards throughout the week.
The J. Parker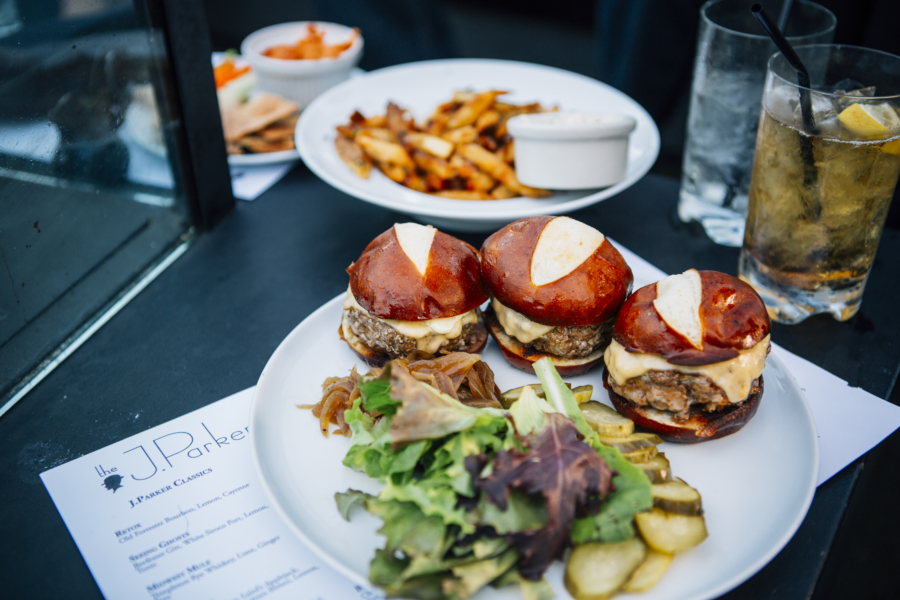 On the edge of Old Town sits The J. Parker, the bar and restaurant atop trendy Hotel Lincoln. With unobstructed views of Lincoln Park, Lake Michigan, and downtown Chicago, The J. Parker's all-seasons rooftop is the spot to enjoy a cocktail and toast to our beautiful city. Snack on truffle fries with asiago and herbs and sip signature and frozen cocktails as you soak up a night out in the neighborhood.
House of Glunz
Family-owned and operated since 1888, the House of Glunz is Chicago's oldest established wine merchant. The Glunz family has been serving wine and spirits for almost 130 years, so suffice to say, they know their stuff. Whether you're looking to shop for a bottle (or two), want to taste test samples at a complimentary wine tasting, or would rather enjoy a glass and some food at the adjacent Glunz Tavern, it's not a trip down Wells Street without stopping by this local landmark.
The Fireplace Inn
The Fireplace Inn first opened for business in 1968 and has been serving guests of Old Town ever since. Family-owned and operated in the heart of the neighborhood on Wells Street, The Fireplace Inn is best known for their barbecue: namely their baby back ribs and chicken. With daily happy hour specials, a full bar, and outdoor patio space for people watching, there's plenty of reasons why The Fireplace Inn has been a neighborhood favorite for years.
Broken English Taco Pub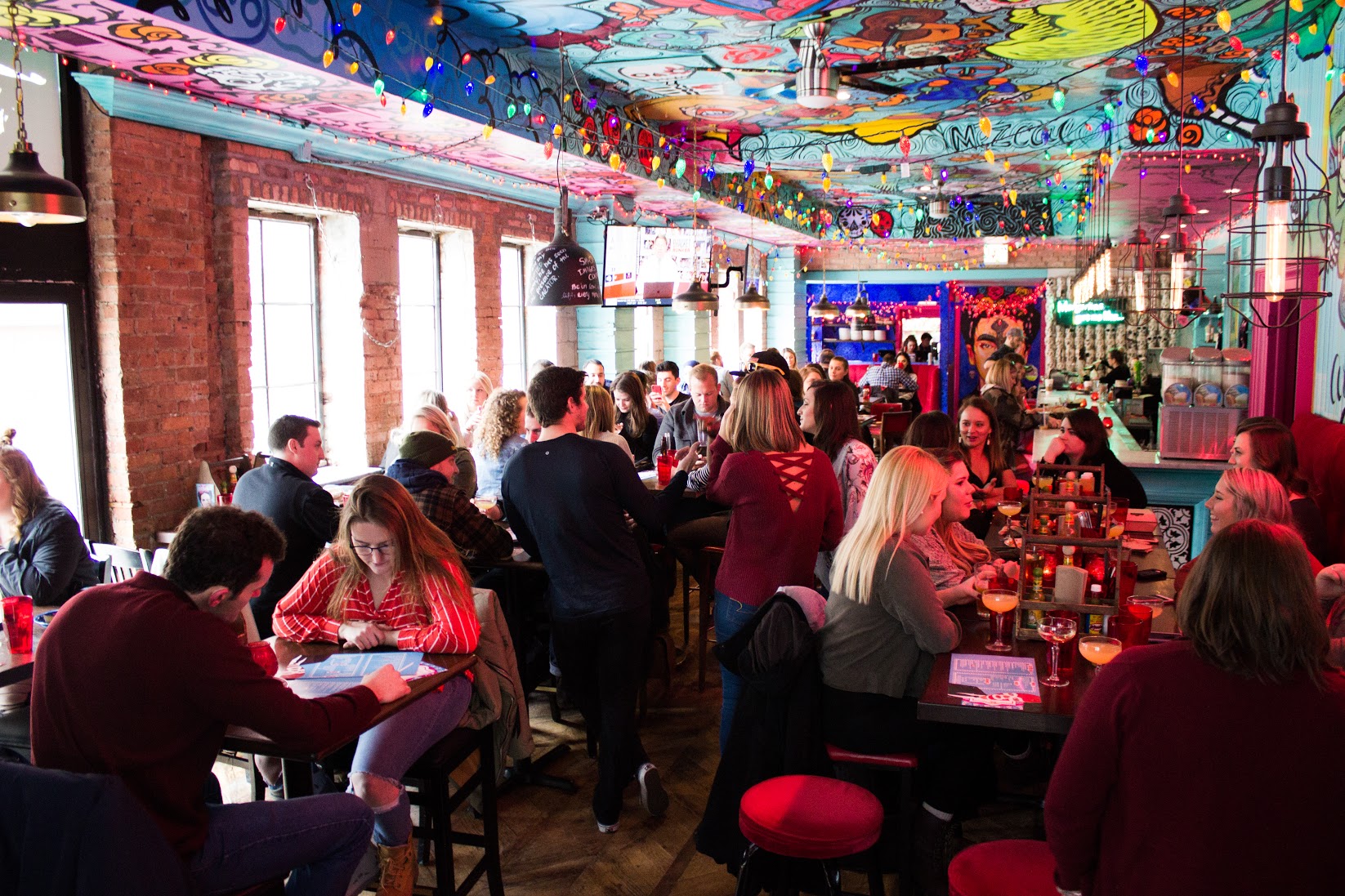 It's hard to miss this funky taco pub — the colorful murals adorning the exterior are a dead giveaway. The modern vibes continue inside, from the menu (fried chicken tacos, elote-stuffed empanadas) to the décor (a psychedelic paint job, local art on the walls). They're open till 1 a.m. on Fridays and Saturdays, so you can stop in fill up before a night out or for a margarita nightcap.