Now in its 10th year as a leading international art fair, EXPO CHICAGO returns to Navy Pier with an exciting roster of exhibitors, programs, installations, speakers, and more. The event, which takes place April 13 – 16, 2023, will welcome more than 170 leading galleries representing 36 countries from around the world to Chicago.
EXPO CHICAGO celebrates contemporary and modern art with a diverse schedule of cultural programming and contemporary art installations. This year's main event will take place in Navy Pier's Festival Hall, with additional programs and events throughout Chicago during EXPO ART WEEK from April 10 – 16, 2023. 
EXPO CHICAGO exhibitors
One of EXPO CHICAGO's main events is the exhibitor showcase, which will include Galleries, showcasing leading international exhibitors; EXPOSURE, featuring solo and two-artist exhibitors from new and emerging galleries; and PROFILE, presenting solo booths and projects that showcase ambitious and thematic installations.
Visitors can explore print media and object-based practices in Editions + Books, which includes a cross-section of both established and emerging artists. And the Special Exhibitions section puts a spotlight on projects by non-profit museums and arts organizations, representing regional, national, and international groups.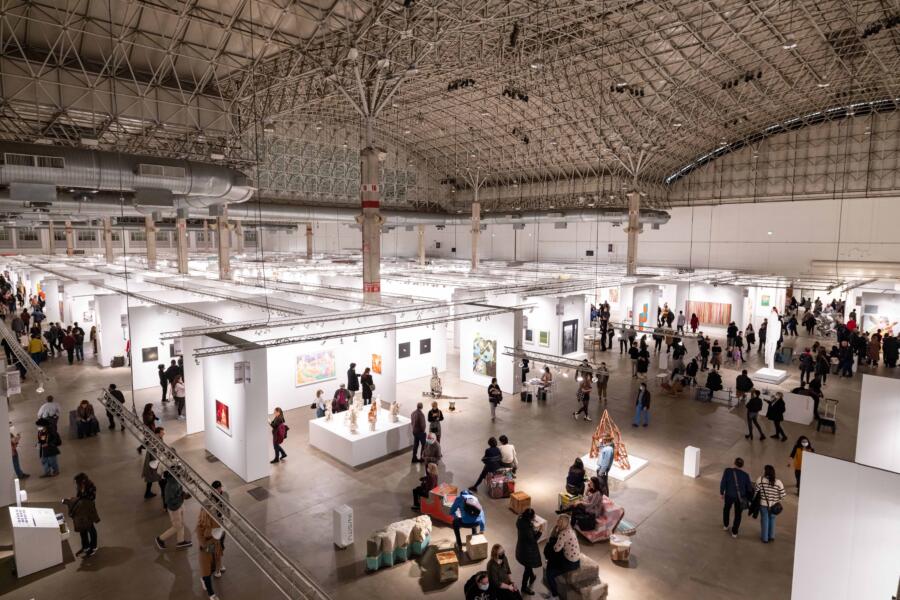 This year's exhibitors come to Chicago from more than 90 cities in Argentina, Belgium, Brazil, China, France, Ghana, Iran, Lithuania, Mexico, Norway, Singapore, South Africa, South Korea, United Arab Emirates, and beyond.
Notable new exhibitors include Casas Riegner from Bogotá, Micki Meng from San Francisco, Galerie Christian Lethert from Cologne, Galerie Poggi from Paris, Isla Flotante from Buenos Aires, kó from Lagos, and Southern Guild from Cape Town. Explore the full list of participating galleries for EXPO CHICAGO 2023.
EXPO ART WEEK
Chicago is an internationally recognized art and design hub, home to some of the world's leading art museums, a thriving gallery scene, and an array of iconic public art. EXPO ART WEEK highlights Chicago's vast cultural contributions, drawing upon the city's most prestigious arts institutions to offer programming, exhibits, gallery openings, and more.
This year's EXPO ART WEEK will run from April 10 – 16, 2023. Check back for more details.
EXPO CHICAGO programs
Each year, EXPO CHICAGO presents a full schedule of thought-provoking discussions, installations, and exciting activations. This year's core programs and events include:
Participants in the core programs include artists, collectives, and industry leaders from across the world, including Chance the Rapper, Richard Bell, Julien Creuzet, Dimitris Daskalopoulos, Brendan Fernandes, For Freedoms, Aïda Muluneh, Esmaa Mohamoud, The Floating Museum, Ebony G. Patterson, Stephanie Syjuco, Hank Willis Thomas, Hamza Walker, and
EXPO will also present keynote speakers as part of its Directors Summit, a multi-day series of conversations on the future of museum leadership and institutional reinvention. The Directors Summit will take place alongside the exposition's Curatorial Forum, the country's leading meeting of curators.
Tickets for EXPO CHICAGO 2023 are on sale now. Choose from general admission single-day and three-day passes, or get exclusive early access with Thursday's Opening Night Ticket. Guided tours led by museum educators and other arts professionals are also available for purchase.