There's no better place to learn about the city's dynamic history and amazing architecture than at the Chicago Architecture Center (CAC). Though established in 1966, the nonprofit organization opened its riverfront attraction in 2018, designed by leaders in the field to occupy the base of One Illinois Center, where Michigan Avenue meets the Chicago River. The Center features nearly 10,000 square feet of galleries filled with super-sized models of iconic skyscrapers built over the course of more than a century, set against a backdrop of Chicago's impressive skyline.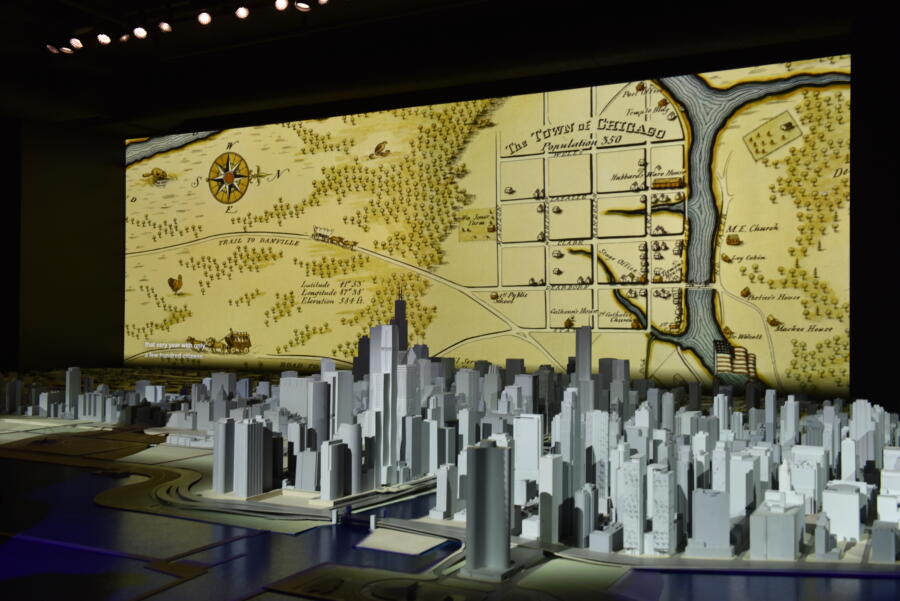 The CAC is your gateway to discover the city through on-site exhibits and an array of tour options throughout downtown, letting you experience Chicago's architecture in person with guidance from CAC docents. The CAC's virtual programs provide convenient access year-round to stories of our city from wherever you're most comfortable.
CAC exhibits
The Center's two floors of spacious galleries feature multiple thought-provoking special exhibits each year, as well as celebrated and engaging permanent exhibits. A good place to start is the Chicago Gallery, where visitors learn how Chicago became an incubator for design and engineering innovation, helping cement its reputation as a city continually at the forefront of cutting-edge architecture. The Chicago Gallery's star attraction is the animated and interactive Chicago City Model Experience. Explore the past, present, and future of the city's built environment through the model's vivid light show, video presentation, and more than 4,250 miniature buildings.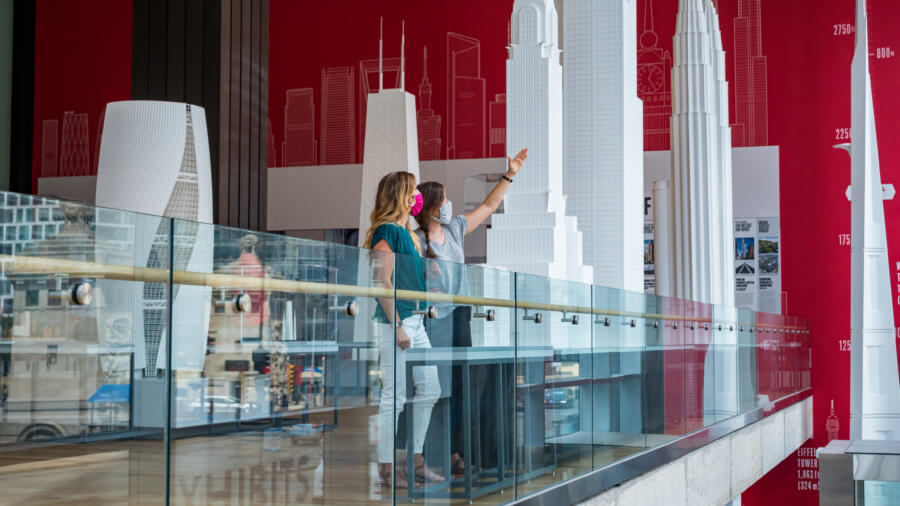 Building Tall, located in the Drake Family Skyscraper Gallery, features super-sized scale models of groundbreaking skyscrapers in Chicago and around the globe. Find positive visions of the future in the exhibit From Me to We: Imagining the City of 2050, in which Chicago architects and thought leaders suggest how we can meet global needs for urban housing, infrastructure, environmental sustainability, and more. Before departing the Center, browse the CAC Design Store to find great gifts for all ages.
CAC tours
After exploring the Center, pound the pavement on one of the CAC's acclaimed tours, each led by an expertly trained CAC docent. Equal parts storyteller and educator, each docent is sure to keep you entertained with fascinating facts and secrets about the city's architectural past, present, and future.  Dozens of tour options include Chicago Architecture: A Walk Through Time, Must-See Chicago, and Mid-Century Modern Skyscrapers, with deep dives into the stories and secrets of iconic buildings and public spaces throughout downtown Chicago. You can also take a step back from the city's center and explore Chicago's communities with one of the many neighborhood tours on offer.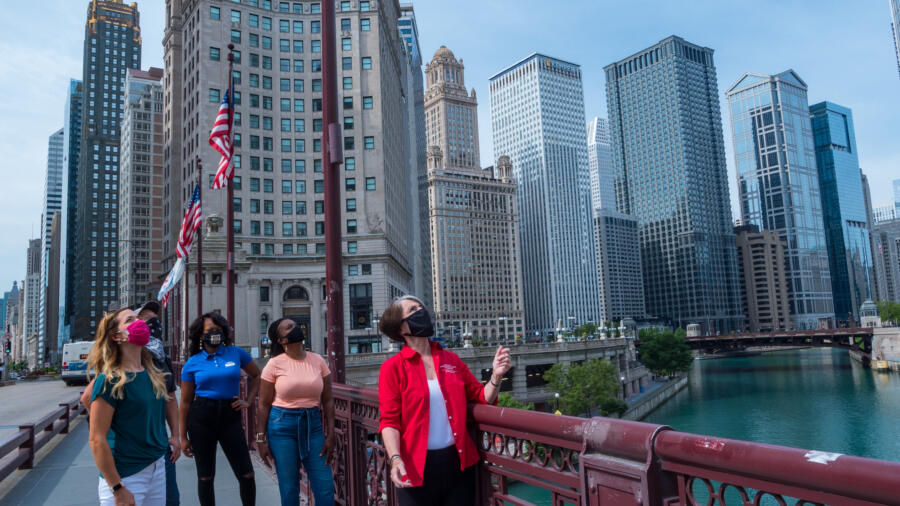 Looking for a private walking tour for just your group? My Social Circle tours are designed for private groups of up to six. CAC Education staff are also available for 45- to 60-minute walking tours for up to six people. With content curated specifically for youth ages 8 and up, the whole family will enjoy learning about how Chicago grew and why it became a global capital for great architecture. Custom, private, and family-friendly tour bookings are available via email at groupsales@architecture.org.
From April through November, set sail on the Chicago Architecture Foundation Center River Cruise aboard Chicago's First Lady. Voted the number-one boat tour in the country by USA Today's 10Best Readers' Choice Awards, these world-renowned, 90-minute cruises are narrated by specially trained docents who share compelling stories behind more than 50 buildings along the Chicago River. Each docent brings a unique perspective to these river cruises by sharing their passion for history and design — as well as their favorite anecdotes. Tour guests leave inspired by the city's wide variety of architectural styles including Art Deco, Neoclassicism, Mid-Century Modernism, and Postmodernism.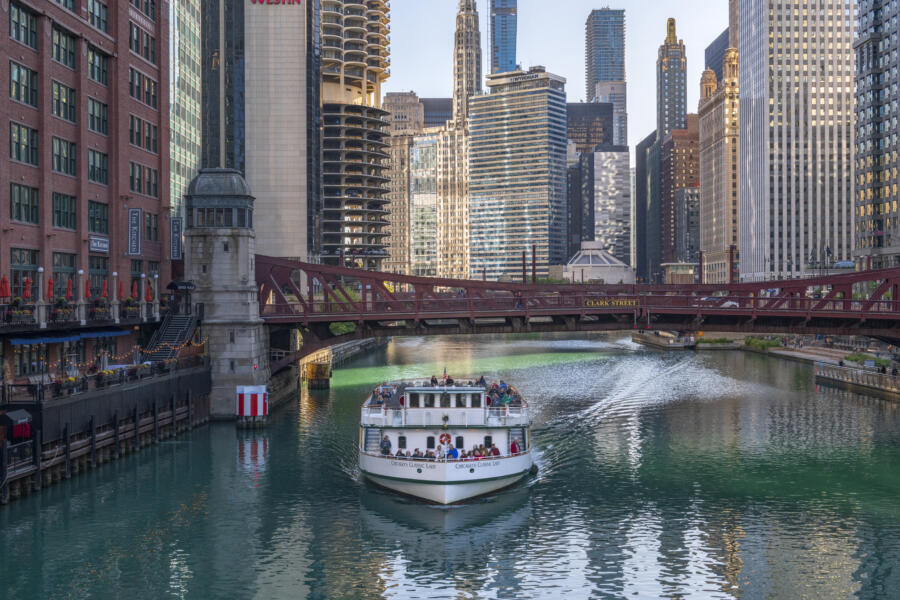 CAC events and programs
Offered regularly year-round and hosted via YouTube and Zoom, the CAC's virtual programming helps you think differently about where we live, work, and play. Get behind-the-scenes access to architectural treasures and author-led overviews of new books. Participate in expert-led discussions about the latest urban design issues and learn what's on the minds of civic leaders. Browse the CAC's online events calendar and bring the fascinating world of architecture and design to your television or desktop.
Center visitors, CAFC River Cruise guests, and walking tour attendees are prompted to acknowledge and accept the organization's safety policies. Learn more here.