Chicago is a music city, where major acts fill stadiums and concert halls, raising the excitement of roaring crowds to fever pitch. But Chicago is also a city that prides itself on its hospitality and welcoming atmosphere, despite its big city stature. Which is why you pretty much have your pick when it comes to cozy spots that "feel just like home" and also boast outstanding live music line-ups.
Whether you're craving blues, jazz, punk, or Rat Pack-style crooning, here are eight intimate venues to make a B-line for.
1. The Whistler: Logan Square

You've got to love The Whistler for being all that it can be: cocktail bar, record label, art gallery, and live music venue. The storefront features funky, rotating art installations by local artists (right now it's a diorama presented by the Field Museum — more on that later). And since there's no sign outside, you're forgiven for not knowing there's an uber intimate cocktail bar just inside. A significant amount of the tiny space is taken up by a stage and dance floor, so you know you're going to hear a lot of great music. In fact, there's live music playing or DJs spinning every night of the week, with no cover. Many of the performances are recorded live at The Whistler, which is where the record label comes in. There's also a delightful patio at the back (open till 11pm), where low wooden benches set at right angles make socializing with fellow guests easy. 2421 N. Milwaukee Ave.
2. The Tack Room: Pilsen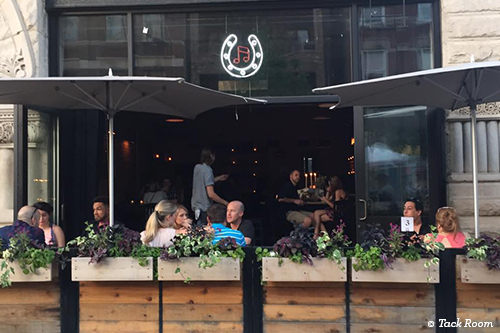 Pilsen has long been a bastion of the arts, with thriving artist studios as far as the eye can see. In the heart of this vibrant artist enclave you'll find the Tack Room, a lovely spot housed in the former stables of a landmark Pilsen building. The venue features a carefully curated cocktail menu, a view of the lively neighborhood, picturesque patio seating, and a well-loved piano that just beckons you to sit and bang out a tune. Music plays every Thursday through Saturday, with Latin Jazz and piano maestros often on the schedule. 1227 W. 18th St.
Insider tip: If you're looking for even more musical inspiration, head upstairs to Thalia Hall, one of the city's premier indie performance venues. Oh, and you can grab dinner at Dusek's Board & Beer, which is also part of the Thalia Hall property. Dusek's was named "Best New Restaurant" by both Chicago Magazine and Thrillist, featured on The Food Network, and awarded one star in the MICHELIN Guide Chicago in 2016, 2017 and 2018. Check out our 24 hours in Pilsen itinerary. 
3. The Green Mill: Uptown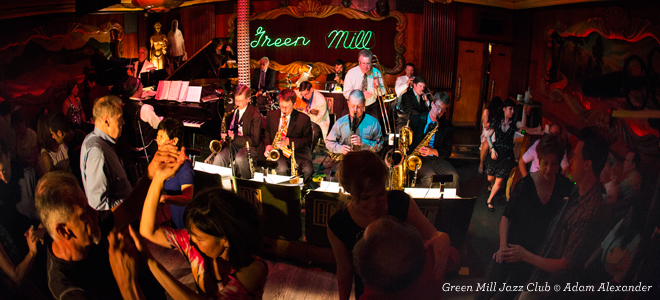 If you're a jazz baby with a lust for the past, then nestle into a booth at the seductive Green Mill. This historic Chicago jazz club, first established in 1907, hits the mark on so many levels. For starters, it's like a Jazz Age time warp; it's all too easy to conjure up images of mobsters eye-balling you from the corner table. And, in fact, Al Capone's favorite booth is still there, directly west of the short end of the bar. Every day of the week, sultry jazz singers lull you into slightly tipsy revelry, while Sundays from 7-10pm, poets hit the stage to share their lyrical odes to lost love. 4802 N. Broadway St.
4. Redhead Piano Bar: River North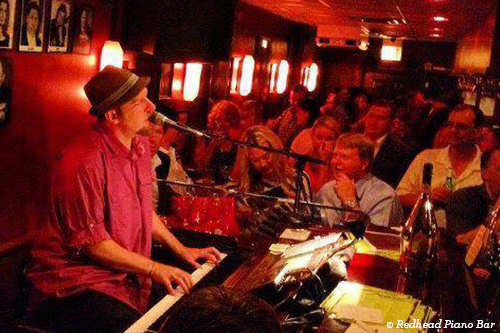 Well-heeled crooners and classic cocktails. That's what you'll find at the Redhead Piano Bar. Step down into a time long past, where mixologists serve Sidecars, Manhattans and Cosmos, and musicians channel the likes of Frank Sinatra and Dean Martin — you'll melt as fast as an ice cube in a hot toddy. A lengthy list of fine scotches and cognacs are another big draw, as is the piano-side seating that makes you feel as though you're a part of every performance. 16 W. Ontario St.
5. Winter's Jazz Club: Streeterville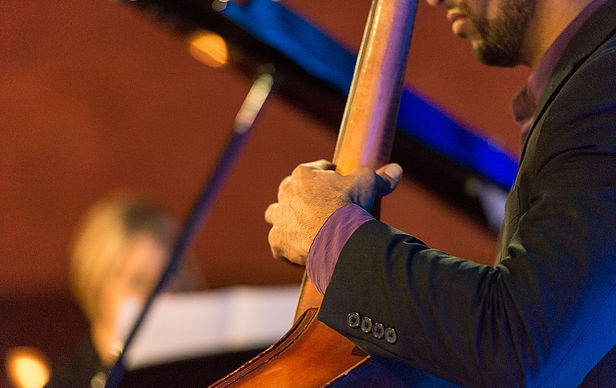 Conde Nast Traveler describes this great music venue as a "pocket of cool," which is pretty accurate. Winter's is a straight-up listening room, with a primary focus on straight-ahead Jazz. That's not to say you won't find other genres pulsating through this intimate space (the club seats 100 and the bar 25), from Swing and Gypsy jazz (my favorite) to Big Band and New Orleans-style jazz. The stage is small but perfectly positioned – there simply isn't a bad seat in the room – and the music schedule is jam-packed six days a week. "Our mission is simple," says Winter's, "To perpetuate the joy of live Jazz by presenting the best interpretations of the best arrangements of the best songs in the canon of classic Jazz (and slightly beyond)." 465 N. McClurg Court 
6. California Clipper: Humboldt Park
Ah, "The Clipper." It's as iconic as Chicago itself. Dating back to the 1930s, the Clipper's interior is bathed in red hues, with scarlet booths and a beautiful antique bar that leads the eye straight to the corner stage. It even has it's own ghost, the Woman in White, who staff say appears in booths one and nine (but I'm pretty sure she doesn't mind sharing). The drink list spans more than 70 libations, ranging from an expertly prepared Old Fashioned or Amaro Shaved Ice, to a Genesse Cream Ale and shot of whiskey. This super-sexy venue hosts music that runs the gamut of jazz, soul, country/western, indie, world and beyond, straddling both vintage and modern. In the summer months, you can sit out front and take in all the life of California Avenue and Augusta Boulevard. 1002 N. California Ave.
Insider tip: If you fancy a bite beforehand, head across the street for authentic French cuisine at Café Marie Jeanne (if you love pickled fish and delicious stinky cheese, you'll find nirvana here). Or go right next-door to one of my favorite spots, the vintage haven that is Spinning Js. Charm reigns and baked goods entice at this super-quaint eatery.
7. The Hideout: Wicker Park/Bucktown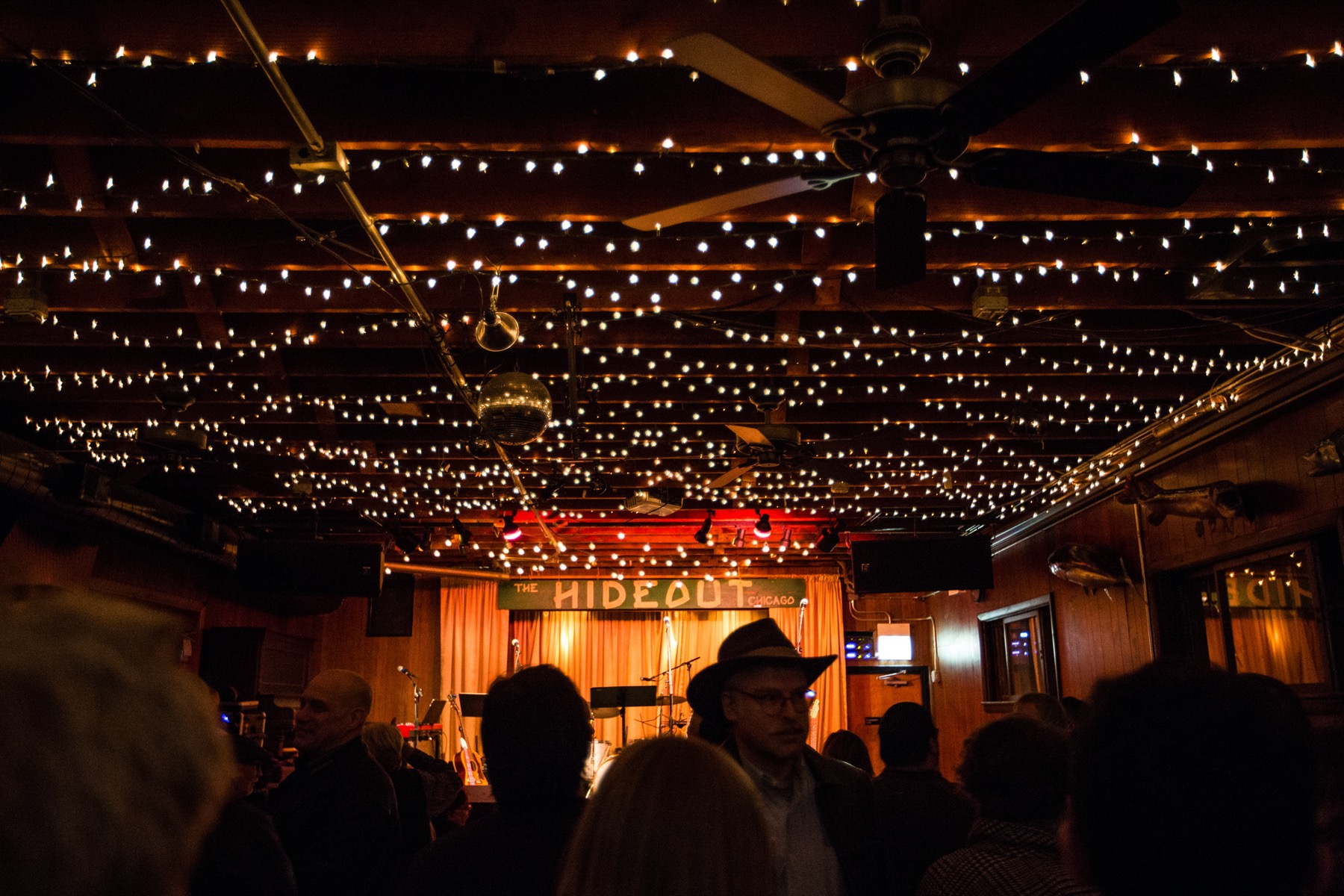 The Hideout is one of those places you feel special for happening upon. Though in the heart of the city, it's not the easiest to find, sitting as it does in the middle of the industrial corridor along the North Branch of the Chicago River. Which is ironic given the fact that the bar and music venue are located in a 100-year-old balloon-frame house, reportedly built in only two days. A century later, this place hasn't lost any of that "feels like home" vibe. Just beyond double doors at the far end of the dimly lit bar you'll find the music room, where taxidermied fish gape at the stage as if enthralled by the bands that grace it nightly. As the Hideout explains, this is "the last hold-out of the rebel club … Every night for over a decade, punk rock, alt-country, indie rock, post-rock whatever, break out their instruments and play like it is the last night on earth." In warm weather, patrons clamor to the front porch to sip a cold beer. Speakers ensure you don't miss a beat when it comes to the performances inside. 1354 W. Wabansia Ave.