Dining out in Chicago isn't only about deliciousness.
It's also about style, ambience and creativity. These six beautiful spots prove our point, from industrial chic and bohemian glam to Hollywood opulence and contemporary sumptuousness.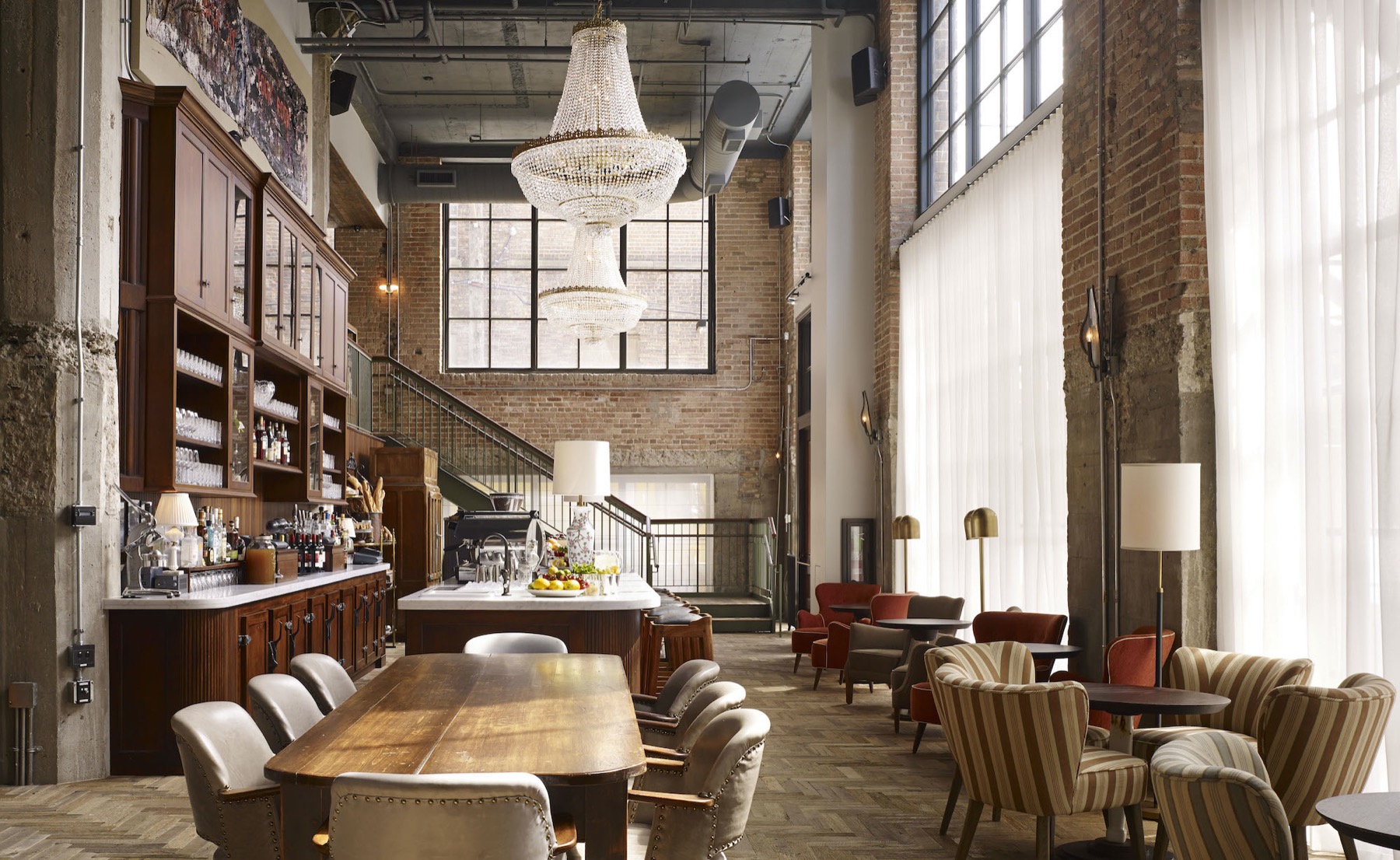 The Allis, courtesy of Soho House
Within Soho House Chicago lies The Allis, a poster child for industrial chic, with cozy yet expansive lounges where guests devour scrumptious small plates and house-made pastries all day long (not to mention a fine wine list and craft cocktails). The space itself exudes a boho vibe – velvet and tufted leather couches, vintage Parisian chandeliers, Tiffany-inspired lamps, custom bookcases, and a carefully curated collection of books and curiosities to adorn them. Oh, and then there's the art — more than 250 pieces by local and internationally renowned artists, to be exact.
Soho House Chicago takes up residence in a six-story warehouse dating to 1907, whose original purpose was to manufacture belts. Now it incubates creativity as a private club devoted to professionals in creative lines of work. Happily, though, The Allis is open to the general public.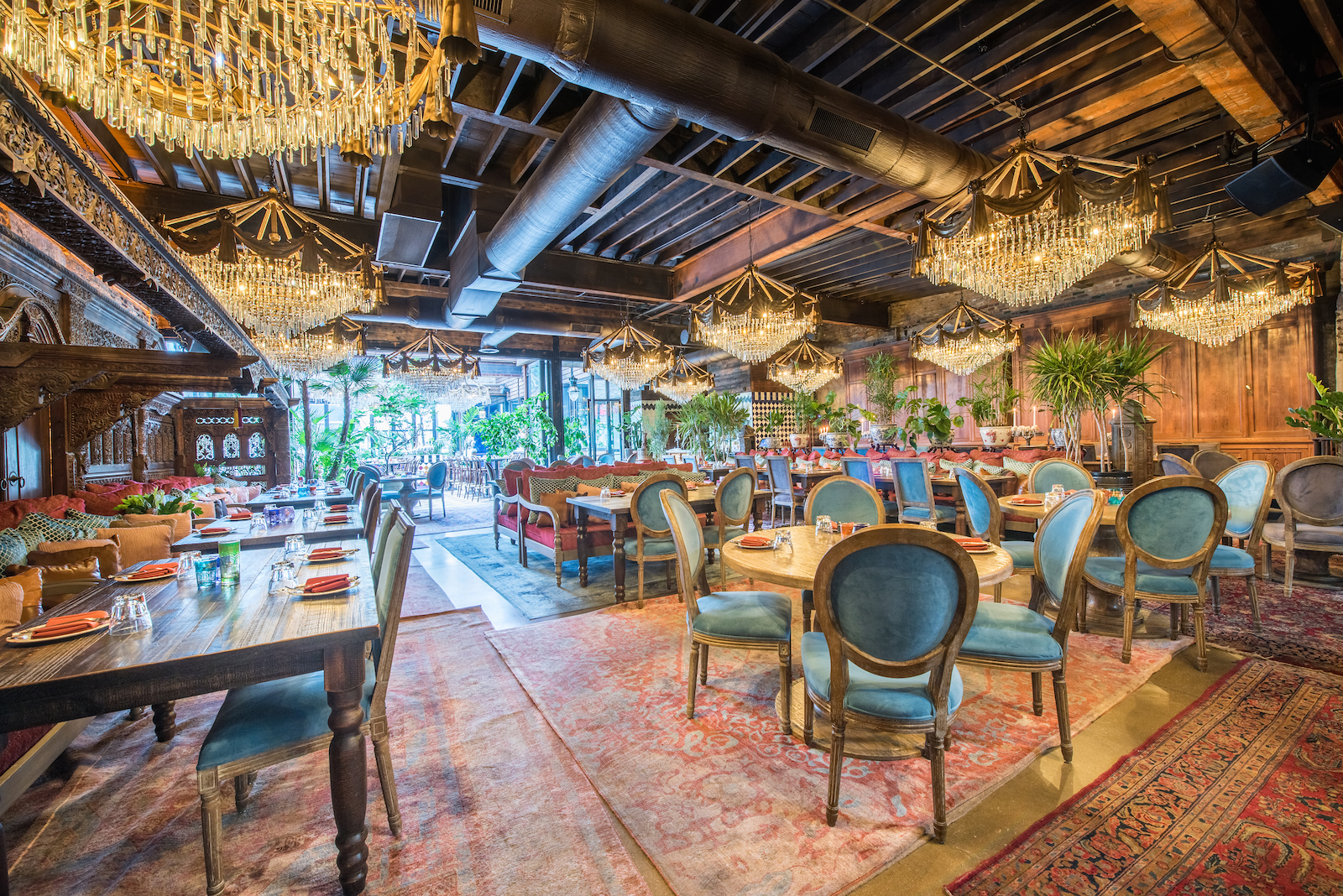 ©Beatnik​
Eclectic and fanciful, Beatnik is 6,000 square feet of pure extravagance. The design was inspired by the bohemian lifestyle of 1950s America and Europe. Two-hundred one-of-a-kind pieces from around the globe fill the unconventional space, including an enormous Balinese carved teak façade, 15 massive crystal chandeliers salvaged from the ballroom of the Yamasaki-designed Century Plaza Hotel in LA, 20 restored 1970s cast iron "teardrop" Chicago street lamps, custom wall coverings, Egyptian carved wood doors, and a 1900s shop counter salvaged from the oldest general store in Illinois. Plus, over 400 live plants fill the space, giving an impression of lush exuberance.
The restaurant is divided into four main areas: A cocktail bar and lounge, the main dining room, a gorgeous indoor/outdoor garden and courtyard, and a semi-private dining space. "New American" dishes are created with the exotic spices and bright flavors of the Mediterranean, Middle East, Asia and Latin America.
"Guests will have worldly experiences every time they come, allowing them to travel to other countries through our menu," says Chef Marcos Campos.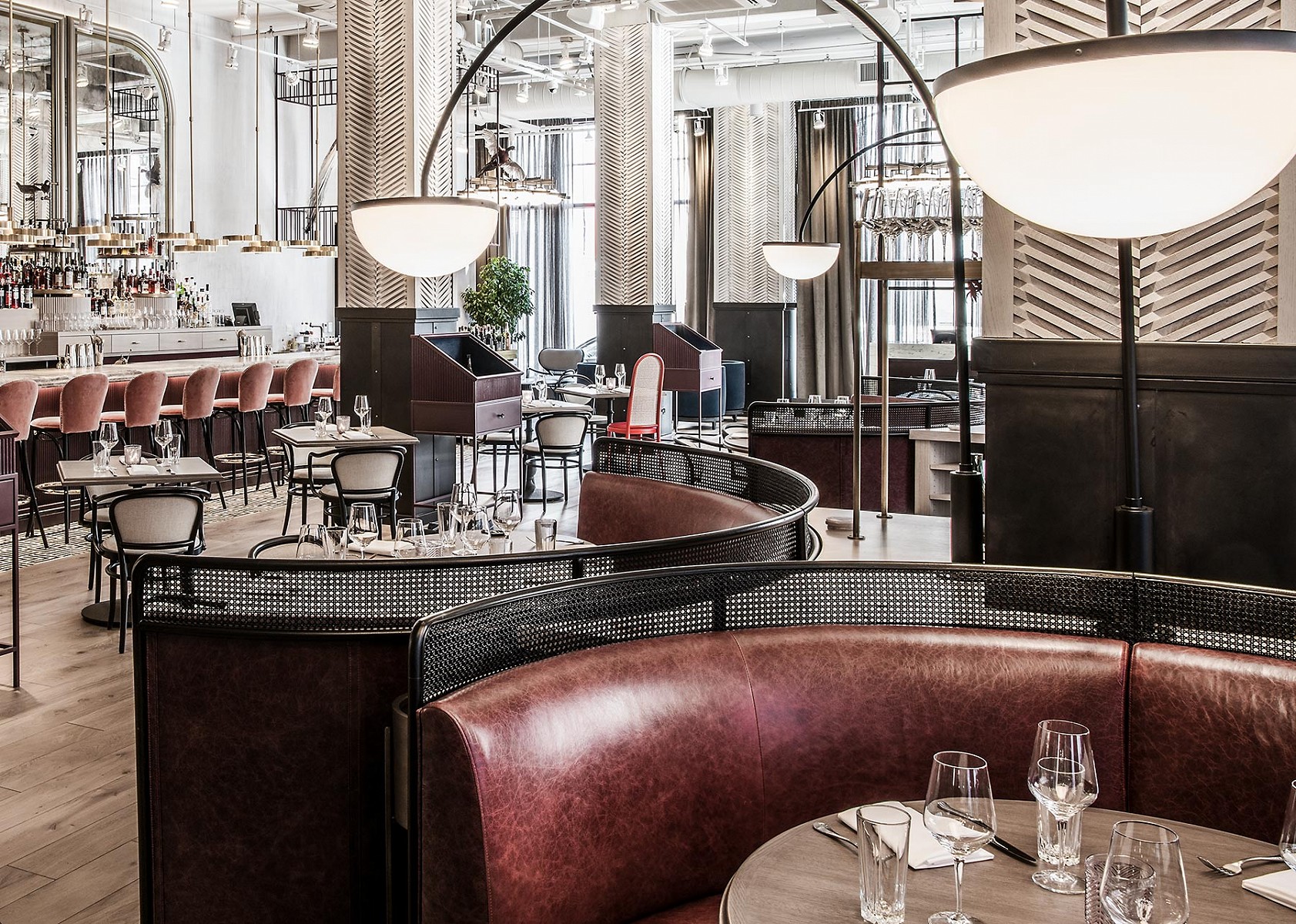 ©Bellemore​
Sumptuous Bellmore resembles a grand manor, with a nod to contemporary elegance. The grandiose space has a bold color palette paired with warm wood tones throughout. Columns clad in a whitewashed chevron wood punctuate the room, and are surrounded by round booths clad in deep burgundy, each with a custom half-dome pendant light anchored from the columns.
A 24-foot bar, lit by brass pendant lights, gives guests a front-row seat to the open kitchen. Unexpected random details, like taxidermy and custom-made bird cages, adorn the space.
The menu here is as decadent as the decor. The Oyster Pie, for example, features a savory oyster custard topped with osetra caviar, a touch of crème fraîche and green apple dressed with lemon & dill. The dish is served with Ruinart Blanc de Blancs Champagne.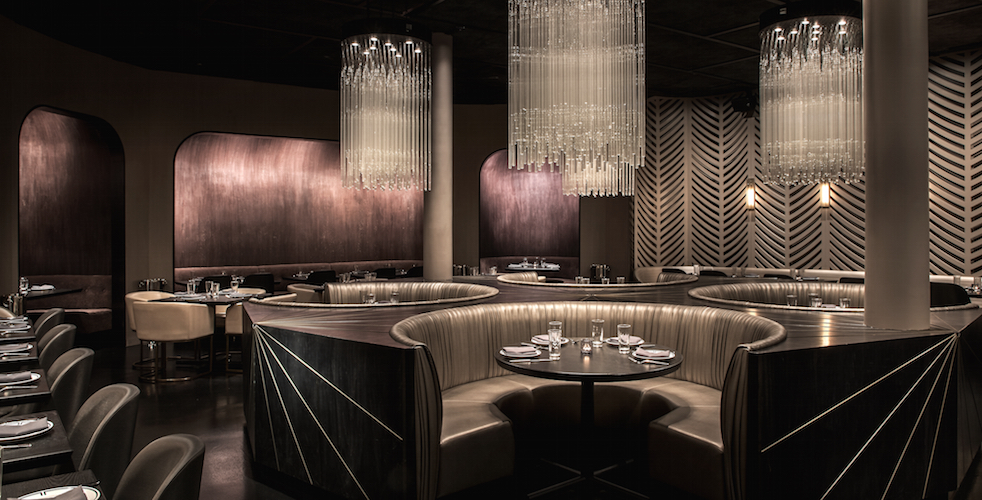 @ BLVD
BLVD is all about glamour. Not just any glamour. We're talking "Hollywood's Sunset Blvd circa 1950: the golden era's most iconic strip of dining and entertainment establishments," BLVD explains. As soon as you walk in, you feel like you're part of The Rat Pack, and half expect to chum up with Sinatra and Sammy Davis in a plush booth. The interior smacks of Art Deco coolness, blending clean lines and geometric forms with opulent fixtures and grandiose, glistening detail. This is "retro reimagined" for the modern age.
The same, in fact, goes for the menu. BLVD offers globally inspired, modern American shareable plates, and reimagined classic dishes like Shrimp Cocktail with horseradish panna cotta, spicy tomato gastrique, and lemon confit. If you're looking for swanky and special, this is the place.
Save the Date: On Monday, May 21 beginning at 5:30 pm, BLVD will host an intimate Caviar & Champagne Tasting ($75), during which guests will sample three caviar varieties in their purest form—au naturel—and then as three composed bites (think oysters topped with caviar and crème fraîche). Each type of caviar will be paired with a 3oz pour of champagne. Check out more Chicago Food & Drink Events here.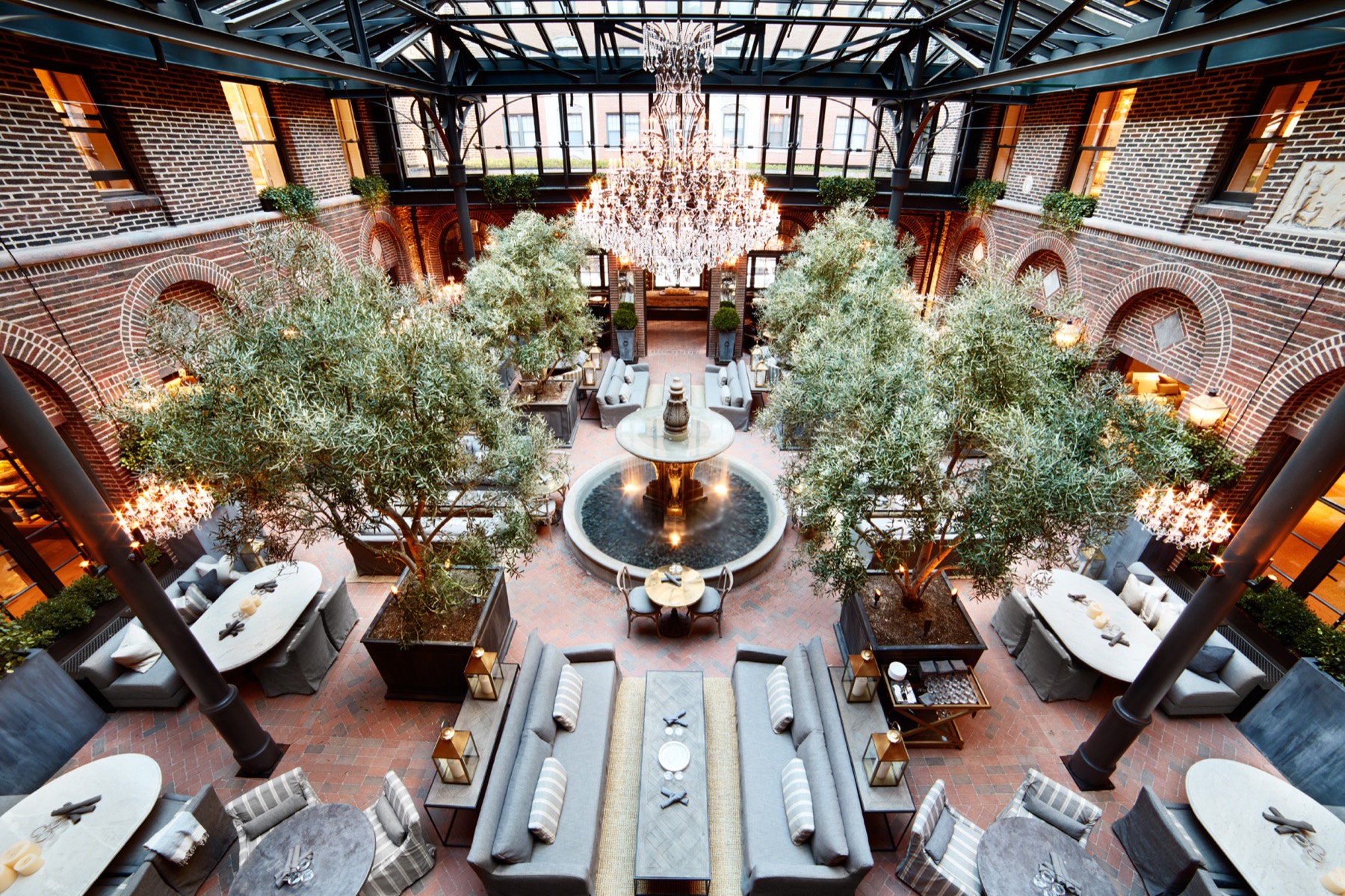 ​Courtesy of the 3 Arts Club
Situated in the grand courtyard within a landmark-building-turned-Restoration-Hardware-store, 3 Arts Club Café is a truly magnificent place. Designed in 1914 by distinguished architectural firm Holabird & Roche, it was initially a residence for young women studying the arts. The entire structure was recently restored, including the historic, light-filled courtyard with its 12-foot historic fountain and stunning 8-foot rococo crystal and iron chandelier. The 3 Arts Club Café offers 
a seasonally driven menu in an all-season oasis that feels more like a French garden restaurant than a Gold Coast eatery, complete with towering Heritage olive trees, exposed brick walls, lush plantings and second-floor window boxes bursting with blooms.