Chicago's culinary scene is known for being as diverse as the city itself. On any given night, you can dine at a New Orleans-style tavern, an upscale French bistro, a funky ramen joint, a contemporary tasting menu spot, and beyond.
And now you can experience it for yourself no matter where you are. A few of Chicago's top chefs have provided some of their favorite recipes and cocktail creations for you to recreate at home, from a classic roast chicken to kid-friendly sweet treats to the perfect summer-y sips.
Get a taste of our city's award-winning dining scene with these recipes from Chicago chefs:

Cocktail recipes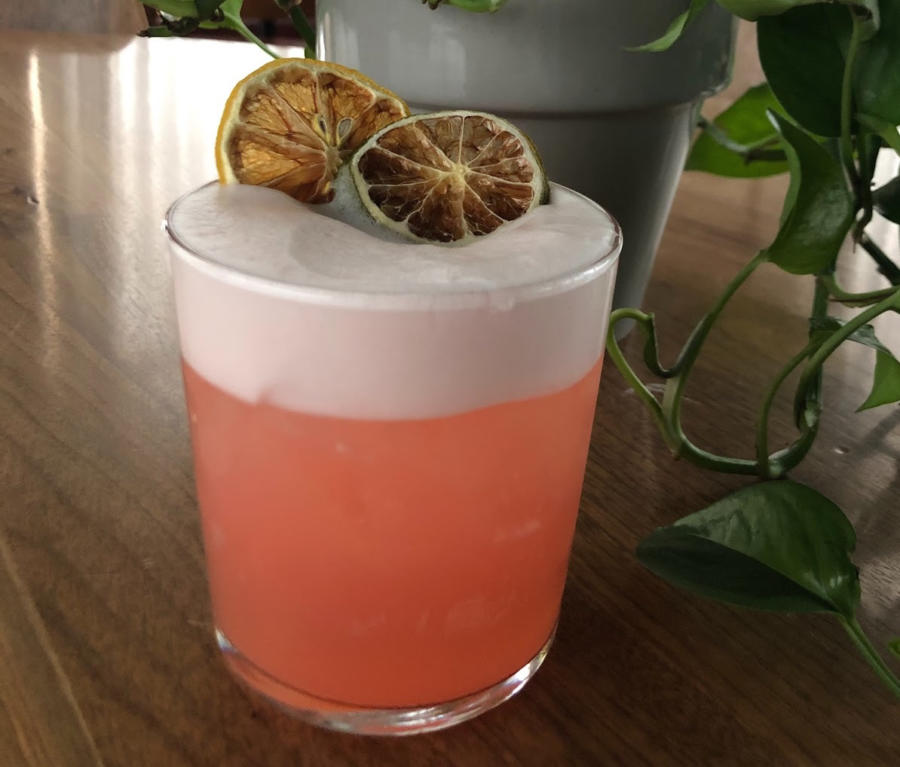 The Robey
The Robey, an art deco hotel in the heart of Wicker Park, is home to a number of popular bars. One summertime favorite is the rooftop Cabana Club, with skyline views and laidback vibes. Their Pink Kiss cocktail will instantly transport you to sunny days by the pool  —  floral, sweet, with a touch of bitterness and a perfect rosy hue.
Daisies
Get a taste of summer with this seasonal cocktail from bar director Kevin Murphy. The Strawberry Spritz is a refreshing, fruit-forward drink that can be made with rum, gin, or aperol. You'll also find a delicious spirit-free version on the Daisies menu, alongside a rotating array of fresh pastas at this stylish Logan Square spot.
Superkhana International
Love the boozy seltzer trend? Beverage director Colleen Malone of modern Indian spot Superkhana International has the perfect drink for you. The No Frills Only Thrills is an ultra-customizable summer cocktail — pick your own seltzer flavor, clear spirit, and liqueur. You can pour it over ice or even drink it directly from the can.
Front Bar at Steppenwolf Theatre
Front Bar is a warm, welcoming spot located in front of Steppenwolf's 1700 Theatre. It's the perfect spot to grab a drink before or after the show, and now you can try a fan favorite for yourself at home. The simple and smoky Bonfire cocktail is made with tequila, mezcal, maple syrup, and bitters.
Lyric Opera libations
The city's premier opera group is sharing a lineup of opera-inspired sips. Each of the Lyric Opera's four drinks are based on a character from Puccini's Tosca, a thrilling story about love, jealousy, and revolution. Vissi d'arte is a sweet and spicy blend, made with whiskey, orange juice, agave, and jalapeno, that pays homage to the title character's over-the-top personality.
Food recipes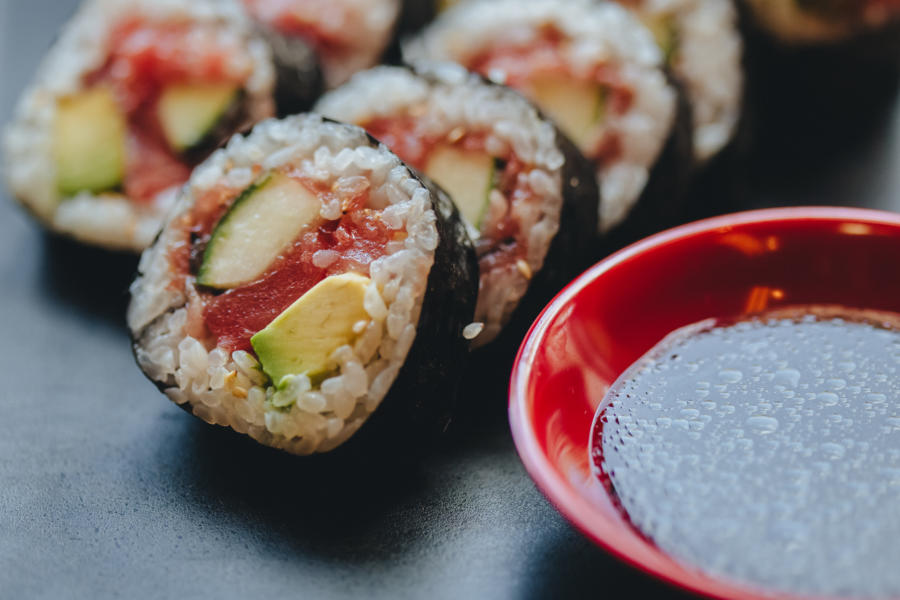 Chef Kaze Chan: Sushi-San
Making great sushi is an art — and the rice you use is one of the most important parts. Chef Kaze Chan, the world-class master sushi chef from Sushi-San, teaches you his secrets for the perfect sushi rice. Whip up a batch to then use it to recreate his bluefin tuna & avocado maki roll.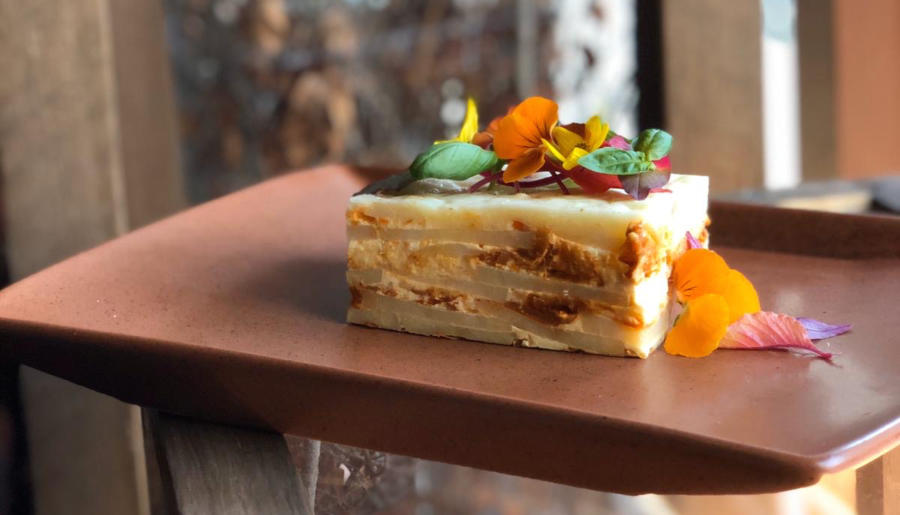 Chef Carlos Gaytan: Tzuco, Panango, and Tales of Carlos Gaytan
Michelin-starred chef Carlos Gaytan is back in Chicago with three new restaurants, including Tzuco, a semi-finalist for Best New Restaurant in the 2020 James Beard Awards. Try his recipe for papas gratinadas, a Mexican-inspired, cheese-filled potato dish.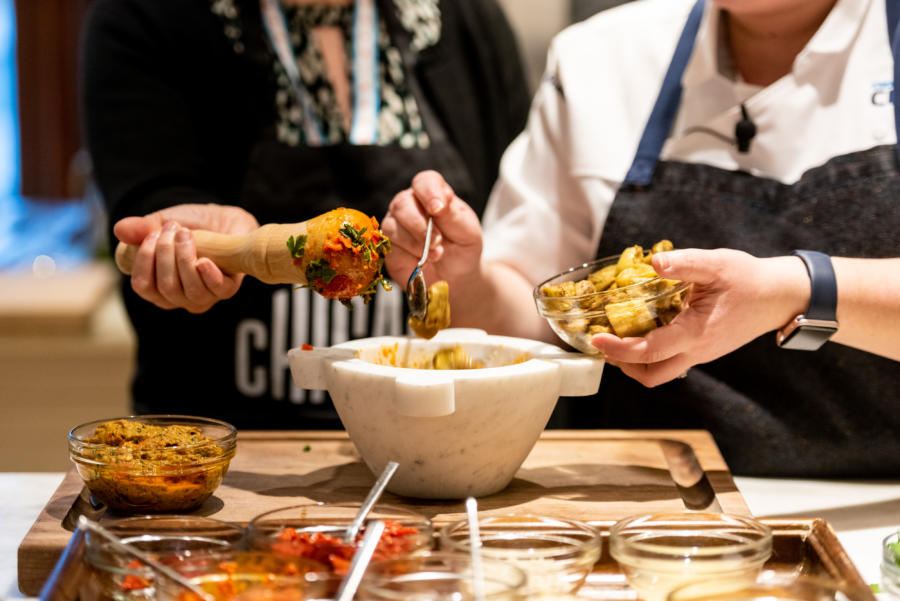 Chef Sarah Grueneberg: Monteverde Restaurant & Pastificio
You might recognize Chef Sarah Grueneberg from the ninth season of Top Chef. Or you might have seen her hand-rolling pasta behind the bar of Monteverde, her hit West Loop restaurant. The acclaimed chef, who won the James Beard Award for Best Chef: Great Lakes in 2017, is known for her authentic Italian fare. Her pesto recipe, made the old-fashioned way with a mortar and pestle, is the perfect versatile sauce to spoon over pasta, fish, chicken, and more.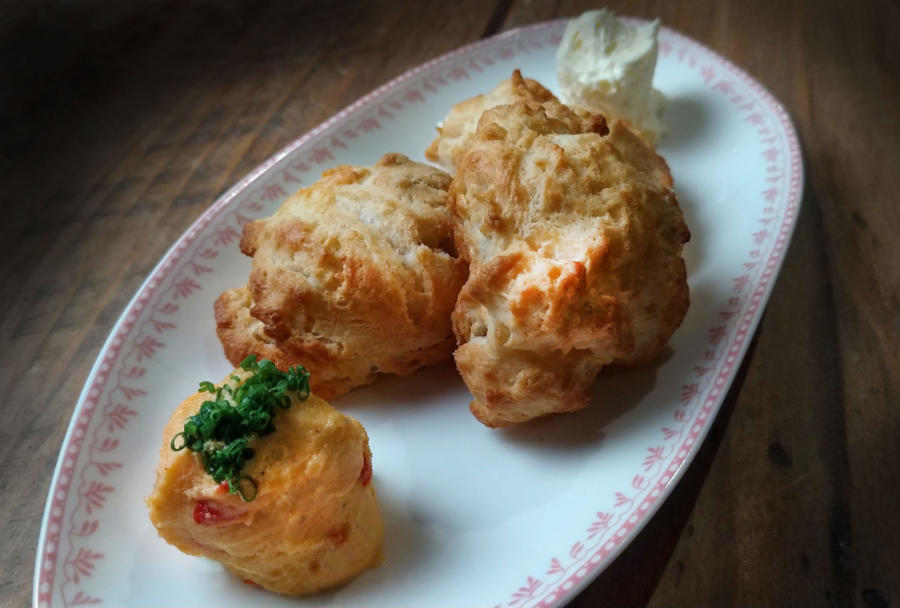 Chef Erick Williams: Virtue
If you're looking for some comfort food, look for further than this biscuits and gravy recipe from chef Erick Williams of Virtue. Williams knows a thing or two about comfort food — his Hyde Park restaurant specializes in elevated versions of classic Southern cuisine. The turkey giblet gravy is the star of the show here, with fresh herbs and meaty drippings for a rich flavor.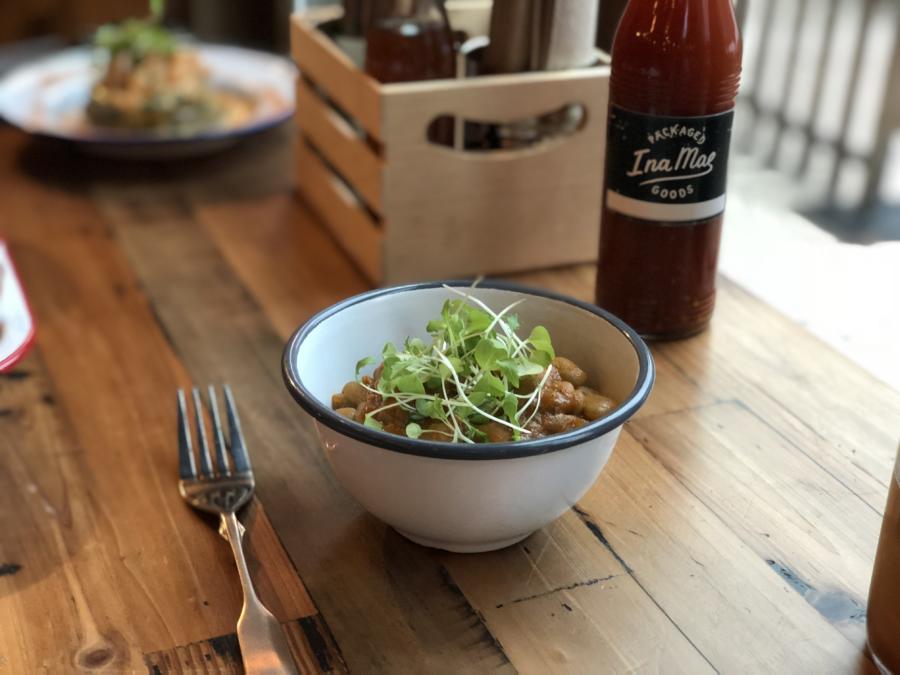 Chef Brian Jupiter: Frontier and Ina Mae Tavern & Packaged Goods
Chef Brian Jupiter of Frontier and Ina Mae Tavern comes to Chicago from New Orleans, so he knows a thing or two about down-home cooking. One of his go-to recipes? A classic jambalaya. There are many variations on the popular Louisiana dish, but the chef's lima beans and jambalaya version always remind him of home and family. It can be made with whatever meats and veggies you have around, giving home chefs the opportunity to add their own flair.
Chef Brandon Veitch: The Lobby at The Peninsula
Brunch is the most important meal of the day, so make it a good one with these recipes from The Lobby at The Peninsula. Opt for classic avocado toast, with extra flair thanks to sprinkled zaatar spice, hummus, and sunflower seeds. Or level up with homemade shakshuka — eggs baked in a tomato pepper sauce and served with warm pita.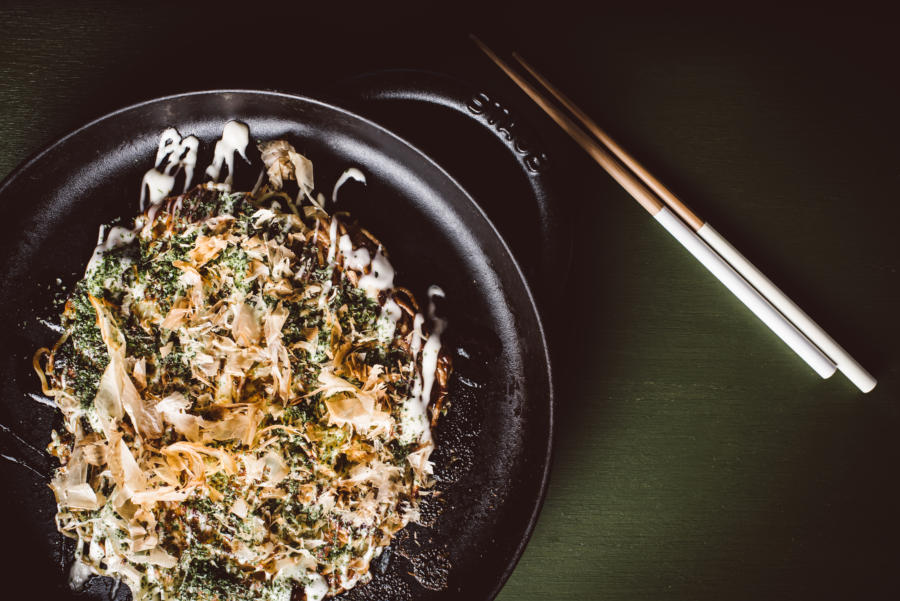 Chef Paul Virant: Gaijin
Paul Virant, who is known for his acclaimed restaurants Vie and Vistro in suburban Chicago, spent years learning the art of okonomiyaki — a Japanese pancake stuffed with different savory ingredients. His new restaurant Gaijin is dedicated to the delicious dish, and now you can make your own at home with Virant's Osaka-style okonomiyaki recipe.
Chef Mike Sheerin: Cochon Volant Brasserie, Francois Frankie, and Taureaux Tavern
Dine in a French bistro, without ever leaving your house. Chef Mike Sheerin is the culinary mastermind behind some of Chicago's favorite French restaurants, including Cochon Volant, Francois Frankie, and Taureaux Tavern. His roasted chicken recipe is an exquisitely simple but delicious dish that's a real showstopper. It takes a little planning ahead, but the succulent, flavorful result is definitely worth it — plus you're guaranteed to have leftovers for a few days.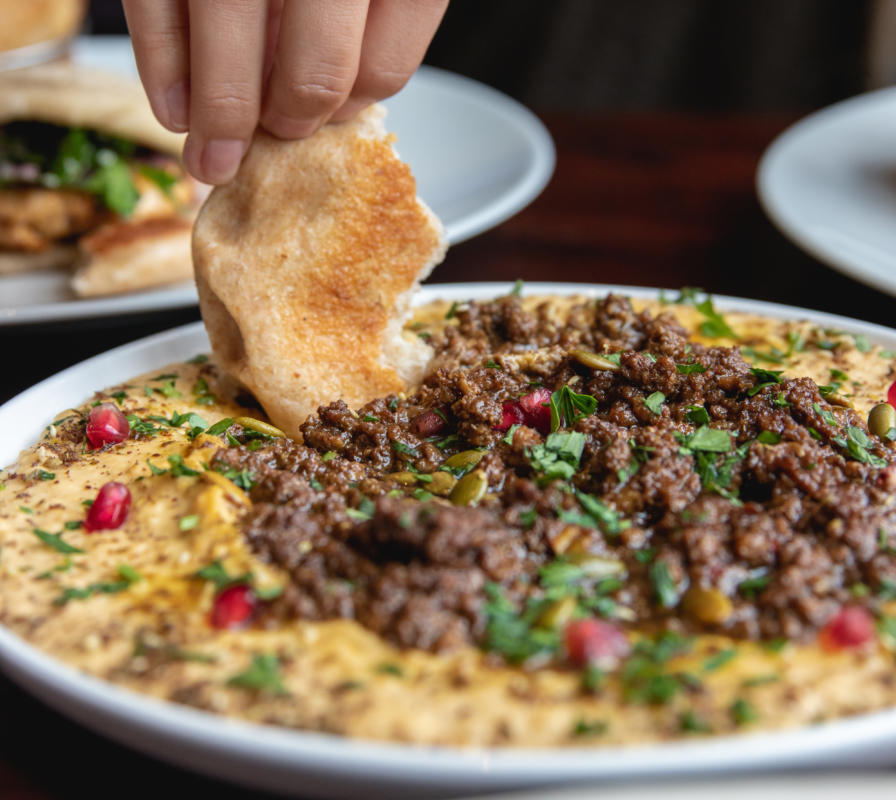 Chef Derek Dupree: Bernie's
Bernie's is a bustling spot in the River North neighborhood with a chic interior, Mediterranean-inspired menu, and lovely rooftop patio. One of the most popular appetizers is their hummus with lamb by Chef Derek Dupree. The smooth chickpea base is topped with spice-infused ground lamb, making it an irresistible dip to pair with warm pita.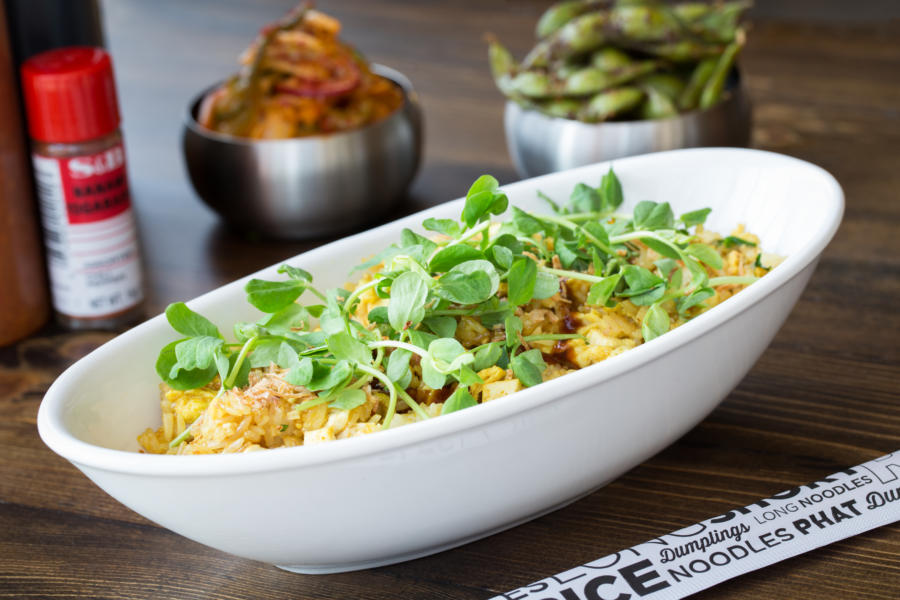 Chef Bill Kim: urbanbelly
Bill Kim, the award-winning chef behind urbanbelly in Wicker Park, is known for his creative take on Asian flavors. He shares his recipe for the perfect miso soup from scratch, including making your own dashi base. It's the perfect side dish for his Korican fried rice, which you can customize based on what's in your fridge. Or try his classic pasta recipe for a quick and comforting weeknight dinner.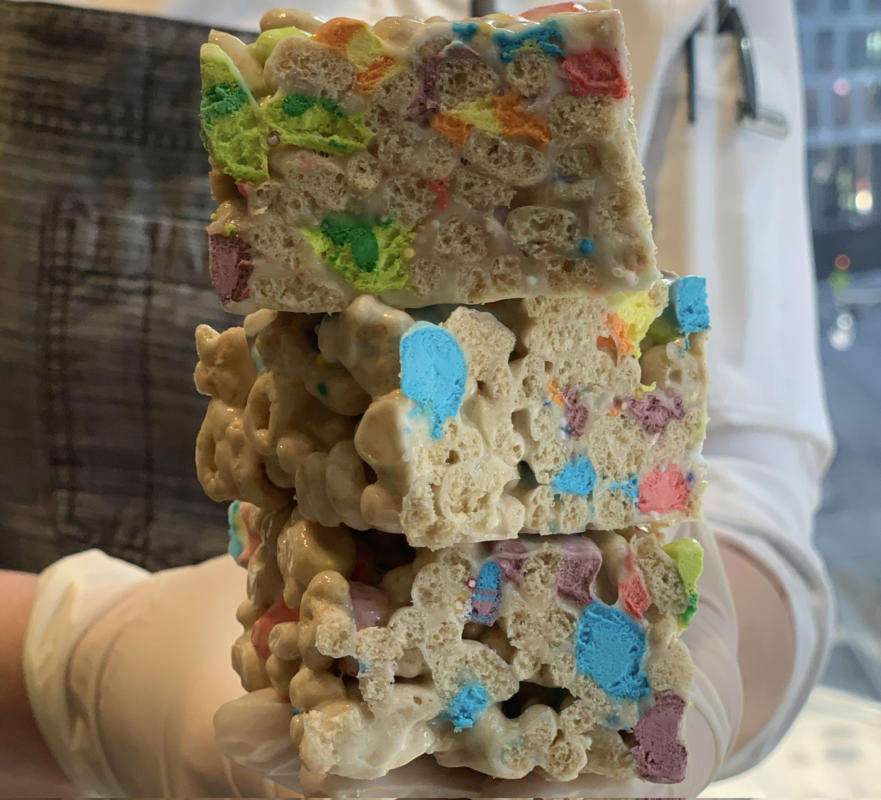 Chef Jeff Vucko & more: Travelle at The Langham
Looking for something comforting? Look no further than this melted leek and burrata ravioli, topped with sugar snap peas and bacon, from Chef Jeff Vucko of Travelle at The Langham. This simple pasta recipe is the perfect almost-springtime dish — both light and satisfying at the same time. Pair it with a chamomile cobbler cocktail from beverage director Thibaut Idenn and end with a sweet note thanks to dessert recipes (including colorful Lucky Charms bars) from pastry chef Danielle Marelli.
Chef Shelley Young: The Chopping Block
Want to brush up on your cooking skills? The Chopping Block, Chicago's largest recreational cooking school, offers a variety of how-to cooking videos from Chef Shelley Young. The comprehensive online courses cover everything from the basics to more advanced techniques. Learn how to chop an onion, make aioli, roast a chicken, create a perfect risotto, and more all from your own kitchen.
Chef Wook Kang & Chef Heidi Hedeker: Kendall College
Kendall College is known as one of the top culinary schools in the country. The experience instructors there have shared some of their favorite recipes to help brush up your own cooking skills. Chef Wook Kang drew inspiration from his Korean heritage with this delicious bibimbap recipe, with sushi rice, marinate bean sprouts, shiitake mushrooms, and zucchini topped with gochujang sauce a crispy poached egg. If you're looking to improve your baking technique, try Chef Heidi Hedeker's challah recipe. Learn to make the classic braided loaf, which perfect for sandwiches, French toast, or just to eat plain.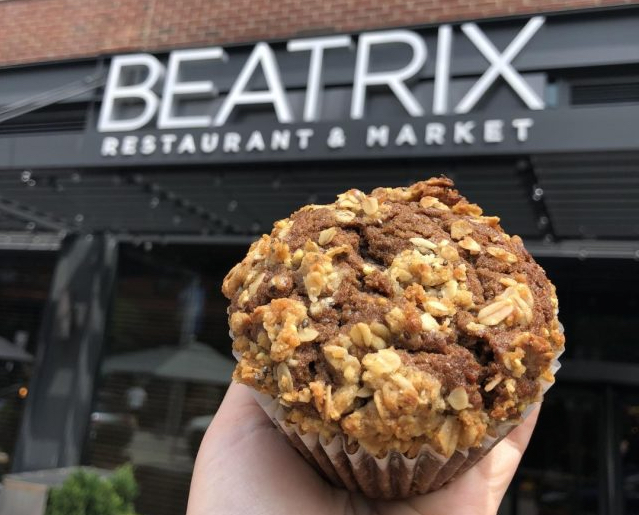 Pastry Chef Yasmin Gutierrez: Beatrix
Looking for an easy and healthy breakfast? These superfood muffins are your one-stop shop for long-lasting energy and good-for-you nutrients to get you through your day, packed with coffee and almond flour, flax seed, chia seed and oats. They're usually stocked at the pastry counter at any of Beatrix's four locations around Chicago, but for now you can try them for yourself at home.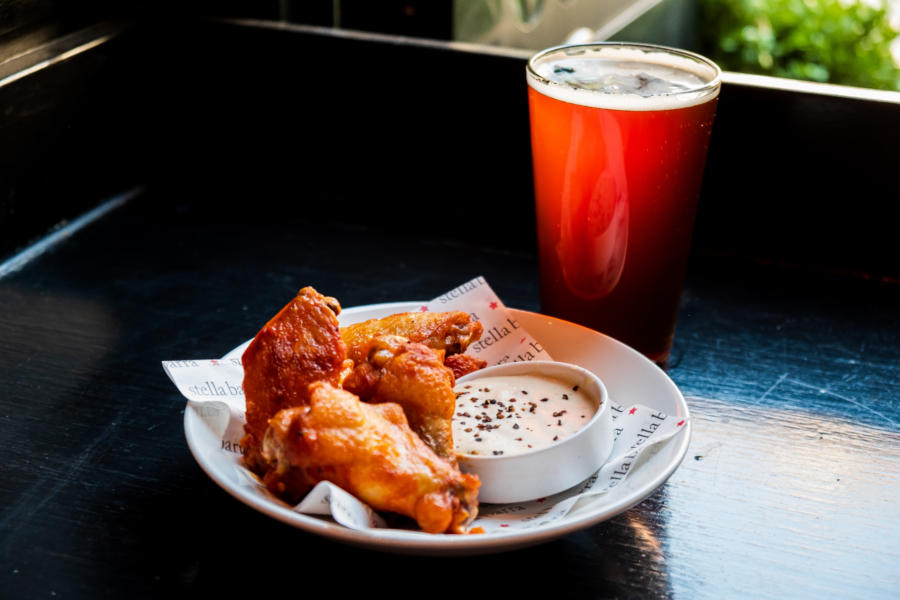 Chef Ben Goodnick: Stella Barra Pizzeria & Wine Bar
Get a taste of your favorite pub grub at home with Stella Barra's addictive recipe. This classic bar snack is dressed up with Calabrian chili purée, garlic purée, white wine vinegar, honey and chipotle chilies for a sweet and spicy snack. So fire up the grill and try these Calabrian chili & roast garlic chicken wings.