Neighborhoods like Wicker Park/Bucktown, Logan Square, and West Town are long-held bastions of artists, musicians, bohemians and, well, the indie spirit in general. These neighborhoods are bursting with alternative music venues, outside-the-box eateries, and trend-setting bars, clubs, and lounges. And there's a whole lot of culture to throw in the mix as well.
Here are a few favorites — take it from a local.
Wicker Park/Bucktown
The hipster butcher: Chop Shop & 1st Ward
How do you describe Chop Shop? Well, it's a hybrid really, combining an eatery, with a bar, with a butcher shop, with a salumeria, with a concert and special event venue. Oh, and it's housed within a 100-year-old former auto body shop.
In this case, a little of everything really does work. For one thing, this is a great place to see live bands. The enclosed back area includes an expansive stage and gallery section, and a pop-up bar means you don't have to venture far to grab a beer or a cocktail. Fun gastropub food highlights the menu. And you might be surprised that they're not short on vegetarian options either (the butcher part of the mix might have misled you). 2033 W. North Ave.
Head here next: Just around the corner on Milwaukee Avenue you'll have a tough time deciding exactly which bar to hit. But for the height of swankiness, head down Damen Avenue and straight to The Violet Hour (1520 N. Damen Ave.), which revolutionized the Chicago cocktail scene back in the day. You'll likely meet with a wait, but it'll be worth it. This cocktail lounge keeps to the speakeasy tradition with an unobtrusive exterior that doesn't give the slightest hint of the sumptuousness inside.
The hotel stop: Cafe Robey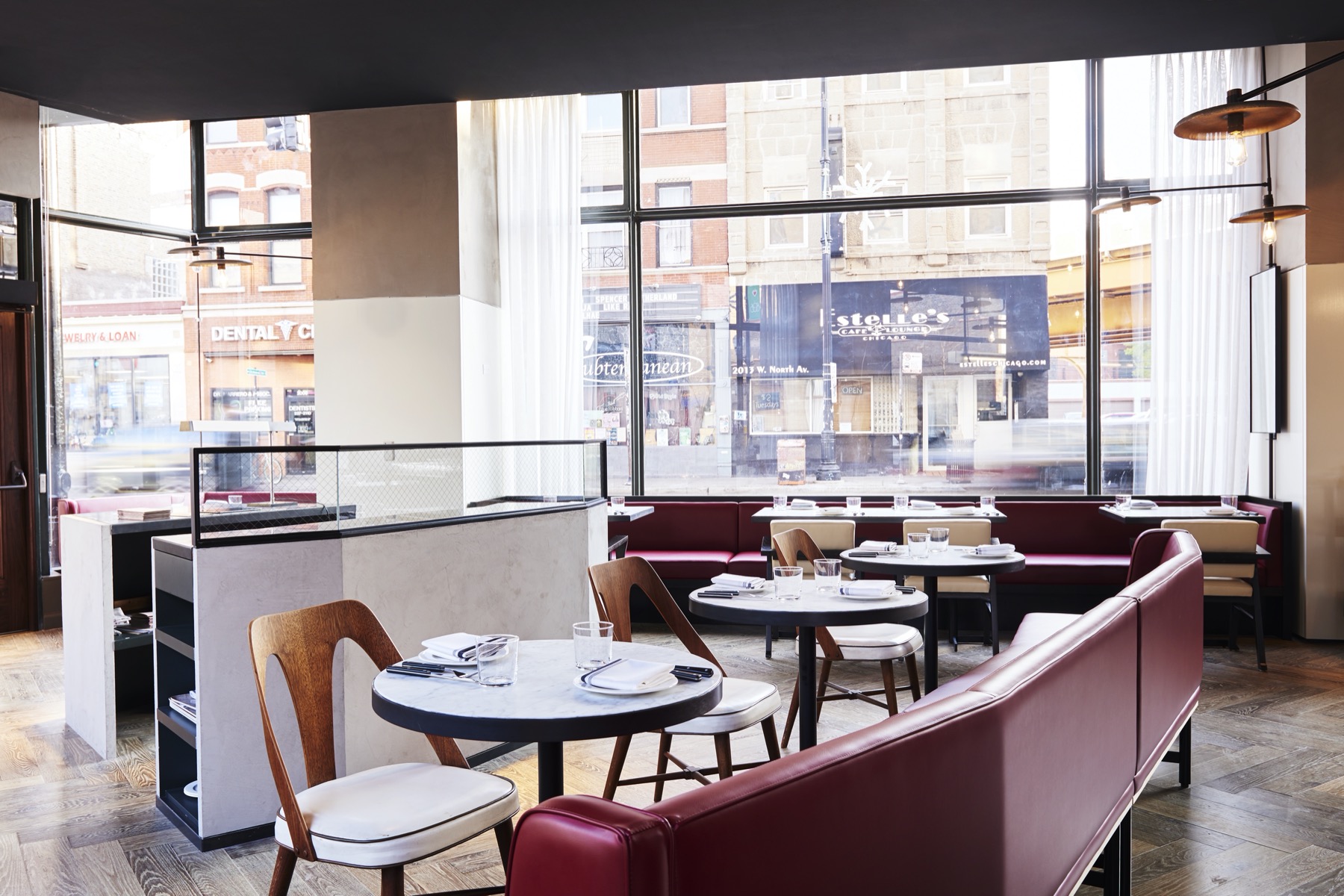 Against the backdrop of Wicker Park and Bucktown's bustling six corners (where North, Damen and Milwaukee Avenues intersect), the 69-room hotel, The Robey, makes quite a statement. It's housed inside one of the neighborhood's most iconic buildings, the Coyote, an Art Deco-style tower originally opened in 1929.
Within the hotel you'll find the hip Café Robey, headed by Chef Kevin McAllister, who fuses French and American influences to create a tantalizing menu. You can take in the urban scene from every seat, while an open kitchen means you can watch all that culinary genius in action. Afterwards, venture to the rooftop Up Room, where you can sip chic cocktails and take in breathtaking 13th floor views. If you're lucky enough, you can sneak into the Coyote's spire (known as 'The Grotto"), cozying up in a sultry nook perched high above the bustle.
Head here first: The Flatiron Building lies just across the street. It's an innovative venue comprised of various studios, presenting everything from fine art to costumes. It also happens to be where Bizarre Wicker Park Tours begin and end. As Bizarre Chicago will tell you, Wicker Park has its "dark side," from snake oil tycoons to beer barons and radicals. If ghostly tales are more your thing, opt for the Bizarre Bucktown Tour, and visit "haunted pubs, storied churches, and hulking former factories."
The local's hangout: Handlebar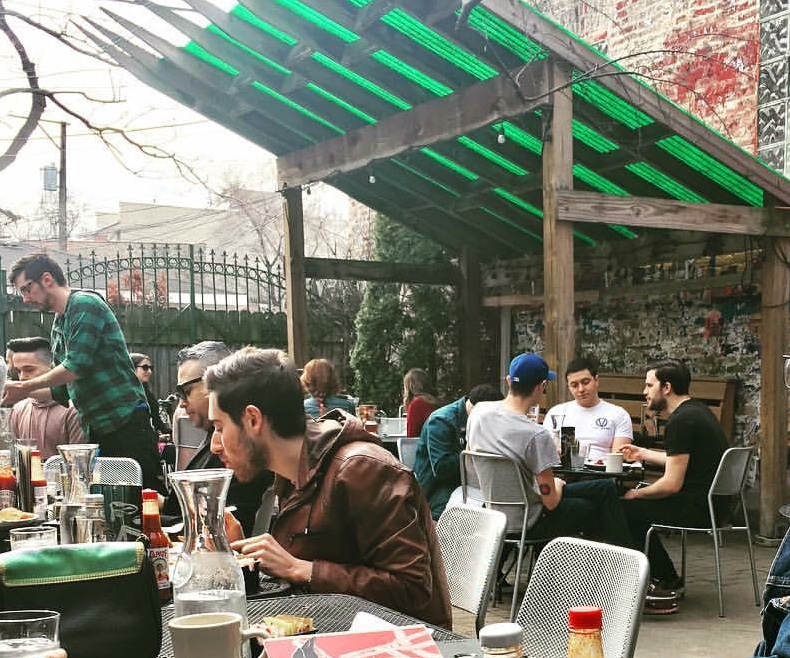 Handlebar doesn't lie when it describes itself as "Food, Booze, Good Times." Pretty much one visit to this small, bustling neighborhood restaurant and bar and you're treated like a regular. On any given day, anything from Metallica to the Pixies to the Kinks blasts through the speakers, as some of the friendliest staff in town serve up seafood, vegetarian, and vegan comfort food. Handlebar has been around since 2003, and it's a favorite among the local crowd. The best part: the patio at the back, shaded with trees and canopies throughout the summer months.
This is a place that cares about what it does. Handlebar recycles, brews free-trade coffee and makes everything from scratch using organic ingredients and produce sourced from local farms. It also opens early (9 a.m. on the weekends, 10 a.m. on weekdays) and stays open late (the kitchen is open until midnight Sunday – Thursday and 12:30 a.m. Friday – Saturday). 2311 W. North Ave.
Head here first: There really aren't enough good things to say about The 606. This former elevated train track has been thoughtfully repurposed as a jogging/biking/walking trail, green space and public art venue. Extending 2.7 miles, and crossing Bucktown, Wicker Park, Logan Square, and Humboldt Park, multiple access points mean that you can jump right on and explore from an enviable vantage point. From Handlebar, the closest access point is on Western and Bloomingdale Avenues. For a more picturesque route, head east on North Avenue and then north on Milwaukee Avenue. You'll find access points at Milwaukee and Bloomingdale.
Logan Square
The Spirited Step: Chicago Distilling Company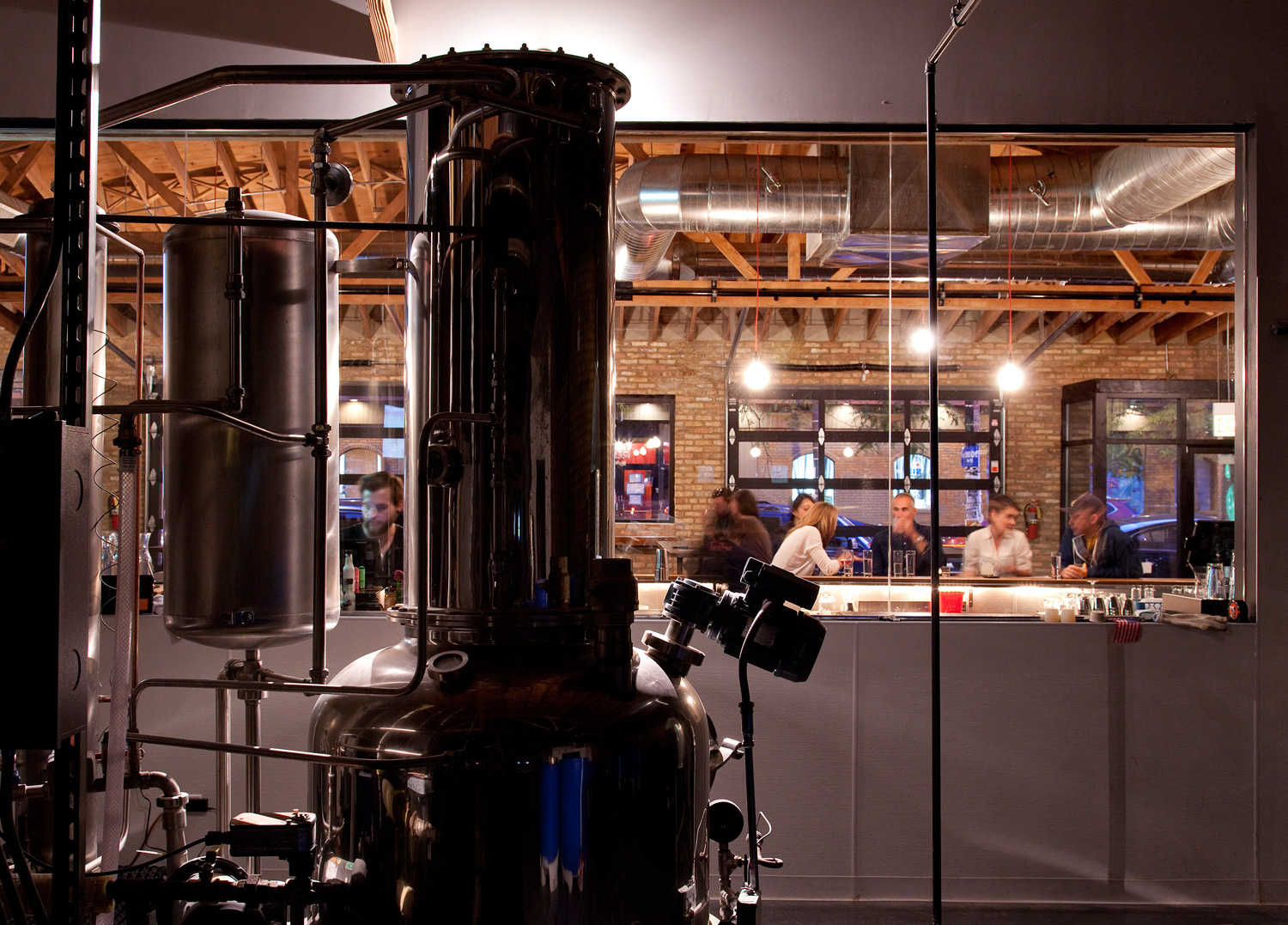 As its name implies, Chicago Distilling Company is all about spirits handmade from Illinois grains and distilled in small batches. Chicago's distilling history reaches all the way back to the late 1800s, and Chicago Distilling is doing a great job of continuing the tradition, using family recipes and techniques.
Visit the tasting room to sample the goods—Ceres Vodka, Finn's Gin, Dunkelweizen Single Malt Whiskey, and Blind Tiger Bourbon Whiskey, among them. Then take a tour of the 1700-square-foot facility to see how it all comes together. (And don't forget to pick up a bottle for later.) 2359 N. Milwaukee Ave.
Head here first: You won't want to drink on an empty stomach, so stop in at the sleek, casual, multi-award-winning Chicago Diner (2333 N. Milwaukee Ave.) just down the street before you go. This is the Logan Square outpost of one of Lakeview's favorite vegetarian and vegan restaurants, established in 1983. The great thing is Chicago Diner supports organizations that work to end homelessness and inequality; promote eco-consciousness; and rescue, rehabilitate and give shelter to animals—so you can feel really good about every bite and sip you take.
The summer hangout: Parsons Chicken & Fish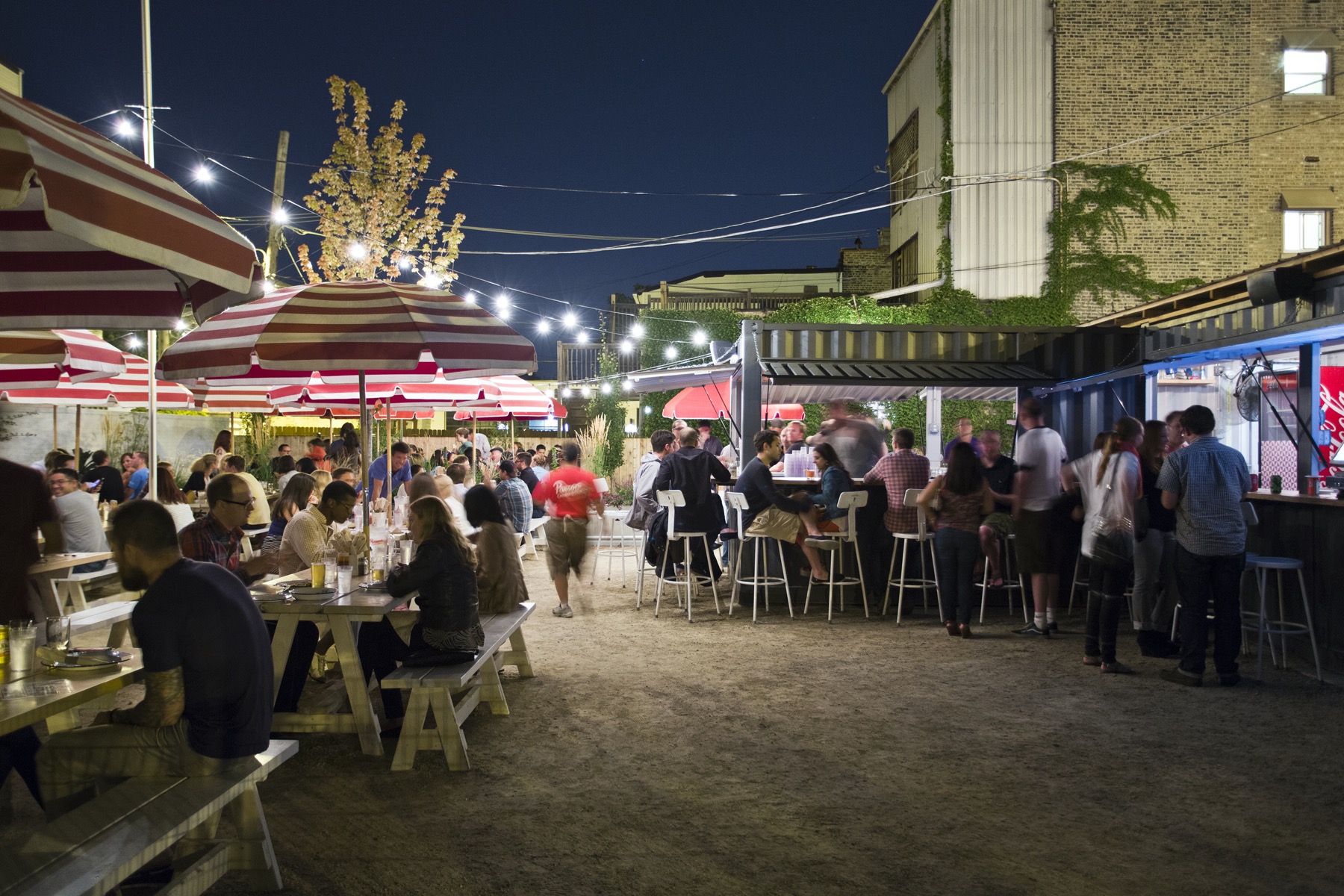 Summer in Logan Square is synonymous with Parsons Chicken & Fish. Inside seating is limited, but outside is another matter. A huge patio is filled with canopied picnic tables, a full-service bar, ping-pong tables, a firepit, and a flock of locals enjoying fried chicken and fish with their dogs in tow. Hard-to-resist dishes like Pimento Toast and Warm Farro Salad cater to the herbivores among us. Visiting Parsons is like a vacation in itself — particularly when you try one of their famous frozen cocktails (negroni slushies on tap—need I say more?). 2952 W. Armitage Ave.
Head here next: Parsons sits on iconic Humboldt Boulevard, and is close to popular gin join Scofflaw (3201 W. Armitage Ave.), where you'll find a cocktail menu that rotates every three months. Though the emphasis is on gin, you'll also find innovative takes on just about every spirit.
The whiskey lover's mecca: Longman & Eagle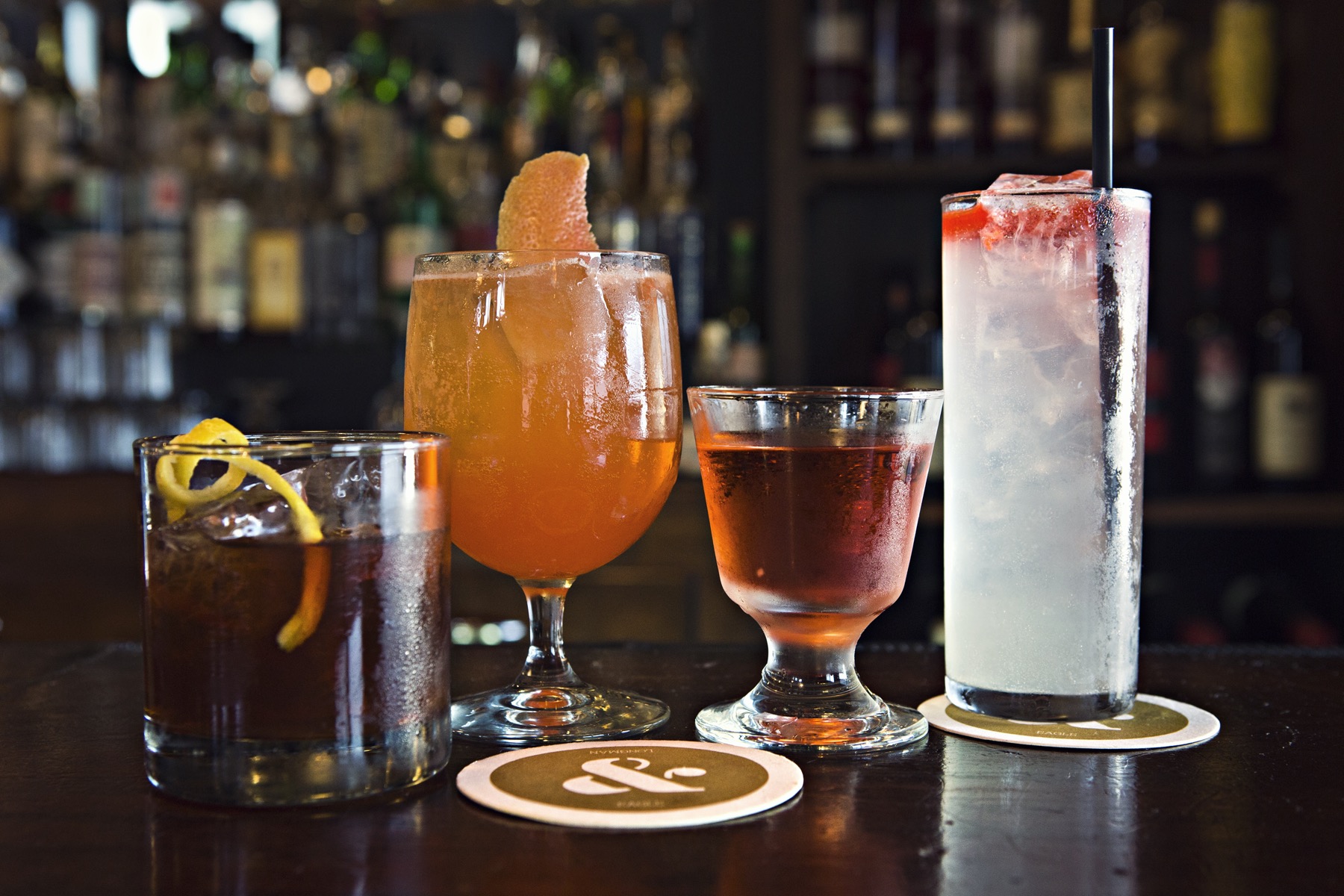 Catering to the meat-forward set, Longman & Eagle is a woodsy, dimly lit restaurant, bar and intimate six-room hotel that welcomes you in and entices you to never leave. As Longman explains, "Our enthusiasm for drinking is evidenced by our comprehensive libations program, one that is painstakingly researched, sourced and tested." Seasonal craft cocktails, unusual spirits, bio-dynamic, small batch wines, and a perhaps unparalleled whiskey selection are on the drinks menu here. In fact, if whiskey is your thing, this place should be too. 2657 N. Kedzie Ave.
Head here first: The Chicago Architecture Center offers a great tour of Logan Square, where, over two hours, you'll walk Logan Boulevard, one of the best-preserved sections of Chicago's stately boulevard system. You'll also learn the history of the area, with insights into late 19th-century and early 20th-century Chicago. Tours meet at the intersection of Logan, Kedzie, and Milwaukee (aka, the heart of Logan Square).
West Town
The indie stop: Bite Café/Empty Bottle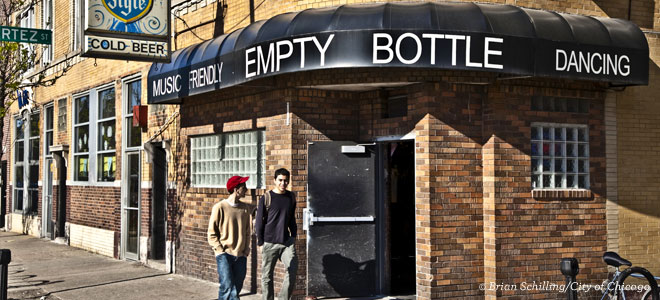 Rustic, intimate, funky…Bite Café is a beloved BYOB brunch, lunch and dinner spot, where you can get your fill of comfort and vegetarian food. Here's a tip: Every Monday beginning at 9pm you can devour a griddle cheeseburger for just $5 as part of the The Empty Bottle's free Monday night shows. And there's the beauty of Bite Café—it's right next door to this favored alternative music venue; there's actually a connecting door between the two. An intimate stage, pool table, photo booth, great music line-up and cheap drinks are some of the things that keep locals coming back to "The Bottle." 1035-1039 N. Western Ave.
Head here next: It's a quick walk to Sportsman's Club (948 N. Western Ave.), with its patio and outdoor fireplace, and classically inspired, spirit-forward cocktails that change daily. You'll also love the amaro machine, carry-out liquor program and curated bar good shop. The original Sportsman's Club, at the same location, was a local haven for Polish immigrants. The reinvented space retains the venue's original Art Deco bar.
The new kid: Split Rail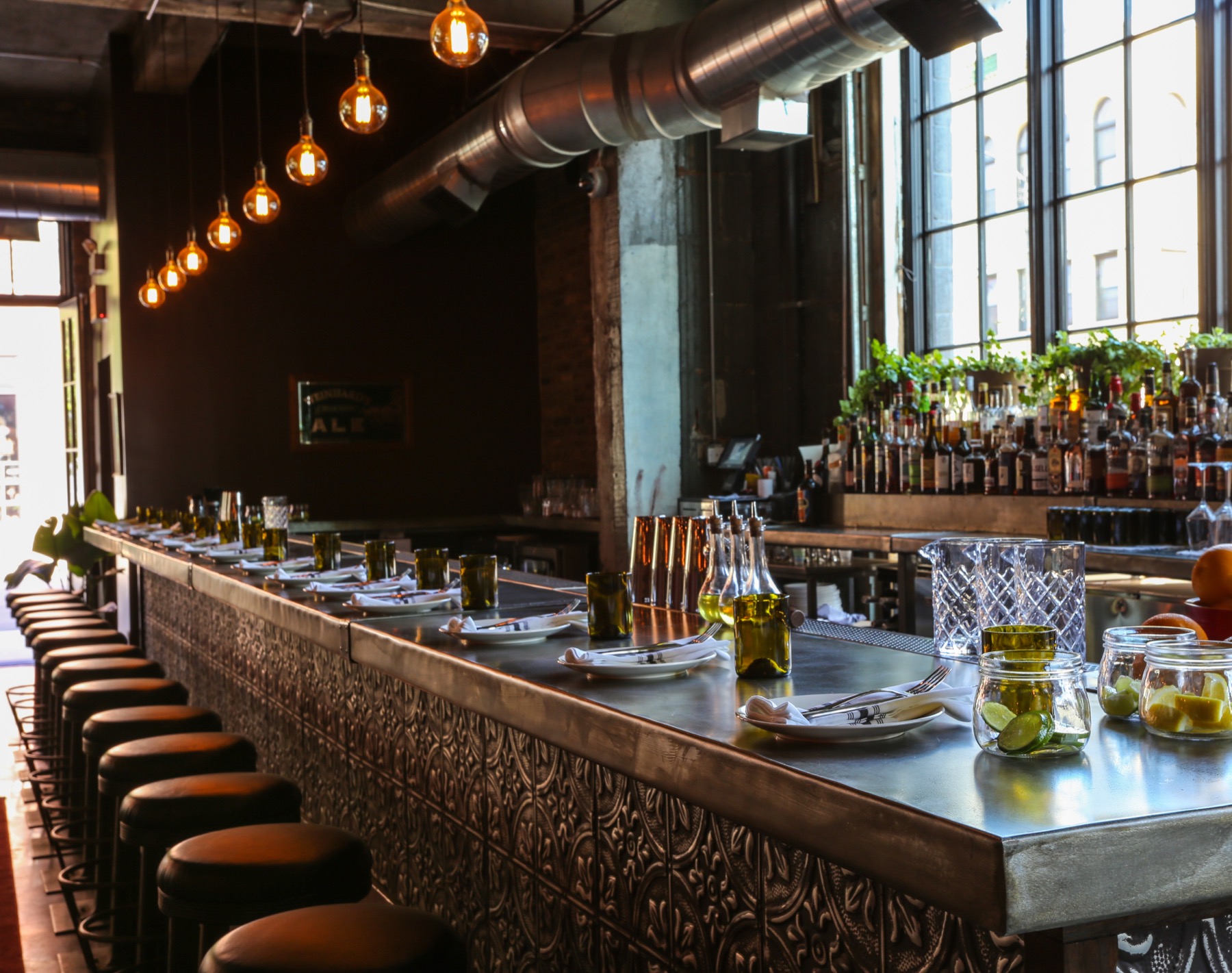 "New Americana" is at the heart of recently opened Split Rail. Owner and Executive Chef Zoe Schor takes an eclectic approach to her first restaurant, with a stress on making dishes approachable and fun (you'll never look at a chicken nugget the same way once you've had the ones at Split Rail). This place is all about community, from the organic farmers and suppliers sourced around the country, to the option of buying the staff a six-pack at the end of the evening. This is the place to share comfort food with friends against a backdrop of vintage funkiness. 2500 W. Chicago Ave.
Head here first: What's dinner without a little culture? Sixty-five years of Ukrainian art history is brought under one roof at the Ukrainian National Museum (2249 W. Superior St.), a short distance from Split Rail. The folk art collection, which numbers more than 10,000 objects, is one of the most important of its kind outside the Ukraine. The fine arts collection of approximately 500 paintings, drawings, graphic works and sculptures represents the work of noted Ukrainian artists in the Ukraine, Europe and the United States.
The exotic brewer: Forbidden Root
Forbidden Root is where beer lovers go for a touch of the exotic. This is Chicago's first botanic brewery, producing "craft beer inspired by nature." Barley, water, hops and yeast are combined with rich, wild ingredients like bark, stems, flowers, herbs, spices, leaves, roots—and just about every other foraged flavor. It's more than a brewpub though. Forbidden Root serves up fresh, seasonal dishes that perfectly complement their brews. The inviting front section of the place, with its high-top tables, is where to gather if you want a bit less bustle. The heart of Forbidden Root, however, is the four-sided bar, where bartenders never seem to stand still for more than 5 seconds. 1746 W. Chicago Ave.
Head here first: You could lose yourself for hours on the multiple levels of the historic warehouse building that is Salvage One (1840 W. Hubbard St.). If you're an architecture junkie and artifact lover, you might just be tempted to pull out your credit card and buy an historic copper pediment, limestone caryatid or turn-of-the-century mahogany bar to ornament your home and garden. The fabulous, the weird and the quirky sit side-by-side in this combination museum and antique emporium. It's also a great venue for special events.