A note from the President and CEO
Dear Partners,
Happy New Year from Choose Chicago!
As we enter the new year, we are filled with excitement and cautious optimism about the year ahead. For the first time since the pandemic began, we are entering a new year without COVID-19 limitations and we are anticipating a full year of travel, meetings, and events.
Obviously, the world of travel today looks very different than it did three years ago. Business travel has not fully returned, and health and safety concerns remain paramount for travelers of all types. At the same time, there are some very encouraging travel trends for Chicago. For example, we know that travelers are now looking for authenticity more than ever before, a fact that suits Chicago and our vibrant neighborhoods well. Additionally, we are finding significant demand for large, in-person trade shows, which play a huge role in Chicago's economy.
At Choose Chicago, we are still building our staff back towards pre-pandemic levels, and much work remains to reach 2019 travel numbers. We are thrilled to share that we reached our ambitious 2022 sales goal and we look forward to sharing more wins with all of you over the coming year.
We are also looking forward to all of the exciting events in 2023, not least of which is Chicago Restaurant Week starting this Friday. If you haven't done so already, visit eatitupchicago.com to view menus and make reservations today! On the heels of Restaurant Week is Chicago Theatre Week from February 16 – 26. This is your opportunity to experience Chicago's awe-inspiring theatre scene with value-priced tickets – get your tickets today!
Finally, I am so excited for this month's Partner Educational Event, which features Clayton Reid from MMGY Global. I had the opportunity to hear him speak at a recent US Travel Board Meeting and was extremely impressed with his insights for travel in the year ahead. This event is so important as you build out your plans for the year and I look forward to seeing you on January 31st – you can find more information below!
As we enter 2023, we know there is lots of work ahead, but we are optimistic about the future of travel in Chicago and excited about everything to come this year.
Sincerely,
Lynn Osmond
President and CEO
Choose Chicago
Welcome new partners
Please join us in welcoming our new partners
Big Bros Ice Cream
Gotham Bagels – South Loop
Travelodge by Wyndham Chicago Downtown
January Partner Educational Event
The Future of Travel
Learn about the 2023 travel landscape, consumer mindset, and demand conditions
Tuesday, Jan. 31
8 – 9 a.m. – Continental breakfast/Networking
9 – 10 a.m – Presentation 
Join us for our January Partner Educational Event featuring Clayton Reid, MMGY Global Chairman and industry veteran. Be educated on:
How marketing is changing the battle for market share

What possible disruptions are coming to our industry

The effect that the economy has on travel consumption

The balance of domestic vs. global demand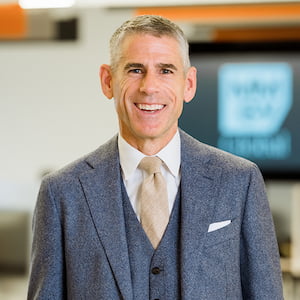 Clayton Reid, MMGY Global Chairman
Don't miss this insightful, engaging, and entertaining presentation and Q&A session. Continental breakfast will be provided.
Location:
Museum of Contemporary Art
220 E. Chicago Ave.
Chicago, IL 60611
Cost: $25
MMGY Global is the world's leading integrated marketing company specializing in the travel, tourism and hospitality industry representing multiple agency brands with one goal: to inspire people to go places. Their communications practice is composed of multiple best-in-class brands including Travel Intelligence, Grifco, Hills Balfour, MMGY, the company's flagship integrated marketing agency, Myriad, NJF, NextFactor and Wagstaff. Together, they represent more than 400 travel and tourism marketing experts across the globe.
Update your partner listing
As we gear up for a new year in Chicago, please take a moment to ensure you have your latest operating and contact information included in your partner listing. Traffic to our website continues to grow year over year and your partner listing is a great way to gain visibility for your business. We would also greatly appreciate you taking the time to share any special offers and upcoming events. 
The sections below provide details on how to make these quick and easy updates.
Update your partner listing & contact information
Your partner listing, which is integrated throughout choosechicago.com, is a comprehensive way to increase awareness of your products and services and drive business to your organization. 
Please take a moment to review and update your information, including the following:

Listing description

Amenities

Images/video

Contact information
To update your Partner listing, log into the Partner Extranet. Need help logging into the Partner Extranet? Seehere for directions.
NOTE: Changes may take up to 24 hours to appear.
Submit your special offers
The Special Offers search page features a range of offers from our partners, such as discounts, buy-one, get-one-free promotions, and value-add experiences. 
You can submit your special offers by following these step-by-step directions.
Submit your events
The Choose Chicago events calendar is a popular resource for locals and visitors to see what's happening in and around the city. It's one of the highest viewed areas of our website and offers a great opportunity to promote your organization's happenings.

You can easily submit your event(s) for consideration by using our events calendar form.
Update from the Sales & Services team
The Choose Chicago Sales and Services team is thrilled to report that we closed out 2022 on a very successful note and achieved our 1.7 million room night sales goal! This is an impressive accomplishment during a year of transition at Choose Chicago and it is a testament to our hard-working sales team for their passion and perseverance.
We wanted to share some of the major recent commitments that helped us reach our goal:
The American Heart Association (AHA) 2024 Scientific Sessions: 9,000 attendees

The American Association for Clinical Chemistry (AACC) 2030 Annual Meeting and Clinical Lab Expo: 21,000 attendees

The American Chemical Society 2030 Fall National Meeting: 14,000 attendees

The National Association for Convenience & Fuel Retailing (NACS) Show 2033: 24,940 attendees 
While there is still much work ahead in 2023, we are thrilled by this accomplishment and look forward to continuing to work hard to deliver wins for Choose Chicago and our partners.
Staffing update
The Choose Chicago Client Services team is excited to welcome Stephanie Werner as a Client Service Manager. Stephanie joins the team responsible for supporting clients as they hold events in Chicago and she is a welcome addition to the team.
Additionally, as we shared in the November newsletter, T. Cahal Mowery has officially begun as Vice President of Sales this month. Cahal joins Robert Leff, hired in November as the Senior Director of Business Development and Sales Strategy, and Eric Kincaid, recently promoted to Associate Vice President of Sales, as new members of the Convention Sales Leadership Team. With the growth of our team, we are in the process of redeploying markets and will share the new deployment strategy with our hotel partners once finalized. 
Last week, the Sales and Services team attended 2023 Professional Convention Management Association (PCMA) Convening Leaders in Columbus, Ohio. This is the flagship education and networking event put on by PCMA, the global association of business event strategists, and it was an amazing opportunity to showcase our new team and connect with leaders from around the world. This is one of the best attended industry events of the year and was a great opportunity for our team to build our sales funnel, setting the tone for a successful year. We had a very busy and successful week, with over 45 individual and group appointments throughout the conference, a group dinner with 15 clients, and an entertaining karaoke party with over 100 clients attending.
Upcoming major events
The following major events are scheduled to take place through the end of February 2023:
2023 IAPD/IPRA Soaring to New Heights Conference
1/23 – 1/30, Estimated Attendees: 4,500
Chicago Auto Show 2023


2/10 – 2/20
Chicago Dental Society 2023 Annual Midwinter Meeting
2/23 – 25, Estimated Attendees: 30,000
Investment in neighborhood tourism
At Choose Chicago, we believe strongly that the economic benefits of tourism should be delivered equitably across our great city. To accomplish that goal, our Neighborhood Strategy team, led by Rob Fojtik, works to increase awareness of, and visitation to, Chicago's neighborhoods.
In order to greatly expand this work, we are pleased to announce that Choose Chicago has received a $5.5 million grant to support our neighborhood tourism initiatives. Funded by the American Rescue Plan Act (ARPA) through the Department of Cultural Affairs and Special Events (DCASE), this grant will allow Choose Chicago to greatly increase its efforts to develop, implement, and manage a unified and comprehensive tourism marketing strategy that positions Chicago and its neighborhoods as prime destinations for residents and visitors alike.
With this grant, the Choose Chicago Neighborhood Strategy team will have the largest and most comprehensive neighborhood program at any destination marketing organization in the country. We look forward to continuing to expand our work and make our neighborhoods vibrant for locals and visitors.
Tourism Improvement Districts
On Tuesday, January 10th, the Illinois House of Representatives passed House Bill 268, the Tourism Preservation and Sustainability District Act. This bill, which has now passed both chambers of the Illinois General Assembly and will be sent to the Governor to be signed into law, is enabling legislation that allows for the creation of Tourism Improvement Districts, or TIDs, throughout Illinois. The bill was pushed for by the Illinois Council of Convention & Visitor Bureau (ICCVB), of which Choose Chicago is a member, and carried across the finish line by Senator Sara Feigenholtz and Representative Ann Williams.
This bill has the potential to be a landmark opportunity for Choose Chicago and other DMOs across the state by giving us the possibility of working closely in partnership with hotels to explore the option to create a TID. There are over 200 of these Districts throughout the nation which are used as a major source of funding at DMOs. Some of our biggest competitors including Dallas, Los Angeles, San Antonio, Baltimore, Tampa, Denver, San Francisco, and many other DMOs leverage TIDs as a major funding source. This opportunity would allow Choose Chicago and other DMOs in the state to achieve dedicated, reliable funding to be able to compete and support destination sales and marketing programs, incentives to secure meetings, events, conventions and tournaments and other tourism initiatives that create overnight demand.
After the passage of this enabling legislation, there is still a long process to establish a TID and, should we decide to explore one, we anticipate it being a one to two-year endeavor. We are committed to working with the City, our hotels and the Illinois Hotel and Lodging Association to consider if this would be feasible in Chicago and, if so, what it would look like.
To learn more about TIDs, please read this study from Tourism Economics. We look forward to working with our partners and sharing more information over the coming months and years!
---