A note from the President and CEO
Dear Partners,
Happy Holidays from Choose Chicago! This holiday season, I am thankful for our incredible team at Choose Chicago that works tirelessly to deliver exceptional service day in and day out. Our team is full of hard-working, talented, and selfless employees that make me proud to be President and CEO.
I also want to take the time during the holidays to thank all of our partners for your dedication to making Chicago the best city in the U.S. I have said it many times but it bears repeating – Chicago's biggest strength is the people and organizations that make up our hospitality and tourism industries. You are the reason why tens of millions of people continue to choose Chicago every year. Thank you!
As we reflect on 2022 and plan for 2023, I am excited to share the organizational priorities that we have developed for the new year. Much of my first six months as President and CEO have been spent listening and learning to our partners, staff, clients, and colleagues. Based on what we have learned, our leadership team has spent the last few months developing a comprehensive set of ten organizational priorities for 2023. These priorities are designed to rebuild Choose Chicago, the best DMO in the country, in order to deliver the economic benefits of tourism to all Chicagoans and build strong and vibrant communities.
Overarching Goal – Achieve 88% of 2019 tourism visitation numbers of 61.6M for a goal of 54.1M with a goal of a full recovery by 2025
Launch a comprehensive strategy to establish Chicago as the premier destination for conventions, meetings and events
Establish Chicago as a must-visit destination for leisure and business travel
Increase both domestic and international leisure tourism through strategic travel trade and media initiatives
Develop and enhance tourism assets in all of Chicago's 77 neighborhoods to drive visitation by tourists and locals that supports small business and economic development
Establish Chicago as the premier US destination for sports tourism
Develop a sustainable funding model
Become a data-driven organization
Build a strong team that is respected and valued
Plan and activate for the future
Each one of these priorities includes a multi-pronged underlying strategy to accomplish the goal and help us build the best DMO in the country. Chicago is an incredible destination with so much going for us, and I look forward to working closely with all of you over the next twelve months to make these priorities a reality!
Before closing, I want to take a minute to recognize our Choose Chicago team for winning two prestigious 2022 Illinois Excellence in Tourism Awards! These awards, which were given at the Illinois Governor's Conference for Travel & Tourism, were bestowed on Choose Chicago for Best Social Media Marketing and Best Tourism Marketing. Congratulations to the Choose Chicago team for this momentous recognition!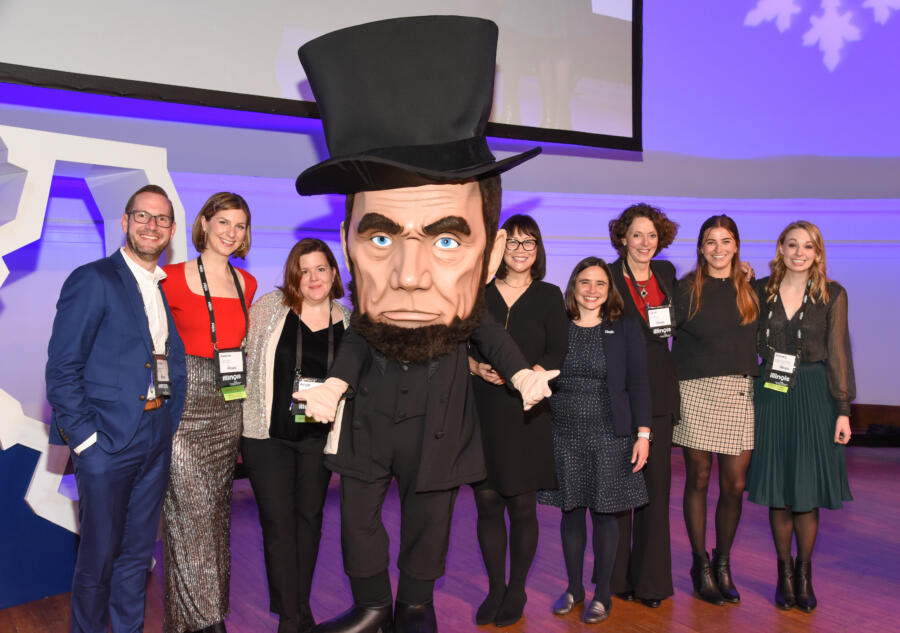 From the entire Choose Chicago team, happy holidays and thank you for your commitment to Chicago!
Sincerely,
Lynn Osmond
President and CEO
Choose Chicago
---
Welcome new partners
Please join us in welcoming our new partners
Back of the Yards Coffee
BARDAVID
Brasserie by C&C
CNE Presents, LLC
Croke Fairchild Duarte & Beres LLC
Di Pescara
Forte at Symphony Center
HUE CHICAGO
Ida's Artisan Ice Cream and Treats
K'ALMA
LIVA at Chicago Winery
Mi Tierra
Puttery
Rodriguez Media Communications Inc.
Sesame Unlimited, LLC
Shula's Steak House
Sinha Elegant Cuisine
Strategy for Access Foundation NFP
The Palm Restaurant
Thesoulfoodlounge
Water Tower Place
Yardbird Southern Table
---
Save the Date – January Partner Educational Event
Tuesday, January 31, 2023
Museum of Contemporary Art
8 am – 10 am
Mark your calendars for our January Partner Educational Event on January 31, 2023. Clayton Reid, MMGY Global Chairman and industry veteran will address the travel landscape, consumer mindset, and demand conditions for 2023. You'll learn about:
How marketing is changing the battle for market share

What possible disruptions are coming to our industry

The affect that the economy has on travel consumption

The balance of domestic vs. global demand
Don't miss this insightful, engaging, and entertaining presentation and Q&A session. Invitation to follow.
---
Reservations are now open for Chicago Restaurant Week 2023 (CRW)
Choose Chicago is excited to announce that reservations are now available for the 16th annual Chicago Restaurant Week taking place Friday, January 20 – Sunday, February 5. This year, diners throughout the city and suburbs can take advantage of prix fixe meals for brunch, lunch, and dinner at any of the 300+ participating restaurants including 55+ minority and women owned restaurants across 35+ different neighborhoods!
Back this year to kick off restaurant week will be First Bites Bash taking place on Thursday, January 19. Tickets are now available to this event, which is open to the public and will showcase more than 50 chefs and restaurants sampling sweet and savory bites from their Restaurant Week menus. Beloved Chicago Chef Darnell Reed of Luella's Southern Kitchen – located in Chicago's vibrant Lincoln Square neighborhood – will serve as Host Chef, with a portion of the proceeds from First Bites Bash donated to Kitchen Possible.
Book your reservation for Chicago Restaurant Week and purchase your tickets for First Bites Bash!
---
Update from the Sales & Services team
Happy Holidays from the Choose Chicago Sales and Services team! While this month may be a slow time in many industries, we are hard at work meeting our year end goals while building our 2023 funnel. In recent weeks, we have continued attending important trade shows such as Holiday Showcase 2022 at the Hilton Chicago and IAEE's Expo! Expo! 2022 in Louisville, KY, where our team is right now connecting with key players in the exhibition industry. We are working hard to make sure it is a successful end of year and a great start to 2023!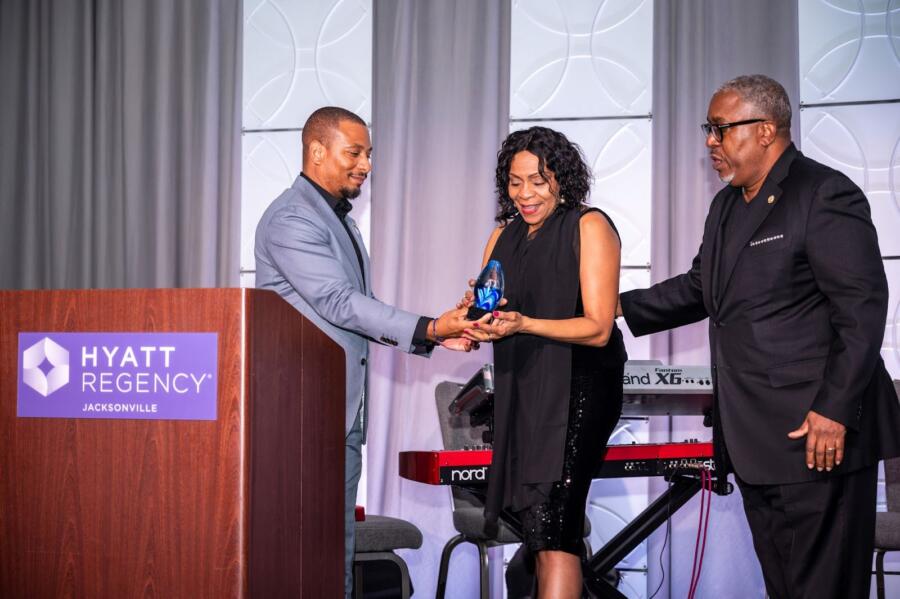 We are also proud to announce that our own Michele Pondexter was recently awarded the Pioneer Award at the annual meeting of the National Coalition of Black Meeting Professionals. Michele has been with Choose Chicago for 10 years and serves as our Director of Diversity Sales. This award is a huge honor and a recognition of Michele's outstanding contributions to the meeting planning industry. The award recipients are acknowledged to have paved the way for African-Americans in the industry leaving behind a footprint for others to follow.
Upcoming major events
The following major events are scheduled to take place through the end of January, 2023:
American Geophysical Union Fall Meeting 2022
12/12 – 12/16, Estimated Attendees: 25,000
The Midwest Clinic 2022 An International Band and Orchestra Conference
12/19 – 12/21, Estimated Attendees: 16,948
MAS-ICNA Annual Convention
12/26 – 12/28, Estimated Attendees: 12,000
Boy's Winter Volleyball Championship 2023
1/14 – 1/16, Estimated Attendees: 7,500
---
Choose Chicago gives back
Service is an important part of who we are at Choose Chicago, and every year we participate in a variety of service projects and volunteer days to give back to our community.
Each year, Choose Chicago partners generously donate gifts for the Chicago Police Department's Operation Santa, through which the Chicago Police Memorial Foundation, friends and supporters deliver gifts and holiday cheer to the families of police officers killed or seriously injured in the line of duty. This year, we are pleased to share that over 20 partners donated nearly $40,000 worth of gifts, the most ever in our nine years we have participated in Operation Santa! Thanks so much for all of your generous donations!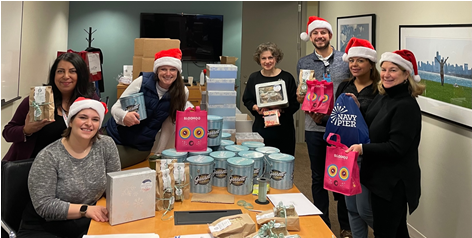 On November 29, Choose Chicago participated in a Giving Tuesday event, Slow Down, Show Luv and it was a huge success! We partnered with the LUV Institute to give back to the nearby Bronzeville community by serving hot beverages to food pantry customers. We also helped prepare and distribute Chicago decorated wreaths to a local nursing and rehabilitation center.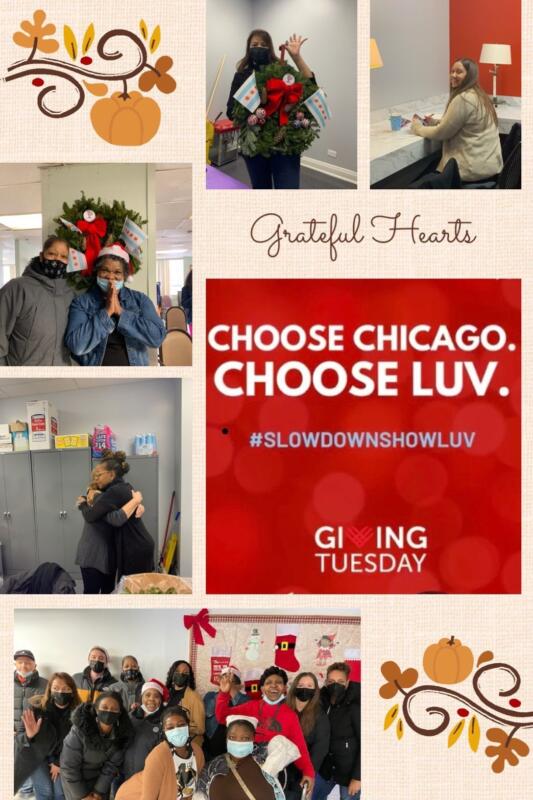 Earlier this year, in September, we held a Volunteer Day of Giving in partnership with the Greenstar Movement. Dozens of Choose Chicago employees traveled to the Austin neighborhood to offer our artistic skills as part of a months-long project to create a beautiful mural on the façade of the Sankofa Cultural Center. We are excited to announce that the mural has been finished and we could not be prouder to have contributed to this amazing piece of public art!
Are you interested in giving back this holiday season? Visit the LUV Institute or Greenstar Movement to learn how you can get involved.
---
Global Influencers Holiday Tour
Choose Chicago's Media Relations team hosted its 5th Annual Global Influencers Holiday Tour of the city November 18 – 22 with over 40 local, national, and international social ambassadors in attendance. The influencers toured throughout Chicago for five days and four nights, enjoying and exploring our neighborhoods and partner offerings. A few highlights on their itinerary included being in the Magnificent Mile Lights Festival Parade aboard Choose Chicago's Best Big City in the U.S. double decker bus and a warm welcome by the Chicago Bulls!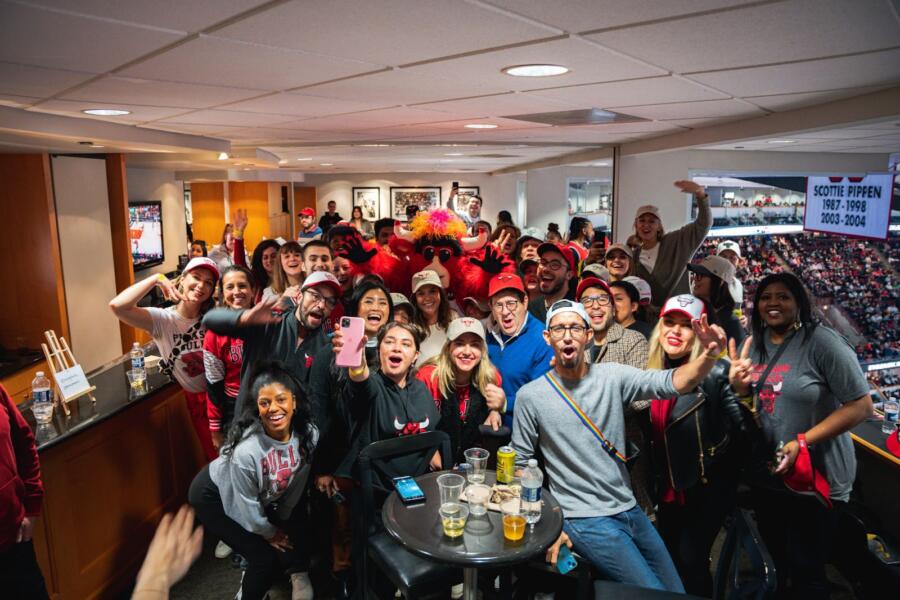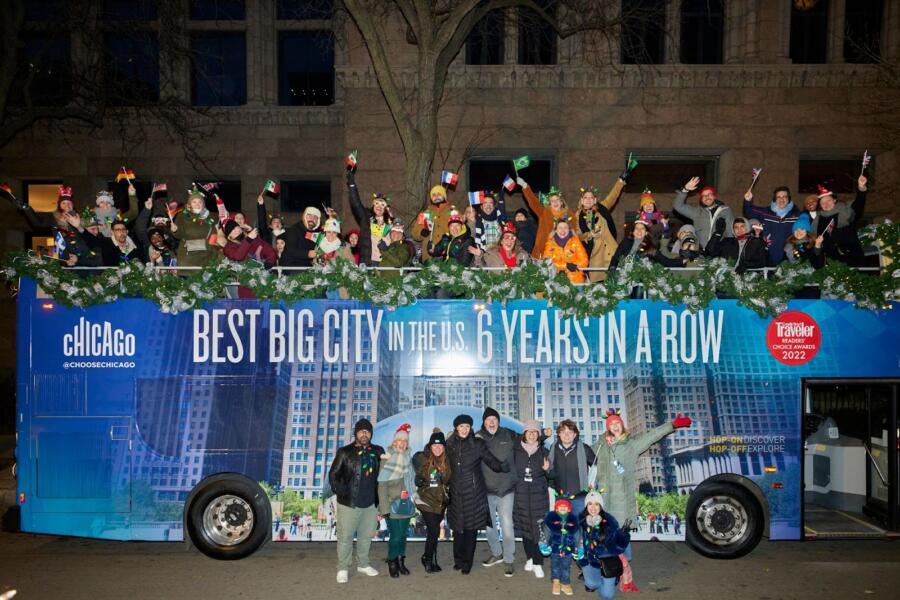 As a result of Choose Chicago's Media Relations team bringing Extra! TV to Chicago this August to film segments to feature the destination, we are thrilled to share that Chicago segments aired on the weekends of November 26th and December 10th. To view a few of the segments that are now online, visit Mansions & Millionaires: The Top Hotels and Restaurants in Chicago (extratv.com).
Extra! TV airs nationally with 1.9 million viewers, and these half hour themed/destination shows are their highest rated weekend shows. The Chicago segments have also been posted on Extra! TV's social media channels and will live on their very high traffic website ExtraTV.com and their YouTube channel for more than a year.
---