A note from the President and CEO
Dear Partners, 
Welcome to the February Partner Insights Newsletter! During these winter months, Chicago's hospitality community comes together and shows the world that our city has so much to offer despite the cold. Now, as the winter begins drawing to a close, I am filled with hope as I reflect on all that we have been through and everything to come this year.
We just wrapped up another successful Chicago Restaurant Week and I want to thank the Choose Chicago team and all of our participating restaurants for their hard work putting together this amazing event. I am now looking forward to Chicago Theatre Week which kicks off on February 16th!
With spring right around the corner, we are hard at work, as I'm sure you all are, planning for a successful 2023. I am proud to share that we just released our 2023 Visitors Guide, which is full of all of the amazing activities and attractions for all types of visitors throughout the year. You can view a digital version of the guide or order a print copy.
Our goal in 2023 is to build on a successful 2022 tourist season and transition from recovery to sustainable growth. In 2022, we experienced a solid bounce back year – hotel room demand totaled over 9.9 million room nights, which is 61% higher than 2021 and represents an 82% recovery share compared to pre-pandemic 2019. Ranked by year-over-year room demand growth across our top 10 competitive markets, Chicago was the third-fastest growing urban market. Hotel revenue increased to $2.29 billion, which is more than double 2021 levels and reflects a 93% recovery share compared to 2019.
We are excited to build on this recovery and we look forward to a successful year in 2023!
Sincerely,
Lynn Osmond
President and CEO
Choose Chicago
Welcome new partners
308 Chicago
350 Coworking/EQ Office
a tavola restaurant
Aztec Dave's Cantina
B. Coleman Aviation
Bar Esmé
Barcocina – West Town
Barcocina – Lakeview
Bernard's
Big Bros Ice Cream
Canal Street Eatery and Market
Ceres' Table
Chef Art Smith's Reunion
Chicago Teahouse
CHOP CHOP Mobile Salon & Barber
Curfew by Fabio Viviani
Dell Rooster
FIG & OLIVE
Fill My Jar
Fora
Frontier
Gotham Bagels – South Loop
Greater River North Business Association
Grill on 21
Ina Mae Tavern
Jack's Bistro Wicker Park
Knuckleball Comedy LLC
Lost Reef Lounge
Marisol
National Museum of Gospel Music
Next Level Event Design
OUTFRONT
Passport Bar Room
Photography By Alexander, Inc.
Red Storm Eventainment
River North Bistro
Soul Veg City
Steingold's of Chicago
The Duplex
The iO Theater
The Royal Grocer & Co
Travelodge by Wyndham Chicago Downtown
True Food Kitchen Chicago
True Food Kitchen Oak Brook
Uproar Chicago
Vanity Picture Booth
Volo Museum
Williams Inn Pizza & Sports Bar
February Partner Engagement Event
Tuesday, February 28
8:30 – 10:00 a.m.
Engage and build relationships with key Choose Chicago department staff while learning about opportunities to work together and maximize your partnership. This informal and energetic networking event is also a great time to connect with industry colleagues. Continental breakfast will be provided.
Location:
Epiphany Center for the Arts
201 S. Ashland Ave.
Chicago, IL
Cost:
Complimentary
The Future of Travel
Thank you to all of our partners that were able to attend our January Partner Educational Event, The Future of Travel, featuring MMGY Global Executive Chairman Clayton Reid.
Clayton's presentation touched on a wide variety of invaluable information for everyone working in the visitor industry. We are happy to make the presentation available for partners that missed the event or those that want to revisit the engaging presentation. The recording is available on the Partner Extranet. Please do not hesitate to contact us at partnership@choosechicago.com with any questions.
Update from the Sales & Services team
During the first week in February, Chicago was proud to host the first ever Event Leaders Exchange (ELX) Annual Congress. ELX was launched in November 2021 to bring together senior event leaders from the largest global companies to share industry insights and brainstorm ideas to move the events industry forward. Leadership like this is so important as our industry navigates the new realities of a post-COVID world and we were honored to host the first Annual Congress in Chicago from February 1st through February 3rd.
Over the course of the event, this influential group came together at the Hyatt Regency Chicago and around the city to collaborate and develop innovative ideas to transform the future of events. Topics included sustainability, equity, diversity & inclusion, and measuring the return on investment of experience design. In addition to taking part in breakout sessions and 1:1 conversations, we were happy to show attendees a great time in Chicago at some of our most iconic attractions. The event was a huge success and we look forward to engaging with this new organization as they continue working to advance the events industry.
Upcoming major events
The following major events are scheduled to take place through the end of March 2023:
Chicago Auto Show 2023
2/11 – 2/20
Chicago Dental Society 2023 Annual Midwinter Meeting
2/23 – 25, Estimated Attendees: 30,000
The Inspired Home Show
3/4 – 3/7, Estimated Attendees: 63,000
Material Handling Industry PROMAT 2023
3/20 – 3/23, Estimated Attendees: 31,800
Chicago Comic & Entertainment Expo (C2E2) 2023
3/31 – 4/2, Estimated Attendees: 70,000
NASCAR Chicago Street Race
General admission tickets for the inaugural Chicago Street Race, including the first-ever NASCAR Cup Series street race in NASCAR's 75-year history, are officially on sale now! Tickets include two-day access to Cup Series and NASCAR Xfinity Series races and full-length concerts by The Chainsmokers and Miranda Lambert with the support of The Black Crowes and Charley Crockett on July 1st and 2nd.
To learn more about the Chicago Street Race, visit nascarchicago.com.
Media Relations updates
The Choose Chicago Media Relations team continues to work hard pitching and promoting Chicago to media and influencers around the world. Recently, we secured widespread coverage of First Bites Bash and Chicago Restaurant Week to generate publicity for this program and draw locals and visitors to our amazing participating restaurants. Our efforts led to hundreds of stories and social posts – here are some examples!
Additionally, during the first week of February, we were excited to join the Chicago Symphony Orchestra in Toronto as part of their North American Tour. During this trip, we hosted a reception with over 30 top media and travel professionals based in Toronto to continue to pitch Chicago as a top destination for Canadian visitors. The event was a resounding success and we look forward to converting these efforts to media visits and traveling bookings from the Canadian market!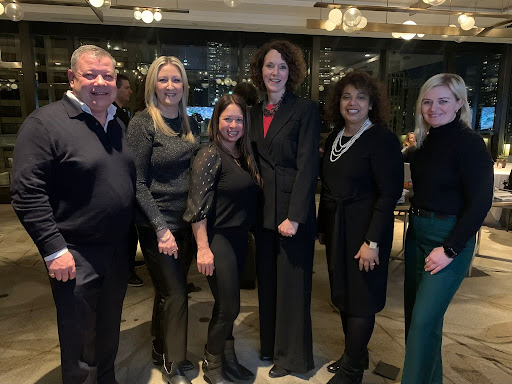 ---