While theatres in Chicago may still be dark, there's still plenty to see online and outdoors! Check out the hundreds of online performances, classes, podcasts, and workshops that Chicago theatres have to offer by searching online with Hot Tix, all from your living room. From intimate dramas to sidesplitting comedies, you can choose from dozens of offerings – including these not-to-miss digital programs. Plus, get tickets to outdoor and drive-in performances this month!
Drive In Theatre: Beatrix Potter and Friends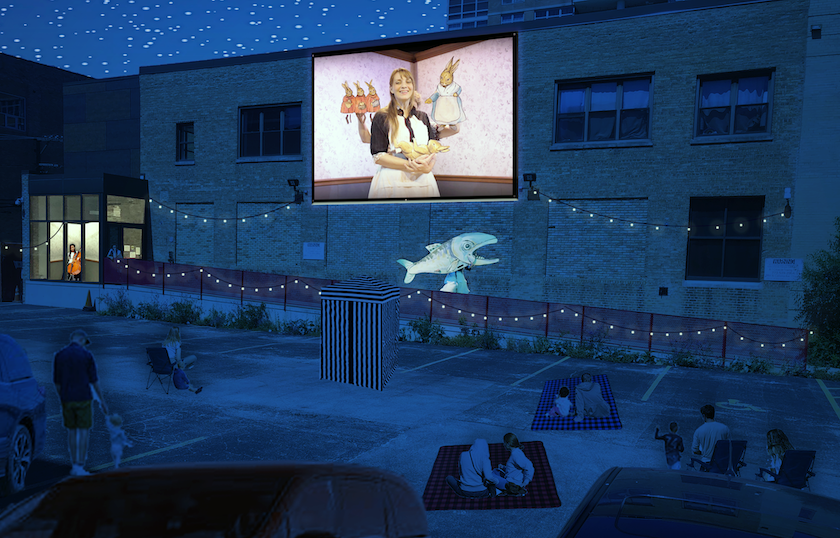 Outdoor drive-in
Chicago Children's Theatre
Oct. 1 – 18
Experience Chicago Children's Theatre's Beatrix Potter puppet show like never before — as an interactive drive-in movie! Four classic Beatrix Potter stories, including the family favorite The Tale of Peter Rabbit, have been recreated as high-quality, made-for-film puppet performances, and will be projected upon a giant screen in CCT's parking lot. Families are invited to drive up, or reserve a socially distanced "pod" to view the show. Puppeteers and musicians will lead interactive activities, perform kid-friendly classical music, and reveal puppet surprises. Check for tickets at Hot Tix! 
The Second City's Happy Hour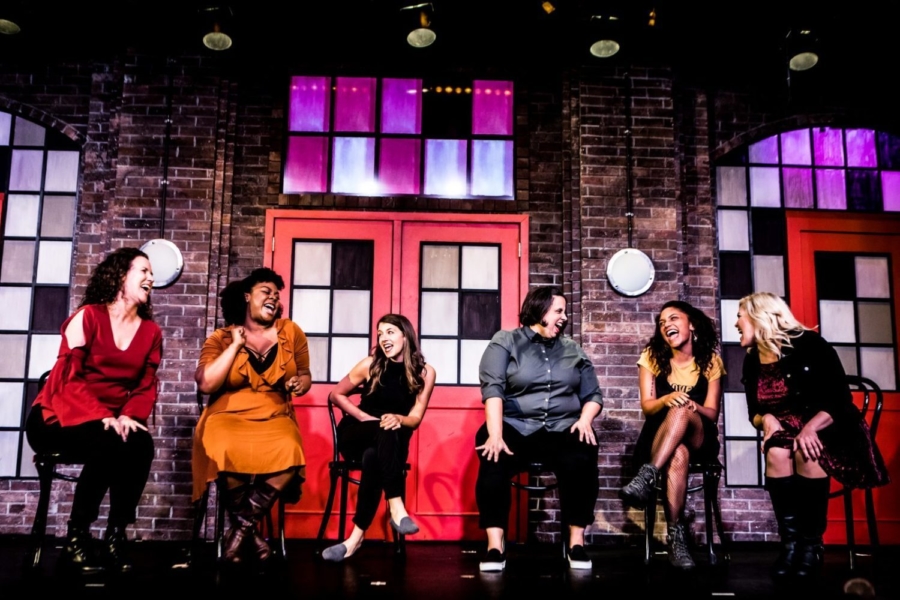 Virtual performance
The Second City
Streaming now through Nov. 5
The Second City's Happy Hour features Second City's funniest talent of today shaken up with some of our alumni streaming laughs live, right into your own personal quarantainment zone! This brand-new show created by Second City alums Carisa Barreca and Carly Heffernan brings you into the action with a hilarious cocktail of interactive games, special guests, music, sketch comedy, and suggestion-driven improv that will have you howling so hard, you won't even remember what never-ending year we're living in. Join the world-famous comedy pros from The Second City on Thursdays, starting at 7 p.m. each evening. Can't join live? The show is also available on demand! Visit HotTix.org for more information!
Broadway by the Decade

Virtual performance
Porchlight Music Theatre
Streaming Oct. 1 – 25
Porchlight Music Theatre's Artistic Director Michael Weber takes the audience on a guided tour of Broadway's musical history from the late 1800s to the present day. Weber shares the story of how the American idiom, the musical, evolved decade by decade with all-new musical performances designed especially for this production. Starring Porchlight favorites performing songs from Show Boat, Girl Crazy, Funny Girl, Chicago, Les Miserables, Disney's Beauty and the Beast, Waitress and more! Visit Hot Tix for streaming options!
Rastus and Hattie
Audio play
16th Street Theater
Streaming Oct. 1 – 24
Needra and Marlene enjoy a perfect post-racial friendship until two problematic robots walk into their christening celebration. These automatons, based on Westinghouse's 1930 brown-skinned robots, and a glitch in the time-space continuum place them at opposite ends of society in an alternate past. This hilarious comedy moves swiftly from the outrageous to the profound as it delves into our traumatic legacy and explores new ideas about how to move forward. Visit HotTix.org for more information!
Run the Beast Down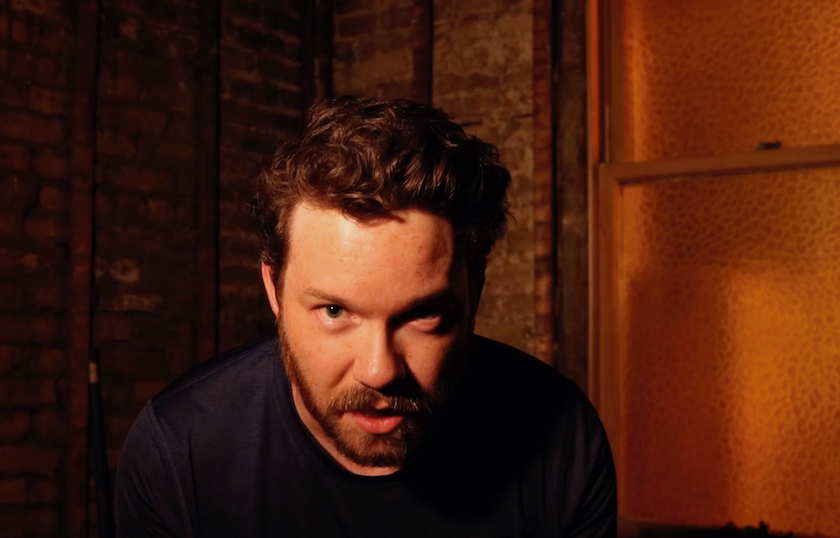 Virtual performance
Strawdog Theatre Company
Streaming Oct. 2 – 25
Charlie has lost his job, his girlfriend, and countless hours of sleep. Worse still, he's being haunted by a fox. Fantasy and reality blur as Charlie embarks on a vigilante journey, fighting back against capitalism and ​"the Beast". Set in London, amidst a financial crash and civil unrest, ​"rising star playwright" (Time Out, UK) Titas Halder's dark fairytale takes the audience on the rollercoaster of one man's obsession. Filmed as a series of single shots, this production is a thrilling experiment in intimate storytelling. Visit HotTix.org for more information!
45 Plays for America's First Ladies

Virtual short plays
The Neo-Futurists
Streaming Oct. 8 – Nov. 2
45 Plays for America's First Ladies is a companion piece to the past Neo-Futurist production 43 Plays for 43 Presidents. Focusing this time on the women who served in the role of First Lady, this play follows an identical format as its predecessor, with a chronological series of one to five minute plays that – in typical Neo style – adopt a variety of shapes, tones, and theatrical conventions. The story that emerges from telling all these stories at once shows how often people have gone unrecognized and unrewarded – and how vital their contribution have been. Visit HotTix.org for more information!
Peacebook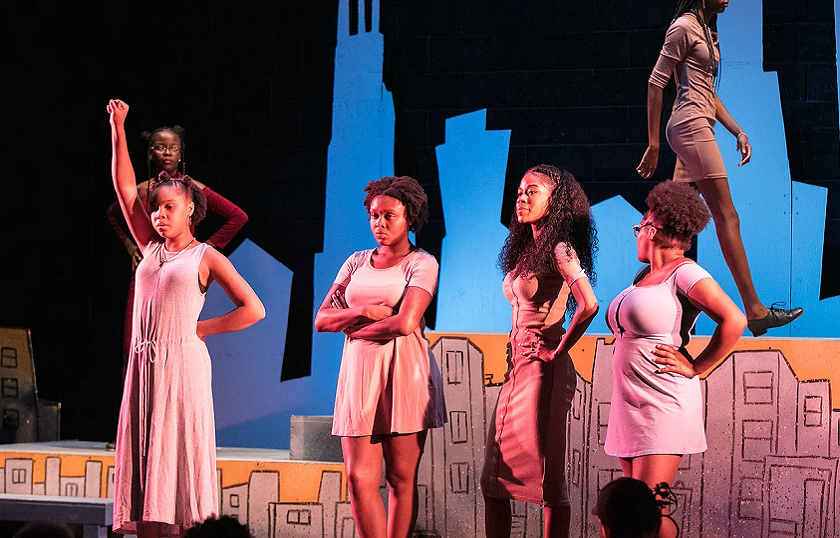 Virtual performance
Collaboraction
Streaming Oct. 17, 7 p.m.
Peacebook 2020 kicks off Oct. 17 with two free programs of 10 Chicago artists/activists premiering short new works about peace in Chicago, followed by a month of additional screenings and online conversations leading up to the live Utopian Ball benefit gala on Nov. 14 to raise spirits and funds for Chicago's theater for social change. The 5th annual Peacebook, featuring ten world premiere videos split into two distinct programs, Essential Perspectives and Visions of Peace. Visit HotTix.org for more information!
Visit ChicagoPlays.com to find other exciting productions and classes online, and find insider guides to all things performing arts and the Chicago theatre scene.
It Can't Happen Here
Audio play
Berkley Rep at Northlight Theatre
Streaming Oct. 13, 7 p.m.
Written in 1935 during the rise of fascism in Europe, Lewis' darkly satirical It Can't Happen Here follows the ascent of a demagogue who becomes president of the United States by promising to return the country to greatness. In 2016, Berkeley Rep unveiled a new stage adaptation of Lewis' prescient novel, one week after that production ended, the presidential election roiled our nation. Now, Berkeley Rep reprises that production with the same director, but this time as a radio play in four episodes, just in time for the 2020 presidential election. Berkeley Rep intends for the project to encourage dialogue and motivate citizens to exercise their civic power and vote. Visit HotTix.org for more information!
International Voices Project 2020 Virtual Festival

Virtual festival
International Voices Project
Streaming now – Oct. 21
The International Voices Project (IVP) champions the work of global playwrights by creating opportunities to experience new and contemporary international plays on Chicago stages. IVP debuts voices from the world's stages through commissions, translations, and production. IVP collaborates with consulates, cultural partners, and universities throughout the Chicagoland area and partner with national and international theatres to promote global playwrights in their USA premieres. Visit HotTix.org for more information!
A War of the Worlds
Audio play
Theatre in the Dark
Stream Oct. 15 – Nov. 21
In this 80-minute live virtual audio drama, H.G. Wells enters the 21st century as a science journalist thrust into the events of an alien invasion after the "Red Planet" Mars crashes outside the suburbs of Chicago at the start of the new decade. Separated from family, friends, and everything they've ever known, the eclectic cast of Chicagoland characters must do everything in their power to survive as our world comes crashing down around them. Actors play dozens of characters in a theatre experience unlike any other, created by a company critically acclaimed for its "innovative," "elaborate," and "viscerally compelling" storytelling. Visit HotTix.org for more information!