Remember drive-in movies? The old-school open-air theatres are having a renaissance. And they're popping up all over Chicago, along with plenty of outdoor movie screenings where you can kick back in the grass and enjoy a movie under the stars. Here are some spots where you can catch a flick with friends at an outdoor movie theatre in Chicago.
Drive-in and outdoor movie theatres in Chicago
Millennium Park Summer Film Series: This summer, catch free outdoor movie screenings while surrounded by the soaring Pritzker Pavilion and city skyline in the heart of Millennium Park. This ultra-popular series will run on Tuesdays through Aug. 29, 2023. These evening screenings are always busy, so make sure to arrive early to grab a spot on the Great Lawn. Guests are welcome to bring blankets, chairs, and a picnic to enjoy.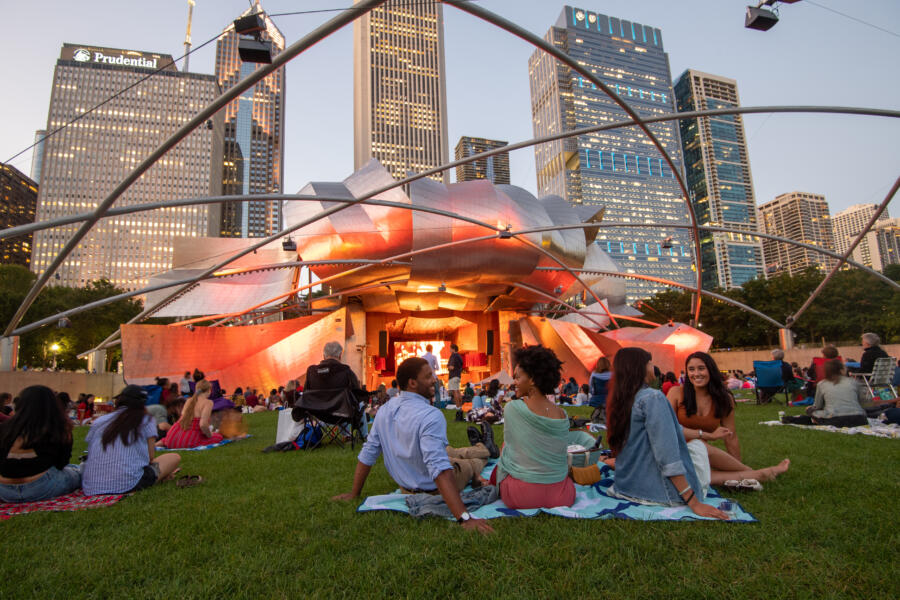 Rooftop Cinema Club: This cool new hotel in the hip West Loop neighborhood is debuting a rooftop movie series this summer. The Emily is hosting Rooftop Cinema Club, where the public is invited to enjoy a packed lineup of screenings all summer long.
ChiTown Movies in Pilsen: Enjoy classic movies under the stars at this drive-in theatre in Pilsen. Each parking spot has an excellent view of their extra-large screen. Each week, they show a variety of blockbuster and classic movies, like Ferris Bueller's Day Off and Mean Girls. And don't forget the movie snacks — you can order popcorn, hot chocolate, and more right to your car.
Gallagher Way: This family-friendly green space in the shadow of Wrigley Field hosts outdoor movies on their jumbo digital screen. Catch all-ages flicks on Wednesdays throughout the summer season.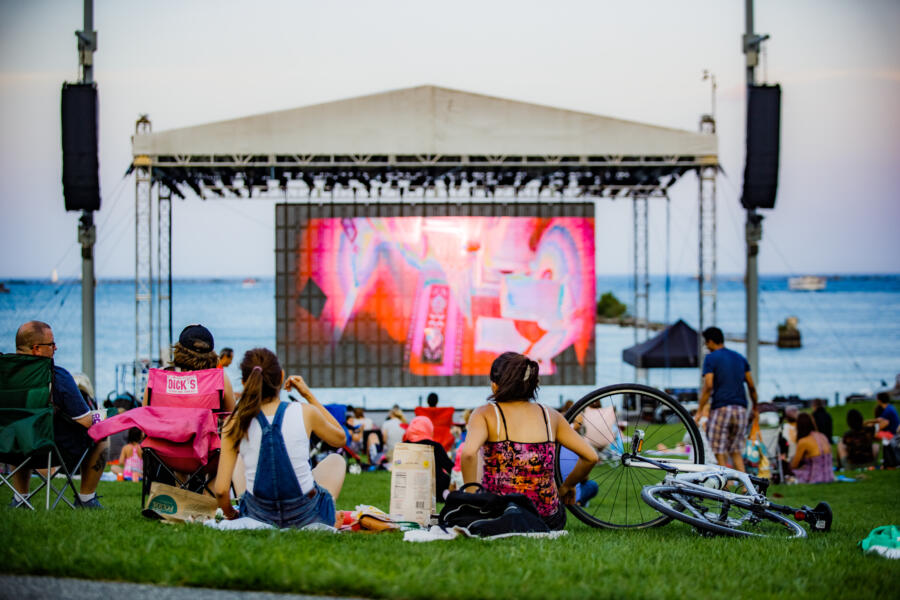 Water Flicks at Navy Pier: This popular (and free!) series is back, with outdoor movie screenings at waterfront Navy Pier. Enjoy views of the lake and Centennial Wheel while you kick back on the grass and enjoy family-friendly films. Featured titles have included My Big Fat Greek Wedding, Rent, and the instant Disney classic, Encanto.
Night Out in the Parks: The Chicago Park District is bringing more than 100 outdoor screenings of family-friendly films to neighborhood parks this summer. Bring a blanket and grab a spot at Indian Boundary Park, Oz Park, Humboldt Park, Wicker Park, Osterman Beach, Washington Park, and beyond. Catch the seasonal series now through Sept. 9, 2023.