Remember drive-in movies? The old-school open-air theatres are having a renaissance, since staying in your car is a great way to get out while social distancing. And they're popping up all over Chicago, along with plenty of outdoor movie screenings. Here are some spots where you can safely catch a flick with friends this summer at an outdoor movie theatre in Chicago.
Outdoor movie screenings
Movies in the Park: Enjoy family favorites under the stars in neighborhoods across Chicago. The city is hosting 45 in-person movie nights in parks all around Chicago. Admission is limited to 100 people (with face masks) per screening on a first-come, first-served basis, so make sure to get there early. See the full movie schedule.
Various locations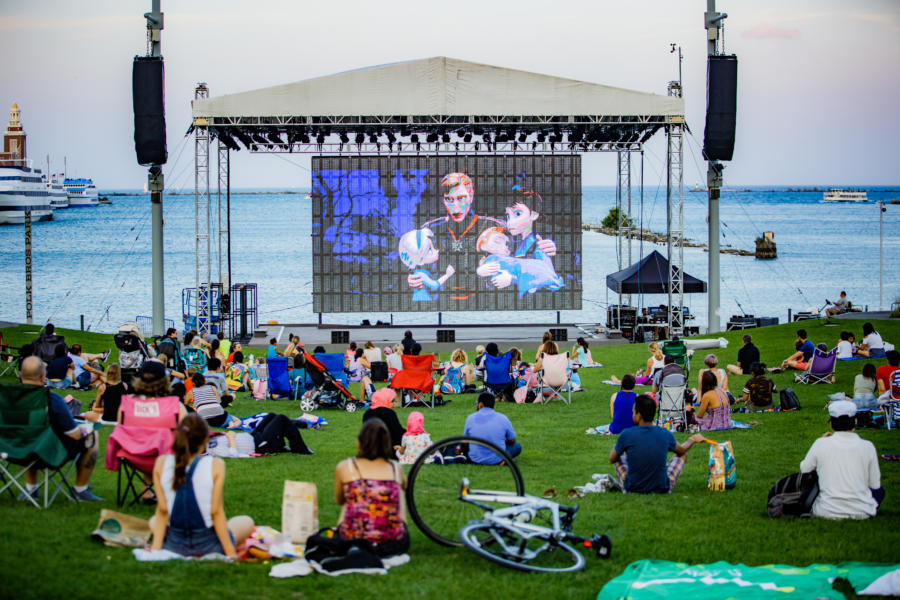 Water Flicks at Navy Pier: Grab a spot on the lakefront and get ready for Navy Pier's free outdoor movie series. The Pier will screen movies every Monday from July 6 through Aug. 24. This year's theme is "Suitcase Cinema", featuring films that transport viewers to exotic locations. Catch everything from kid-friendly faves like The Lion King and Frozen II to blockbusters like Moulin Rouge and Kong: Skull Island.
600 E. Grand Ave.
Music Box Theatre: The classic movie house in Lakeview has started screening films in their outdoor garden area through Aug. 29, 2020. Upcoming screenings include classics like Jaws 2, Rear Window, and more. Seating is limited to 20 – 30 people, so make sure to get your tickets early.
3733 N. Southport Ave.
Floating Cinema: Watch movies on the water during this unique Floating Cinema event from Sept. 9 – 13, 2020. Your ticket buys you admission onto a mini boat that holds up to 8 people to enjoy oldies, new releases, and free popcorn.
Whiskey Business: In Wicker Park, Whiskey Business will be turning their popular rooftop into an outdoor movie theatre. Enjoy a night under the stars with classic movies every Tuesday.
Drive-in movie theatres
ChiTown Movies in Pilsen: Enjoy classic movies under the stars at this drive-in theatre in Pilsen. Each parking spot has an excellent view of their extra-large screen. And don't forget the movie snacks — you can order popcorn, tacos, wings, frozen mangos, and more right to your car. This weekend, catch Lost World: Jurassic Park and special late-night showings of Little Shop of Horrors. Tickets are on sale now for $33 per car.
2343 S. Throop St.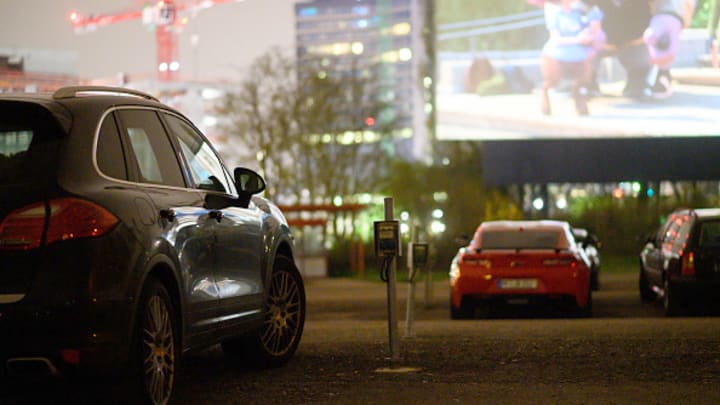 CHI-Together at Soldier Field: This new, multi-screen venue outside Soldier Field promises nightly entertainment, including live music, themed evenings, singalongs, and everything from family favorite to cult classic movies. Tickets ($55 for up to 6 people, plus a bucket of popcorn) are on sale now for Groundhog Day, Grease, Shrek, and more.
1410 S. Museum Campus
Drive-in at Lincoln Yards: The landmark Davis Theatre in Lincoln Square is programming movie nights at this new drive-in at the Lincoln Yards lot. The emphasis so far is on Chicago classics like Blues Brothers and Ferris Bueller's Day Off. The show starts at sunset and you can add concession items or a full drive-in menu from Ada Street. Tickets are $35 per car.
1397 W. Wabansia Ave.
Chicago Drive-In Theater in Bridgeview: On Chicago's southwest side, SeatGeek Stadium has set up a new drive-in theatre for some socially distant summer fun. Movies like A League of Their Own, Despicable Me, and Independence Day play up on the big screen, while audio is streamed directly through your car's FM radio. They also have candy, soda, chips, and ice cream available for purchase. General admission is $30 per car, preferred parking is $50 per car.
7000 S. Harlem Ave., Bridgeview