There are few places that are more of a cultural crossroads than Chicago. Smack dab in the middle of the nation, the city has long been a melting pot of artistic styles, genres, and ideas. And the city's music scene is a perfect example of that diversity.
To kick the reinvigoration of Chicago's live music into gear, the city has extended the Year of Chicago Music throughout 2021. In addition to providing grants and direct investments into local communities, theYear of Chicago Music is highlighting the city's unique history as an incubator of boundary-pushing expression.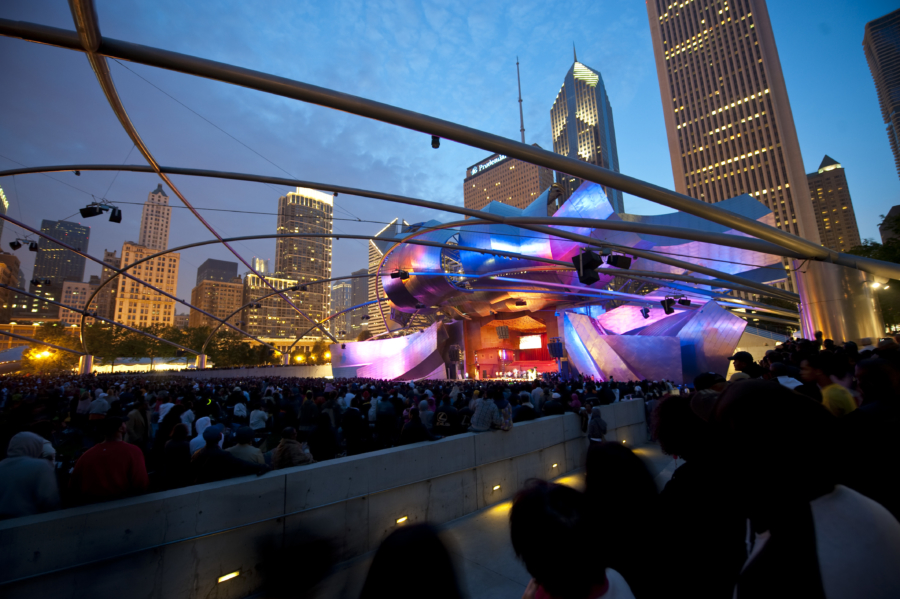 This is culminating with Chicago In Tune, a month-long festival celebrating the city's diverse musicality, in addition to paying homage to the foundational genres that found much of their sound right here with signature events for gospel, jazz, house, and blues. 
But these major events are only one part of Chicago In Tune. The whole city is getting in on the celebration through a series of concerts lasting from Aug. 18 – Sept. 18. No matter what kind of music you enjoy, or where you want to catch a show, Chicago In Tune has something for you.
Herbie Hancock at Symphony Center
Sept. 2 at 7:30 p.m.
Get tickets
There are few names more iconic to the world of jazz — or music in general — than the esteemed, multiple Grammy-winner Herbie Hancock. This titan of a pianist is performing for the first time in two years right here in his hometown of Chicago. This performance will be one for the ages, as Hancock takes the stage at Orchestra Hall almost exactly 70 years after his first time performing there when he was just11 years old. Whether you're a Hancock superfan, or just a lover of jazz, this will be a night to remember.
OHMME with Ganser at Thalia Hall
Aug. 26 at 8:30 p.m.
Get tickets
Chicago is a place where musical genres tend to blend into something new, and often profound. This is the case with OHMME, which draws from an eclectic mix of influences — including folk, as well as experimental and improvisational rock — to create a sound uniquely their own. Just when you think you've pinned them down, they offer up surprising new twists of creativity. Through voice and swelling instrumentation, OHMME will take you on a sonic journey that manages to be both ethereal and grounding at once.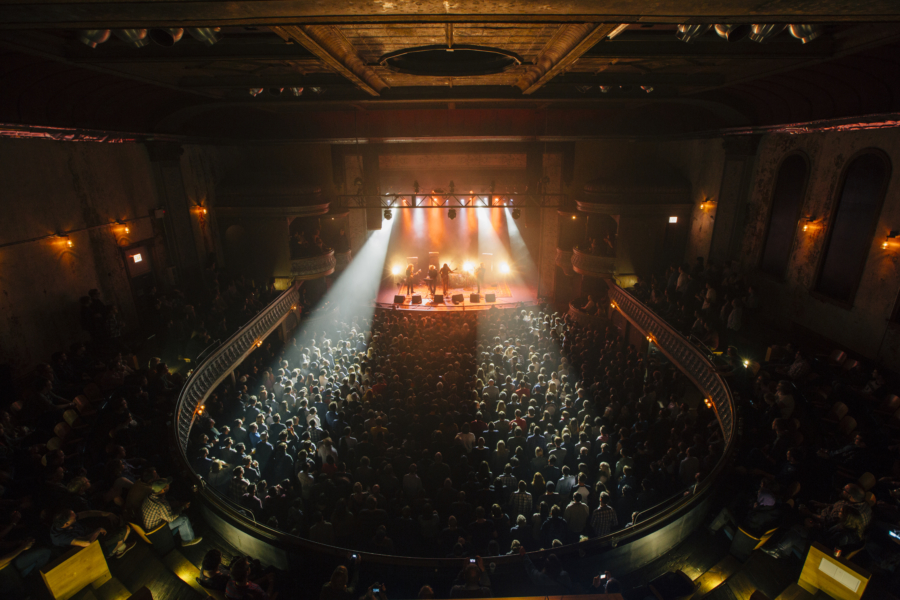 My House Music Festival at Harrison Park
Aug. 28 – 29, noon – 10 p.m.
Get tickets
House music would not be what it is today, or maybe even exist at all, without the influence of Chicago. What began as producers and DJs altering disco and other club music in the '80s right here in the city has grown into one of the most popular genres in the world, with house-influenced artists now having major hit songs. If you like to dance to thick, bass-heavy music that makes you want to move all night, My House Music Festival might be right up your alley. Located in the historic Pilsen neighborhood, this is an opportunity to appreciate house music in the place it began so many years ago.  
Molly Tuttle at Old Town School of Folk Music
Aug. 22 at 3 p.m. and 7 p.m.
Get tickets
While still early in her career as a professional musician, Molly Tuttle is anything but an amateur. Having been featured in several prominent guitar magazines, as well as seeing her debut solo EP hit number two on the Billboard Bluegrass chart, Tuttle has rapidly ascended to the apex of her artistic field, despite only being in her mid-20s. With a highly unique and polished combination of vocals and instrumentation, Molly Tuttle is sure to impress and delight those who enjoy bluegrass, folk, and related genres.
NOCTURNA Dance Until Dawn at Metro
Aug. 21 from 10 p.m. – 5 a.m.
Get tickets
For those who mustn't see the light of day, NOCTURNA with DJ Scary Lady Sarah is the ideal place to get in some dancing before sunrise. Featuring a combination of goth, post-punk, darkwave, industrial, and ethereal music, you'll surely be pleased by the tasteful mixes that run until dawn. There will also be vendors and giveaways — adding another layer of excitement to this all-nighter. Due to the nature of the venue and event, attendees must be 18 or older and also provide proof of vaccination at the door.
Mackenzie O'Brien at Carol's Pub
Aug. 20 from 8:30 p.m. – 11:30 p.m.
Get tickets
Anyone looking for a good ol' time on a Friday night should consider catching Mackenzie O'Brien at Carol's Pub. Not only will you see a great up-and-coming artist with a knack for vocal melody, you'll also get to spend your evening at what's arguably the best country bar in the city. For only a five-dollar admission fee, attendees will be swinging and swaying until it's time to hit the hay.
The Lyrical Lemonade Summer Smash at Douglass Park
Aug. 20– Aug. 22, 2 p.m. – 10 p.m.
Get tickets
For those who have been looking for a legit hip-hop festival here in the city, look no further than The Lyrical Lemonade Summer Smash. This three-day event will feature some of the biggest names in the genre, including A$AP Rocky, Lil Uzi Vert, and Waka Flocka Flame, as well as growing local names likeJoey Purp andFemdot. All three days are packed with awesome performances. This is a must-attend for Chicago rap and hip-hop lovers.
Sonny Falls with Cold Beaches at Golden Dagger
Aug. 19 at 8 p.m.
Get tickets
One of the various homegrown groups part of the ever-evolving and impressiveSooper Records family — the label run by the city's most-beloved virtuosic weirdo, Nnamdi Ogbonnaya (NNAMDÏ) — Sonny Falls offers listeners catchy tunes influenced by Chicago's vibrant DIY scene. Lyrically forthright, bittersweet vocal melodies both sting and comfort those who have lived common experiences. Cold Beaches brings a slightly different, but equally enjoyable, sound that mixes elements of garage and psych rock with surf pop. You're in for a fun night of catchy, yet simultaneously deep, music if you head to the Golden Dagger on Aug. 19.
Elton Aura + Chris Banks at The Hideout
Aug. 28 at 9 p.m.
Get tickets
Chicago has deep roots in Gospel and rap music — and has been the launching pad for countless artists in these genres. Elton Aura, like many who ultimately find their voice in rap and hip-hop, developed his chops early singing for his church choir as a child. While he has grown a lot since then, those roots can still be found in the joy and energy he brings to the stage and song writing. Chris Banks is a Chi City DJ who has put in the work to refine his craft, with a knack for nailing the vibe of a night. Not only will you get to enjoy the talents of these two local artists, but you'll also get to do it at one of the best small venues in the entire city.
BNNY at the Empty Bottle
Sept. 2 at 9:30 p.m.
Get tickets
It's incredibly special, but rare, when an artist can find a fresh sound. Chicago seems to be a breeding ground for such projects, of which BNNY certainly fits the bill. Specializing in bite-sized songs that provide the sustenance of a full meal, BNNY blendsemotional instrumentation and lyricism without the pretension. There's a feeling of nostalgia present in the songs — almost as if they could be part of the soundtrack for a David Lynch film — though they still hold a totally modern feel. The Empty Bottle is another small venue essential to Chicago music that deserves your patronage.
Whether you end up attending one of these events, or one of the countless others lined up for Chicago In Tune, it's worth checking out thecomprehensive list of upcoming Chicago in Tune shows. This is the perfect opportunity to celebrate what the people who love this city know it's all about: creating beautiful things together.