Chicago is my kind of pizza town: pizza parlors offer some of the best pieces of the pie in the world. From one of our city's greatest inventions — deep dish pizza — to crispy, delightful thin crust delights, you'll find a pizza to fit your style. On the heels of National Pizza Week (and in anticipation of National Pizza Day in February!), here are my family's picks for Chicago's very best pizza parlors.
Pizzeria Uno
Deep dish pizza is a beloved Chicago icon, deeply embedded in our city's culinary history. The thick, tall, golden crust, generously piled with mozzarella cheese then topped with chunky tomato sauce makes Chicago-style deep-dish pizza more of a decadent pie than a plain old pizza. If you're looking to taste one, you need to go to the place where they were born, way back in 1943: Pizzeria Uno, the original home of Chicago's forever mouthwatering deep dish pizza.
Housed in a the Victorian mansion that once belonged to lumber magnate Nathan Mears, Pizzeria Uno is always packed to the brim with pizza-hungry patrons. There is usually room at the bar, where you can order a slice or an entire pizza; once upon a time bartenders here gave beer guzzling barflies free slices of the mysterious new pizza to drum up business. The decor is casual and simple — everyone is too focused on the the pizzas at the center of every table.
It takes longer to bake a deep dish pizza — about an hours — so olive cornmeal is sprinkled in the large pan to insulate the crust and calls for a thick layer of toppings protecting the cheese as it slowly melts. Because of this, wait times are longer, though you can always count on an unforgettably delicious pizza, piping hot and oozing with cheese, arriving on your table in just under an hour. 29 E. Ohio St.
Chicago Pizza and Oven Grinder Co.

Housed in a beautiful Victorian, the Chicago Pizza and Oven Grinder Co. is known for its unique take on pizza: the Pizza Pot Pie. Since 1972, the masses have been arriving, mouths watering, to dig into these individual pizza pies, "made from scratch" with triple-raised Sicilian bread-type dough; a homemade sauce consisting of olive oil, fresh garlic, onions, green peppers, whole plum tomatoes and a special blend of cheeses; sausage made from prime Boston butts; and doorknob-size, whole, fresh mushrooms. (Vegetarian pizza pot pie may be special ordered.). Chicago's Pizza and Oven Grinder's Co. does not take reservations so expect a wait on the weekends. Trust us: the wait for one of these indulgent, unique pies is well worth it! 2121 N. Clark St.
Home Run Inn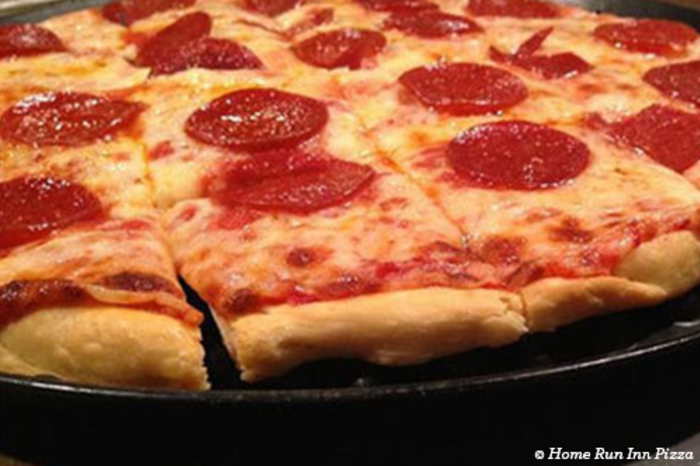 Home Run Inn Pizza is a Chicago favorite since 1947. You'll want to order a thin crust pizza here: Home Run Inn is famous for its thin, buttery, cracker like crust. Fresh tomato sauce and abundant cheese make it one of the best pies you'll ever bite into.
Their newest Lakeview restaurant is housed in a historic 5,500 square-foot building with natural brick, wood ceilings and hard wood floors with a pub-like atmosphere that showcases a large U-shaped bar where you'll find 16 beers on tap! Specialty pizzas here include The 1947, with sausage, caramelized onions and sautéed mushrooms; and Chicago's Best, with sausage, pepperoni and smoked bacon. Save room for one of the many delectable desserts, including Home Run Inn's Ghirardelli Chocolate Bomb, a rich chocolate cupcake with chocolate chips, topped with creamy mousse and chocolate fudge. 3215 N. Sheffield Ave.
Spacca Napoli
Inspired "by the authentic aroma, taste, and craft of pizza found on the streets and in the pizzerias in Naples," Spacca Napoli Pizzeria offers the most traditional, Italian-style pizzas in the city. Ultra thin-crust pizzas arrive piping hot to your table from the forno al legno (wood-burning oven) and topped with fresh, top-quality cheeses and seasonal delights. Go the extra mile and order the Bufalina, which features buffalo mozzarella in place of standard, American-style mozzarella. 1769 W. Sunnyside Ave.