The fascinating exhibit Romanticism to Ruin: Two Lost Works of Sullivan and Wright is on view through Dec. 18 at Wrightwood 659 in Lincoln Park. This dual exhibition brings to life two long-gone architectural masterpieces — Louis Sullivan's innovative Garrick Theatre and Frank Lloyd Wright's unprecedented Larkin Building — through digital recreations, archival photographs by noted preservationist Richard Nickel, and historic artifacts that include original ornamentation and furniture. The exhibit illustrates the importance of both iconic buildings, and how their loss helped spark a nationwide conversation that led to the National Historic Preservation Act of 1966.
Reconstructing the Garrick: Adler & Sullivan's Lost Masterpiece
This two-floor section of the exhibition traces the history of the Garrick Theater, designed by legendary architects Louis Sullivan and Dankmar Adler. It opened in Chicago in 1892, just a year before the city hosted the World's Fair. The Garrick melded technology and creative architectural practices in completely new ways, and was considered to be a technological marvel at the time. The 1,300-seat theatre included a proscenium with a series of magnificent arches that were embellished with Sullivan's trademark "star-pod" ornamentation. It was also noted for its lavishly decorated exterior, featuring a second-floor loggia adorned with terracotta busts of 12 poets and composers. 
Curated by a Chicago-based team led by architect and preservationist John Vinci, Reconstructing the Garrick explores Sullivan's technological innovations. On the second floor visitors can virtually experience walking through the theatre, via an immersive digital animation, which illustrates what the iconic building was like during its heyday, when the Garrick hosted big names like Billie Holliday and Duke Ellington. Architectural ornamentation and fragments salvaged by late photographer Nickel and a team of preservationists during the building's demolition help give visitors a real sense of the building's grandeur.
The third floor of the gallery has a somber tone, featuring haunting large-scale images of the once-grand Garrick as it's being demolished. It also includes ephemera and other documentation that shed light on the social history of the theatre and the then-nascent preservation movement.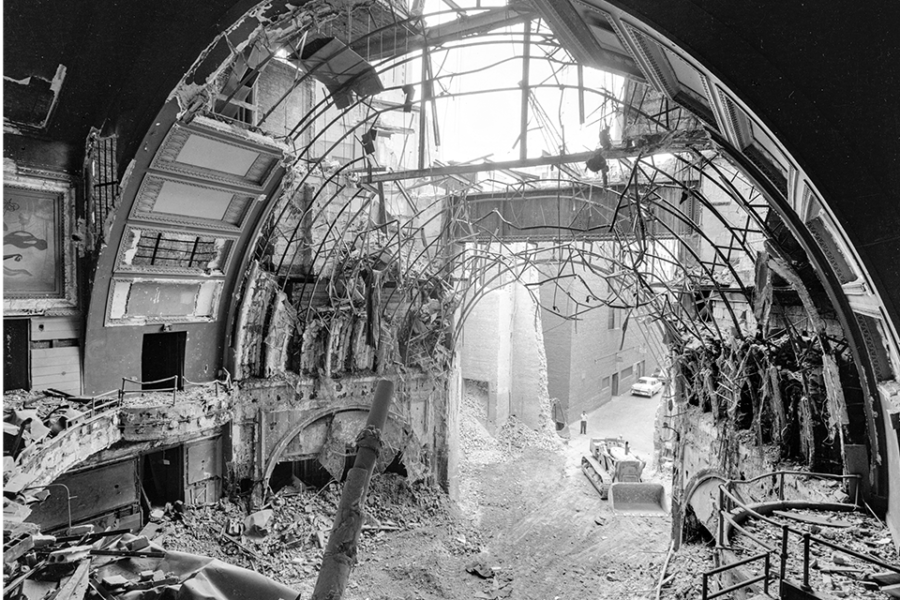 Reimagining the Larkin: Frank Lloyd Wright's Modern Icon
Founded in 1875 as a small soap company in Buffalo, New York, the Larkin Company grew into a prosperous mail-order conglomerate. Its success enabled the company to commission forward-thinking architect Frank Lloyd Wright to design the Larkin headquarters building in 1906.
Curated by Jonathan D. Katz, Associate Professor at the University of Pennsylvania, this section of the Romanticism to Ruin exhibit explores the Larkin Building and its marriage between Arts and Crafts ideologies and new technologies during a time of increasing industrialization. Wright's utopian architectural ideals were matched by Larkin's views on how factories should be run. Highly progressive for its time, the Larkin Company established employee benefits and provided humane working conditions for its largely female workforce.
Reimagining the Larkin features 3D models, digital recreations, and original objects from the Larkin Building, including Wright-designed desks and his early modular filing systems juxtaposed against dramatic, 20-foot-tall images of employees at work. Historical documentation traces the design, construction, and demise of the company headquarters. Artifacts include original Larkin Company products, such as its prized Deldare ceramics produced by Buffalo Pottery.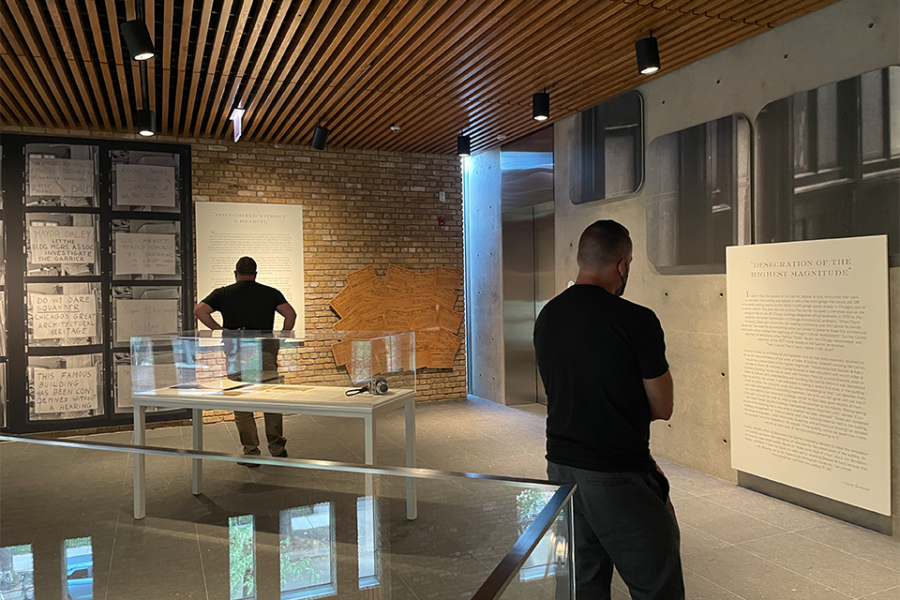 Tickets
Romanticism to Ruin: Two Lost Works of Sullivan and Wright is presented by the Alphawood Foundation Chicago on Fridays and Saturdays through Dec. 18 at 659 W. Wrightwood Ave. Tickets for the exhibition are $15 and available online only. Admission is by advance ticket only; walk-ups are not permitted. Masks are required.