You can experience Mexican influences all over Chicago, from the taquerias and tamale carts in Little Village to the colorful murals in Pilsen and beyond. And one of the best times to experience this rich heritage is during Día de los Muertos, or Day of the Dead.
This traditional holiday, celebrated from Oct. 31 – Nov. 2, 2019, is a time to both remember and celebrate those we've lost. The belief is that, as the boundary between the spirit world and the living world dissolves for this brief time, the souls of the dead return to us and get to enjoy special foods and other offerings left for them, whether at their graves or in altars within homes.
Check out these events around the city to experience the traditions of Día de los Muertos.
Day of the Dead Xicágo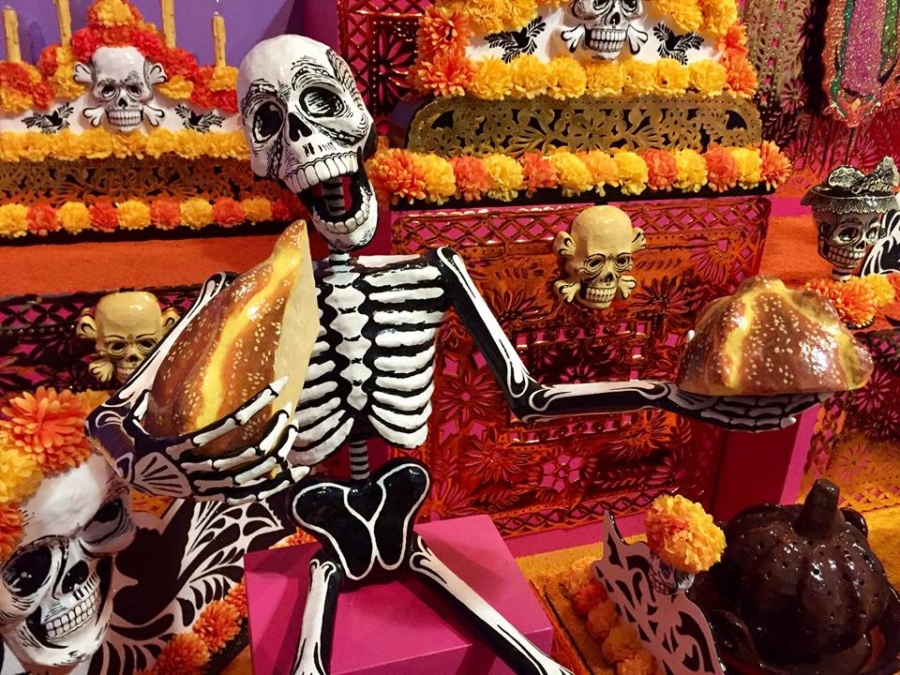 Could there be a better place to learn about Day of the Dead than the National Museum of Mexican Art in Pilsen? The museum is hosting its 33rd annual exhibit of both traditional and contemporary ofrendas — traditional altars that honor the memory of lost ancestors —  through Dec. 8.
If you want to experience a full celebration, then head to the museum on Sunday, Oct. 27 for their Day of the Dead Xicágo event. The community will come together to transform both the museum and neighboring Harrison Park into a place to remember the departed. Attendees are invited to create an ofrenda to honor their loved one, or to share a photo of them to be added to a photo mural projected on the outside of the museum. Plus, there will be music, face painting, art, and pan de muerto.
Oct. 27, 3 – 8 p.m.
National Museum of Mexican Art, 1852 W. 19th St.
Free, all ages
Sugar skulls and treats for all ages
Whether you're a parent wanting to share Mexico's rich traditions with your little one or an adult looking to learn more while sharing a drink with friends, Aras Dulce Michoacán has you covered. This Albany Park store specializing in piñatas and Mexican candies is hosting two sugar skull decorating events, complete with cookies and Mexican hot chocolate. One is for adults, who are encouraged to BYOB, while the other is open to families.
Oct. 17, 6:30 p.m. for adults
Oct. 19, 10 a.m. for families
Aras Dulce Michoacán, 3447 W. Lawrence Ave.
Tickets: $25 for BYOB workshop; $20 for family workshop
Skull Painting Workshop for adults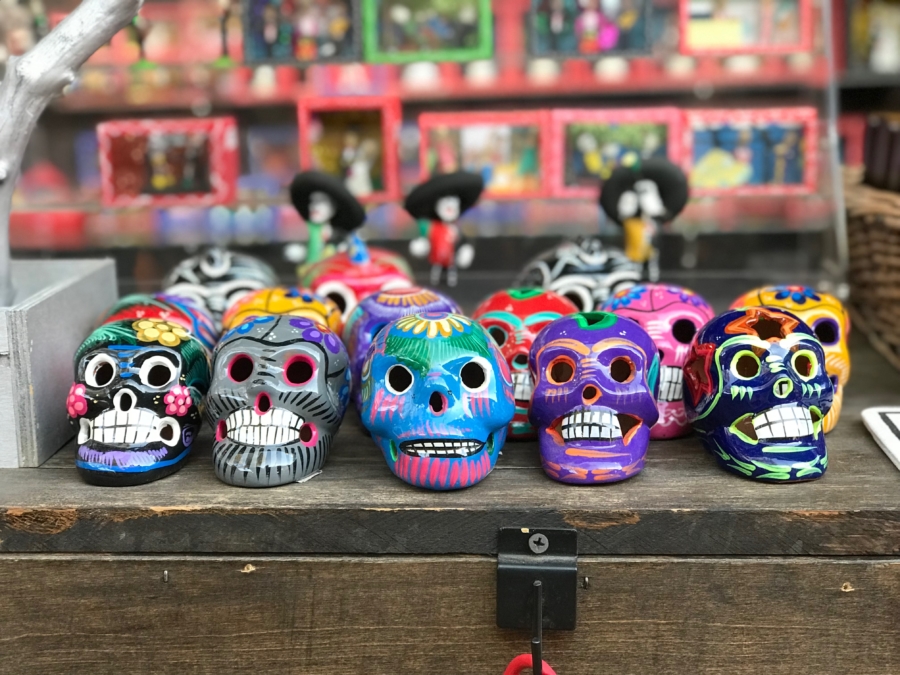 While skulls made of sugar are traditional for the Day of the Dead, in this mixed media workshop you'll decorate a ceramic skull — all the better to keep from year to year. Pay homage to loved ones by decorating it with everything from paint to gemstones to glitter. Attendees are invited to bring a photo of their loved one to place on the altar. The workshop is BYOB and pan de muerto and tamales will be served.
Oct. 25, 7 – 9 p.m.
Workshop 4200, 4200 W. Diversey Ave.
Tickets: $35, adults 21+
Catrina Workshop
Whether you know they're called catrinas or not, you're probably familiar with the elegant skeletons decked out in gowns and feathered hats that are a well-known element of Day of the Dead. Learn more about this powerful female symbol of death and get a chance to decorate a catrina yourself at this workshop led by a Mexican artist and presented by Pilsen-based nonprofit Casa Michoacán and the Chicago Cultural Alliance.
Oct. 19, 2 – 5 p.m.
Casa Michoacán, 1638 S. Blue Island Ave.
Tickets: $10
Love Never Dies Ball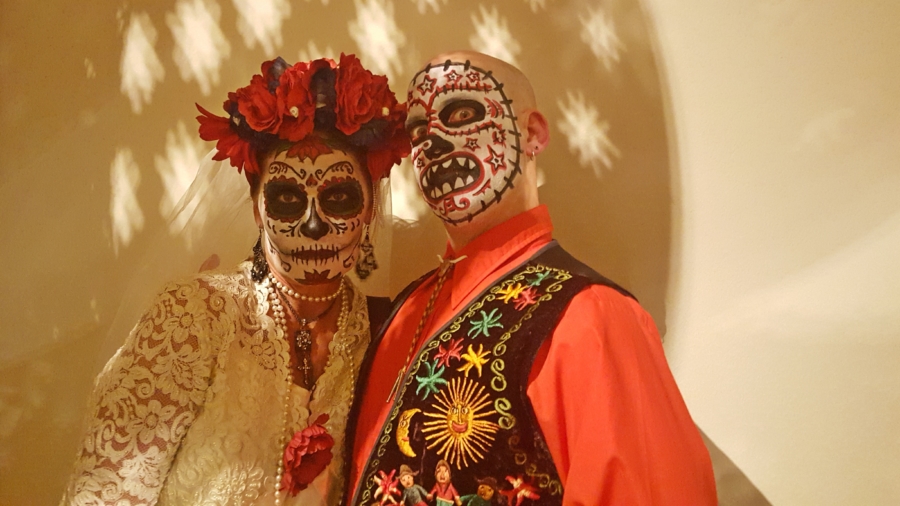 If you really want to get into the spirit, get dolled up for the Love Never Dies Ball at the National Museum of Mexican Art. As the name implies, the ball is both a celebration of life and pay tribute to the muertos. You'll get to experience live music, sugar skull face painting, food and beverages, and also have the opportunity to win prizes. All of the proceeds support the museum's year-round programming.
Nov. 2, 6 – 10 p.m.
National Museum of Mexican Art, 1852 W. 19th St.
Tickets: $125 – $150, adults 21+
Brew-Ja Crawl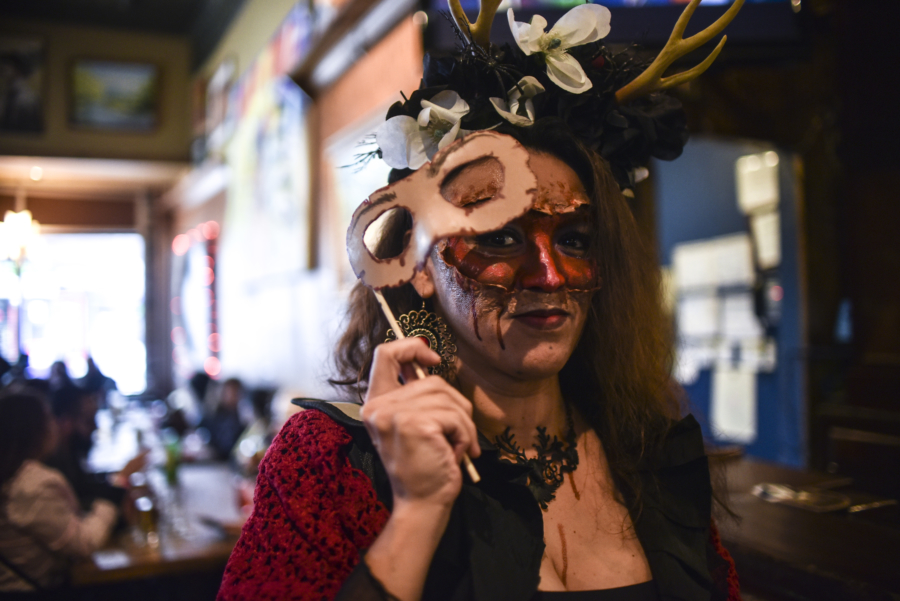 Join the fourth annual Brew-Ja Crawl to experience the lively atmosphere of Pilsen during Día de los Muertos. Hop on the trolley or stroll down 18th Street, stopping into bars and restaurants for food, live music, and cocktails. Your ticket will get you one craft beer or cocktail at each stop, along with access to the trolley and food and drink specials. Don't forget to wear your Halloween or Day of the Dead finest.
Nov. 2, 12 – 6 p.m. 
18th Street in Pilsen
Tickets: $35 – $45, adults 21+