Looking for things to do at home? Just because you're staying inside, doesn't mean you can't experience all the fun things Chicago has to offer. The city has tons of virtual events to keep you busy all month long, from online film screenings to digital architecture tours to live streams from legendary comedy clubs and magic lounges.
Explore some upcoming online happenings and view the full virtual events calendar. Plus, check out some virtual Chicago experiences you can do anytime.

Virtual tours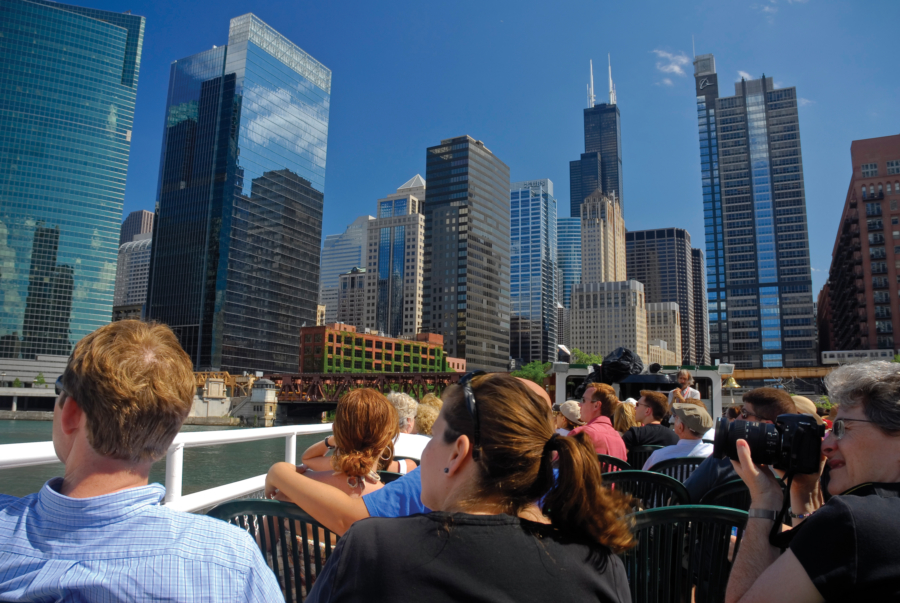 Inside Chicago virtual architecture tours
Inside Chicago Walking Tours is offering free virtual tours using Zoom, Google Street View, and their extensive collection of Chicago photography. Join them every Friday, Saturday, and Sunday throughout May to explore the city's best interiors and historic spots from your own home. Space is limited and registration is required.

History tour of Lincoln Park Zoo with Mysterious Chicago
Join author and historian Adam Selzer of Mysterious Chicago Tours as he leads you through a virtual history tour of one of the oldest zoos in the country. Lincoln Park Zoo is packed with fascinating history, from mysterious missing statues to relics from the Great Chicago Fire to interesting architectural finds. Check out all of Lincoln Park Zoo's exciting virtual events.
Chicago Detours virtual architecture tours
Learn about Chicago's iconic architecture without leaving your couch. Chicago Detours will be hosting virtual tours on weekends at 1 p.m. These 40-minute online tours are led by professional tour guides who will share unique perspectives on local architecture in the city's neighborhoods and downtown. Their first May tour is a virtual boat tour along the Chicago River.
They'll also be hosting Historic Happy Hour for Curious People on weekdays at 6 p.m. These fun, 20-minute webinars offer a quick hit of fascinating Chicago history. All Chicago Detour's virtual tours and webinars are free, with a $5 – $15 suggested donation.
Chica-go Off the Beaten Path virtual tour
Join Chica-go Off the Beaten Path for their first virtual tour with Vamonde and discover highlights and hidden gems of the thriving West Loop neighborhood.
Performances & live streams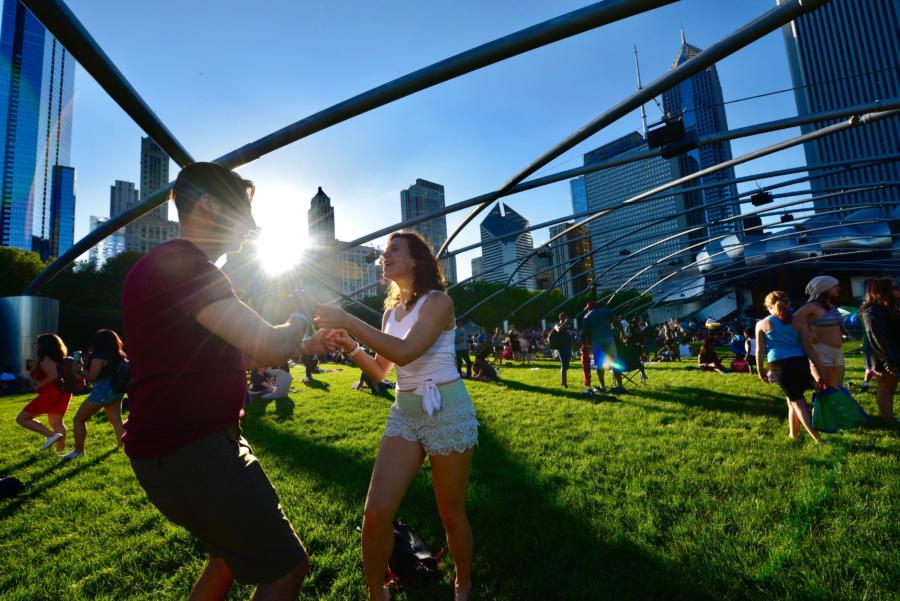 Millennium Park at Home
This new virtual event series begins Memorial Day weekend with a DJ house mix on what would have been Chicago's House Music Festival. In honor of Gospel Music Festival, some of Chicago's most renowned gospel artists will still bring the spirit through social media on May 29 and 30. And enjoy live Chicago blues online June 5 – 7, the original dates for the legendary Chicago Blues Fest.
Chicago Architecture Center virtual film festival
Join the Chicago Architecture Center and the Music Box Theatre for a four-day, at-home film festival exploring how filmmakers use architecture to tell extraordinary stories. Stream the movies at home from May 22 – 25. Plus, join CAC staff and guest experts for discussions and enjoy themed cocktail recipes to pair with each film.
Chicago Public Library children's story time
The libraries may be closed for now, but they'll still be hosting a daily story time featuring Chicago's most beloved public figures, including President Barack Obama and First Lady Michelle Obama, Oprah Winfrey, The Second City and Steppenwolf Theatre Company performers, Cubs and Blackhawks players, and more. Tune in to their Facebook and Instagram pages each morning at 10 a.m.
Art on theMART stream
Art on theMART is the world's largest video projection, projecting one-of-a-kind artwork to the facade of theMART along the Chicago River. While this year's projections has been postponed, you can still watch the mesmerizing display via an online stream on May 13. The 35-minute program features iconic art from the Art Institute of Chicago, including works by Georgia O'Keeffe, Georges-Pierre Seurat, Vincent van Gogh, and more.
Hubbard Street Dance Company virtual series finale
Hubbard Street Dance presents Hubbard Street Unbound: A Virtual Season Finale, a two-week series of virtual events running May 23 – June 5.  It includes performances of new work by Peter Chu and Robyn Mineko Williams and the dancers, all created during the pandemic, plus other short films, conversations with creatives, and Instagram takeovers.
American Writers Museum storytime
Little Squirrel Storytime, American Writers Museum's popular weekly storytelling program for kids, takes place every Saturday at 10:30 am. Watch and listen on the American Writers Museum's Facebook page as three guest storytellers each read a children's story.
Auditorium Theatre live performances
The historic Auditorium Theatre is one of the city's most stunning performance venues. On Sundays, the theatre will be live streaming performances on their Facebook page featuring singers, musicians, and dancers from the Auditorium Theatre community. The broadcasts will then be available on their Instagram, Twitter, and YouTube accounts. And don't miss their new #AudTalks video chat series on social media and podcast platforms.
The Second City online performances
One of the world's most famous comedy groups will be hosting live-streamed comedy performances, featuring The Second City talent and alumni. The live streams, dubbed Improv House Party, will allow the audience at home to participate and give suggestions to the performers. Watch their Facebook page for more information on upcoming performances each week.
Chicago Magic Lounge virtual cocktail hour
The Chicago Magic Lounge will be hosting virtual cocktail hours featuring their mind-blowing magical talent. These free online events will include close-up magic, audience interaction, and lots of laughter. Keep an eye on their Facebook page around May 11 for upcoming performances, and make sure to sign up beforehand for guaranteed entry. 
The Magic Parlour online performances
Dennis Watkins, the famed Chicago magician of The Magic Parlour inside the Palmer House hotel, is presenting a weekly magic series. On select Thursday evenings, Watkins will perform a live show modeled after the VIP experience at The Magic Parlour. The next event is on Thursday, May 14. And check out his Magic Monday videos that teach viewers simple magic tricks, along with the history behind them.
Gene Siskel Film Center film screenings
The Gene Siskel Film Center is presenting the streaming series Film Center from Your Sofa. The limited-time series will showcase new and noteworthy films, from indie favorites to Oscar winners. Each week viewers can choose from a new selection of independent, international, and classic cinema. All proceeds will help the Film Center and partner distributors.
Belmont Theatre District
The Belmont Theater District, a bustling Lakeview area with dozens of unique local theaters, is launching a wide array of online events to fill your social distancing schedule. Check out live shows from ComedySportz, remote performances from Theater Wit, and limited-time streams of past performances from TimeLine Theatre Company.
Stony Island Arts Bank
This South Shore community center has taken their events online. Participate in live soul-healing sessions with artist Stacy Patrice, listen to a quarantine concert, or attend a virtual Sunday Service with DJ in Residence Duane Powell's weekly playlists.
Paint the Town Red virtual concert
The nationally recognized Chicago Children's Choir will be performing their popular Paint the Town Red concert virtually this year on May 21. The 5,000 young singers from all over Chicago will be joined by Mayor Lori Lightfoot, Chance the Rapper, Common, and more special guests. The concert will end with "We Shall Overcome" at 8 p.m. in tandem with the country's nightly #Solidarityat8 program.
Online workshops & classes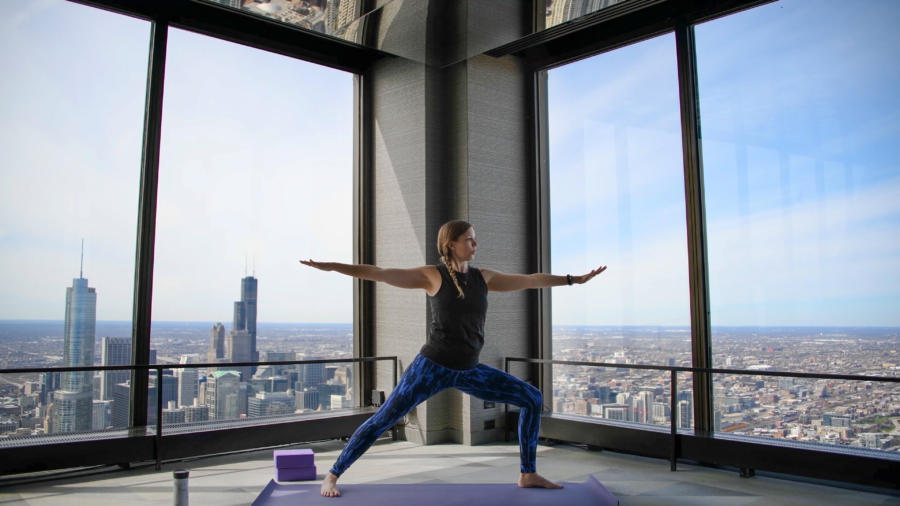 360 Sky Yoga
Practice your sun salutations with 360 CHICAGO's online yoga classes. Their sky-high series is back with virtual sessions beginning on May 5. Instructors will lead viewers through hour-long sessions on Facebook Live every Tuesday at 6 p.m.   
The Second City online stand-up classes
Ever think about trying your own hand at comedy? Learn the basics to writing and performing stand-up comedy from the comfort of your own home with The Second City team. Students from all over will be paired with a group of fellow soon-to-be comedians and an expert instructor in their brand new online stand-up classes.
Chicago Architecture Center online program
If you're an architecture enthusiast, you'll want to check out the Chicago Architecture Center's new CAC Live series. The program features more than a dozen live virtual events that explore different aspects of Chicago architecture. A few upcoming standouts include The Rise of the Skyscraper and Chicago Public Art Stories. CAC Live events are free to current CAC members and non-members are welcome to join most CAC Live events for just $8 plus fees.
Annoyance Theatre online classes
The Annoyance Training Center has gone totally virtual. Whether you're thinking of starting a side gig or picking up a new hobby, these online theatre courses cover a wide variety of improv and acting skills. Learn about the basics of stand up, voice overs, puppetry, storytelling, making props, and even producing and touring your own solo show.
Poetry Foundation workshops and book club
The Poetry Foundation has taken their mission of discovering and celebrating poetry online. They'll be leading new online poetry workshops led by author Maggie Queeney. The virtual events will be part discussion, part creative writing seminar that explore poetry comics, metaphor, and repetition. All are welcome but space is limited, so be sure to register in advance. 
American Writers Museum webinars
The American Writers Museum is hosting a conversation series in conjunction with their now-online exhibit, My America: Immigrant and Refugee Writers Today. The webinars will feature leading writers and expand on the themes discussed in the exhibit. This virtual program is free and open to the public, but spots are limited though so sign up today!

Steppenwolf Theatre virtual workshops
Steppenwolf Theatre, one of the city's most acclaimed storefront theatres, is providing a variety of ways to connect with their productions and cast virtually. All month long, they'll be offering free virtual workshops for young people and educators. The teen workshops, which will take place every other Wednesday, cover playwriting skills and Q&As with ensemble members. On Thursdays, virtual workshops for teachers will share tips to bring back to the classroom.
Culinary events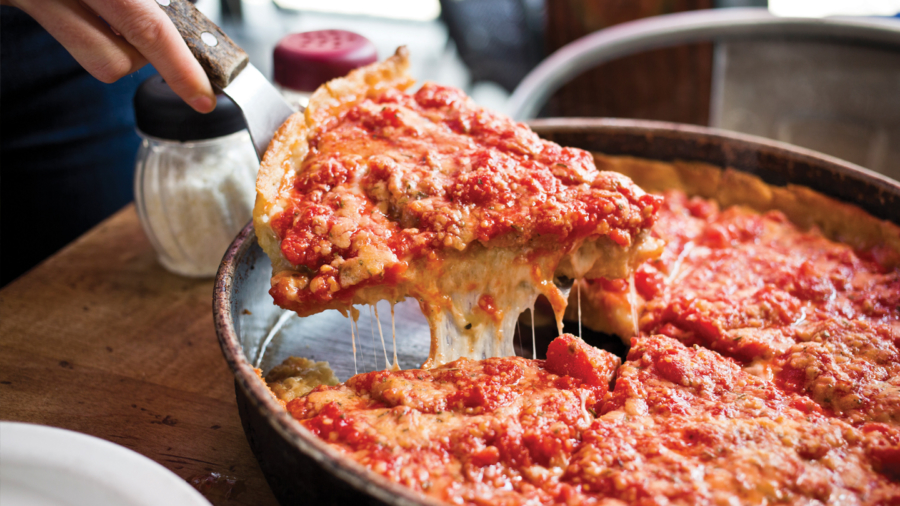 Bobby's Bike Hike virtual food tour series
Get a taste of classic Chicago at home while learning about fascinating local food history. This virtual food tour series will be an informative, interactive live experience led by knowledgeable guides. Each event focuses on a different iconic Chicago food, including deep dish pizza, Italian beef, Chicago style hot dogs, steakhouses, and more. The virtual tours will be held weekly on Fridays.
The Violet Hour virtual cocktail class
Celebrate a birthday, graduation, or other milestone with a virtual cocktail class from The Violet Hour. The one-hour private classes, designed for groups of 10 or more, includes a cocktail kit for each guest that can be picked up at The Violet Hour.
Chicago Beer Experience virtual beer tasting class
Learn the basics of beer with a virtual hoppy hour beer tasting class from the folks at Chicago Beer Experience. Your guide will share suggested tastings before the class, so you can stock up ahead of time. Then he'll guide you through a fun and informative session, including local beer history and a live Q&A.
Wine Wednesdays with Spiaggia
Rachael Lowe, sommelier and beverage director at Michelin-starred Spiaggia, is hosting a weekly wine series. Tune in to Virtual Wine Wednesdays for a guided wine tasting — you can order the wines ahead of time if you want to follow along at home. Upcoming themes include Rosé All Day Outdoor Tasting, Best Bachelorette Party Wines, Wines & BBQ, and more.
The Chopping Block
Brush up on your skills in the kitchen with virtual cooking classes from the pros at The Chopping Block. Learn how to make classic cocktails in Bourbon 101, get tips for working the grill this summer, and tackle your culinary bucket list with demos for show-stopping dishes like shrimp risotto and lemon meringue pie.
Eataly's Virtual Wine & Cheese Fest
Don't miss Eataly's first ever Virtual Wine & Cheese Fest on Saturday, May 30, via Instagram Live. You have until Monday, May 25 to order your tasting kit, stocked with everything you need to recreate your own wine & cheese tasting at home, including bottles of wine, cheeses, housemade focaccia, and tasting notes.

Looking for more things to do? Explore virtual Chicago experiences that you can do anytime.