As summer comes to Chicago, there's no better way to cool off than indulging in a frozen treat. Luckily, our city boasts a vibrant array of ice cream shops, with options for ice cream enthusiasts of all preferences. So whether you're a vegan searching for dairy-free delights, a devoted chocolate lover seeking decadent creations, or an avid Instagrammer pursuing the most picture-perfect scoops, Chicago has something to satisfy every sweet tooth.
Let's explore Chicago's premier ice cream shops, offering tempting flavors and unforgettable frozen experiences.
For an Instagram-worthy treat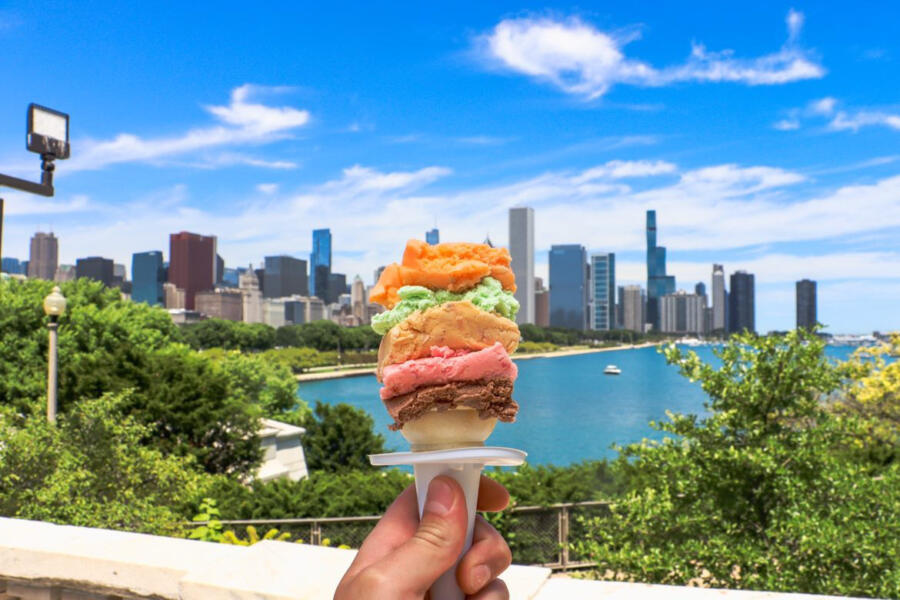 The Original Rainbow Cone is a Chicago institution famous for its unique five-flavor cone. Enjoy layers of chocolate, strawberry, Palmer House (New York vanilla with cherries and walnuts), pistachio, and orange sherbet sliced and stacked into a single cone, creating a delightful blend of flavors.
Inspired by the classic childhood treats we loved from ice cream trucks,Pretty Cool Ice Cream specializes in tasty and visually captivating ice cream on a stick. With a focus on using high-quality ingredients and innovative techniques, ice cream lovers will find a variety of artisanal ice creams and popsicles in a host of creative flavors.
For an old-school experience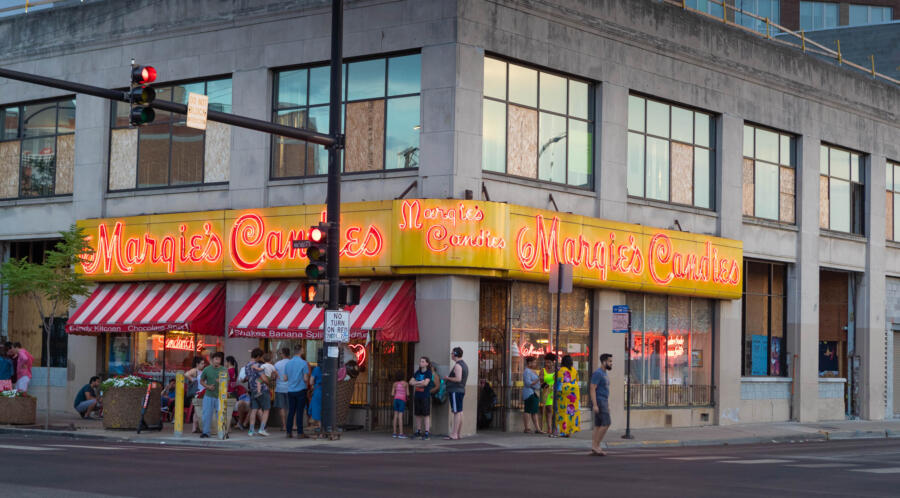 Margie's Candy is a beloved Chicago institution that has been serving up delightful ice cream since 1921. Step into this charming spot with locations in Loga Square and Ravenswood and experience the nostalgia of yesteryears. Indulge in their handmade ice cream, shakes, hand-dipped candies, and famous hot fudge sundaes for a truly decadent treat.
Lickity Splitis a whimsical ice cream shop in the Edgewater neighborhood that transports visitors to an old-school candy shop. With its vibrant and playful atmosphere, this sweet haven offers a wide array of frozen custard flavors and toppings for sundaes, banana splits, and concretes. In addition, they offer retro candy.
Scooter's Frozen Custard, the oldest frozen custard shop in Chicago, is renowned for its velvety and luscious custard, crafted fresh daily in the store for customers to watch. There's always something new to try with a different featured flavor available daily at this Lakeview scoop shop.
Annette's Italian Ice is a premier Italian ice and ice cream shop in Lincoln Park. Experience pure delight as you savor their refreshing Italian ice, meticulously crafted daily using the freshest fruits, pure cane sugar, and water. Or indulge in their extensive selection of over 30 mouthwatering ice cream flavors!
For chocolate lovers
Kilwins at Navy Pier Chicago is a haven for ice cream enthusiasts. The shop offers a nostalgic experience with handmade ice cream and handcrafted chocolate treats. Choose from classic favorites like vanilla and chocolate to creative combinations like sea salt caramel and mint chocolate chip. As a bonus, the Navy Pier location offers treat seekers the opportunity to enjoy their ice cream on the waterfront.
Ghirardelli Ice Cream and Chocolate Shop on The Magnificent Mile is a chocolate lover's paradise! Upon arrival, you'll be greeted by the irresistible aroma of chocolate. Indulge in ice cream made with real Ghirardelli chocolate and grab a few treats from their wide selection of delectable sweets.
For an Asian-inspired treat
Kurimu makes their Japanese-inspired flavored ice cream fresh in-house daily at their Wicker Park and Little Italy locations. They produce a constantly changing selection of unique flavors for adventurous palates, such as matcha green tea, creamy avocado, and black sesame.
Legend Tasty House in the heart of Chinatown brings the flavors from the streets of Thailand. Their popular rolled ice cream is a local favorite, with flavors like passion fruit, taro, coffee, banana and nutella, and more. They also offer milk tea and smoothies.
For non-dairy options
Ida's Artisan Ice Cream and Treats is known for its artisanal approach to vegan ice cream offering a variety of unique and creative flavors that will excite your taste buds. Also, try their seasonal specials and homemade treats that complement their delicious ice cream. The shop will be opening a brand new storefront soon.
Vaca's Creamery came to life from the owner's passion for crafting exceptional vegan ice cream, made with high-quality oat milk. Their ice cream, sauces, and toppings are all produced in-house with high-quality ingredients. So pop in their Wicker Park or Lincoln Square shop to treat yourself!
For creative flavors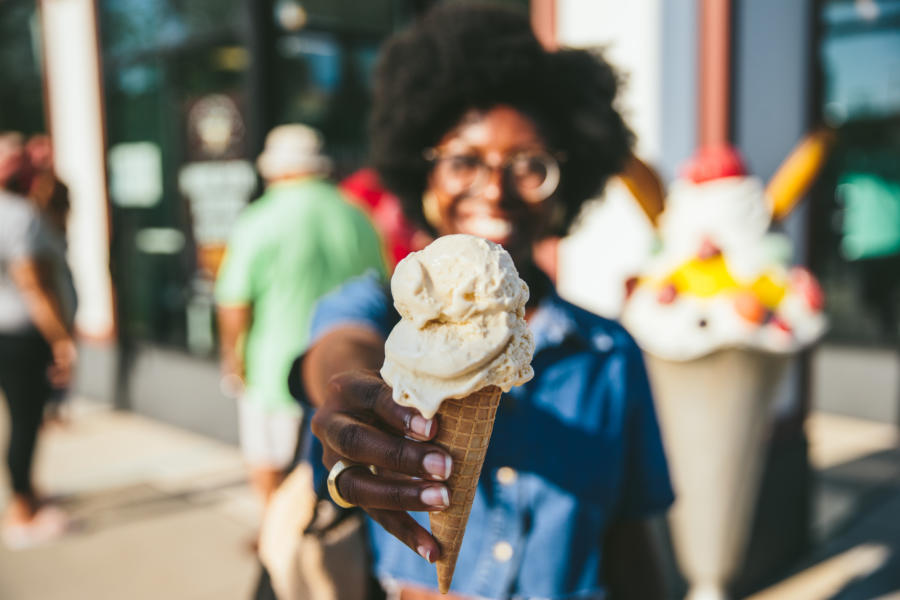 Shawn Michelle's, a family-owned establishment in Bronzeville, takes great pride in crafting exceptional ice cream using premium ingredients and time-honored techniques. Indulge in their sophisticated and indulgent flavors, such as Bourbon Butter Pecan and Salted Caramel Pretzel, for a truly elevated dessert experience.
Black Dog Gelato combines distinctive flavors with a velvety texture for their inventive gelato creations. As they make their gelato fresh in the morning, visiting earlier in the day is advisable to ensure a complete selection. The goat cheese caramel cashew is an absolute favorite, and you must try it! Plus, there's a range of dairy-free options to select from.
Jeni's Splendid Ice Creams presents an extensive and constantly evolving assortment of premium ice creams. Delight your taste buds with their imaginative flavors, including everything bagel, sweet cream, biscuits, and peach jam, or pineapple upside-down cake. With multiple locations throughout Chicago, you have several opportunities to explore Jeni's mouthwatering offerings.
Bonus! Chicago's Museum of Ice Cream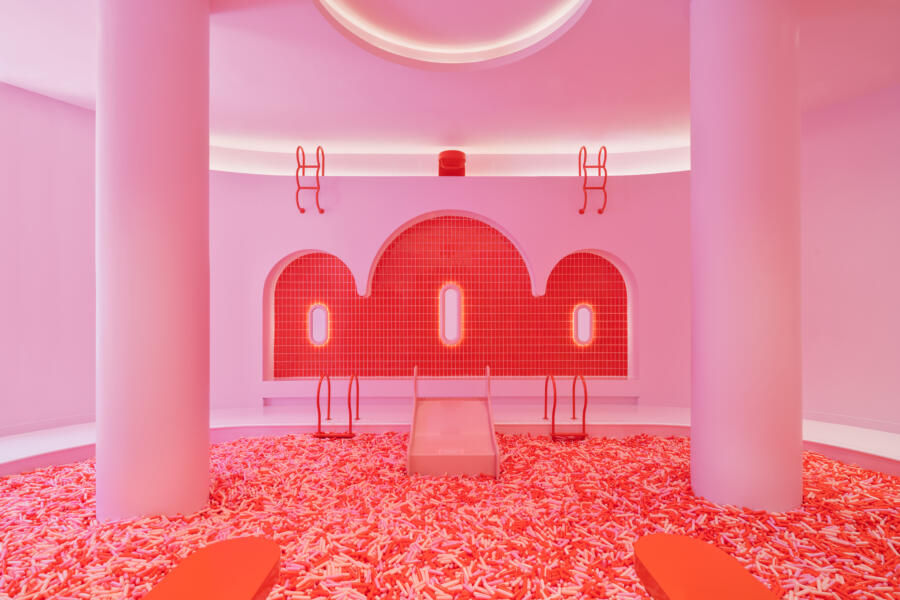 Visit the Museum of Ice Cream, an interactive pop-up museum that celebrates the joy and wonder of everyone's favorite frozen treat. Explore various themed rooms while taking a fun journey through the different aspects of ice cream culture. Each space offers unique photo opportunities and interactive elements that engage all the senses. The museum provides delicious samples of ice cream throughout the tour, including some unusual and imaginative creations exclusive to the museum.