A beer arcade or "beercade" is an arcade that serves beer or a bar specializing in vintage video and pinball games. As opposed to Dave & Busters and Gameworks, these beercades are small and independently owned. It's not entirely a new phenomenon to serve alcohol at an arcade, but these three venues reclaim older machines in good repair like Atari's Caterpillar, Space Invaders, Pac Man, Mrs. Pac Man, Mario Brothers, Duck Hunt, Mortal Combat and a dozen pinball machines ranging from Jurassic Park to a new Metallica and Avatar game.
Where these neighborhood joints differ is the old school arcade games, craft beer, and bring-you-own-food policy. No matter which one you venture to, these beercades pack them in. So get in line next to your favorite game and fortify yourself with a cold draft beer.
Emporium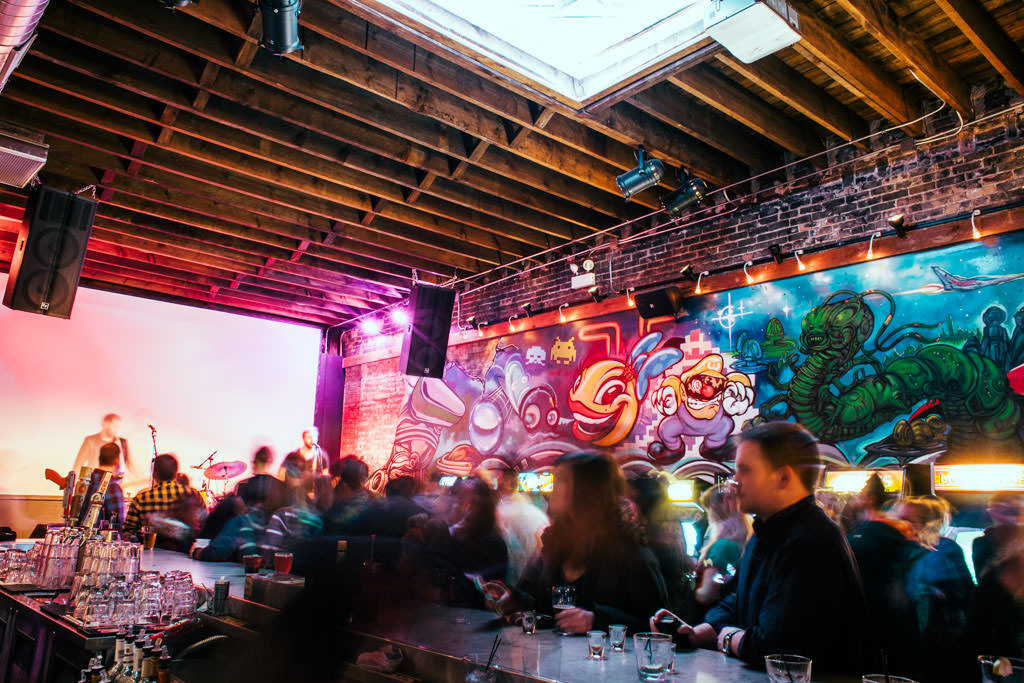 1366 N. Milwaukee Ave.
2363 N. Milwaukee Ave.
839 W. Fulton Market​
Emporium makes you nostalgic for traditional arcades, which might explain why the popular spot has expanded to three Chicago locations. To play the games, you'll need to exchange your cash for a cup of tokens (tokens are a quarter each; video games and pinball each cost one token, table games are two.)
All the beer here is on draft mostly from the Midwest, which will warm the heart of any beer aficionado. The bartenders here are knowledgeable about the beer selection, including which ones are locally produced. There's also an extensive list of whisky and bourbon, and if you're hungry, the bar is BYOF (bring your own food).
Headquarters
213 W. Institute
This beercade, a modern take on vintage arcades, is located in the buzzing River North neighborhood. While the surrounding area is dense with nightclubs and lounges, Headquarters promises a more laidback night with a high-energy vibe. The bar offers over 28 rotating drafts and 40 canned craft beers, plus a full food menu.
What sets Headquarters apart is the free play. No tokens are required on any machine, which means there's more money to drink with. That also means there can sometimes be a wait for a particular game, but with 65+ pinball and vintage arcade games there are plenty to choose from while you wait.
Replay
3439 N. Halsted St.
2833 N. Sheffield Ave.
This northside beercade has locations in Lakeview and Lincoln Park. The Halsted Street location is in the former home of Buck's Saloon, one of original gay bars in Boystown. The incredibly large back patio has a full bar serving the same 24 rotating craft beers on draft that are available at the front bar. The Sheffield location, in the former Headquarters space, has an equally spacious and funky vibe.
Both spots are in residential areas and draw in more of a neighborhood crowd, especially during the week. The games are free and the drinks are strong at both. The Lincoln Park location also hosts a popular series of themed pop-up events, like Game of Thrones and Friends nights.