In This Issue
---
A note from David Whitaker, President & CEO
Hello Everyone,
Wishing that everyone's end of year efforts and New Year celebrations were successful and enjoyable. Again, it cannot be stressed enough – a sincere thank you to each of you for your support of and cooperation with Choose Chicago.
As you can see in the By The Numbers section, the full-year STR data revealed that overall hotel room demand (rooms consumed) increased 2% in 2019. This was fueled by a growth of 5% in leisure demand. What's really encouraging when looking at the trend, leisure room demand has grown 19.2% in the past four years. Group demand ended the year as anticipated with a year-over-year decline of 4% (just over 152,000 room nights). Part of the excitement of the New Year is that once again the three really large semiannual trade shows that call Chicago home every two years will be returning in 2020. It is important to note as well that the 3.7 million room nights generated from group demand was by far the second-best year ever and compares quite favorably to group demand in 2016 and 2017.
Our team has already hosted the first major convention of the year in January with the very successful first-time visit of Amazon Web Services' incredibly special and impactful international convention welcoming tens of thousands of delegates. In addition, an extra note of congrats for all who collaborated to have AWS agree to return in 2021. No bigger example of this impact than STR preliminary data for the first two and a half weeks of January reflect a current increase of 16.6% increase in hotel room demand.
We have an exciting and challenging year ahead. In the coming months, I look forward to sharing with you all of the activities planned this year for our team and in many cases for and including you. Speaking of – another heartfelt thank you for those of you who joined us on January 23 for the incredibly successful (not to mention incredibly delicious) First Bites Bash kicking off Chicago Restaurant Week. Special thanks as well to our wonderful hosts at The Field Museum.
And speaking of important events, please do mark your calendar (recent electronic invites have been sent out seeking you to register) and hopefully plan to attend Choose Chicago's Annual Meeting on Tuesday, April 21st hosted at Wintrust Arena (Doors open at 2:00 pm). This year's event will be specifically themed around the recently announced "Year of Chicago Music" so be prepared to sing along as several surprises are in store. I am particularly proud to invite you to participate with your heart as well, as this year there is a $10 registration fee. All proceeds will be donated to a wonderful charity – Project I Am – and its amazing founder, Chicago's own Jahkil Nelson (recently highlighted globally on CNN's annual Hero's tribute). I encourage you to learn more about Project I Am by visiting officialprojectiam.com.
As our way of saying 'thank you,' please let us treat you to a beverage of your choice at a post-annual meeting reception.
Wishing you much success in the year ahead. Again thank you for being a part of the Choose Chicago family.
---



---
Partnership
The 13th annual Chicago Restaurant Week is now underway!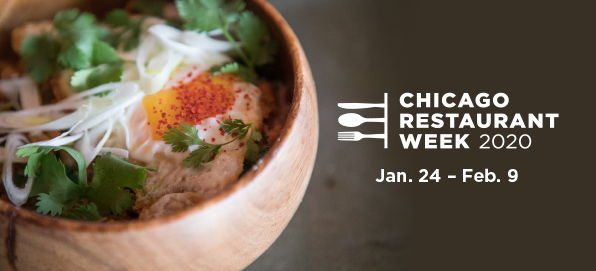 From January 24 – February 9, 2020, diners can reserve tables online for multi-course meals at their favorite Chicagoland eateries at eatitupchicago.com.
This year, the selection is record-breaking and greater than ever, with more than 400 restaurants participating, including 350+ restaurants in the city neighborhoods and 50 in the suburbs.
"Every year, Restaurant Week offers Chicagoans and visitors alike a unique opportunity to sample and savor the tastes, sights, and smells from every corner of our city," said Mayor Lori E. Lightfoot. "Chicago's well-deserved status as our nation's culinary capital is drawn from our city's multitude of cultures and the ingenuity of our chefs in all of our 77 communities, and I personally look forward to exploring some of our local eateries and discovering the hidden gems off the beaten path."
New restaurants participating in Chicago Restaurant Week 2020 include a range of hotspots, such as Maddon's Post (Wrigleyville), Offshore Rooftop and Bar (Streeterville), Tzuco (River North), Il Culaccino (McCormick Square), La Pizza & La Pasta at Eataly Chicago (River North), Cruz Blanca (West Loop), Indie Café (Edgewater), Mesler Chicago (Hyde Park), Queenie's Supper Club (Near West Side) and Time Out Market Chicago (Fulton Market). They join a long list of previously participating restaurants including Dusek's Board and Beer and Monnie Burke's (Pilsen). A complete list of participating restaurants and their curated menu offerings can be found here, and reservations are now open at eatitupchicago.com.
Chicago Restaurant Week offers visitors and local foodies an exciting opportunity to experience some of the area's most sought-after restaurants. For 17 consecutive and dining-packed days, participating restaurants showcase specially curated prix fixe menus with prices set at $24 for brunch and lunch, and $36 and/or $48 for dinner (excluding beverages, tax and gratuity). Lending an ideal reason to explore Chicago's nationally recognized culinary scene, diners can experience new, showstopping restaurants and familiar favorites alike.
"Chicago's restaurants and dining scene support thousands of jobs and serve as key drivers to our local, neighborhood economies," said Sam Toia, president and CEO of the Illinois Restaurant Association. "Restaurant Week plays an exciting role in connecting our restaurants with new diners as they expand their culinary and cultural horizons, both in new communities or close to home."
"The culinary talents across Chicago's neighborhoods are among our biggest draws for visitors from across the country and around the world," said David Whitaker, Choose Chicago President & CEO. "We are proud to showcase everything we have to offer to both visitors and locals over an incredible 17-days of dining."
The 2020 Chicago Restaurant Week program is sponsored by 100.3 FM WSHE, 101.9 FM The MIX, Chicago Transportation Authority, the James Beard Foundation, Metra, NBC Chicago, OpenTable, Pace, Regional Transportation Authority, and Telemundo Chicago.
Foodie fans are encouraged to follow @ChooseChicago on Facebook, Instagram and Twitter. Get social using #FirstBitesBash and #ChicagoRestaurantWeek.
---
First Bites Bash kicks off Chicago Restaurant Week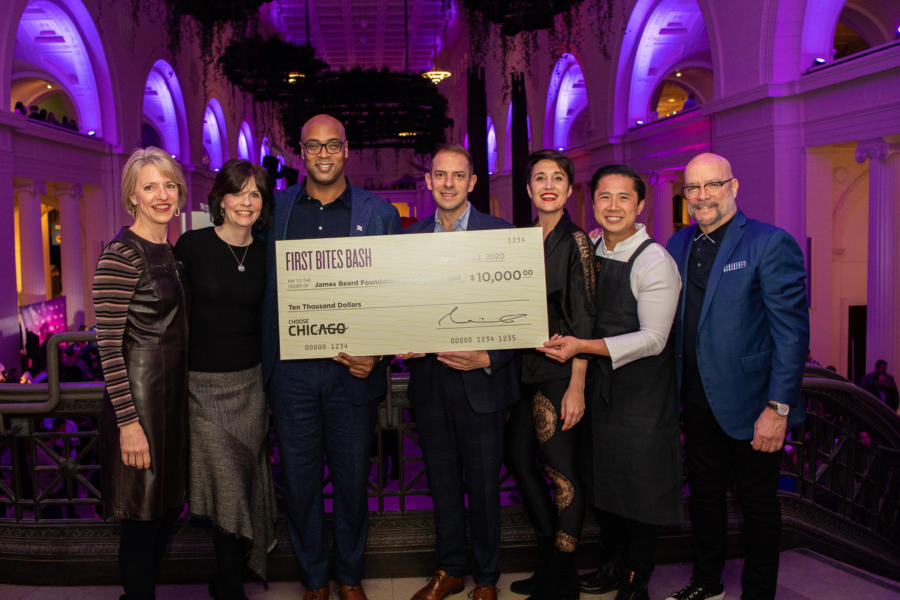 Left to right: Julie Marshall, Director of Fundraising Programs, James Beard Foundation; Mary Kay Bonoma, Executive Vice President, Illinois Restaurant Association; Glenn Eden, Board Chair, Choose Chicago; Kris Moon, Chief Operating Officer, James Beard Foundation; Danielle Dang, Owner, HaiSous (First Bites Bash host mixologist); Thai Dang, Executive Chef, HaiSous (First Bites Bash host chef); David Whitaker, President & CEO, Choose Chicago
Chicago Restaurant Week kicked off on Thursday, January 23, 2020 with the annual food festival First Bites Bash at the Field Museum. It was a family affair as Chef Thai Dang and wife and Director of Operations Danielle Dang of the award-winning HaiSous Vietnamese Kitchen and Cà Phê Dá in Chicago's Pilsen neighborhood served as the event's Host Chef and Host Mixologist.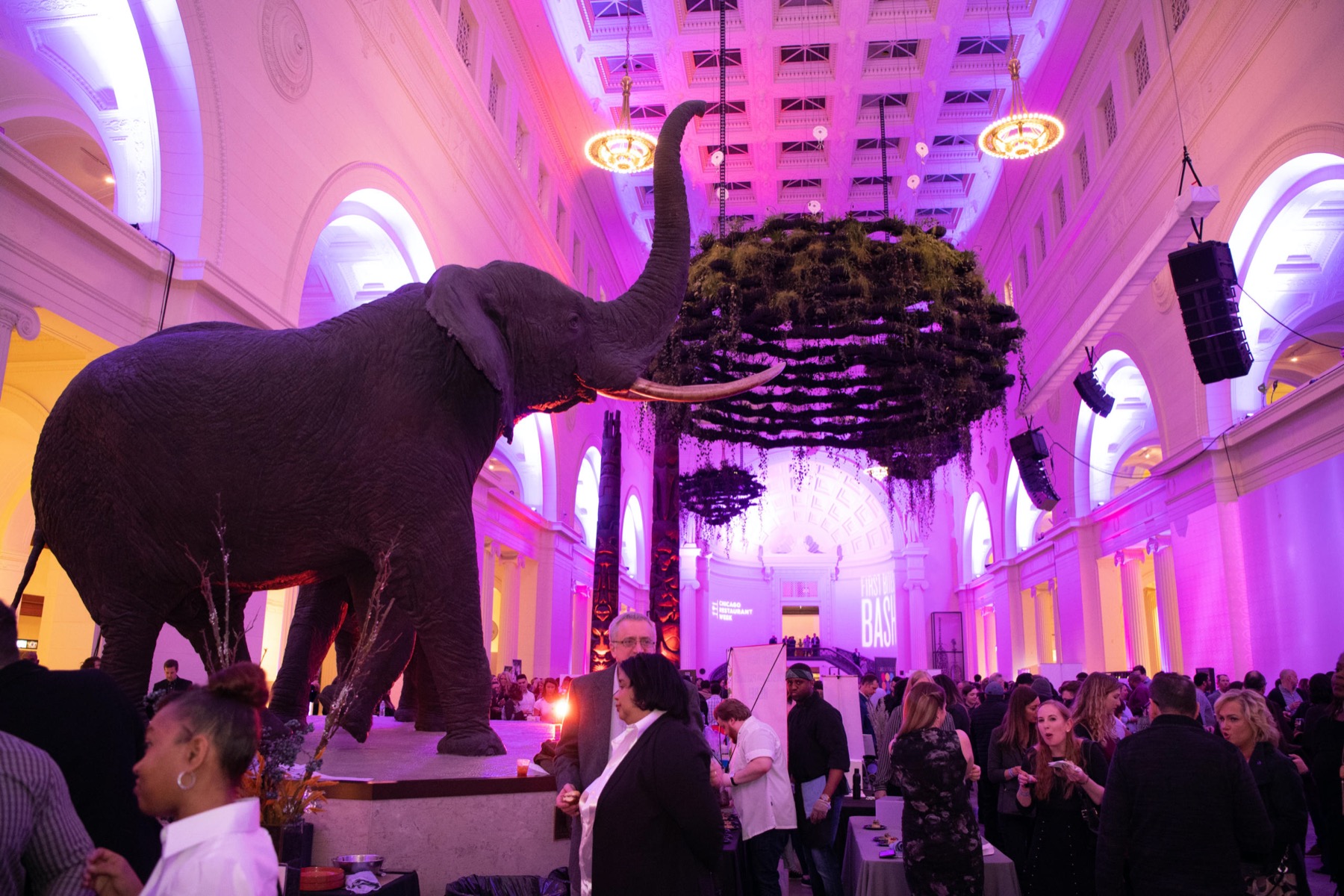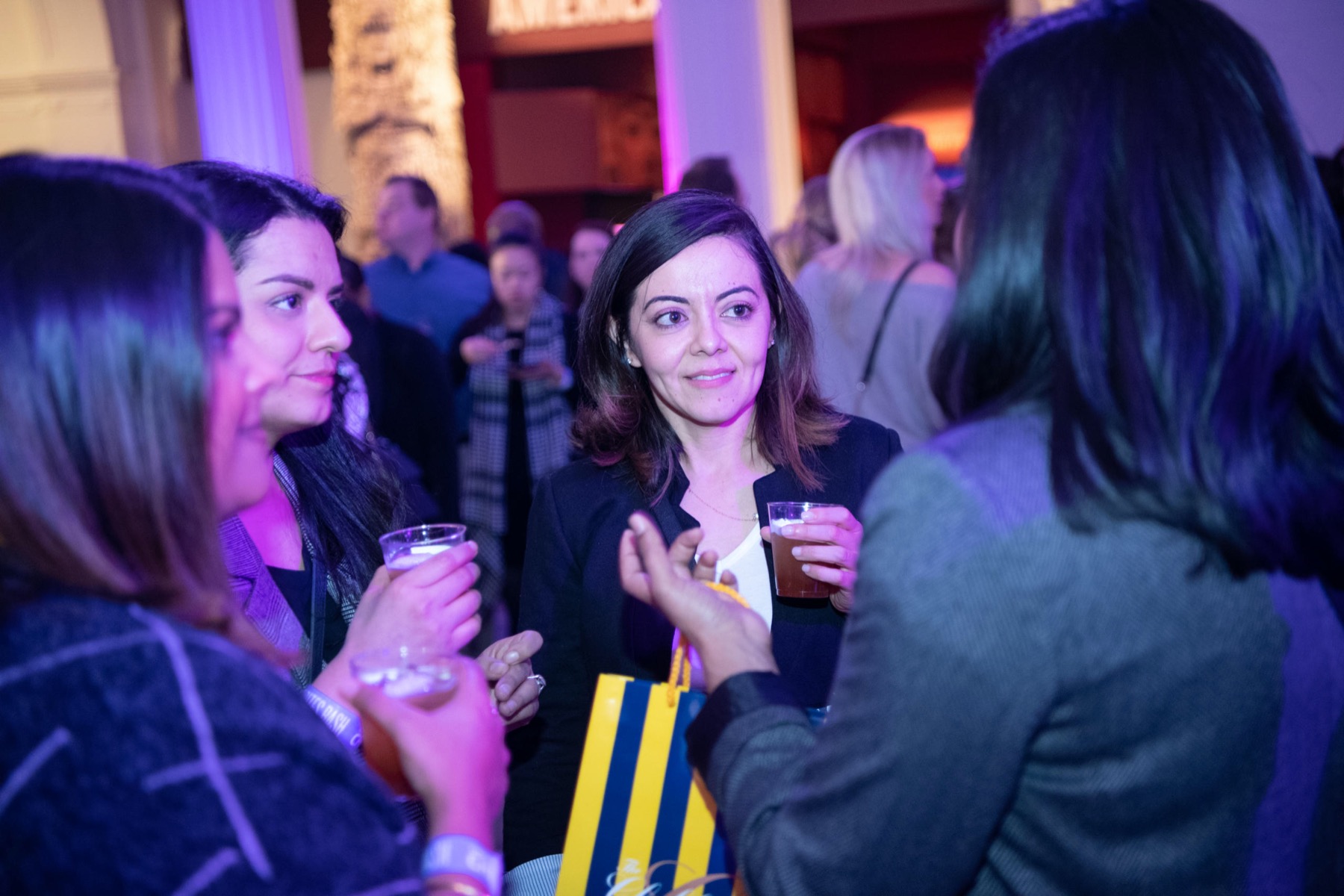 In addition to this year's record attendance, more than 60 of Chicago's most well-known chefs and restaurants joined the dynamic duo. The event allowed participants to preview tasting portions from their respective CRW menus. A $10,000 check was presented to the James Beard Foundation. For more than 30 years, the Foundation has celebrated, nurtured, and honored chefs and other leaders who make America's food culture more delicious, diverse, and sustainable for everyone.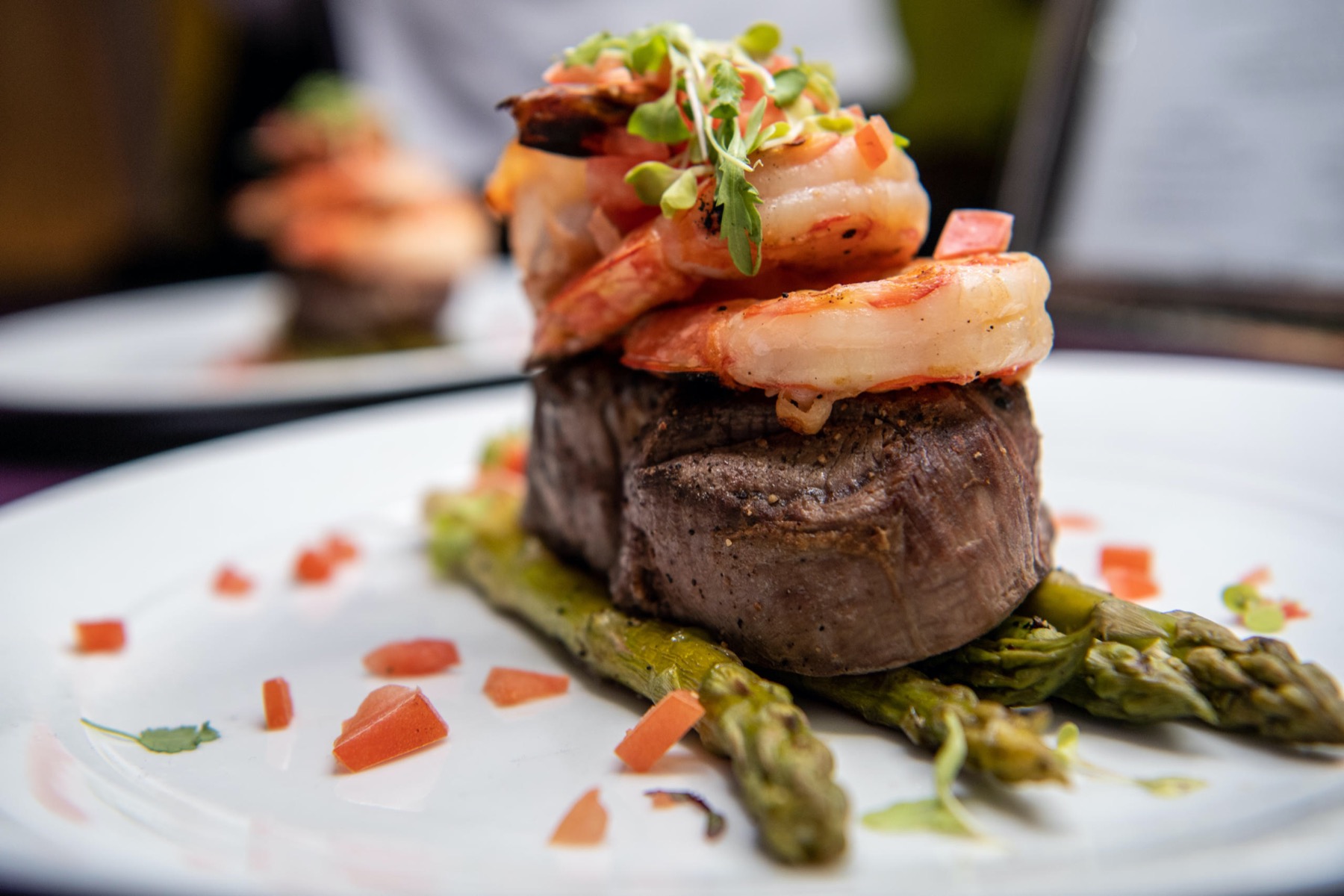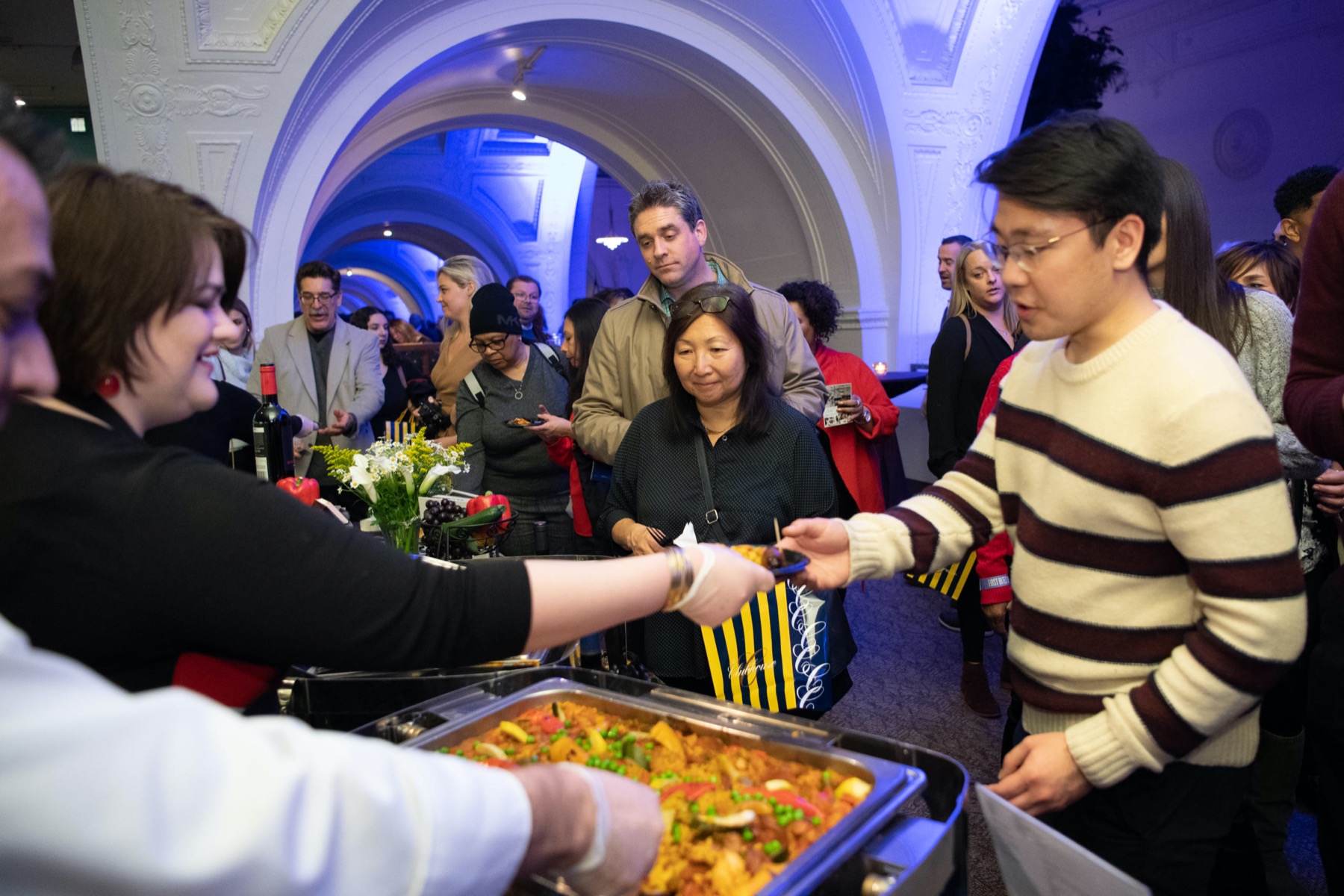 First Bites Bash Sponsors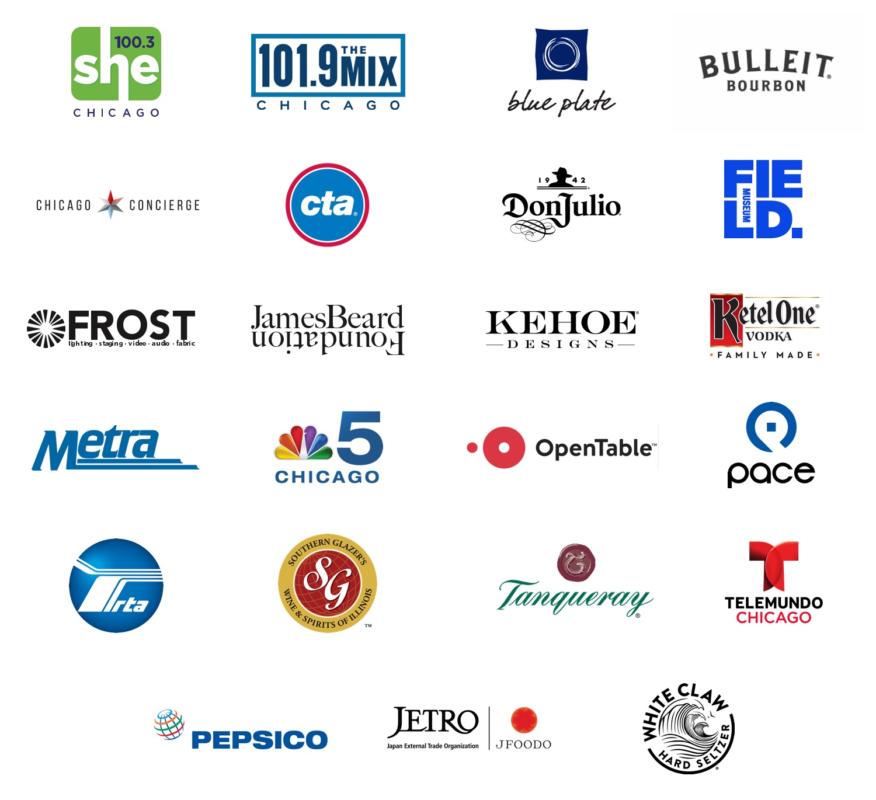 Thank you also to our craft beer sponsors!
Adams Street Brewery, ERIS Brewery and Ciderhouse, Great Central Brewing Company, Haymarket Beer Company, Motor Row Brewing, Ravinia Brewing Company, Revolution Brewing, Rock Bottom Brewery
---
Choose Chicago welcomes five new Partners
Comedy Clubs
iO Theater
Dining – Italian
Davanti Enoteca
Dining – Wine Bar
Joe's Imports
Dining – Seafood
King Crab House
Dining – American
Port and Park Bistro and Bar
---
Partner Profile: The Auditorium Theatre
While Chicago has its share of national historic landmarks, the Auditorium Theater is in a class by itself. Designed by the famous architectural firm of Adler and Sullivan, the 130-year-old auditorium has played host to some of the biggest acts in show business, and it's still going strong.
---
Chicago Theatre Week
Tickets on sale now for Feb 13 – 23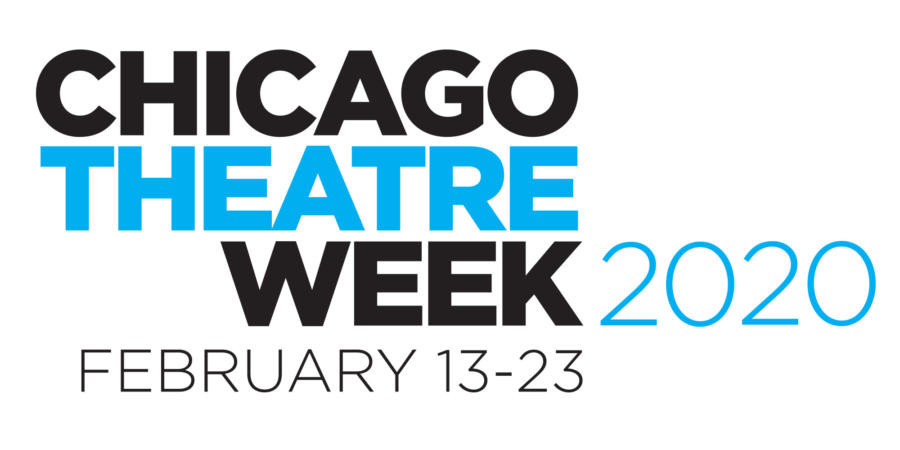 Experience Chicago's fearless theatre scene for just $15 or $30 (or less!) from Feb. 13 – 23, 2020. Chicago Theatre Week features value-priced tickets to more than 120 performances at theatres across the city, from musicals to improv to dramas and beyond.
Chicago Theatre Week is presented by the League of Chicago Theatres in partnership with Choose Chicago. Now in its 8th year, the highly anticipated event allows visitors and locals to sample the extraordinary range of theatrical offerings throughout the Chicago area.
Explore shows and purchase tickets at ChicagoTheatreWeek.com
---
Client Services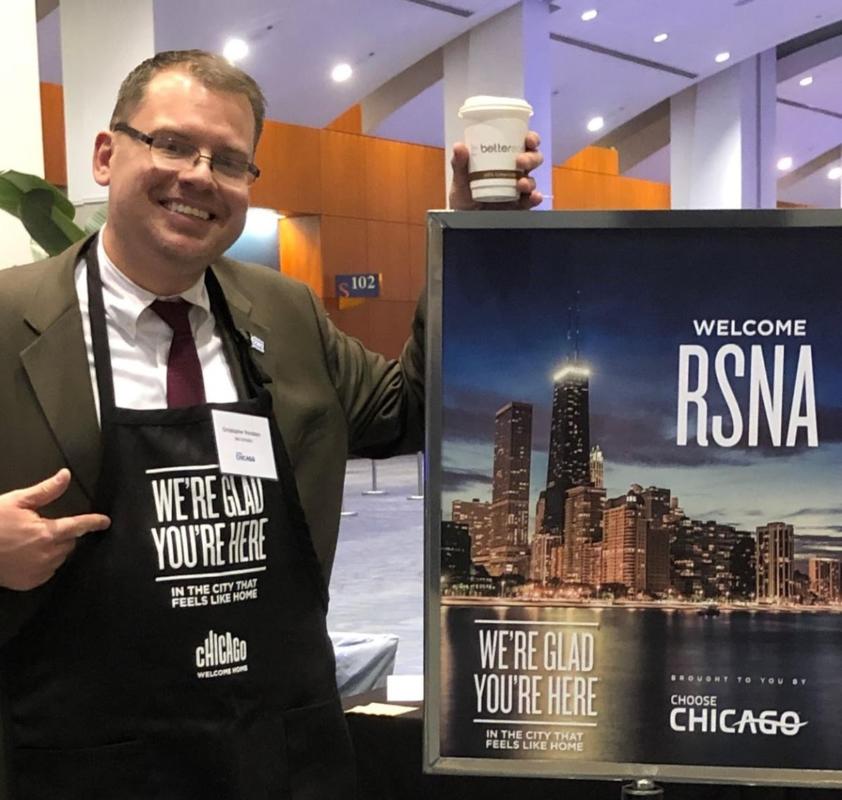 Thank you to the 110 Choose Chicago Ambassadors that assisted us in welcoming convention attendees to Chicago throughout 2019. The Ambassadors volunteered for 60 various opportunities, for over 600 hours of volunteer service.
The Client Services team wishes to thank the following Choose Chicago Partners who provided complimentary or discounted passes to our 2019 "VIP" folder. The donated items are provided on a very selective basis to VIP clients when visiting Chicago to help enhance their experience:
360 w/ Tilt
Chicago History Museum
Chicago Trolley
Chicago Helicopter Experience
ComedySportz
Field Museum
Absolutely Chicago Segway
Art Institute
Chicago's First Lady Cruises
House of Blues
Mercury Cruise Line
Museum of Science and Industry
Second City
Shoreline Sightseeing
Shedd Aquarium
If your organization is interested in participating in this program, please contact Caitlin Dunne, Client Services Coordinator at cdunne@choosechicago.com
Our Client Services team, along with our Chicago Concierge team, exhibited at the IMTS Show 2020 Exhibitor Workshop January 20 – 21, 2020 to educate IMTS exhibitors on everything new and exciting since they last held their convention in Chicago in 2018. The IMTS Show will be held September 14 – 19, 2020 with an estimated 130,000 attendees.
---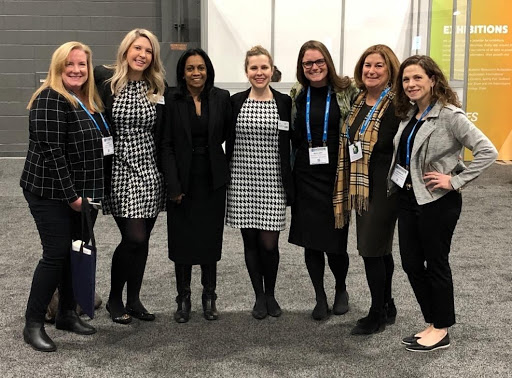 Hazel Walker joins the Client Services team as Project Manager, Connected to Chicago (C2C) Initiative (formerly known as 1933).
Hazel brings a wealth of convention industry experience to our Choose Chicago Client Services team, including 30 years at the American Bar Association where she held many positions, working her way up to Manager of Registration and Housing for ABA's prestigious Midyear and Annual Meetings.
Hazel's level of professionalism and outstanding diplomacy skills will be invaluable as she works with local partners, associations, corporations and civic entities, introducing them to the new C2C initiative with the goal of introducing suitable Chicago partner organizations to our convention clients to help build attendance, research area-expert speakers, assist in finding key venues and areas of Chicago for offsite marketing activations and community service projects, student outreach, and more. Welcome Hazel!
Global Development
British Airways & Macerich Holiday UK FAM
December 9-12, 2019
Promoting leisure visitation to Chicago over the winter low-season is a priority for the Global Development department. Choose Chicago partnered with British Airways and Macerich Shopping in November 2019 to promote the holiday shopping experience in Chicago to the UK travel trade. UK agents were asked to participate by taking a training on Macerich shopping products, and promote the Chicago themed contest to their agency staff. This contest was promoted via Brand USA UK & Ireland trade newsletters and a promotional campaign through Travel Bulletin in the UK.
The grand finale of this promotion and competition was a Familiarization Trip (FAM) in Chicago from December 9 – 12, 2019, hosted by the Intercontinental Hotel Chicago. The FAM consisted of product managers and travel agents from seven different major UK tour operators who participated in the competition. During the FAM, they were introduced to 13 different Choose Chicago partners and participated in a Choose Chicago destination training.
Brand USA & I Viaggi del Delfino Trade Event in Italy
December 9, 2019
On the 9th of December, I Viaggi del Delfino Tour Operator, in cooperation with Brand USA, organized a Christmas trade event in Bari, Italy. Choose Chicago participated as a destination partner. 56 agents attended.
I Viaggi del Delfino is a medium-sized tour operator based in Naples and well known in south Italy. They specialize in tailor-made trips and honeymoons. Ivana di Stasio, the owner of I Viaggi del Delfino, discussed the tradition of Christmas in the US and presented a music itinerary starting with two nights in Chicago.
Choose Chicago highlighted our winter itineraries for the city. The focus was also on music itineraries and the Year of Chicago Music 2020.
Viva Holidays USA Trade Roadshow in Australia
December 2-4, 2019
Viva Holidays, in partnership with Brand USA, hosted three trade shows in Sydney, Melbourne, and Brisbane. Choose Chicago participated in the roadshow as a platform to drive awareness and education about new products, updated itineraries, and an overall Chicago destination update.
Each trade show consisted of a training element followed by an event to interact with Viva Holidays trade network (agents) and sales team. These agents have the most potential to generate significant growth to the US market and can be advocates in their markets. 131 Helloworld Group agents attended in Sydney, 102 in Melbourne, & 78 in Brisbane.
Thank you to our hotel partners who participated in the Chicago prize package giveaway in each city!
---
Global Development upcoming opportunities
El Al Israeli Airlines Familiarization Trip (FAM)
New direct nonstop service
As of March 22, 2020 Chicago will be getting its first direct non-stop flight to Tel-Aviv, Israel on El Al Israeli Airways. Choose Chicago will be partnering with the airline to bring in a group of produce manager clients from the region. The goal will be to educate the Israeli leisure travel trade on Chicago as a tourism product, in order to capitalize on this new direct flight and grow our inbound tourism numbers from the region.
May, 2020 (3-4 nights, Dates somewhat flexible)
10-15 Clients (Accounts TBC) 8-10 Guestrooms (Two Doubles)
Seeking partners to showcase their hotel/restaurant/attraction
Air New Zealand and House of Travel FAM
Dates: May 6-9, 2020
FAM attendees: 10
Hotel rooms: 4 double occupancy, 2 single occupancy rooms
Air New Zealand Campaign FAMs
4 FAM group opportunities
FAM Attendees: 4 agents + 1 NZ host per FAM
Dates:

July 22-26, 2020
July 29-August 2, 2020
August 5-9, 2020
August 12-16, 2020
Brand USA Travel Week Europe
Dates: Sept 21-25, 2020
Location: London, United Kingdom
Brand USA Travel Week Europe is a B2B tradeshow which launched for the first time in 2019. Choose Chicago's Global Development Team attended and conducted 35 one-on-one appointments with top qualified buyers from across Europe.
Choose Chicago will be returning to exhibit in 2020 and would like to see more Choose Chicago partners present at the show to meet with these important international clients face-to-face. Registration for your own table and book of appointments can be done by registering directly with Brand USA. Cost is $7,500 to register, with an additional $2,000 if you would like to bring one additional delegate.
Additional information about Brand USA Travel Week Europe is available at BrandUSATravelWeek.com.
---
Media Relations update
Choose Chicago's Media Relations team generated approximately $1.6 million in media value in December 2019. A sampling of stories published in December 2019 included:
UOL,Coliseu é eleito a atração mais popular do mundo; veja ranking das top 10 · 
Vancouverscape,Headed to the Windy City? Our round-up of What's New in Chicago 
Travelandleisure.mx,¿Tu primera visita a Chicago? Esto es todo lo que debes ver, hacer y comer 
elfinanciero.com.mx,Un Cuento de Navidad en Chicago 
Milenio Diario,Placeres 
Lonely Planet,Go green with these sustainable initiatives in Chicago 
Star Tribune, No place like Chicago for the holidays 
Gay Times,Look Back to One of the World's Most Authentic LGBTQ Celebrations: Chicago Pride
The London Economic,The No Nonsense Guide to Chicago
Le Telegramme,The Spirit of Chicago During the Chicago Blues Festival
LINE Travel JP,Even beginners have fun with blues and jazz! 
Numero Tokyo,Traveling around Chicago and film locations 
Traveller,Chicago, USA travel guide and things to do: Nine must-do highlights 
Wayfarer,The Best of Chicago, USA