If a trip to the college town of Evanston is on your radar, plan to stay at Graduate Evanston for a truly local experience. Located just two blocks from the esteemed Northwestern University and nestled along scenic Lake Michigan, Graduate Evanston playfully pays tribute to the renowned university, from its decor to its key cards.
Local touches
Graduate Evanston is part of a collection of handcrafted hotels located in dynamic university-anchored towns that have been thoughtfully created with the goal of providing memory-making experiences for its guests. And Graduate Evanston is no exception. Housed within a 1920s property that's listed on the National Register of Historic Places, Graduate Evanston pays homage to both the building's history and its surrounding community.
Upon entering the lobby, note the gallery wall of caricatures — drawn by world-renowned artist Kenneth Fallin — that depict famous Northwestern alumni such as actress Zooey Deschanel and musician Eddy Vedder. The college's "purple pride" is evident in the purple paneling on the lobby walls. And vintage furniture is a cozy reminder of the hotel's historic past.
The 119 guest rooms are full of fun nods to Northwestern University, the local area, and the state of Illinois. A design staple of all Graduate Hotels properties is collegiate plaids, found on the walls and couches. Subtle state touches include apple lamp finials (the apple is Illinois' official fruit) and violet-themed lampshades (in honor of the state flower). Paintings of the Lake Michigan shoreline are hung above each headboard.
Cross-stiches of the iconic homes featured in the '80s cult classics Home Alone and Ferris Bueller's Day Off (both filmed in the area) also grace guest room walls. True Home Alone fans will want to book the hotel's Home Alone Suite, which replicates the McCallister's master bedroom right down to the four-poster bed, and features perks like a mini bar stocked with Kevin's favorite snacks, a cheese pizza packaged in a Little Nero's box, and Home Alone movies on demand.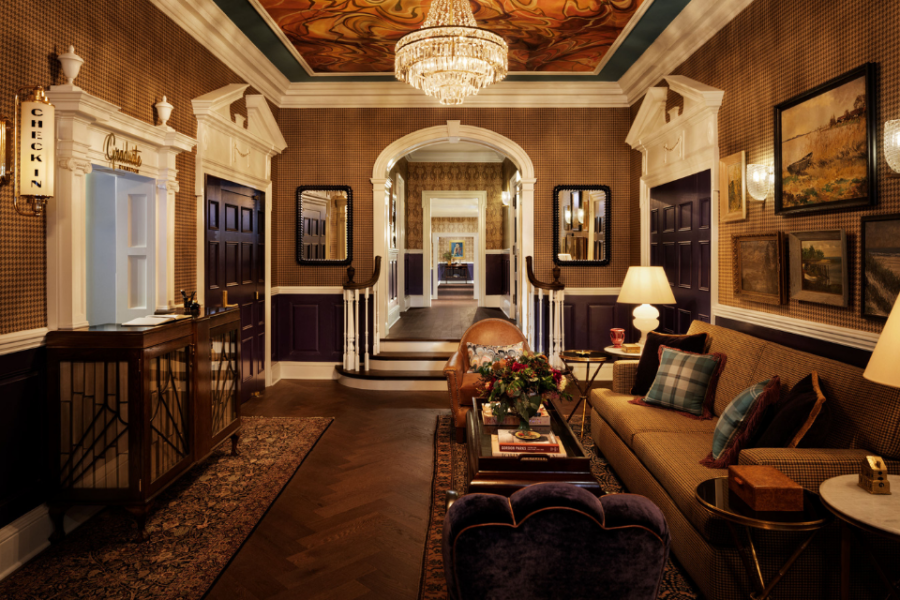 Go Wildcats!
Of course, Northwestern University is honored in a big way here. Open books perched on Craftsman-style floor lamps are written by Northwestern alumni. Book art with Northwestern stamps and sleeves are framed on the guest room walls. Wheat branches that mimic Northwestern's crest are etched into the bathroom mirrors. And Persian-inspired carpets weaved in deep purple and green cover the floors.
Perhaps most fun are the key cards, modeled after the student IDs of famed former Northwestern students. Yours may feature supermodel Cindy Crawford (who studied chemical engineering for a quarter before pursuing her modeling career) or comedian Stephen Colbert, who became a fixture at Chicago's Second City improv theatre.
Enjoy all-day dining in the hotel's handsome Trophy Room (reopening soon). Featuring a roaring fireplace and wood-paneled walls, the restaurant and bar serves up American classics with a youthful spin. Other hotel amenities include complimentary bike rentals for exploring the town, a 24-hour fitness center, and valet parking with unlimited in/out privileges. Plus, Graduate Evanston is pet friendly.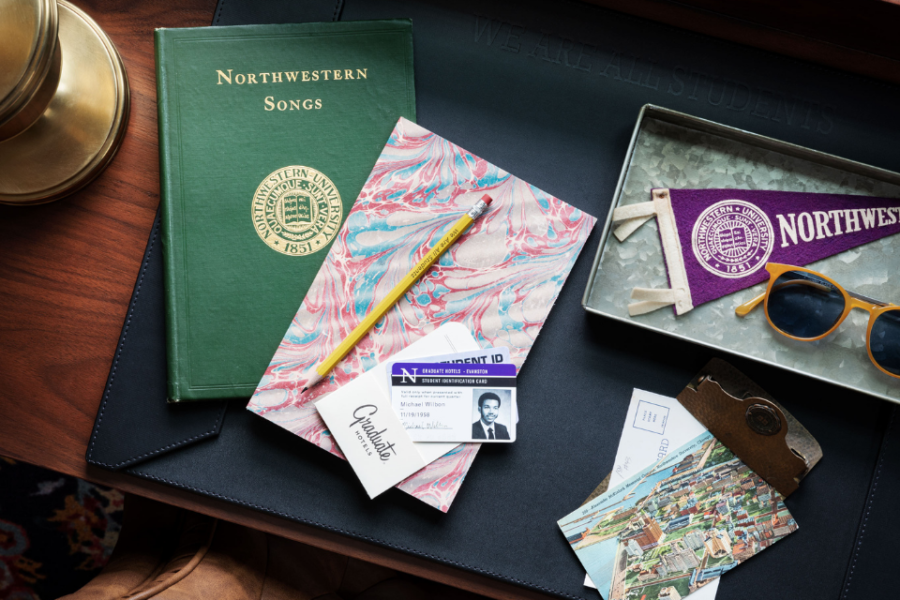 Graduate safety pledge
Graduate Evanston pledges to ensure the health and safety of its customers and associates with Graduate Cares. Created in partnership with the country's top medical professionals at the Cleveland Clinic, leading consumer products company Procter & Gamble, and the American Hotel & Lodging Association (AHLA), the hotel's safety precautions have been designed to meet the standards of the industry's most trusted experts.
Learn more about Graduate Evanston and book your stay today!