As they begin to welcome more guests, hotels, restaurants, and attractions are focused on cleanliness. Hilton understands that expectations for cleaning and disinfection have changed. Since June 2020 they've been partnered with RB, trusted maker of Lysol® and Dettol®, and launched the Hilton CleanStay program that helps deliver an even cleaner stay from check-in to check-out.
Hilton CleanStay builds on already rigorous cleaning standards to provide complete peace of mind when guests stay with any of Hilton's 18 brands. Hilton's promise is to deliver the same level of reliable and friendly service travelers expect, but with the added confidence of industry-leading hygiene practices created to keep guests safe. RB's premium products and more than 200 years of health expertise help ensure a safe hotel experience for every guest.
Contactless arrival
Hilton welcomes guests to use digital check-in and key for a contactless arrival experience. With the Hilton Honorsapp, guests can check-in, choose their room, access their room with a digital key, and check-out using their phone. For those travelers who do not have access to digital technology, physical distancing measures are in place to direct guests on how to safely move through the in-person check-in and check-out process.
Guest room sanitation
Hilton's housekeeping protocol begins with the cleaning team removing all used items from the room, such as bedding and towels. Next, the team performs a full cleaning of the room and bathroom, including vacuuming the carpet, mopping floors, and wiping down all surfaces with hospital-grade cleaners.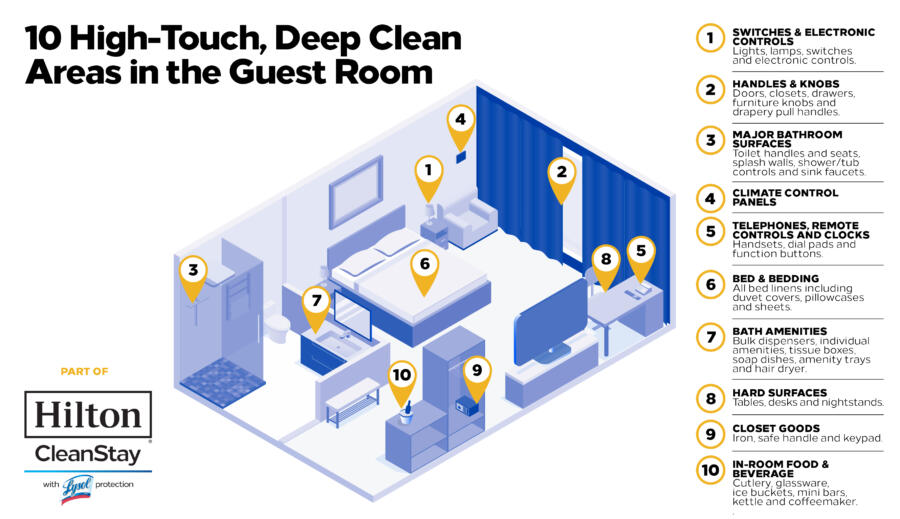 Then, Hilton's housekeeping team uses Lysol® disinfecting wipes for an additional disinfecting step for several surfaces in the room, including all switches and electronic controls, handles and knobs, major bathroom surfaces, and the remote control.
After the room is thoroughly cleaned, the team places clean towels in the room and makes up the bed with freshly laundered linens. Finally, the hotel's housekeeping inspector verifies that the room meets the Hilton CleanStay standards and places the Hilton CleanStay Room Seal with Lysol® protection over the door. Upon a guest's arrival, they can have complete confidence that the room is clean and ready for their stay.
Chicago Hilton hotels
There are a variety of Hilton hotels and experiences to choose from in the Chicago area. Indulge in afternoon tea at the historic Palmer House a Hilton Hotel, enjoy cocktails and a live DJ at ROOF on theWit at theWit Chicago – a DoubleTree by Hilton Hotel, or soak in the waterfront views while dining at Lirica at the new Sable at Navy Pier Chicago, Curio Collection by Hilton.
Check out all Chicago Hilton hotels here.