A note from the President and CEO
Dear Partners,
It's hard to believe that we're already in the last month of summer. Marquee summertime festivals like Pitchfork, Sueños, Lollapalooza, and Market Days have come and gone, but in true Chicago fashion, we're going to squeeze every drop of sunshine and outdoor fun out of August with major festivals and events like Ribfest Chicago, the Chicago Air and Water Show, and the Chicago Triathlon still to come this month.
As you may already know, the first half of 2023 saw some significant milestones that served as proof points for the strength of Chicago's tourism industry: hotel occupancy and room demand reached post-pandemic records in the month of June; Chicago led the nation in large meetings and conventions by volume for each month in April, May, and June; and both hotel revenues and City hotel taxes generated reached all-time highs for the first half of the year.
In operational updates, the Metropolitan Pier and Exposition Authority (MPEA) recently announced that Oak View Group (OVG) 360 and OVG Hospitality will be the new private management and food service providers for McCormick Place, replacing ASM Global and SAVOR. This new partnership is a significant step towards enhancing the McCormick Place experience for meeting planners and attendees. Additionally, MPEA announced that Samuel R. Thomas, Jr. will be the new general manager for McCormick Place. Samuel comes to Chicago from Washington, DC, where he was COO of Events DC. I look forward to working with Samuel and the entire OVG team in the coming years!
While we're thrilled to celebrate all that we've collectively accomplished on our journey to a full economic recovery, we want to recognize that we still have a long way to go. But I am confident that, if we continue to work together as a united community, Chicago's leisure and hospitality industries will be bigger, stronger, and more resilient than ever!
Sincerely,
Lynn Osmond
President and CEO
Choose Chicago
Welcome new partners
Bridgeport Art Center
Casa Humilde Cerveceria
Chicago Movie Tours
Clumsy Cow BBQ
Corporate Curling
Corridor Brewery & Provisions
DryHop Brewers
Honey Butter Fried Chicken
Level Hotels & Furnished Suites
Maplewood Brewery & Distillery
Metropolitan Brewing
Occasions Staffing Solutions
Revolution Brewing
Rockwell on The River
Suite Home Corporate Housing
Thattu
The Lighthouse at 303
The Wolfhound Bar and Kitchen
TriBecca's Sandwich Shop
Trogo Kitchen & Market
Twisted Hippo
United Fulfillment
Windy City Linen
August Partner Engagement Event and IPW Overview
Tuesday, August 22 | 8:15-9am: IPW Overview | 9-10:30am: Partner Engagement
Don't miss this chance to build relationships with key Choose Chicago staff while learning about opportunities to work together and maximize your partnership. This informal and energetic networking event is also a great time to connect with industry colleagues. Continental breakfast will be provided.
Additionally, come early for a brief overview of IPW—the U.S. travel industry's largest international marketplace where U.S. organizations can meet one-on-one with international and domestic travel trade buyers and journalists. Chicago will host IPW in 2025 and we're eager to share opportunities to get involved in 2024 in Los Angeles and 2025 in Chicago.
Location:
Recess
838 West Kinzie
Chicago, IL 60642
Cost:
Complimentary
Choose Chicago Foundation opportunities
The Choose Chicago Foundation is hosting its Signature Fundraising Event on Wednesday, September 20 from 5 – 7pm at the Godfrey Hotel Chicago's Rooftop Lounge. This is an opportunity for partner organizations and individuals alike to give back to the community and make an impact on the lives of young Chicagoans interested in pursuing careers in leisure and hospitality. Proceeds from the fundraiser will support the Choose Chicago Foundation's scholarship programs targeting talented high school and college students.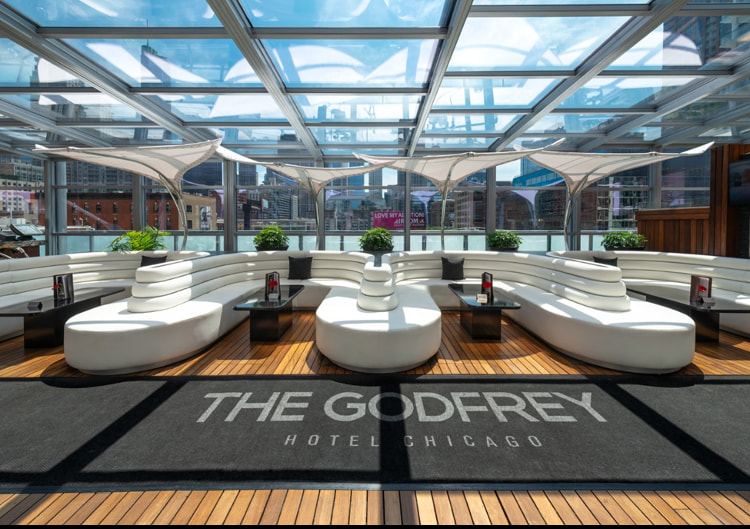 Above: Godfrey Hotel Chicago Rooftop Lounge where the Choose Chicago Foundation Signature Fundraising Event will be held in September.
Update from the Sales and Services team
First up, we're pleased to share that industry expert Knowland recently announced that "Chicago led the top 25 markets" for meetings and events for the third month in a row (April, May, and June)!
The Choose Chicago sales team has been working hard to maintain this momentum and close business. One major win to highlight is the A3 Automate 2024 convention which reflects 4,200 peak room nights and 20,000 attendees. This is an extremely short-term win and has the potential to return to Chicago every even year.
Additionally, with the help of Mayor Johnson, we were able to renew our partnership with the Nike Tournament of Champions in Chicago for an additional two years—2024 and 2025. Thanks in part to these two major commitments, we are thrilled to share that we have reduced our total pace deficit for future years by 20% and continue to find ways to impact need periods. The Choose Chicago team has also been busy participating in and hosting conferences, symposia, and industry meetings to strengthen relationships and pursue new leads. A few notable recent convenings include the following:
Choose Chicago's Cahal Mowery, Vice President of Sales and Mallory Mondloch, Associate Director of Client Services, joined David Baker, Executive Director of America's Urban Campus in a Lippman Connect Roundtable event on July 27 for a discussion on how destinations can leverage post-secondary partnerships as a key resource.
Choose Chicago held its Annual Hotel Symposium on August 2 at the Sonesta Hotels Allegro Royal Chicago. Participants heard updates from Lynn Osmond and Dustin Arnheim, SVP of Sales and Services, along with insightful presentations from industry experts Michael Jacobson, Geoff Freeman, Isaac Collazo, and Christine (Shimo) Shimasaki.
Key members of Choose Chicago's leadership, sales, and support teams also attended the American Society of Association Executives (ASAE) Annual Meeting & Exposition in Atlanta August 5-8.
Choose Chicago served as a sponsor for the Corporate Event Marketing Association (CEMA) Summit 2023 in Salt Lake City August 6-8 and sent staff to participate in learning and networking opportunities.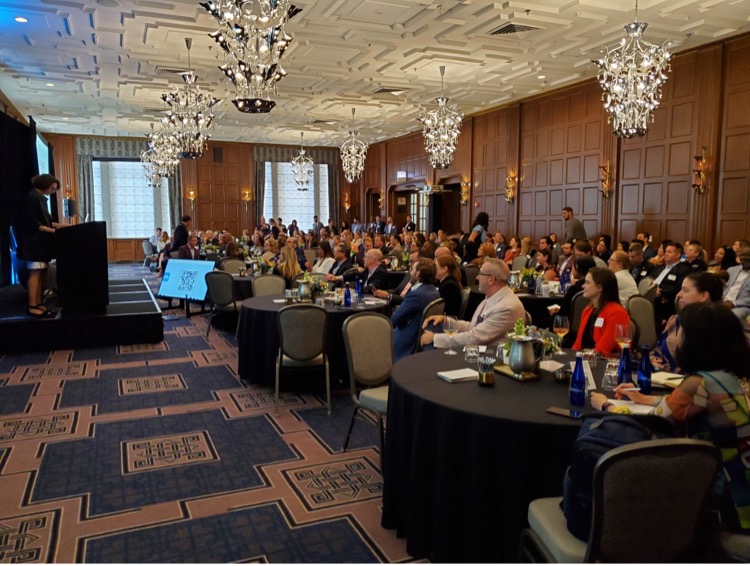 Above: Lynn Osmond addresses a crowded room at our Annual Hotel Symposium.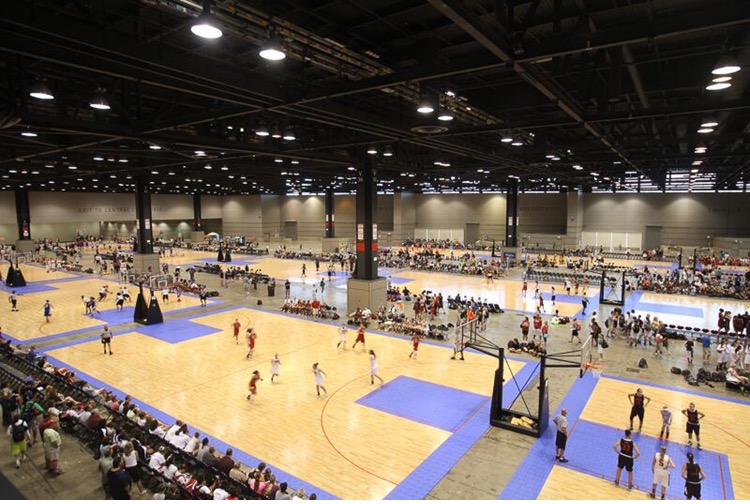 Above: Multiple simultaneous girls' basketball games at the 2023 Nike Tournament of Champions (photo courtesy of McCormick Place).
Highlights from recent shows:
IFT FIRST Annual Event and Expo, July 16-19: The Institute of Food Technologists (IFT) is local to Chicago and has made McCormick Place home to their Annual Meeting through 2031. IFT welcomed over 16,000 attendees and exhibitors, a 7% increase over 2022. The exhibit show floor featured a Startup Pavilion with over 80 startups, a 66% increase in participation over 2022. The entire exhibit show floor featured 213,000 net square feet of sold exhibit space, an 18% increase over 2022. IFT also partners with our local intellectual capital, including The Hatchery, Chicagoland Food & Beverage Network, and World Business Chicago. Congratulations to Choose Chicago Board member Christie Tarantino-Dean for a successful show!
Alpha Kappa Alpha Sorority Leadership Seminar 2023, July 12-16: Initially planned as a 6,000 person event, the Chicago-based Alpha Kappa Alpha (AKA) seminar saw approximately 9,200 attendees.
Advertising Specialty Institute (ASI) Show Chicago 2023, July 25-27: With 750 booths from nearly 500 exhibitors and more than 5,000 supplier and distribution professionals in attendance, the Advertising Specialty Institute saw a 20% increase in booth count and 15% attendance increase over 2022 levels at their 2023 show. This is yet another example of Chicago's strong appeal as a destination for convention goers from across the US and the world.
Upcoming shows and events at McCormick Place
August 14 – 18: 2023 Parliament of the World's Religion
August 25 – 27: The Great American Dog Show
September 11 – 14: SME FABTECH 2023
Update from Brand USA Japan and South Korea Sales Mission
Choose Chicago staff joined the Brand USA Sales Mission in Japan and South Korea July 10-14. This was the first time our team has been back in either market since 2019! Over 30 destinations were in attendance, much higher than pre-COVID, showing that US destinations are increasingly interested in Japan and South Korea as the Chinese market is slow to reopen.
It was clear that interest in Chicago as a preferred destination is expanding in these markets: during the sales mission, Choose Chicago staff provided training for 170 travel trade and media professionals and held 62 pre-scheduled appointments with tour decision makers. The team is excited to join future sales missions to Japan and South Korea along with other emerging markets in the Asia-Pacific region.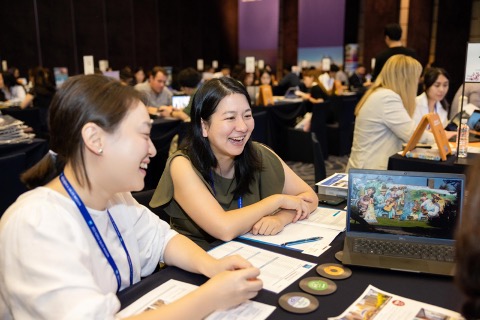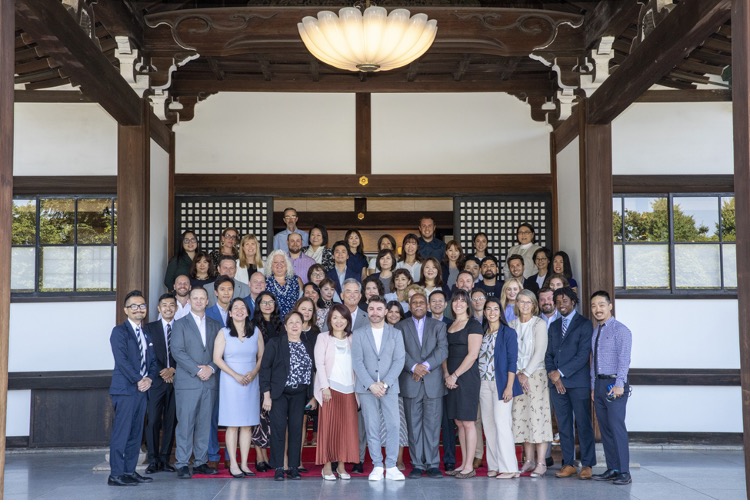 Naomi Hattori of Choose Chicago in a pre-scheduled meeting with a tour decision maker at the Brand USA South Korea Sales Mission (top) and posing with colleagues from other US DMOs at the Japan Sales Mission (above).
Neighborhood Strategy updates
Neighborhood Summer Digital Ad Campaign
In an effort to increase visitation to Chicago's vibrant neighborhoods, the Choose Chicago neighborhood strategy team ran a digital ad campaign over the summer. The campaign featured 30 neighborhoods and 46 different places. The first month of the campaign generated over 12.8 million impressions and 35,636 visits to the Choose Chicago neighborhood website pages. Below are some examples of the images used in the digital ad campaign.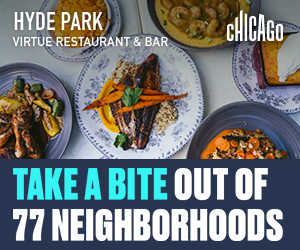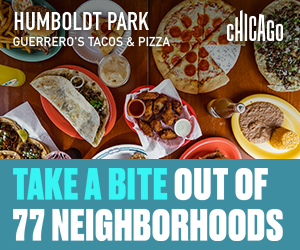 ---