Coffee lovers rejoice — the long-awaited Starbucks Reserve Roastery is open on The Magnificent Mile. The massive five-story location occupies more than 35,000 square feet, making it the largest Starbucks in the world.
The Reserve offers visitors an immersive experience that goes way beyond your usual morning coffee run. Guests can expect interactive tours, on-site roasting of rare Reserve beans, a rooftop deck, and exclusive drinks inspired by Chicago's culture and history. Food options include desserts, pizzas, breads, sandwiches, and more from Italian bakery Princi.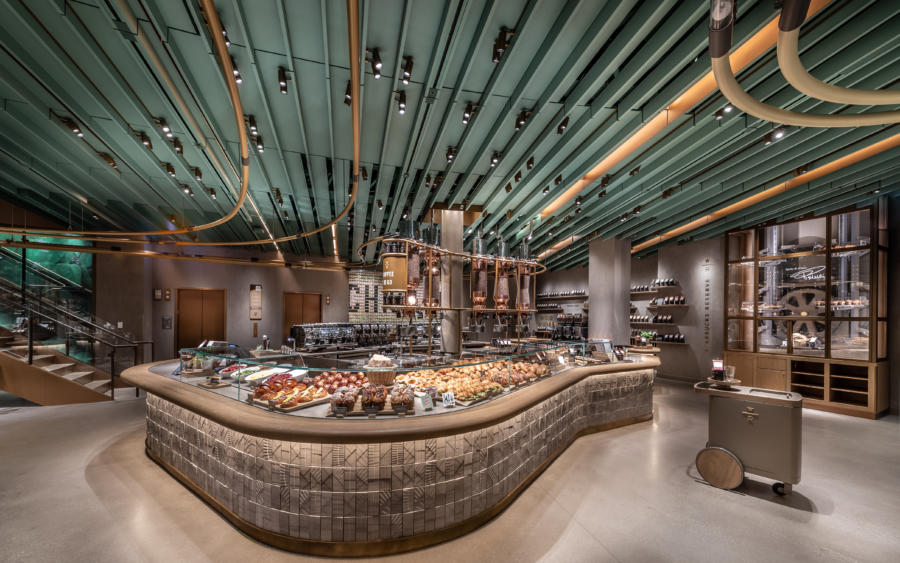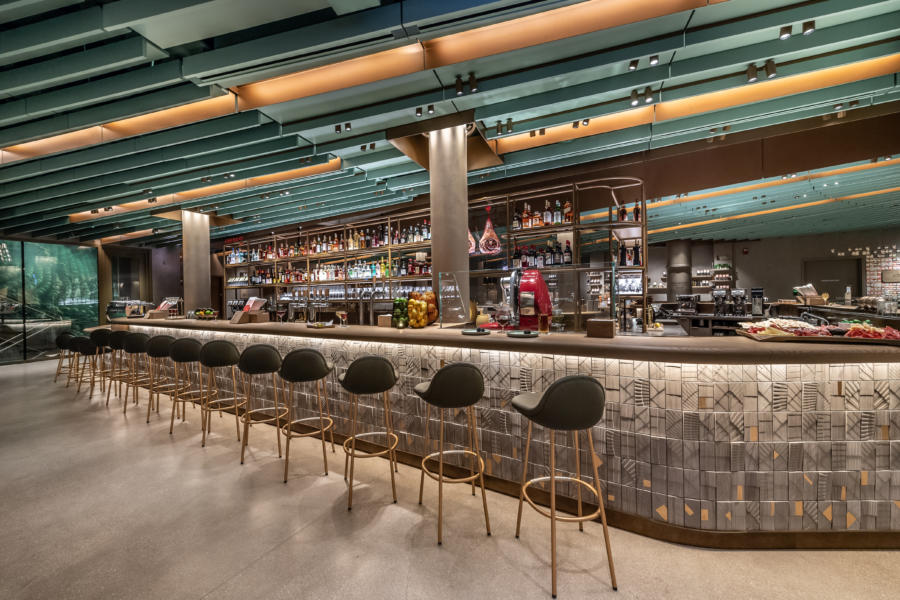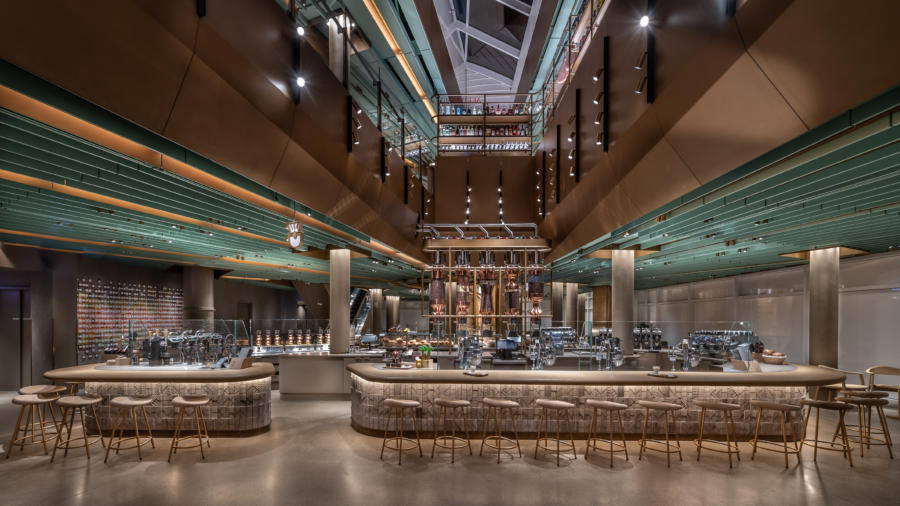 The multi-story location offers a different experience on each floor. The first and second floors features a variety of baked goods and Reserve coffees, espresso drinks, and teas. There's also a selection of exclusive Chicago Reserve merchandise, including one-of-a-kind collaborations with local artists.
The third floor is dedicated to the experiential coffee bar, where you can order unique Starbucks creations like pistachio lattes, siphon-brewed coffee flights, and affogatos made with nitrogen-infused gelato.
And there's more than just coffee. On the fourth floor, The Reserve will be serving up specialty cocktails by acclaimed local mixologists Annie Beebe-Tron of Fat Rice, Julia Momose of Oriole and Kumiko, and Rachel Miller of Community Tavern. You'll also be able to enjoy your drinks on the fifth-story rooftop deck.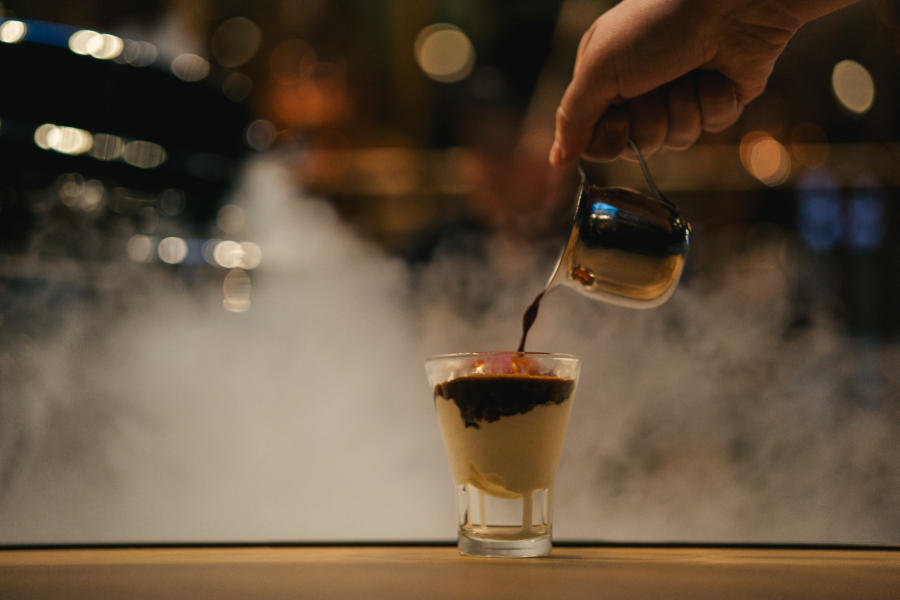 The cocktail menu at the Reserve will include a selection of only-in-Chicago cocktails. The Roastery Boilermaker, for instance, is made with Starbucks cold brew, malort, whiskey, bitters, club soda and grapefruit juice — an ode to the city's dive bar scene and locally made liquors. 
Another drink that's exclusive to Chicago is the Pour over Bijou, made with gin, dry vermouth, Green Chartreuse, and an herbal Italian liqueur all topped with Indonesia West Java Coffee. The name is a nod to Chicago's iconic Art Deco architecture, which can be found up and down The Magnificent Mile.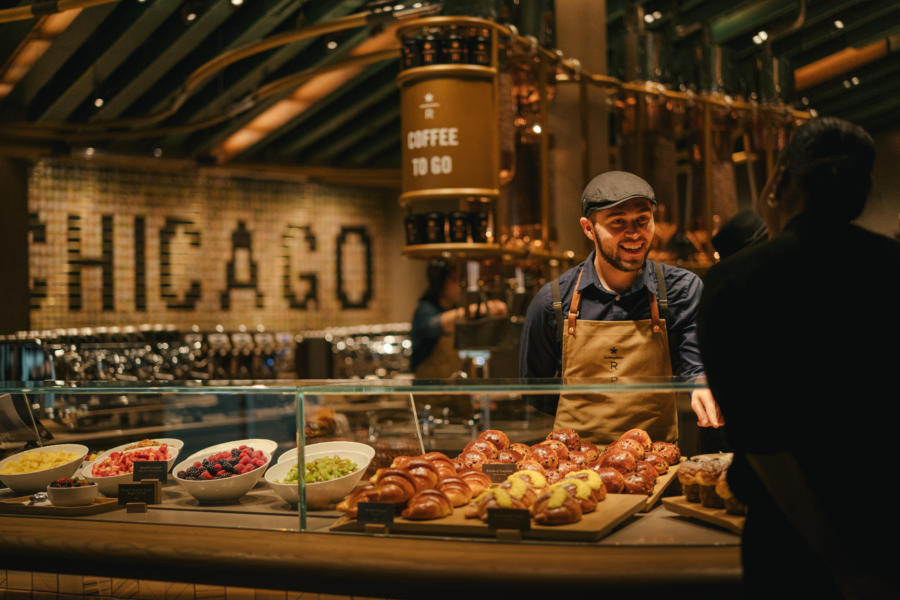 The Chicago roastery is just the sixth Starbucks Reserve location in the world, following locations in Seattle, Shanghai, New York City, Milan, and Tokyo. The Reserve locations were designed to showcase the company's rarest beans and celebrate the craft of coffee, including roasting, brewing, aging, infusing and blending.
Chicago and Starbucks have a long history together. This was the first city to open a Starbucks outside Seattle when the first Chicago location opened in 1987. 
And this isn't the first time Chicago was home to the world's largest Starbucks — the Rush Street store also held that title in 1995. On the other end of the spectrum, Chicago also lays claim to one of the world's smallest stand-alone Starbucks locations in Union Station. 
What to know: Starbucks Reserve Roastery
When: Opens Nov. 15, 2019
Where: 646 N. Michigan Ave.
Hours: Monday – Thursday, 7 a.m. – 11 p.m.; Friday, 7 a.m. – midnight; Saturday, 8 a.m. – midnight; Sunday, 8 a.m. – 10 p.m.
Getting there: Take the CTA Red Line to the Grand or Chicago stop