So long Year of the Dog. Hello Year of the Pig.
This year's Chinese New Year, which begins on Feb. 5 and ends Feb. 19, ushers out the Year of the Dog and rings in the 12th and final sign in the Chinese zodiac calendar — the boar or pig. Chicago will join cities around the world marking the occasion with a city-wide celebration. The annual festivities are some of the most highly anticipated events of the year, with an abundance of cultural, musical, and culinary events to choose from.
Here's our preview of a few key events you won't want to miss:
Chinese New Year celebration concert at Symphony Center

The Symphony Center will literally ring in the Chinese New Year with its fifth annual celebration concert on Sunday, Feb. 10. The show will feature performances by two Chinese groups: Hubei Chime Bells National Chinese Orchestra and the China National Beijing Opera Company.
The Hubei Chime Bells National Chinese Orchestra will enthrall listeners with the rich tones of ancient bells. The group will play on exact replicas of 2,500-year-old bronze and stone chime bells that were excavated from the tomb of a Chinese ruler from the Bronze Age. Other traditional instruments featured include a stone or jade chime known as the qing; a vessel flute called a xun; and a plucked zither called the se.
The second half of the show will feature Troupe One of the China National Beijing Opera Company, the most esteemed group within the company. They'll appear in traditional costumes and full makeup to perform instrumental music, vocal performance, mime, dance and acrobatics. The performances will include scenes from Divergence and Palace of Eternal Life, as well as Uproar in Heaven, which follows the adventures of the Monkey King.
There will also be pre-concert performances featuring Dong Fang Performing Arts Association, Yellow River Performing Arts and the Chicago Chinese Qipao Association.
Chinatown Lunar New Year Parade

The Lunar New Year Parade in Chinatown celebrates its 107th anniversary on Sunday, Feb. 10 and is expected to attract more than 30,000 spectators. Join the crowds admiring the ornate displays including decorative lions, dragons, marching bands, floats, Chinese folk dancers and dragon boats. The parade works its way through the heart of Chinatown from West 24th Street to Cermak Road and heads east to South Princeton Avenue. Show up early and stop by one of Chinatown's many authentic restaurants for some dim sum before staking out a good spot for the parade.
Chinese New Year celebration at Navy Pier

Experience an afternoon of live music, dance and other performances during Navy Pier's Global Connections: Chinese New Year event will be held on Saturday, Feb. 16. The free, family-friendly festivities will be held in the Aon Grand Ballroom, where guests of all ages can enjoy traditional music, food, and crafts. The event is part of Navy Pier's Global Connections series of free community events.
Lunar New Year dinner

The Chicago Chinatown Chamber of Commerce will again hold its annual Lunar New Year dinner at Cai Restaurant in Chinatown on Feb. 15 at 6 p.m. Attendees will be treated to a traditional lion dance ceremony while they're served a 10 to 15 course feast. Menu details are coming soon, but expect dishes featuring pig. Check the chamber website for updates as the event gets closer.
Shopping specials and events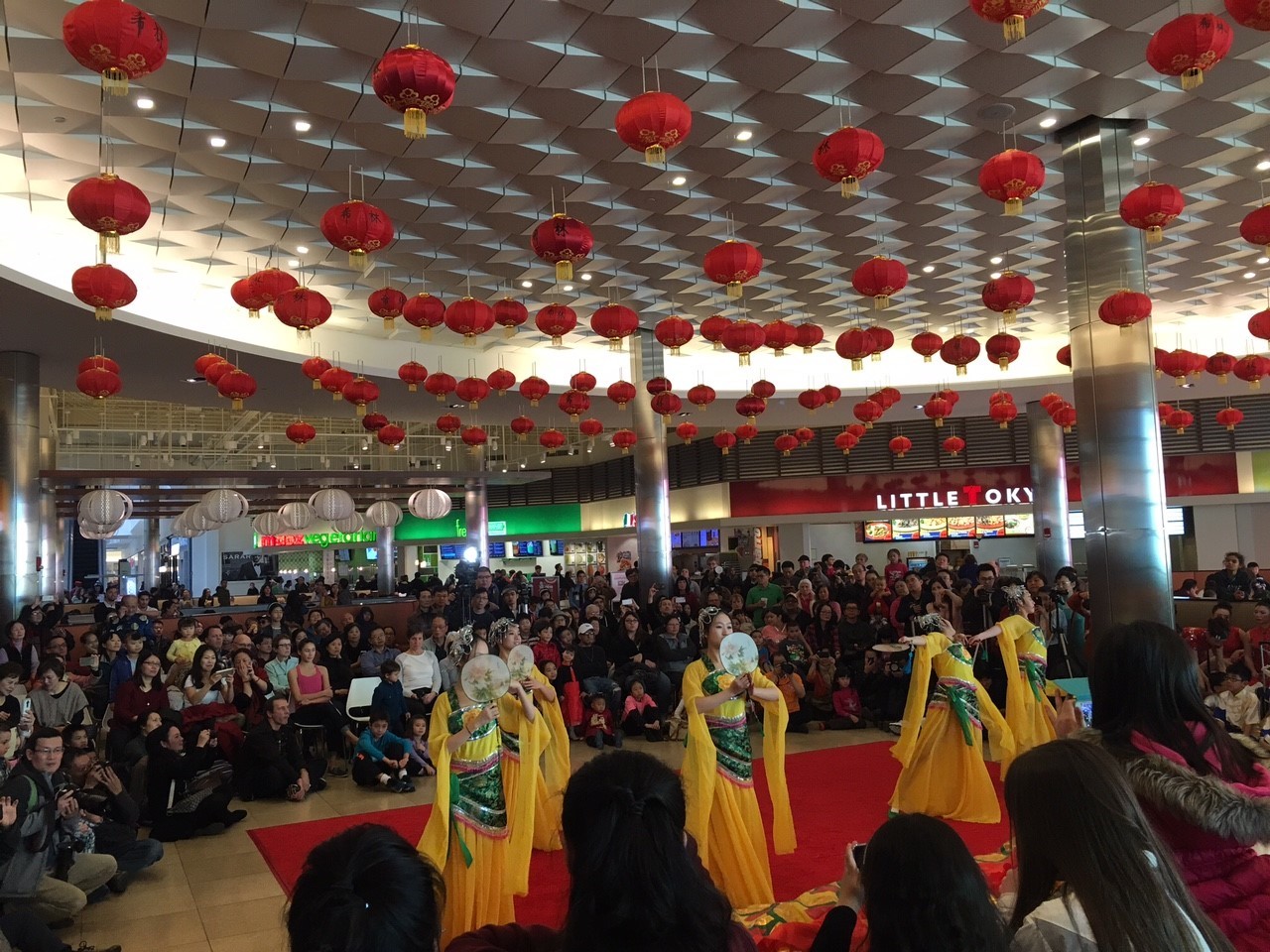 Don't miss the variety of special events and offerings at some of Chicago's best shopping hubs. Fashion Outlets of Chicago and The Shops at North Bridge will both mark the Lunar New Year with more than two weeks of celebration. Fashion Outlets of Chicago shoppers can enjoy a kick-off event on Feb. 2, with festive games, activities and cultural performances. Visit concierge services to pick up a red envelope with vouchers for complimentary luggage storage and a savings pass. The Shops at North Bridge will begin their celebration on Feb. 3, with 10 different booths featuring Chinese activities and vendors. Shoppers can also pick up a red envelope at concierge services, stuffed with exclusive retailer offers. On Feb. 15, the Roosevelt Collection will be hosting The Pig Freeze: Lunar New Year 2019. The event will include a larger-than-life ice sculpture, a traditional lion dance performance, and free bao for the first 200 guests.