The Rolex United States Sail Grand Prix Chicago at Navy Pier brings action-packed racing to Lake Michigan, Chicago's Skyline Stadium, on June 16 – 17, 2023 to kick off the summer of racing.
National teams from the United States and all around the world will race hydro-foiling 50-foot race boats that literally fly over the water while sailing at 60+ mph speeds, thrilling crowds on land and on water, all in the heart of the Windy City. 
Chicago is the only freshwater venue in the world, and is the first event to open SailGP's season four! Here are five reasons to come experience the adrenaline-fueled racing at Navy Pier:
1. Race boats that literally fly out of the water. Really! The F50 catamaran uses hydrofoils to lift out of the water and achieve highway speeds, faster than almost any power boat! This means close racing, crashes, capsizes, and drama — definitely not your normal day on the water.
2. Come for the party, stay for the racing! Tickets start at just $35 for general admission on Friday or Saturday. The Race Stadium opens at 3 p.m. and racing begins at 4 p.m. each day.
New to the festivities this year: the White Claw™ Beach Club. With panoramic views of the racecourse, the Beach Club is located right at the water's edge and is the best place to witness the fast and furious racing action of SailGP. 
3. Feel the spray of the F50s flying by Navy Pier. SailGP brings fans closer into the action than any other sporting event with opportunities to meet world-class athletes on shore and catch a glimpse of the race boats up close!
4.Bring your own boat! Yes, Chicago's Skyline Stadium really will feel like a race course and you have the opportunity to bring a boat (or ask a friend) and anchor right next to the race course for an unparalleled, up-close race experience!
5. Don't have your own boat — no problem! Another new option is the On-Water Premium Presented By White Claw™ Spirits. Treat yourself to an exclusive race experience onboard the SailGP spectator boat fleet with unique viewing opportunities located immediately next to the race course.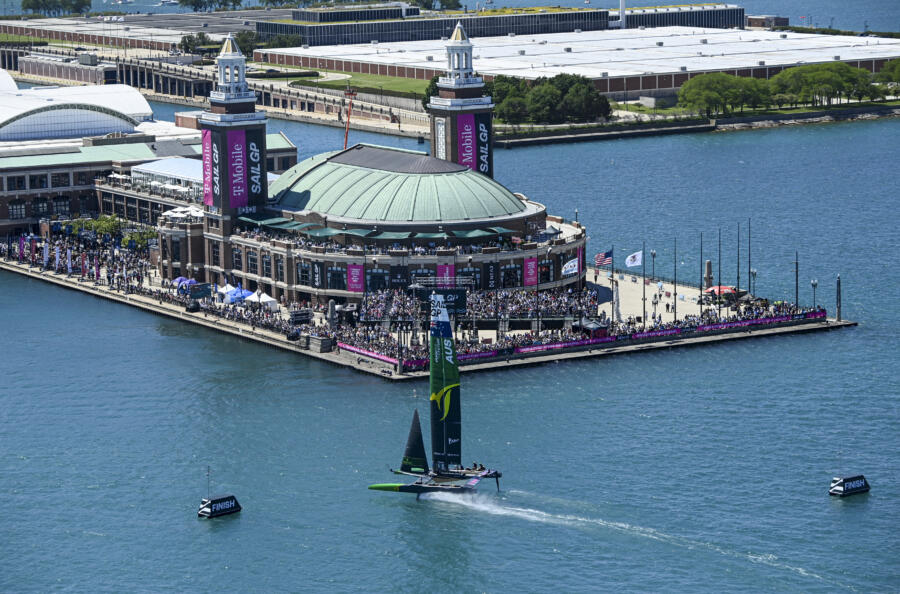 How to watch Sail Grand Prix
Join the party on land or on water! Navy Pier is race stadium headquarters and will host the weekend party to watch as the turbo-charged 50-foot race boats fly only a few feet away, across Chicago's Skyline Stadium. Enjoy live music and DJs, premium food and beverage experiences, fan shops, big screen TVs, fireworks, and more!
Racing takes place between Navy Pier and Adler Planetarium, guaranteeing a front-row seat along the waterfront as well.
When is Sail Grand Prix
Race day 1 | Friday, June 16
SailGP Stadium | 3 p.m. – 7 p.m.
Race times | 4 p.m. – 5:30 p.m.
Race day 2 | Saturday, June 17
SailGP Stadium | 3 p.m. – 7 p.m.
Race times | 4 p.m. – 5:30 p.m.