Chicago is a dining destination 365 days a year, which means there are tons of amazing restaurants open on Thanksgiving. After you've worked up an appetite watching the Chicago Thanksgiving Day Parade, you'll want to make a reservation at these Chicago restaurants serving Thanksgiving feasts. Check out just a few of the dine-in options offering delicious meals, festive ambiance, and more all around the city.
Alpana Restaurant: Enjoy a special three-course menu with options like cream of cauliflower soup, honeynut squash, or Faroe Island salmon in this gorgeous new River North space.
Artango Bar & Steakhouse: Take a tour of Argentina through the three-course Thanksgiving meal being served at this Lincoln Square steakhouse. Live Latin jazz music will make your celebration memorable. 
Cafe Robey: Enjoy a classic Thanksgiving meal in the heart of Wicker Park. Cafe Robey will be serving a buffet-style meal with roasted turkey and roasted cauliflower as mains.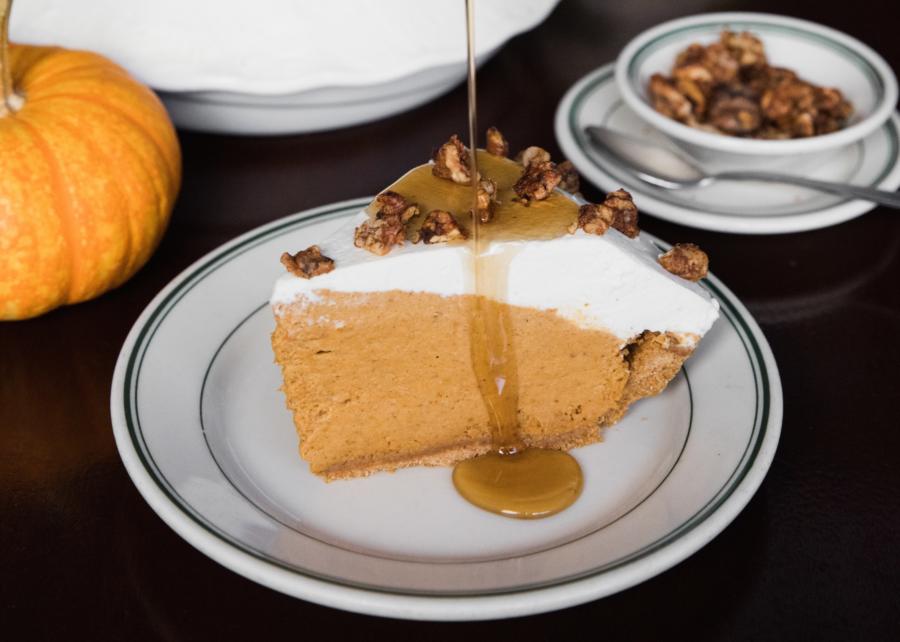 Ascione Bistro: The Italian-focused restaurant located in the heart of the Hyde Park neighborhood will be offering a three-course meal. The traditional menu includes items like roast turkey, stuffing, sweet potatoes, and pumpkin pie.
Pearl's Place: Known for down-home Southern cooking, Pearl's Place will be serving its famous holiday buffet for Thanksgiving filled with comfort food classics.
The Lobby: Start your day with an indulgent Thanksgiving brunch buffet at The Peninsula, including a carving station, seafood, caviar, charcuterie, sushi, and more.
Lirica: This new lakefront restaurant at Navy Pier will be serving a Spanish-inspired Thanksgiving dinner that stars a maple-brined turkey with chorizo dressing.
Shang Noodle: Go non-traditional at Shang Noodle, a cozy Chinese and Japanese diner in South Loop that's open on Thanksgiving day for dim sum, noodle, and sushi.
Mia Francesca: In Lakeview, this Italian spot will be showcasing the flavors of Rome in its Thanksgiving menu with a set menu of homemade dishes.
Longman and Eagle: This cozy Logan Square staple will be serving up mashed potatoes with foie gras gravy, bone marrow stuffing, pumpkin pie, and more.
Big Jones: The Southern heritage restaurant is offering an epic annual feast of five courses. Options include deep fried Cajun-style turkey or crawfish boudin-stuffed rainbow trout, plus a special dessert to take home.
Cherry Circle Room: Enjoy a bountiful three-course Thanksgiving dinner with your choice of traditional or vegetarian dishes. To enhance your meal, choose an optional beverage pairing.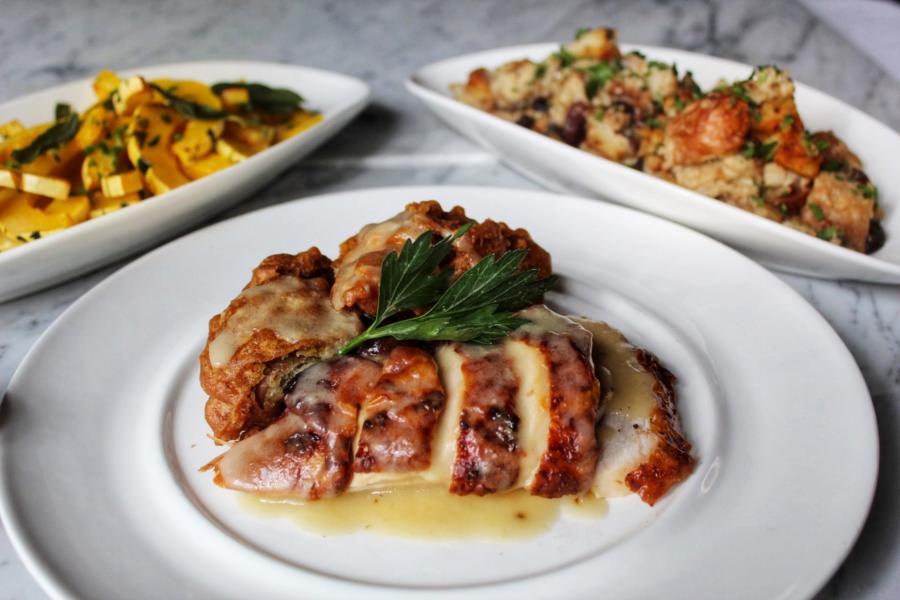 City Cruises: Spend your holiday on the water enjoying the breathtaking Chicago skyline. Choose from several lunch cruise options on Thanksgiving Day, including the all-glass Odyssey Chicago River boat.
Esquire by Cooper's Hawk: The three-story culinary destination will offer a Thanksgiving menu that includes slow-roasted local turkey, along with their full menu and celebrity chef Tyler Florence's special menu.
Oda Mediterranean: Head up north for Thanksgiving dinner in Andersonville where guests can expect the full menu of Turkish-Georgian fare or seasonal specials like Mantar Güveç, a cheesy mushroom casserole prepared in an earthen clay pot.
Gene & Georgetti: This classic steakhouse is offering a special prix fixe Thanksgiving menu, but also includes a few G&G classics like the garbage salad and chicken Joe.
Joe's Seafood, Prime Steak & Stone Crab: Enjoy sliced turkey breast, alongside all the fixings — classic stuffing with sausage, mashed potatoes, butternut squash with toasted marshmallows, and a slice of pumpkin chiffon pie for dessert.
Michael Jordan's Steakhouse Chicago: This iconic restaurant will be offering Slagel Family Farm roasted turkey with sweet potato purée, garlic mashed potatoes, cranberry orange sauce, and dressing. Save room for MJ's favorite 23-layer chocolate cake.
The Chicago Firehouse Restaurant: This South Loop neighborhood gem is offering a three-course menu of holiday delights such as roasted turkey, garlic whipped potatoes, and bourbon pecan pie.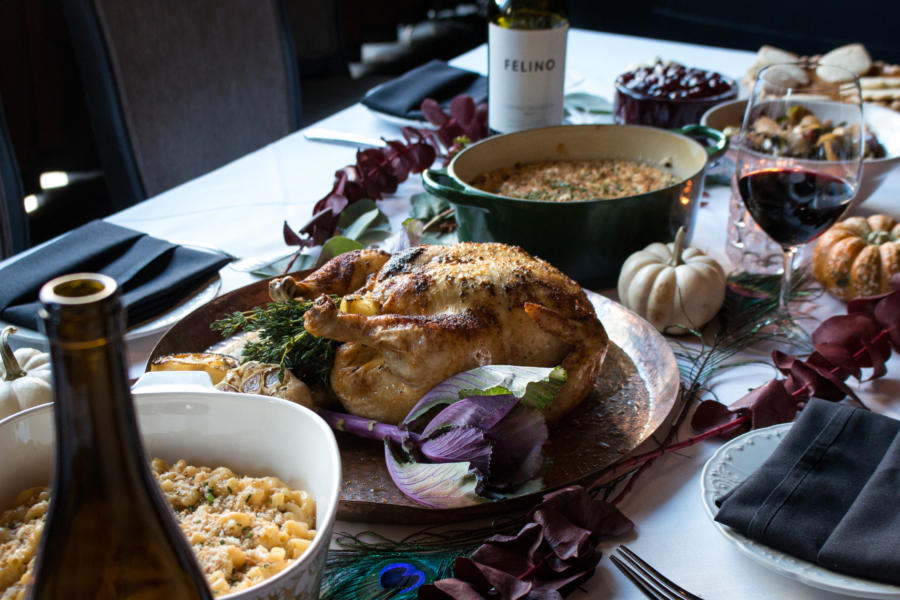 Prime & Provisions Steakhouse: This River North steakhouse is welcoming the return of their Thanksgiving Day Grand Feast. The feast includes a carving station, a raw bar, and all the traditional holiday sides.
RPM Italian: Enjoy Thanksgiving with an Italian twist. This three-course meal includes local turkey breast, butternut squash tortelloni, imported burrata, aged parmesan risotto, delicata squash, and more. 
The Smith: Diners can enjoy a three-course menu with options like butternut squash soup, kale and quinoa salad, tuna tartare, ricotta gnocchi, burrata, and more. A small a la carte menu will also be available.
WoodWind: The luxurious downtown dining destination is offering a three-course prix fixe meal that includes roasted Brussels sprouts, fire-roasted ham, and pumpkin-spiced churros.
Yardbird: The recently opened River North location invites you to celebrate with an herb-roasted Yardbird turkey dinner followed by brown butter bourbon pumpkin pie.