Thanksgiving is going to look a little different this year, but that doesn't mean we can't find ways to celebrate. Enjoy a delicious meal and make some new holiday memories — all while supporting a local business — with these Thanksgiving specials that you can enjoy in your own home.
Check out the Chicago restaurants offering Thanksgiving dinners, desserts, and more for carry-out.
Chicago Thanksgiving carry-out dinners
Aba: Bring a Mediterranean twist to your Thanksgiving dinner with Aba's carry-out feast. The meal includes classic and pumpkin hummus, truffle baked orzo, grilled kebabs, crispy brussels sprouts, creme brûlée pie, and more ($48.95 per person). Add on a bottle of wine or a cocktail kit to complete your evening. 
Alinea: This three Michelin-star establishment is offering a splurge-worthy Thanksgiving dinner that you can enjoy at home. Your meal will include a free-range turkey, compound butter, herbs & spices, and detailed cooking instructions. Plus, all the ready-made appetizers and sides you could ever need — shrimp cocktail, butternut squash soup, mashed potatoes, gravy, and more. Meals start at $325 for a party of four.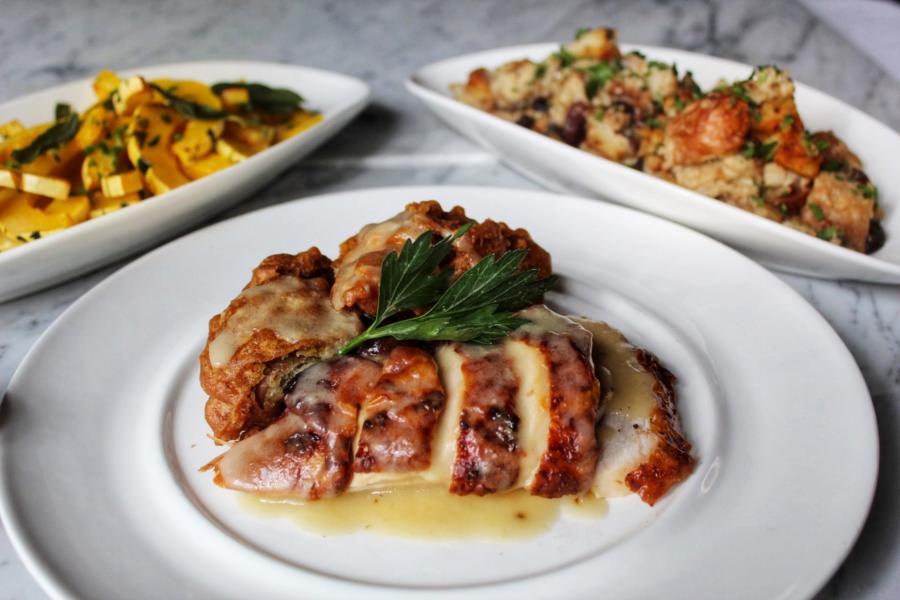 Bar Roma: Bar Roma will offer a traditional family-style feast with cider-brined turkey, garlic potatoes, green bean casserole, cornbread stuffing, and bourbon pecan pie ($80 serves two; $160 serves four). There's also a vegetarian option with spinach and cheese lasagna.
BOKA: Bring home a fully cooked meal from BOKA this year — all you need to do is follow the detailed reheating instructions. Enjoy a free-range turkey, chicken sausage stuffing, mashed potatoes, pumpkin layer cake, and more. Each meal serves four adults for $270. You can also opt for the "everything but the turkey" option, which includes all the sides for $165.
Brass Heart: In Uptown, Brass Heart is offering a Thanksgiving meal for two for $175. The dinner includes brioche and sausage stuffed poussin, carrots with pancetta, duchess potatoes, sweet potato pie with truffle maple syrup, and more. Plus, the package includes a bottle of sparkling rose.
Brindille: Enjoy a French Thanksgiving at home with Brindille's carry-out dinner. Order a locally raised turkey and add on your choice of family-sized sides, or opt for the Thanksgiving package ($160) that has everything you need for two people on the big day. Optional enhancements include hot buttered rum cocktails, desserts, and more.
The Bristol: Enjoy a three-course take-home feast from The Bristol. The $85 meal serves two and includes a salad trio, whole smoked duck, and mini apple crostatas.
Cira: Celebrate the unofficial holiday with a Friendsgiving meal to go from Cira. Enjoy lentil soup, smoked turkey shawarma with house-made pita, and a pumpkin spice bavarian pie for $38 per person.
Frontier: No matter how many dinner guests you're expecting, Frontier has you covered. Choose from dinner for four ($150) all the way up to 15 ($350). The meal includes a smoked and carved turkey breast with gravy, mashed potatoes, cornbread stuffing, sweet potato pie pieces, and more.
Girl & The Goat: Acclaimed Chicago chef Stephanie Izard will be debuting an "Everything But The Turkey Box" with globally-inspired side dishes, gravy and dry-brine (just not the turkey!). The kit serves six for $249 and can be shipped nationwide.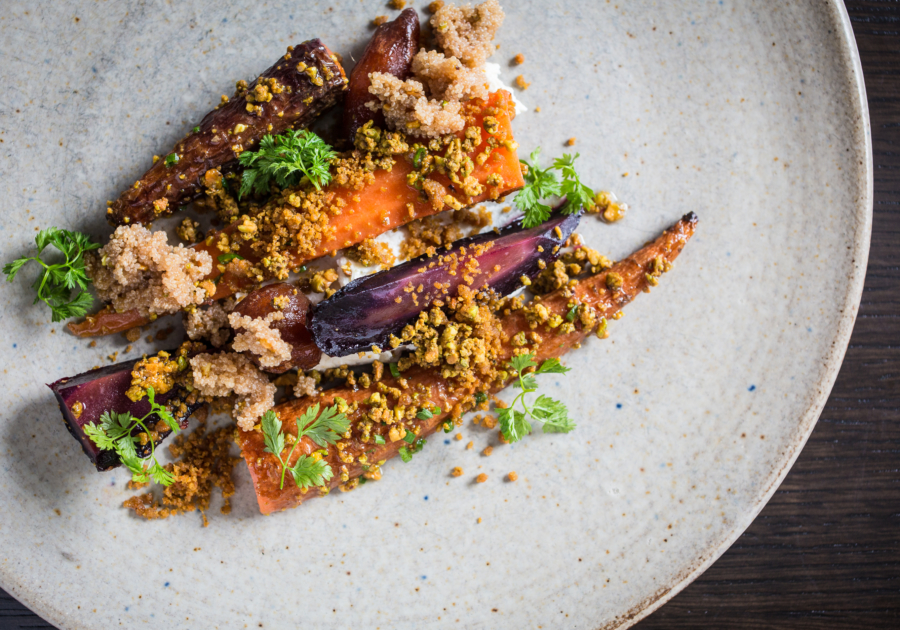 Heritage Restaurant & Caviar Bar: Host an over-the-top Thanksgiving dinner with Heritage's fully cooked "The Baller" package — an 18-pound turkey, an ounce of caviar, shrimp cocktail, smoked oyster and kimchi stuffing, an apple pie, a Manhattan cocktail kit, and more. The meal serves four to six people for $325. Not enough? Add a smoked and stuffed ham for $60.
Joe's Seafood, Prime Steak & Stone Crab: Order a Thanksgiving meal from Joe's with roasted turkey breast, pan gravy, mashed potatoes, classic stuffing with sausage, and more — just reheat and enjoy. The carry-out dinner serves four for $250. Add on stone crab, chilled seafood, lobster mac and cheese, and other decadent options.
Longman & Eagle: Longman & Eagle's beloved family-style Thanksgiving Dinner is back this year to-go. The feast for two includes stuffing, mashed potatoes, roasted turkey breast and drumstick, kale salad, and pumpkin pie
Majani: Looking for a vegan Thanksgiving? Look no further than Majani, known for their soulful renditions of meatless dishes, with locations in South Shore and Pullman. They'll be offering Thanksgiving dinner with items like tofu turkey, macaroni and "cheese", candied sweet potatoes, and vegan desserts.
Momotaro: Order Momotaro's Asian-inspired Le Quack feast, featuring a whole roasted, soy-glazed duck, salad, duck confit rice, curry-spiced kabocha, and more. The $300 feast feeds up to six people; wine, sake, and cocktail kits are available to add on.
The Metropolitan: Choose from turkey for two, a family pack, and vegan/vegetarian options from The Metropolitan. Optional add-ons include a charcuterie board, green bean casserole, shrimp cocktail, and more.
The Publican: Enjoy a locally grown Thanksgiving dinner from this West Loop staple. The carry-out feast consists of a locally raised turkey to cook at home with an abundance of ready-to-eat sides, plus additional add-ons and dessert options to round out your meal.
RPM Steak: Treat your family to an elegant meal from RPM Steak, with signature dishes like aged parmesan risotto and holiday classics like a Slagel Farms turkey and traditional sides. The package, cooked and ready to enjoy, serves four for $225.
Shaw's Crab House: This crowd-pleasing seafood feast is available for carry-out from Shaw's Crab House in River North. Dig into ceviche, shrimp cocktail, steamed crab legs, plus all the traditional Thanksgiving favorites. Available for parties from two to ten for $59 per person.
Swift & Sons: Celebrate Thanksgiving or Friendsgiving with this feast for four, including prime rib with au jus, Parker House rolls, sweet potato casserole, roasted brussels sprouts, and much more.
Tavern on Rush: The Gold Coast steakhouse is offering a complete Thanksgiving feast to-go, including carved turkey, stuffing, roasted acorn squash soup, mashed potatoes, plus your choice of dessert for $59.95 per person.
Travelle: Purchase a ready-to-eat Thanksgiving dinner with Travelle's Thanksgiving To-Go. The feast serves 10 people and features dishes like garlic butter brioche rolls, an herb-roasted whole turkey, slow roasted beef tenderloin, your choice of pie, and more.
Virtue: Order a complete Thanksgiving meal with Southern American flair, including an applewood smoked turkey, collard greens, giblet gravy, candied yam, pecan pie, and more. The meal serves four to six for $189.
Chicago Thanksgiving to go pies and desserts
Bang Bang Pie & Biscuits: In Logan Square, Bang Bang Pie is offering an assortment of Thanksgiving pies for carry-out. Choose from classics like pumpkin, apple, chocolate pecan, key lime, and chocolate caramel. 
Brown Sugar Bakery: Indulge in the famous caramel cake from Brown Sugar Bakery in Grand Crossing this Thanksgiving. Other sweet options include lemon, vanilla cream, dreamsicle, and more.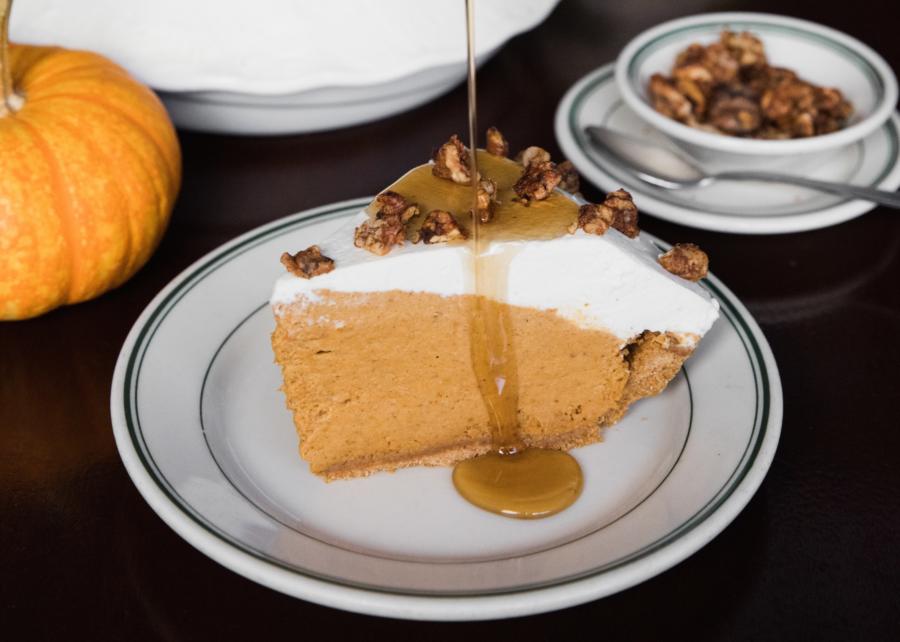 Beatrix: Choose from an array of house-made desserts at any Beatrix location, including River North, Fulton Market, and Streeterville. Options include the signature caramel pie ($50), pumpkin pecan pie ($55) or chocolate cake ($55).
Ema: End your Thanksgiving meal on a sweet note with a honey pie ($60) from Ema in River North. Each pie is topped with sesame seeds and roasted grapes, and serves eight to ten people.
Goddess and the Baker: Their online pie shop is stocked with everything from pumpkin pie to Thanksgiving cookies to festive cupcakes and more. You can even get a cookie decorating kit to DIY.
Justice of the Pies: Find the Thanksgiving pie of your dreams during Justice of the Pie's pop-up in Garfield Park. Place your order now for caramel apple crumble, blue cheese praline pear, chocolate bourbon pecan, salted caramel peach, carrot souffle, and so many more. 
Sepia: Chef Lauren Terrill's whole seasonal pies, including apple pie with miso butterscotch and pumpkin custard tart, will look perfect on your Thanksgiving table. All pies are eight inches and available for $28.
Sugargoat: Stephanie Izard's new bakery has a tempting array of creative treats, like chocolate french fry pie, avocado toast cake, and cheez-it cake.