A note from the President and CEO
November 16, 2022
Dear Partners,
Every year, it feels like the transition from summer into the holiday season in Chicago gets shorter and shorter. Just yesterday, it seems, we were celebrating Best Big City in the U.S. and touting our successful summer numbers. Now, holiday decorations are coming out and the Choose Chicago team is working hard to attract visitors to Chicago for the holiday season and make sure that we reach all of our year-end goals.
Before the holiday season starts in earnest, I want to take a few minutes in the pages of this newsletter to highlight some of the important activities we have undertaken recently. As I noted in the last newsletter, this summer saw our tourism metrics bounce back to nearly 90% of 2019 level. This fall has been all about building on that momentum and getting back to business with the return of some important strategies that have been on hold during the COVID-19 pandemic.
National and international media coverage that drives visitors to Chicago does not happen by accident. Our Media Relations team works tirelessly to pitch the city as a destination to hundreds of reporters and influencers around the world. A major part of this strategy is visiting some of our key national and international markets to meet directly with members of the media to talk all things Chicago. I am thrilled to report that these trips are back and better than ever!
Over the last month and a half, we held two very successful media receptions, in Mexico City and New York City respectively. In late September, I presented to over 70 of the top reporters and influencers in Mexico City talk about why Chicago is a top destination for Mexican travelers. Then, in late October, I along with some of our partners spoke to over 60 arts and culture reporters in New York City to promote Chicago's art scene. Together, these trips will generate dozens of positive news stories and drive thousands of visitors to Chicago for months to come.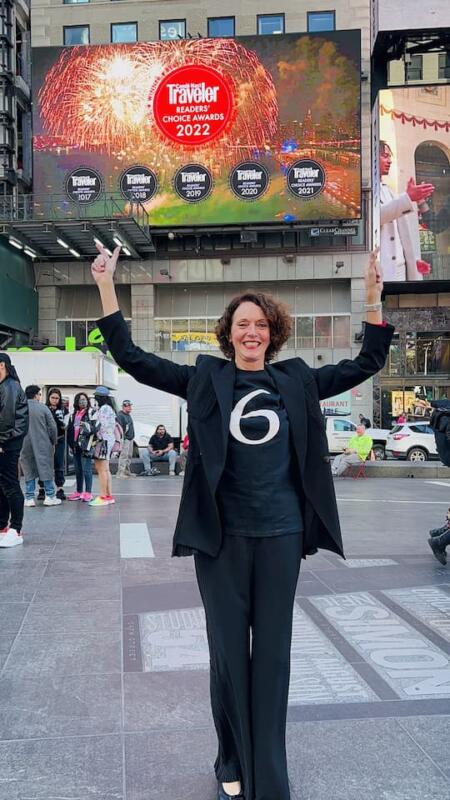 I am so excited to be conducting media trips like these again, and I was also privileged to be able to check out our new ad in Times Square on my New York city trip a few weeks ago. For the first time ever, we had a major video ad in one of the busiest pedestrian areas in the world, showcasing Chicago to millions of visitors. This is part of our strategy to build on the Best Big City in the U.S. win and I made sure to take a picture when I was in town!
Finally, I want to highlight another important strategy that we are thrilled to bring back post-COVID. In early November, we held our first in-person Customer Advisory Board (CAB) Meeting. This meeting brought 20 of our biggest convention and trade show clients together for a two-day event full of information sharing and brainstorming sessions to learn how we can continue attracting and retaining the best and biggest shows. The feedback was overwhelmingly positive and I am excited to take what we learned to heart as we continue building our strategy into the future.
As we approach the holiday season, I look forward to continuing to celebrate a successful 2022 while laying the groundwork for an even better 2023.
Sincerely,
Lynn Osmond
President and CEO
Choose Chicago
---
Welcome new partners
Please join us in welcoming our new partners
Alla Vita
American Queen Voyages
Avli Taverna Restaurant
Bar Mar
Bar Siena
Bazaar Meat
Beat Kitchen's Bar Sol
BIAN
Big Star Mariscos
Black Barrel Tavern – OLD TOWN
City Colleges of Chicago
Colorful Experience, LLC
County BBQ
Duneyrr Fermenta
Farm Bar Lakeview
FlyOver Attractions
Gertie
Gilt Bar Chicago
Greater Englewood Chamber of Commerce
Gyu-Kaku Japanese BBQ | Naperville
Harvest 365 Restaurant and Fresh Grill
Kindling
Komo Chicago
Koto Restaurant
Lena Brava
Luella's Southern Kitchen
Lyra
Millennium Hall
Mitchell Museum of the American Indian
Pontarelli Public Relations, LLC
Purpose Sustainability Strategy
Reggies
RVC
SoJu House LLC
Soul & Smoke
St. Augustine College
Storyville Chicago
Tabu
The Brown Cow Ice Cream Parlor and Creamery
The Secret City
Trivoli Tavern
---
December Partner Networking Event
Wednesday, Dec. 7
5 – 7 p.m.
Kick off the holiday season and join industry friends and colleagues for a fun evening of networking. Discover one of Chicago's newest event venues while brushing up on your golf game and enjoying light bites and beverages.
Location:
Five Iron Golf
609 North Dearborn St.
Chicago, IL
Cost: $30
---
Help create a healthy and inclusive workplace
Choose Chicago is collaborating with National Louis University to solicit industry feedback to help hospitality organizations create a healthy and inclusive workplace culture that can help attract and retain the necessary workforce. Kendall College at National Louis University is exploring emerging strategies for enhancing the well-being and quality of life for hospitality professionals working in hotels, restaurants, and other settings. The goal of this initiative is to share innovative strategies, best practices, research, and tools to improve industry practices and to inform the public about the positive steps the industry and educators are taking to prioritize workplace well-being for the current and future workforce.
Please help us assess health and wellness practices and identify innovative strategies by taking a short 10 – 15 minute employer survey by December 1, 2022. Use the following links to share your feedback:
All responses are confidential and no names or affiliations will be shared in findings. If you would like to share your organization's story for an in-depth case study, please include contact information in your survey response in the final question.
---
Update from the Sales & Services team
Customer Advisory Board
On November 2 and 3, we held our first Customer Advisory Board Meeting since the COVID-19 pandemic. These meetings are critical for us to understand the needs of our major meeting and event clients as we continue to market Chicago as a premier meetings destination.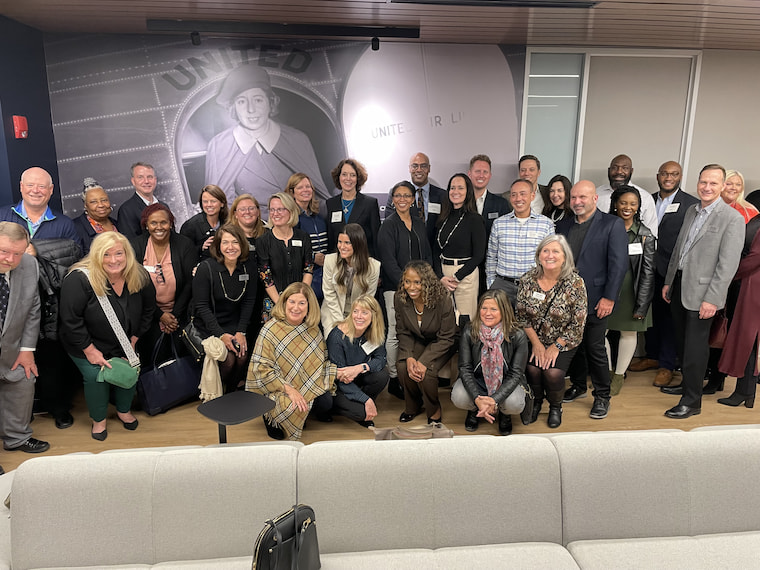 This meeting was very successful. We received excellent feedback from the over 20 clients in attendance and they passed along important recommendations that will guide our efforts to attract and support major events into the future. Some of the highlights included:
We provided a public safety presentation and received useful feedback on how we can better support our clients to help them understand and communicate about public safety to their delegates.
We welcomed World Business Chicago to provide an overview of our Connecting to Chicago program.
We held a variety of brainstorming sessions to understand how we can better serve clients before, during and after their shows.
Recent client events
The Choose Chicago Sales and Services team continues to work hard to connect with current and prospective clients:
In early November, Choose Chicago entertained prospective clients at the James Beard Foundation Taste of America event in Seattle. Customers from Amazon, T-Mobile, Boston Consulting Group, RealSelf and Planner Hero were invited to join us at this sold-out, exclusive food experience from our partners at James Beard.
We were delighted to bring back our Thankful Thursday lunch at Cabaret Zazou.
Just prior to Thanksgiving, we are in Washington DC, connecting with current and prospective clients during appointments and through a couple of intimate events.
Upcoming major events
The following major events are scheduled to take place through the end of 2023:
IASB-IASA-IASBO Joint Annual Conference 2022
11/15 – 11/21, Estimated Attendees: 12,379
Rockwell Automation 2022 Automation Fair®
11/16 – 11/17, Estimated Attendees: 15,000
Radiological Society of North America (RSNA) 2022 Annual Meeting
11/27 – 12/1, Estimated Attendees: 55,000
American Geophysical Union Fall Meeting 2022
12/12 – 12/16, Estimated Attendees: 25,000
The Midwest Clinic 2022 An International Band and Orchestra Conference
12/19 – 12/21, Estimated Attendees: 16,948
---
Staffing update
We are thrilled to announce the following staffing updates at Choose Chicago:
T. Cahal Mowery has been hired as Vice President of Sales, beginning in early January. Cahal joins Chicago directly from VISIT DENVER, where he served as Director of Convention Sales, and he has previously worked at JW Marriott Houston and Visit Houston. As Vice President of Sales, Cahal will work with Dawn Young, also Vice President of Sales, to promote Chicago as a premier meetings destination by managing the daily sales activity of the organization including developing and implementing strategic sales plans to reach corporate goals.
Eric Kincaid has been promoted to Associate Vice President of Sales, beginning in early January. Eric has worked at Choose Chicago as Senior Director of Convention Sales since 2021 and has over a decade of experience in sales at Destination Marketing Organizations and hotels. In his new role, Eric will be supervising and leading our Mid-Atlantic team. Collectively, Dawn, Cahal and Eric will be responsible for leading our sales team by implementing new systems and procedures and coaching the team in the day to day.
Robert Leff has been hired as our new Director of Business Development and Sales Strategy. Robert joined Choose Chicago on Monday, November 7 and brings over 20 years of experience at Destination Marketing Organizations and hotels, most recently working as the Senior National Sales Director at VisitPittsburgh. Robert is responsible for attracting new mid-to-large scale corporate meetings to Chicago.
Mallory Mondloch has been promoted to Associate Director of Client Services. Mallory has been with Choose Chicago for 4 years and she plays a vital role in making our city so welcoming to clients. In her new role, Mallory will be responsible for helping to lead the team that supports clients as they hold major events in Chicago.
Rose Horcher, Vice President of Client Services, has been named a recipient of a 2022 Smart Meetings Catalyst Award. Our Client Services team, led by Rose, is a huge reason why we are a premier destination for major events and this award is a recognition of her tireless work creating an outstanding experience for our clients.
---
In-market media receptions
Choose Chicago's Media Relations team works tirelessly to generate print, online, social, and broadcast media coverage of the city in an effort to attract visitors from around the world to Chicago. As part of this ongoing effort, our Media Relations team recently hosted the return of two successful in-market media events in Mexico City and New York City, welcoming media and influencers to learn more about what's new in Chicago. These media receptions convert to future media and influencer visits to the city, generating media and social media coverage, which continues to drive overnight visitors from these major markets to Chicago.
Mexico City, Mexico
On September 30, 2022, Choose Chicago's Media Relations team hosted a breakfast reception in Mexico City with over 70 top Mexican media, influencers, tour operators, and airline partners in attendance. Mexico has always been a major international overnight visitor market for Chicago. Travel from Mexico has ramped back up since the pandemic – we had more visitors from Mexico this summer than the summer of 2019! In-market events such as this are important to continue to maintain our strong relationship with our Mexican clients and ensure continued visitor growth for years to come. Partners in attendance included Illinois Restaurant Association, National Museum of Mexican Art, and TZUCO restaurant.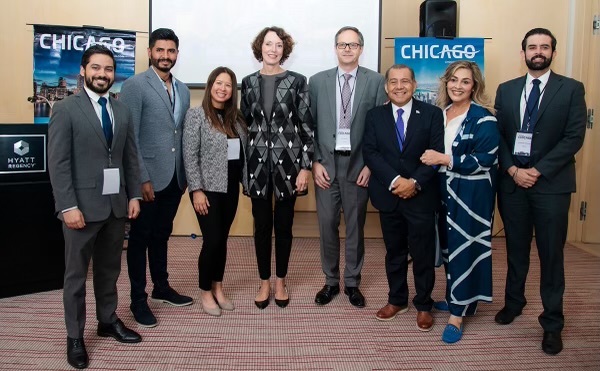 New York City, New York
On October 27, 2022, Choose Chicago's Media Relations team hosted an evening media reception in New York City to highlight Chicago's thriving arts and culture scene to over 60 top New York City-based media and influencers. New York is a top domestic market for overnight visitors to Chicago and home to a plethora of local, regional, and national media outlets and writers who cover or have the potential to cover Chicago. Partners in attendance included Art on theMART, Art in Common, Chicago Architecture Center, EXPO CHICAGO, Museum of Contemporary Art Chicago, Ruinart, and VIRTUE restaurant & bar.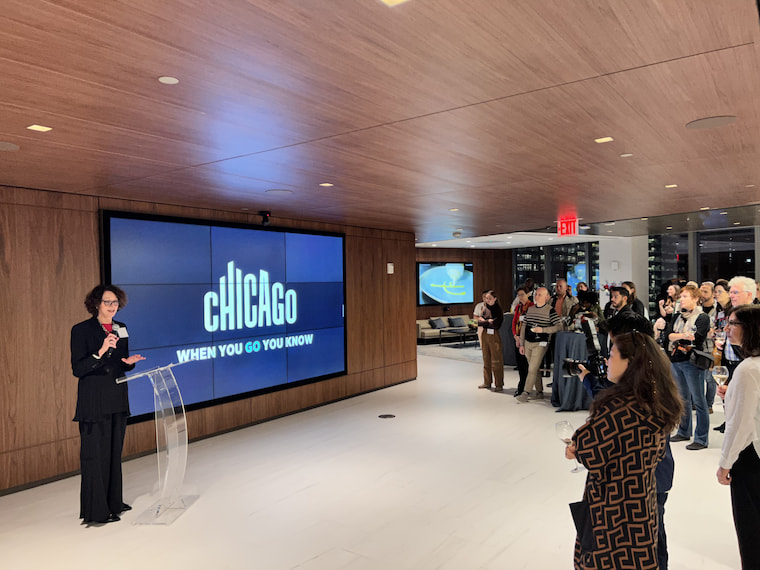 ---