Beard Awards Session: Storytelling – From the Kitchen to Food Media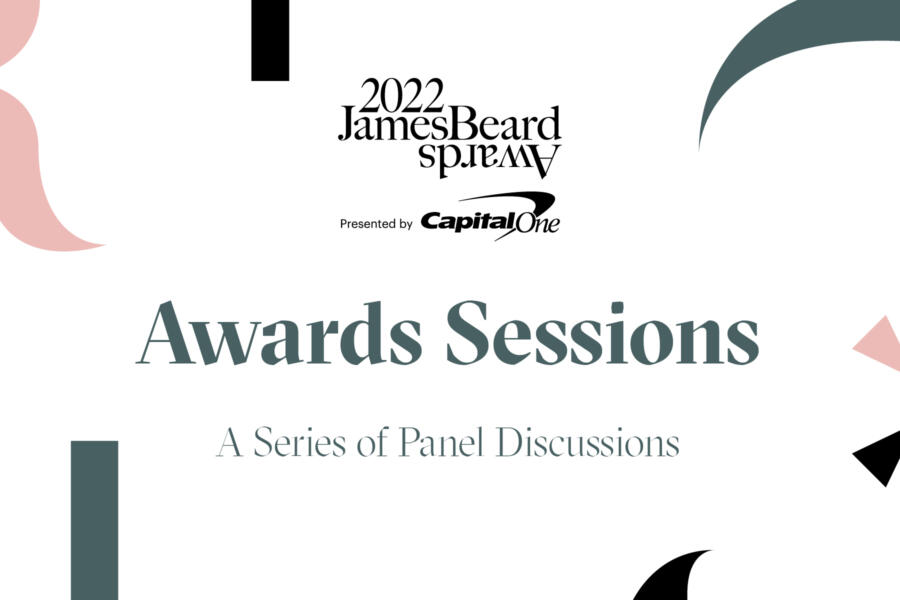 Saturday, June 11
10:30 – 11:15 a.m.     
This panel will discuss what it takes to transition from the kitchen to food media, including translating your culinary skills into content. Panelists will include members of the culinary and food media industries, and will be moderated by Jamila Robinson, Editor, Philadelphia Inquirer; James Beard Journalism Awards Committee Chair
Panelists include:
Hsiao-Ching Chou

, cookbook author; editor and writer; James Beard Book Awards Committee Chair

Joseph Yonan

, Food and Dining Editor, The Washington Post;  2022 Book Awards Nominee

Ken Rubin,

Chief Culinary Officer, Rouxbe, James Beard Awards Committee Member and Broadcast Media Committee Co-Chair
Freddies supports the James Beard Awards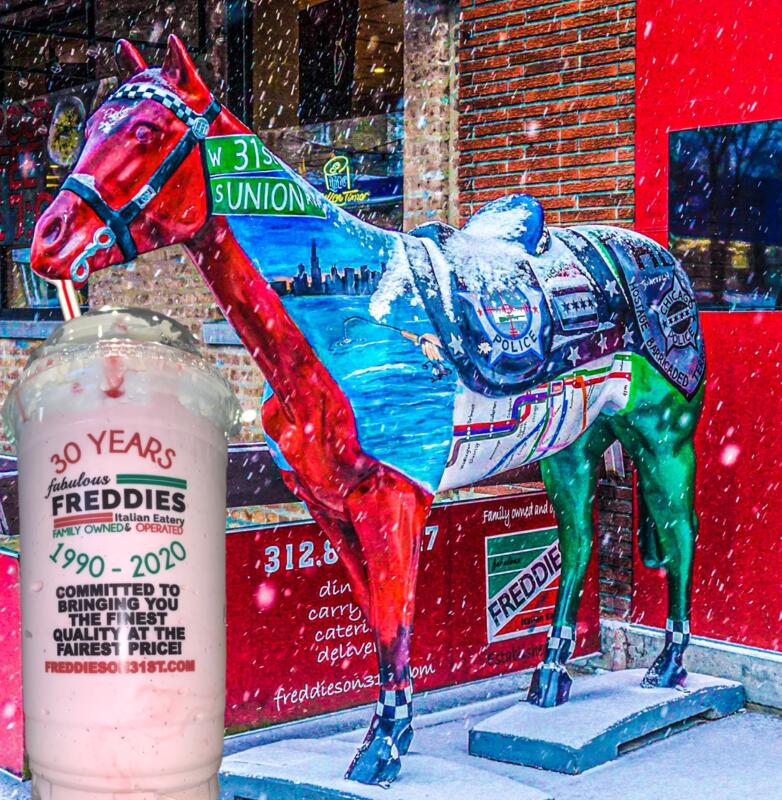 June 10 – 13
9 a.m. – 11 p.m.
Fabulous Freddies Italian Eatery (701 W. 31st St.) supports the James Beard Awards. If anyone named James that has a beard comes into Freddies, Fab Freddies will give them an award of a free milkshake with a purchase of a sandwich or entree.
A Culinary Crawl Through Logan Square Hosted by Chef Doug Psaltis & Hsing Chen
Sunday, June 12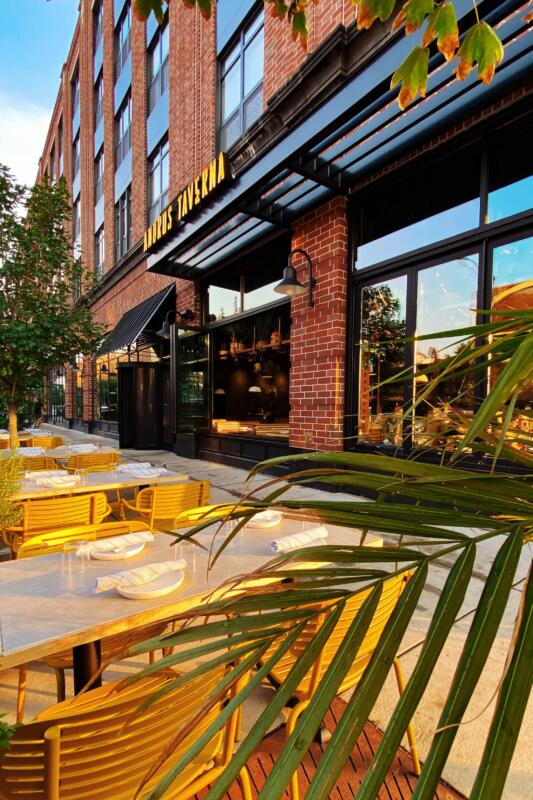 To celebrate the return of the James Beard Foundation Awards, Chef Doug Psaltis and Pastry Chef Hsing Chen are hosting a Logan Square Crawl on Sunday, June 12.
Kick off the day with brunch at Andros Taverna, which will feature classic recipes from James Beard's American Cookery, before or after your visit to the Logan Square Farmers Market just steps away. 
From 10 a.m. – 12 p.m., Chef Francisco Migoya of Modernist Cuisine (nominee for James Beard Foundation Book Awards, Restaurant & Professional)will offer a book signing meet & greet. Attendees should feel free to bring their book or insert pages will be available for Chef Migoya to sign. Attendees will have the opportunity to enter a raffle to win the entire book set of Modernist Pizza —  nominated for James Beard Foundation Book Awards, Restaurant & Professional.  There will also be a raffle for a signed/framed poster of Neapolitan Man created by Chef Migoya. Chef Doug Psaltis will include a pizza from Modernist Pizza on the menu that day at Andros Taverna.
Continue the celebration with day drinking at Estereo, followed by an afternoon snack at Mini Mott to soak up the booze, which will feature a mashup of the James Beard burger and their Garlic Butter Burger — highly seasoned just the way James Beard likes it with garlic confit, miso onions and garlic salt, topped with the best seasonal greens, alliums and tomatoes that the Logan Square Farmers Market has to offer. 
Alternatively, or in addition to, make a pit stop at local favorite Taqueria Chingon for a taste of Mexican cuisine. 
To end the day, enjoy Sunday Supper at Longman & Eagle, followed by a nightcap and snack at Andros Taverna.
Sunday Best Brunch with Chef Adrienne Cheatham at Dusek's Tavern
Sunday, June 12,
10:30 a.m. – 2:30 p.m.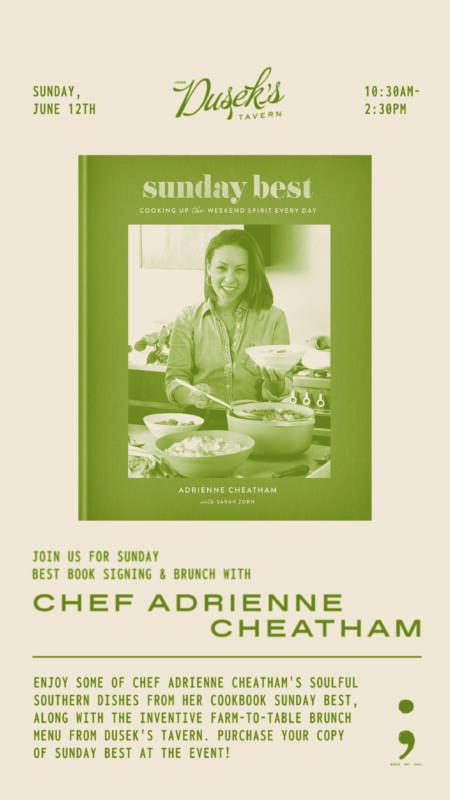 Join us at Dusek's Tavern for Sunday Best with Chef Adrienne Cheatham! Enjoy some of Chef's soulful Southern dishes from her cookbook Sunday Best, along with the inventive farm-to-table brunch menu from Dusek's Tavern. Meet Chef Adrienne Cheatham and leave with a personalized copy of Sunday Best, along with the inspiration to dive into her thoughtful recipes in your own home!
Dusek's Tavern
1227 W. 18th Street
Chicago, IL 60608
@chefadriennecheatham, @dusekschicago  
Chicago x Hawaii Brunch with Kasama + Chef Sheldon Simeon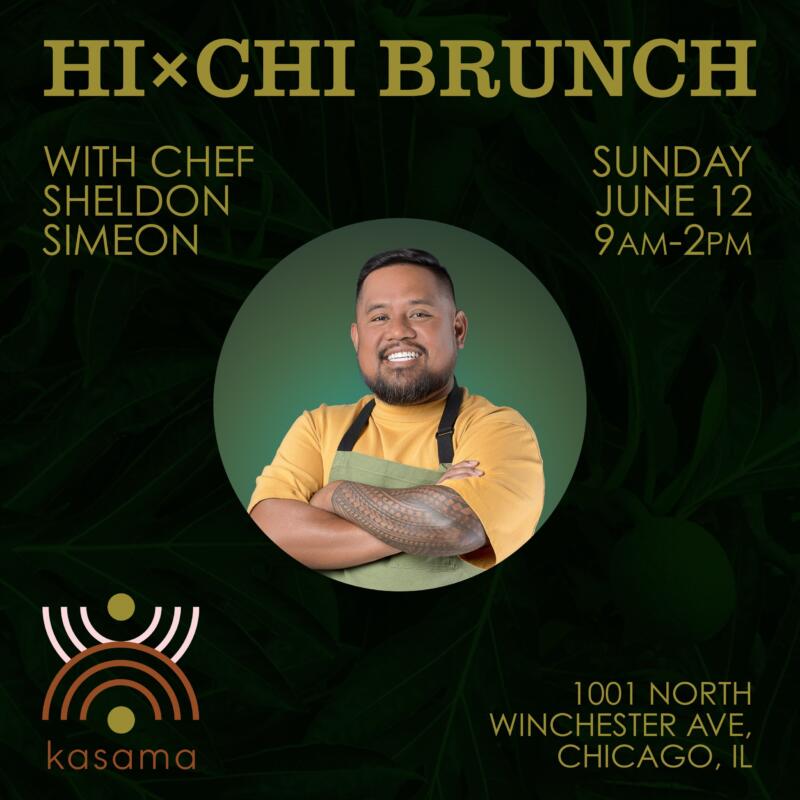 Sunday, June 12
9 a.m. – 2 p.m.
In addition to the daytime Kasama menu, there will also be three a la carte specials from Chef Sheldon Simeon, including his famous Mochiko Fried Chicken, OG Combo and Pork Sinigang Verde
Walk-ins only, no reservations
Kasama, 1001 North Winchester Avenue
@chefwonder, @kasamachicago
Attaboy Takeover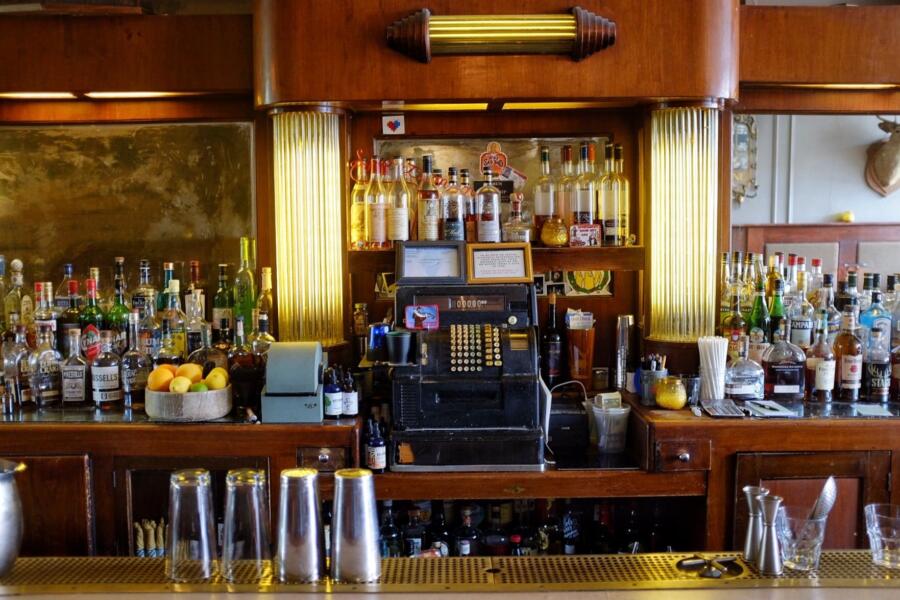 Sunday, June 12
9 p.m. – 12 a.m.

Outstanding Bar Program nominee, Attaboy, will takeover Sportsman's Club with a special cocktail menu for one night only! Reservations coming soon.
The Abundance Setting x Andrew Friedman: Women's Advancement
Sunday, June 12
1:30 – 2:30 p.m.

For generations, motherhood has been one of the most persistent obstacles to a career in hospitality. Working hours that are incompatible with the demands of childcare; unforgiving schedules that, regardless of what the law dictates, stigmatize maternity leave; and wages and benefits that often don't provide enough to sustain a family. Is it any wonder that becoming a mom is often the same decision that removes a valued contributor from the pro kitchen or dining room? This panel discussion features a cross-section of industry professionals who will offer specific, actionable suggestions for how working mothers, employers, and coworkers can collaborate to make motherhood—and more broadly, parenthood—a non-issue for hospitality workers, keep these employees in the jobs they love, and in the process help stem the tide of an ever-dwindling workforce. 
Panelists include: 
Beverly Kim (Parachute and Wherewithall)

Jason Hammel (Lula Cafe)

Claudette Zepeda (VAGA Restaurant/San Diego)

Sarah Stegner (Prairie Grass Cafe) 
Author and journalist Andrew Friedman will moderate and will air audio of the event on his industry podcast Andrew Talks to Chefs.
James Beard Awards Session: A Chef's Retrospective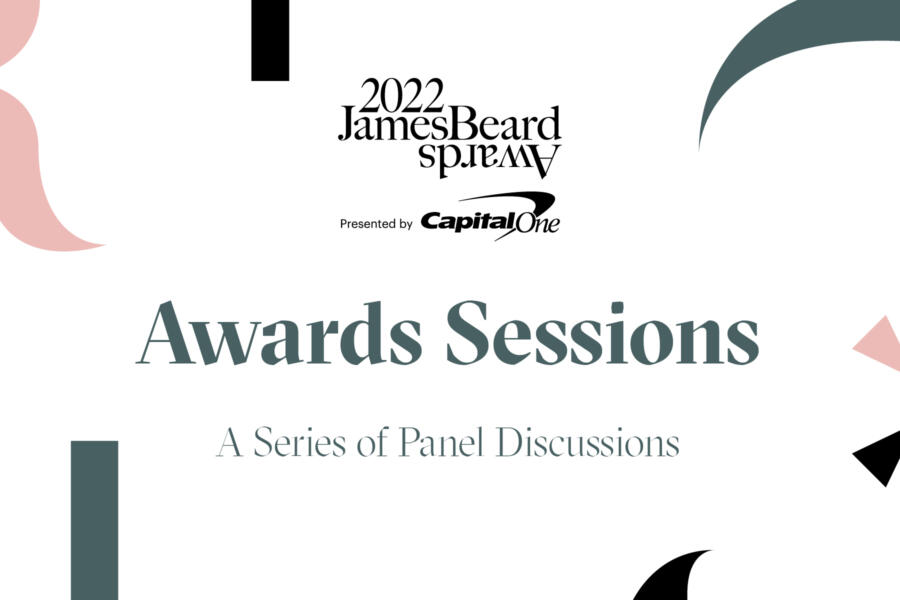 Sunday, June 12
3 – 4 p.m.
This discussion will be centered around the careers, experiences, and anecdotes of renowned chefs, and how their journeys differ from one another. The panel will be moderated by Tanya Holland, author, TV host and chef, and James Beard Award Committee Chair and Board member.
Panelists include: 
Marcus Samuelsson

, chef, restaurateur, author, Marcus Samuelsson Group; James Beard Award winner
Sunday Backyard BBQ with BARDA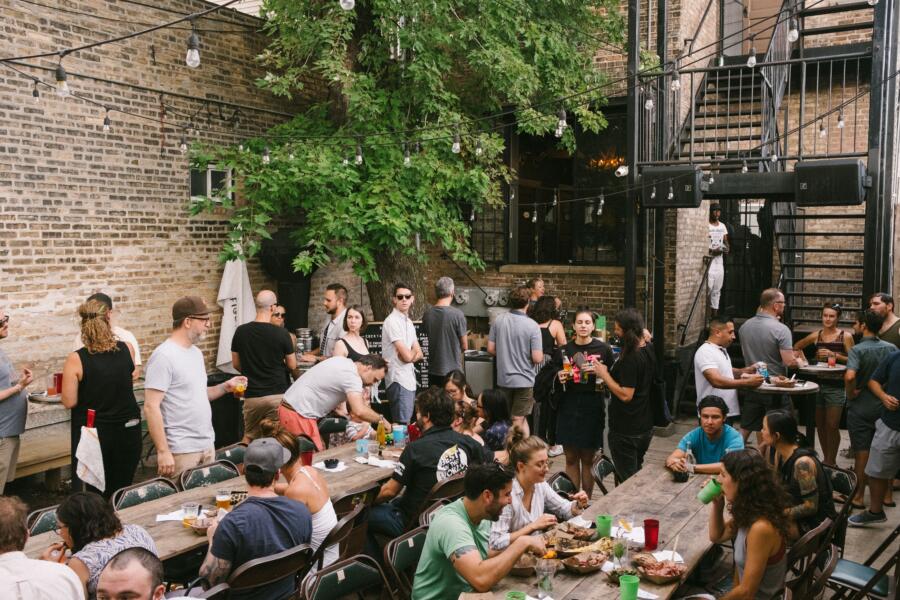 Sunday, June 12
4 –  8 p.m.

Sportsman's Club welcomes Best New Restaurant nominee, BARDA (Detroit, MI), for an afternoon backyard BBQ. BARDA's crew will take over the grill for a special one-day-only menu, while Sportsman's Club will offer a variety of drink specials to pair.  No reservations required. 
JBF Greens x Dove's: 2022 Awards Weekend Happy Hour
Sunday, June 12
4:30 — 6:30 p.m.
Join JBF Greens at Dove's Luncheonette for a happy hour in celebration of the 31st annual James Beard Restaurant and Chef Awards in Chicago. The beloved Wicker Park neighborhood hangout will open especially for JBF Greens (and friends!) to toast the 2022 Awards. Executive chef Sam O'Keefe will create a selection of festive Mexican-inspired bites that pay homage to the bygone neighborhood diners of Chicago's past.
Guests will also enjoy sparkling wine from J Vineyards & Winery, specialty cocktails from the eatery's tequila and mezcal-focused cocktail program, and sounds of the 1960's and 70's Chicago soul and blues. 70% of your ticket price will go directly to the host restaurant while 30% will go towards the Foundation's programs, including our Open for Good campaign to support independent restaurants.
A Celebration of the Industry at Smyth + The Loyalist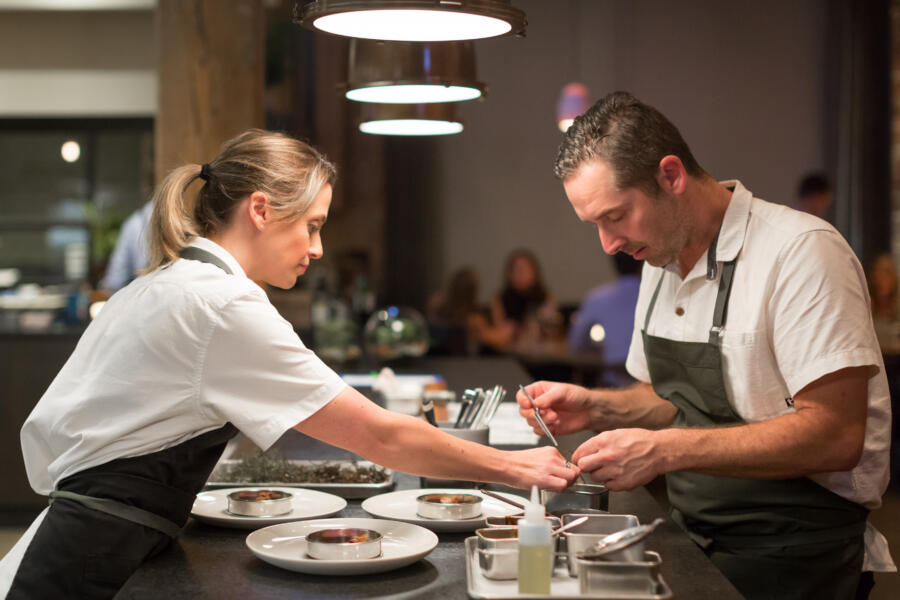 Sunday, June 12
5 – 9 p.m.
With deep respect for the James Beard Foundation Awards nominees, Smyth + The Loyalist is celebrating the return of the industry by opening their doors for a special Sunday service on June 12. 
At Smyth, enjoy an exclusive Chef's Table experience, where the culinary team serves and explains each course. This joyful journey through food pays homage to the depth and richness of Chef John Shields' and Pastry Chef Karen Urie Shields' five years in the farmlands of Smyth County, Virginia – the tasting menu changes every day, evolving as they gather new inspiration from products at the height of their seasonality. They'll offer two different wine pairing options, which you may select in advance or upon arrival the evening of your reservation in addition to a full wine list. 
Not typically open on Sundays, The Loyalist is offering reservations to experience their menu of familiar favorites that are made with the same uncompromising attention to detail as Smyth. Guests can also enjoy a beverage menu of seasonally inspired cocktails, creative spirit-free drinks and rare vintage spirits.
A Collaboration + Celebration at Travelle at the Langham, Chicago
Sunday, June 12 
5 – 10 p.m.
This chef collaboration dinner will feature six courses inspired by the cookbook James Beard's American Cookery, with dishes made by local up-and-coming Chicago chefs.
Chef collaborators include:
J

ustin Gomes (Chef de Cuisine at Travelle at the Langham Chicago)

Verlord Laguatan (Chef de Cuisine at Viceroy Hotel, Somerset & Devereaux)

Zubair Mohajir (Jean Banchet Nominated, Executive Chef & Partner Wazwan & the Coach House by Wazwan)

Chris Dodson (Sous Chef at Alinea, Chopped Champion)
Evening at The Bamboo Room with Kevin Beary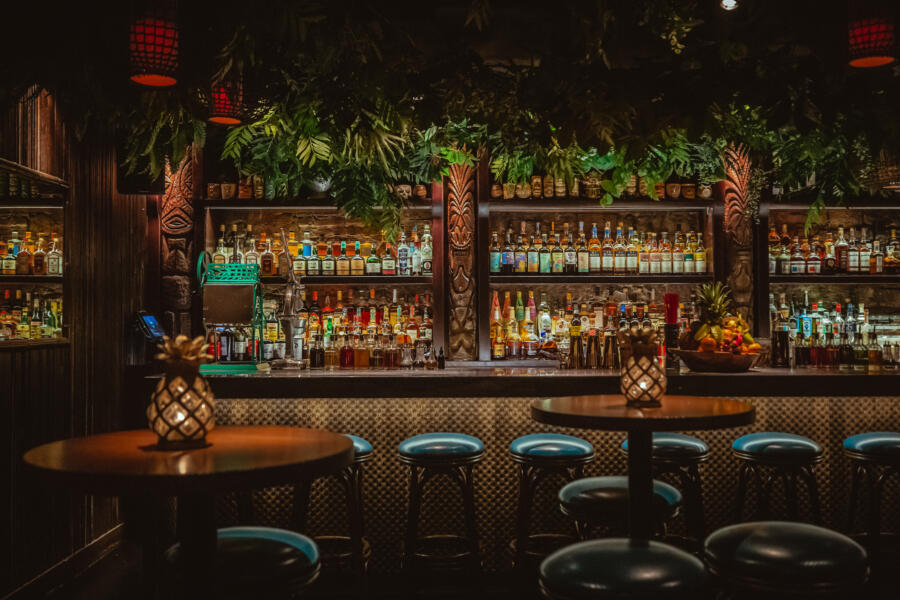 Sunday, June 12
5 – 9 p.m.

The Bamboo Room is tucked away inside of Three Dots and a Dash. named one of Esquire's "Best Bars in America." Join The Bamboo Room for a tailored experience through the world of rum in an intimate environment. Guests will enjoy specialty and off menu cocktails carefully crafted by attentive award-winning beverage director, Kevin Beary.
Get tickets to The Bamboo Room
Julep Takeover in Celebration of 15 Years of The Violet Hour

Sunday, June 12
9 p.m. – 12 a.m. 
In tandem with its 15th anniversary, Chicago's very own James Beard Award-winning bar The Violet Hour is opening up its unmarked doors to Houston's pioneering craft cocktail force Alba Huerta, owner of the acclaimed Julep (a 2022 James Beard nominee for Outstanding Bar Program)for a special celebratory bar takeover in honor of awards weekend. Alba and the Julep teamwill bring their signature Southern-inspired cocktails and down home hospitality to the heart of Wicker Park on Sunday, June 12th, to showcase two of the nation's most influential names in cocktail-ing. The event runs from 9 p.m. – 12 a.m. and is open to the public — reservations are encouraged, but walk ins are welcome. Tickets are not required. 
Make reservations for The Violet Hour
Nixta Taqueria x Bar Sótano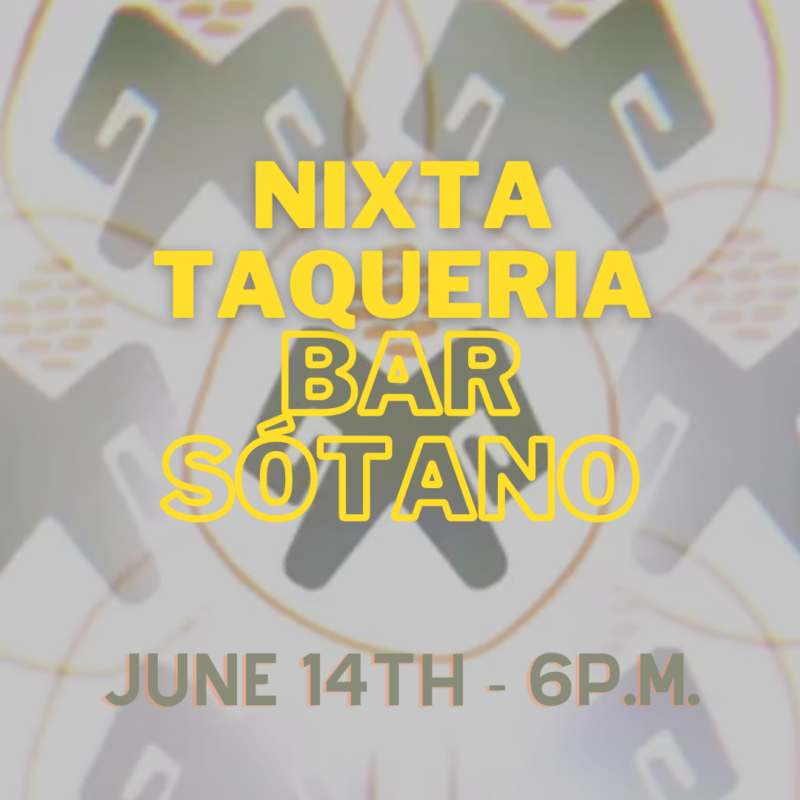 Tuesday, June 14
5 – 9:30 p.m.
Bar Sótano is beyond excited for our next collab dinner featuring Chef Edgar Ulysses Rico and crew from Nixta in Austin, Texas. A finalist for the James Beard Foundation's Emerging Chef award, Chef Edgar is making big waves for his tiny taquería and the hype is real and deserved. Like the Nixta crew, we have a deep love for modern tacos and masa snacks made from beautiful heirloom corn, and that's what you'll find at our collab. A $60 ticket gets you all the food: aguachile, four certified "bomb-ass" tacos — two from Nixta, one from Bar Sótano, and a one-time-only collaboration taco — plus dessert. Our bar team will be slinging agave spirits all night. Let's end Beard weekend en estilo, sí?