Chicago offers a variety of resources to increase accessibility for travelers with disabilities or mobility devices within airports, public transportation, and beyond. And Chicago continues to make strides in our mission to be one of the most accessible big cities in the country, such as installing new traffic signals with audible beeps and vibrations to help people with blindness or low vision to cross the street. Learn more about accessible ways of getting to and around Chicago.
Accessibility at Chicago airports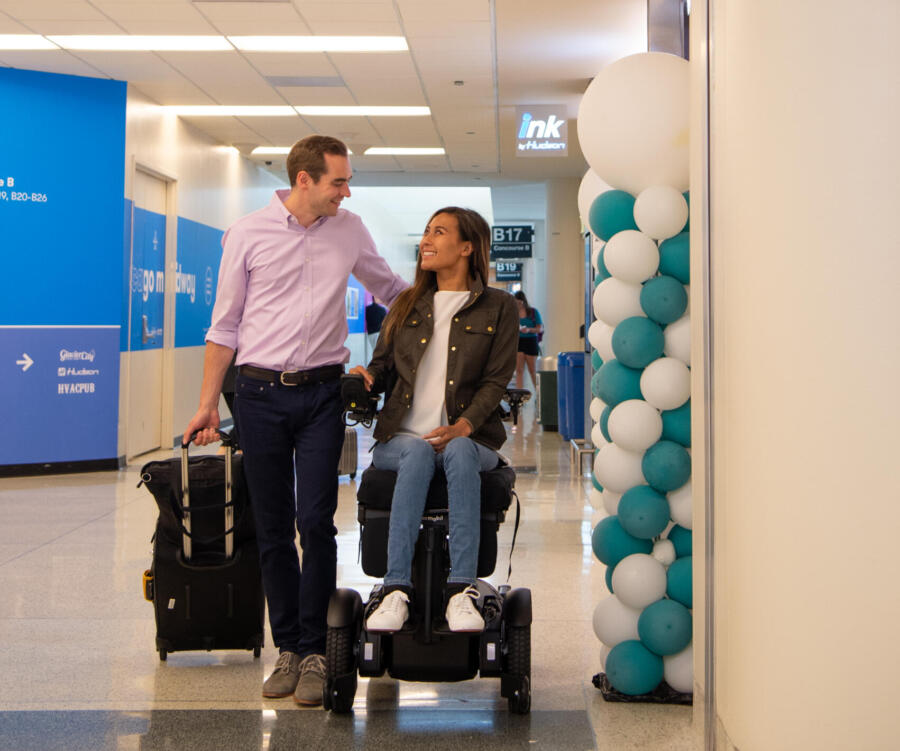 O'Hare and Midway International Airports both offer various accommodations to help travelers with disabilities get to and from Chicago safely and conveniently, including accessible parking, restrooms, service animal areas, and special accommodations during security. Learn more in the Midway Airport accessibility guide and O'Hare Airport accessibility guide.
Accessibility on buses and trains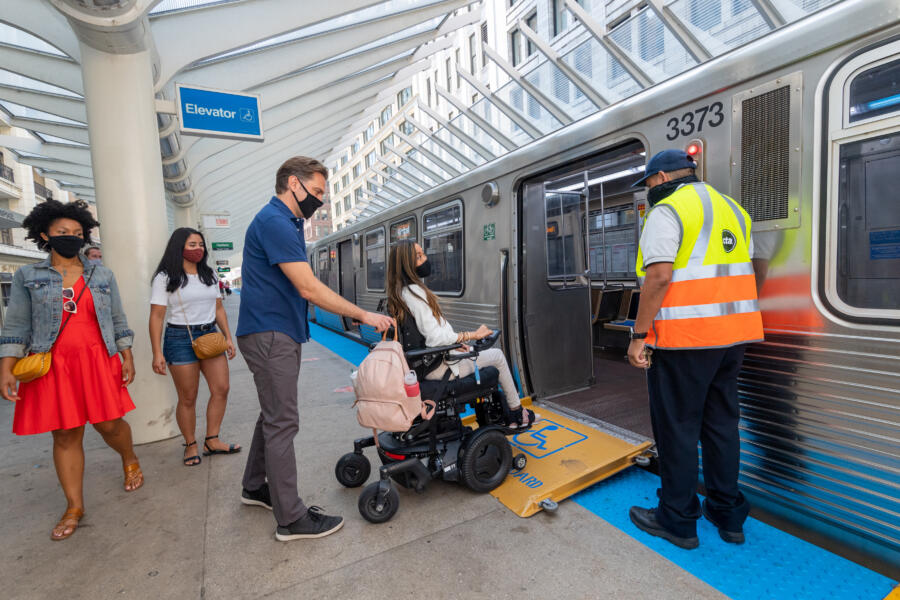 Bus accessibility in Chicago
The Chicago Transit Authority operates around 130 bus routes that include more than 10,000 stops in the city, neighborhoods, and surrounding area. Learn more in this how-to guide on riding the bus.
See schedules and routes, status alerts, and accessibility FAQs.
Buses: All of Chicago's CTA bus routes use accessible buses for riders with disabilities.
Lifts and ramps on all buses are available at the forward doors for use upon request for anyone who has trouble with steps, even temporarily.
All buses have designated priority seating and wheelchair securement areas.
Buses are equipped with automated voice announcements inside and outside of the vehicle, with accompanying text on LED displays for route and stop information.
Bus shelters:
Many shelters include estimated arrival information in the form of an outward-facing LED sign.
Each bus shelter sign is equipped with a push button and speaker to announce the estimated arrival times, reroutes, and service alerts. The push button is located inside the shelter, typically on the left front pole when facing the street.
'L' train accessibility in Chicago
Chicago's rapid transit train system, known as the 'L', serves more than 140 stations throughout the city and nearby suburbs. Learn more in this how-to guide on riding the train.
See schedules and routes, status alerts, and accessibility FAQs.
Train cars: All CTA train cars are accessible to people with disabilities. Accessible features include:
Priority seating and designated wheelchair areas
Accessible doors and ramps
Braille signage
Interior LED signs displaying announcement text (on certain cars)
Automated voice announcements for routes and stops
Train stations: A majority of Chicago's rail stations are accessible, with features and updates being added regularly. CTA personnel and customer assistance buttons are available at every rail station. Other accessibility features at rail stations include:
Audio and Braille on fare vending machines
Wheelchair accessible fare gates
Braille station and platform signage
Elevators and/or ramps
Tactile platform edging
Gap filler boards to bridge the space between the platform and the rail car
Bus and train resources
Accessibility 
Schedules and general information
System status updates
Fare information
Accessible cabs and ride share
Passengers can request a ride in a wheelchair-accessible vehicle by calling 1-888-WAV-CABS (1-888-928-2227) or by downloading the CURB app.
Passengers can also request a wheelchair-accessible vehicle in Chicago with the Uber app.
Accessible parking
Vehicles with eligible local disability placards are exempt from paying parking meters in Chicago. The city also honors disabled parking placards from most states and foreign countries, though these placards don't receive a meter exemption. Learn more about accessible parking and transportation in Chicago.