New blues museum planned for the Loop, Millennium Park is the #1 attraction in the Midwest, Chicago's Midtown Athletic Club is set to debut its boutique hotel, plus American Airlines plans a major expansion at O'Hare International Airport.
CHICAGO ARCHITECTURE RIVER CRUISE IS #1 MOST-BOOKED U.S. TOUR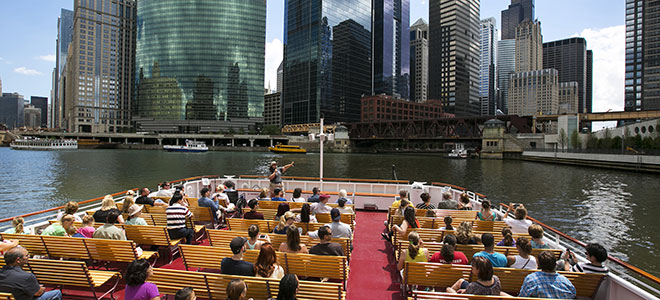 TripAdvisor recently revealed that a Chicago architecture river cruise is the #1 most-booked tour type in the U.S., based on data that shows travelers are seeking attractions which offer inspiration and enable them to broadly explore destinations.
Read more about TripAdvisor's 10 most popular tours in America.
MILLENNIUM PARK NAMED #1 ATTRACTION IN THE MIDWEST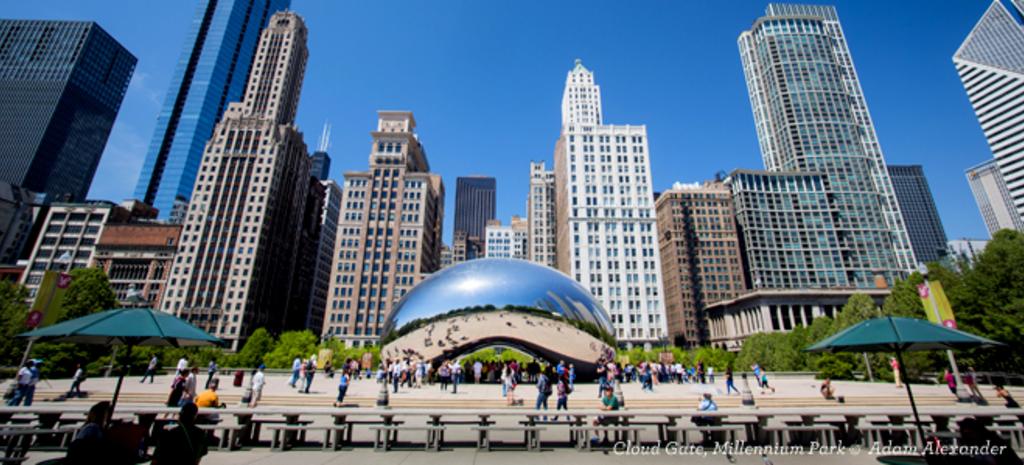 Chicago's wildly popular Millennium Park, known for its camera-ready Cloud Gate sculpture (affectionately called The Bean) and free cultural events, has been named the #1 attraction in the Midwest and among the top 10 most-visited sites in the U.S.
Find out why visitors flock to Chicago's Millennium Park.
NEW CHICAGO BLUES EXPERIENCE MUSEUM PLANNED TO OPEN IN 2019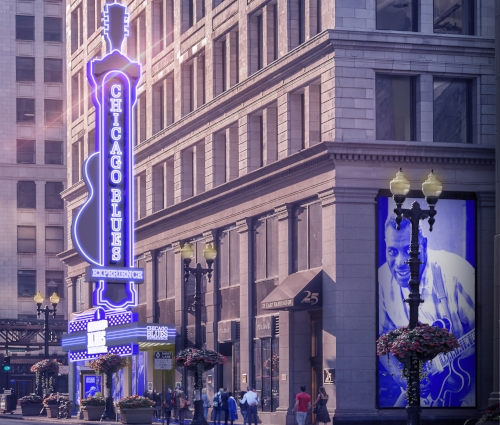 Chicago blues music will be honored with its own museum when the new Chicago Blues Experience opens in spring 2019. Located in the heart of the Loop, the immersive museum will feature exhibits on Chicago's blues history and a 150-seat lounge hosting nightly music performances.
Find out more about the Chicago Blues Experience.
MIDTOWN ATHLETIC CLUB TO OPEN AMERICA'S LARGEST FITNESS CLUB AND BOUTIQUE HOTEL IN CHICAGO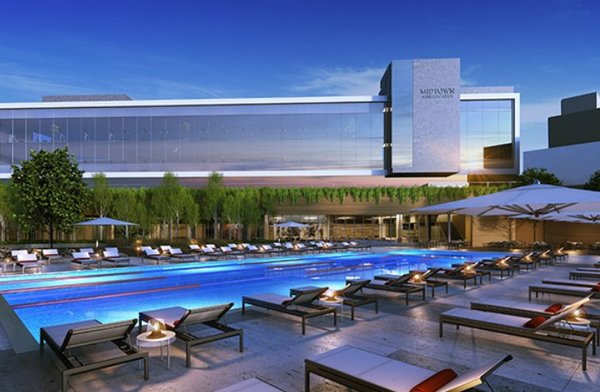 Upon its opening in July 2017, the Midtown Athletic Club and The Hotel at Midtown will make up the largest health and fitness club in the U.S. The 55-room boutique hotel, located in Chicago's hip Bucktown neighborhood, will feature four suites (including the V Suite designed by tennis star Venus Williams), two meeting rooms and a private rooftop deck with city skyline views.
Read more about Midtown Athletic Club's exciting expansion.
THE NEW UPSCALE CAMBRIA CHICAGO LOOP-THEATRE DISTRICT HOTEL OPENS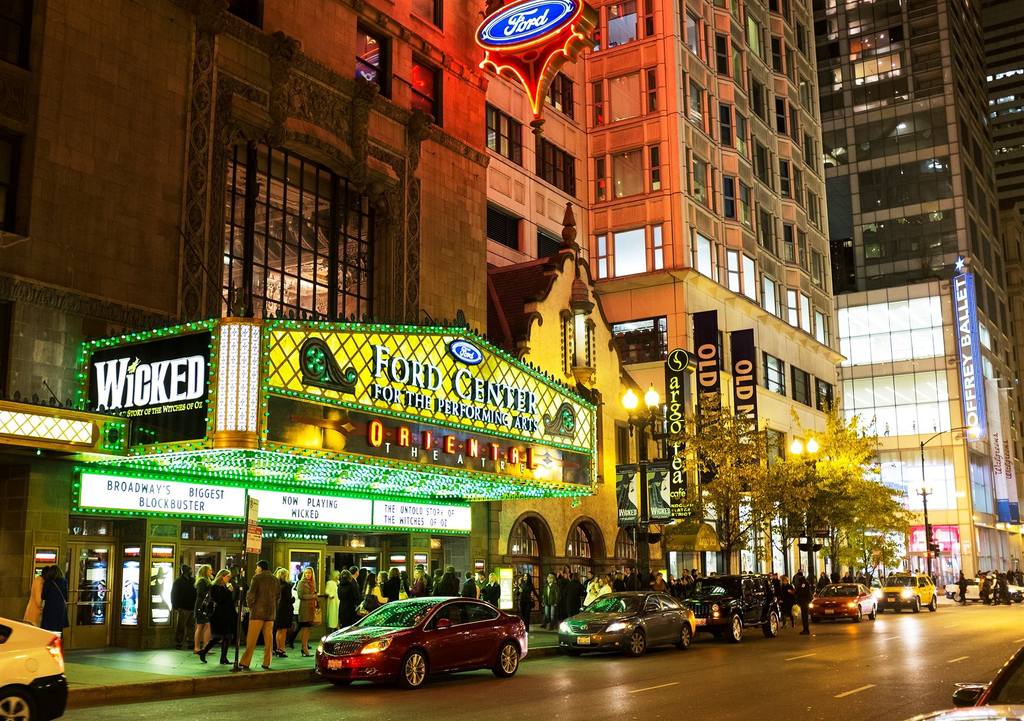 The 201-room hotel is located in the heart of the Loop on the upper 19 floors of the historic Oriental Theatre (designed by famed movie palace architects Rapp and Rapp). The Chicago hotel's opening marks the debut of the new upscale Cambria brand.
Learn more about the Cambria Chicago Loop-Theatre District hotel.
HOTEL EMC2 OPENS IN CHICAGO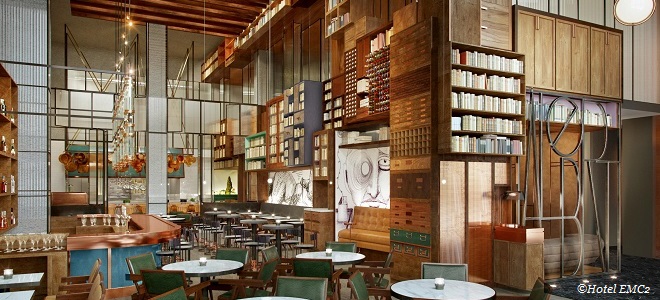 Art and science are the themes at this smart new hotel that pays tribute to scientists and inventors (the Albert restaurant is named for Mr. Einstein). The nearly 2,000 square feet of meeting space features blackboard-style art installations. The hotel is part of Marriott's Autograph Collection.
Get all of the details on Hotel EMC2.
RENOVATED TALBOTT HOTEL REOPENS WITH NEW 20 EAST RESTAURANT
After undergoing an extensive $20 million renovation, The Talbott Hotel has reopened with a fresh new look, including updated guest rooms and meeting/event spaces. Part of the revamp includes the introduction of the hotel's new 20 East Restaurant, serving American bistro cuisine.
Read more about The Talbott Hotel's reopening.
HOTEL VERSEY OPENS IN LINCOLN PARK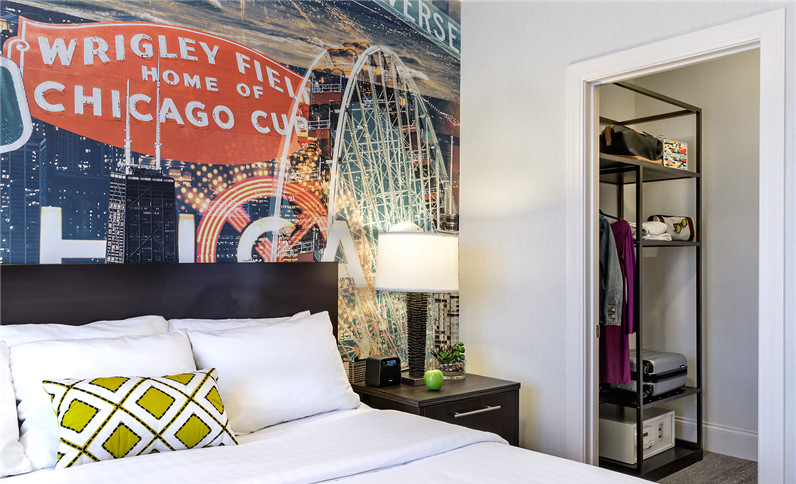 The new 137-room Hotel Versey, billed as a boutique lifestyle hotel, has opened in the former Days Inn Chicago space. The contemporary design includes original works by Chicago-based artists, ranging from sculptures to street art. A restaurant and retail shops are scheduled to open on the first floor in late 2017.
Learn more about the new Hotel Versey.
THE PUBLISHING HOUSE BED & BREAKFAST OPENS IN THE WEST LOOP
The recently opened Publishing House Bed & Breakfast in the West Loop features 11 modern en suite rooms, a chef-prepared breakfast and a beautiful Great Room, which features a double-sided fireplace and baby grand piano.
Read more about The Publishing House Bed & Breakfast.
CHICAGO'S HISTORIC ATLANTIC BANK BUILDING TO REOPEN AS HOTEL JULIAN IN 2018
The former 1916 Atlantic Bank Building on Michigan Avenue is currently under renovation and will reopen as the Hotel Julian in 2018. With its distinctive terra cotta facade restored, the new hotel (just steps from Millennium Park) will include a ground-floor restaurant called About Last Knife, which will feature an outdoor seating area.
Get more details on Chicago's new Hotel Julian.
AMERICAN AIRLINES PLANS MAJOR EXPANSION AT CHICAGO O'HARE AIRPORT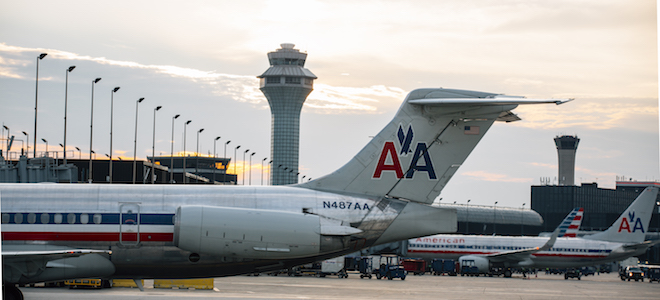 In the coming months, American Airlines will add two new international routes (to Barcelona and Guatemala City) and eight domestic flights from O'Hare International Airport, along with five new gates that are expected to open in 2018. American is also constructing a new 17,000-sq.-ft. Flagship Lounge at O'Hare for premium international passengers.
Get the details on American Airlines' Chicago O'Hare Airport expansion plans.
NEW RESTAURANTS ANNOUNCED FOR THE PARK AT WRIGLEY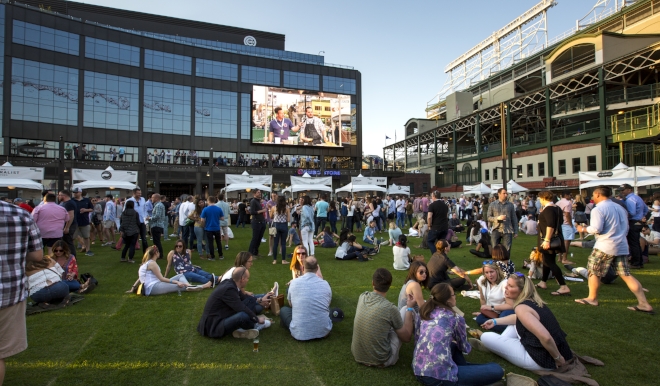 Chicago's new Park at Wrigley complex will include local dining favorites Big Star and Smoke Daddy, which will both be housed in the new Hotel Zachary scheduled to open in 2018 across from Wrigley Field, home of the Chicago Cubs. The Park at Wrigley currently features the recently opened two-story Brickhouse Tavern (named for legendary sportscaster Jack Brickhouse), a Starbucks Reserve, the Cubs Store and Jostens Jewelry Store (both great for Cubs souvenirs), plus there are regular open-air events such as live music performances, farmers' markets and movie nights.
Learn more about The Park at Wrigley.
TRIPADVISOR NAMES THE TOP 25 U.S. DESTINATIONS FOR 2017 (AND CHICAGO IS #7)
Chicago ranked #7 in TripAdvisor's 2017 Travelers' Choice awards, with the Windy City lauded for its "cornucopia of modern art, fine dining, cutting-edge comedy and die-hard sports fans." Noted attractions that visitors shouldn't miss include the Cloud Gate sculpture at Millennium Park, Buckingham Fountain and The Second City.
Discover what makes Chicago one of the top destinations for travelers in the U.S.
NOAH SANDOVAL OF CHICAGO'S ORIOLE NAMED ONE OF FOOD & WINE'S BEST NEW CHEFS 2017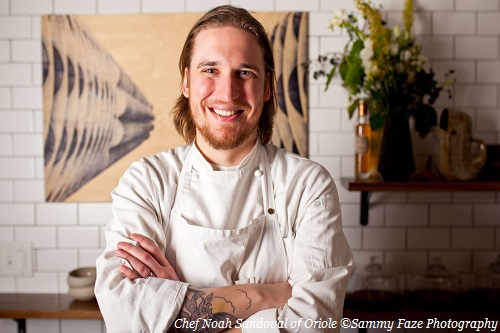 Chef Noah Sandoval of Chicago's Oriole was named to Food & Wine's list of Best New Chefs 2017 for his "gob-smacking" culinary vision, inspiring the magazine's seasoned team of editors to declare that "the country's best new fine dining experience can be found up a freight elevator at the end of a West Loop alleyway."