Chicago, IL (March 3, 2022) – Choose Chicago, in collaboration with tourism marketing agency Miles Partnership, is excited to announce that this year's 2022 Chicago Visitors Guide will have a new look — its cover an original work of art, designed by a local artist of color.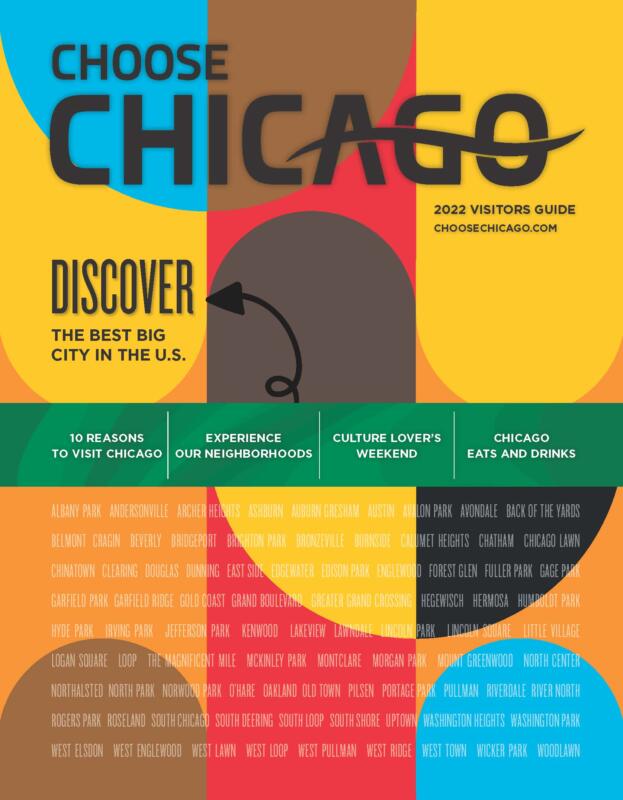 Chicago's own Janell Nelson of JNJ Creative was selected after a search, which began in November 2021. The goal of the search was to spotlight diverse artistic talent that thrives across Chicago's arts and culture community while creating opportunities for cultural connection and inclusion.
"The design intention for this cover was to echo the vibrant energy that's in all of Chicago's multifaceted communities," says Nelson, a leading member of the Englewood Arts Collective (EAC), and a graphic designer who collaborates frequently with local changemakers. A simple but seamless geometric pattern with a literal typographic tapestry of our neighborhoods on top is a nice nod to that. The colors are meant to feel both retro (historic) and resonate
Chicago's "flag-esque" style juxtaposed with 'cousins' of cultural flags — especially the blacks and greens. The warmth of the yellows and richness of the browns work together to feel like an embracement of people," explains Janell.
The aim of the commissioned artwork is to positively influence and visually present the city of Chicago, supporting and promoting visitation of the greater Chicago area, including its diverse neighborhoods.
"Given the dynamic arts and culture scene in Chicago, it was a natural fit to highlight a Chicago artist on the cover," said Glenn Eden, Chair of the Choose Chicago Board of Directors. "We were honored to be able to partner with the Englewood Arts Collective and Miles Partnership to conduct this search, and the ultimate design by Janell Nelson is a beautiful opening to our Visitors Guide."
"Our primary focus was to not only spotlight the diverse artistic talent that thrives in Chicago, but to also commission a work that embodied the true spirit of the city by weaving together a visual narrative that speaks to the city's diverse cross-section of experiences, communities, and beauty," adds Melissa Cherry, Chief Diversity & Inclusion Officer at Miles Partnership.
More information about the cover and the Englewood Arts Collective is featured within the 2022 Visitors Guide.
View online or order a free copy.
About Choose Chicago
Choose Chicago is the official sales and marketing organization responsible for promoting Chicago as a global visitor and meetings destination, leveraging the city's unmatched assets to ensure the economic vitality of the city and its member business community. For more information, visit ChooseChicago.com. Follow @ChooseChicago on Facebook, Instagram, and Twitter.
About Miles Partnership
Miles Partnership is a strategic marketing company focused exclusively on travel and tourism. Miles works with more than 130 destinations and hospitality businesses to create forward-thinking print and digital content marketing solutions.
About Janell Nelson of JNJ Creative
Founding her boutique creative firm JNJ Creative in 2017, Janell has leveraged her 15+ years of collaborating and designing content with top leaders in the educational publishing industry to now serve public and community-focused entities. Visual consultant, creative project manager, and thought-partner, she also provides strategic graphic design solutions for a small number of clients on a rotating basis. With a BFA in graphic design and a minor in fine arts (printmaking, photography), Janell specializes in graphic design and visual project management. With a penchant for whimsy and a passion for positivity, her projects span community events, annual reports, marketing campaigns/adverts, print and digital books, logos, posters, T-shirts, and consultation sessions. Learn more.
About Englewood Arts Collective
Englewood Arts Collective (EAC) is a small group of caring creatives who've been putting in the work of creative expression through the lens of equity, joy, and representation. Their ultimate goal is to reflect the beauty of, and creatively support, interactions in the Englewood neighborhood in positive ways, while strengthening the ecosystem of south side Chicago creatives. EAC recently awarded over $37,000 to the next generation of artists and hopes to continue in the years ahead.