FOR IMMEDIATE RELEASE
Media Contacts:
Michelle Gonzalez, Choose Chicago, mgonzalez@choosechicago.com
Chip Bouchard, Illinois Restaurant Association, chip@kinshipcompany.com
Carleigh Connelly, Here Here Market, carleigh@hereheremarket.com
Choose Chicago and Illinois Restaurant Association Welcome Return of James Beard Awards®
In honor of the occasion, Choose Chicago, Illinois Restaurant Association, and Here Here Market collaborate on curated boxes in honor of Chicago's James Beard Award-nominated chefs
Chicago, IL – May 31, 2022 – Choose Chicago is proud to partner once again with the Illinois Restaurant Association in welcoming the James Beard Awards Presented by Capital One to Chicago Saturday, June 11 through Monday, June 13, 2022. Foodies and fans who are unable to join in the weekend-long celebrations can bring the ultimate taste of Chicago home starting June 1st with special orders of the Celebrate JBF Chicago Alumni Collection boxes, created in exclusive collaboration with Here Here Market, Gordon Food Service, Choose Chicago, and the Illinois Restaurant Association.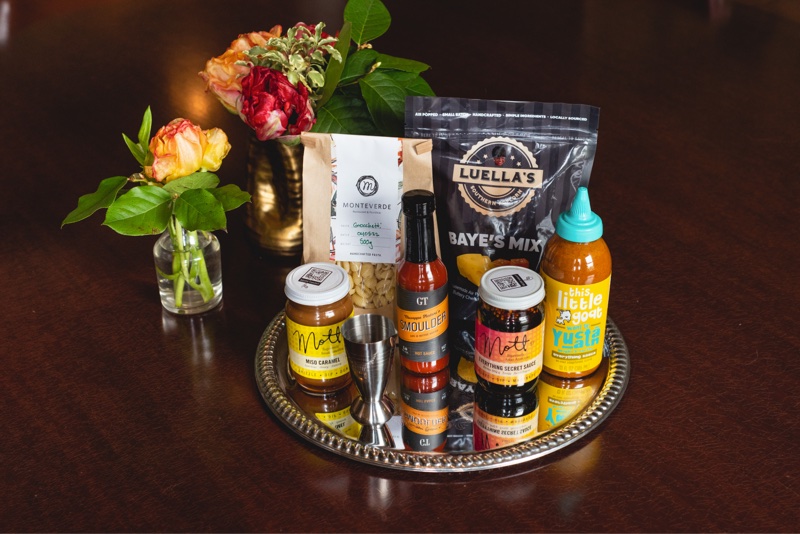 The Celebrate JBF Chicago Alumni Collection boxes bring together a dream team of Chicago chefs in take-away form.  Purchases will directly support both acclaimed local chefs and up-and-coming culinary talent through a dedicated scholarship offered by the James Beard Foundation. Two box options include:
Sauce, Spice, & Everything Nice Box | RETAIL: $37 (shipping throughout most of the U.S.)
Chicago Alumni Deluxe Edition| RETAIL: $73 (free shipping throughout most of the U.S.)
To gain access to this exclusive collaboration visit Here Here Market: JBF Chicago Alumni Collection.  To learn more about the James Beard Awards weekend in Chicago, visit www.choosechicago.com/jbf
The James Beard Awards weekend in Chicago provides a particularly proud opportunity to celebrate the city's vibrant hospitality community through a wide array of public events, including cross-country restaurant collaborations, education sessions, special menus, backyard BBQs, and now Here Here Market's exclusive Celebrate JBF Chicago Alumni Collection boxes.
# # #
About Choose Chicago
Choose Chicago is the official sales and marketing organization responsible for promoting Chicago as a global visitor and meetings destination, leveraging the city's unmatched assets to ensure the economic vitality of the city and its member business community. For more information, visit www.choosechicago.com and follow @choosechicago on Facebook, Instagram and Twitter. #CaptureChicagoExcitement
About Illinois Restaurant Association
Founded in 1914, the Illinois Restaurant Association is a non-profit organization dedicated to promoting, protecting, educating and improving the restaurant industry in Illinois. The IRA owns and produces Chicago Gourmet – the annual food and wine festival uniting hundreds of restaurants, chefs and beverage experts for a weekend filled with food and drink tastings, entertainment and more. For more information, visit www.illinoisrestaurants.org and follow @illinoisrestaurants on Facebook, Twitter and Instagram.
About Here Here Market
Here Here Market is an online marketplace for food and drink enthusiasts to discover and buy specialty products from chef-preneurs, small batch artisans, and local product makers, delivered right to your door nationwide. Launched in 2021, Here Here Market's mission is to support and enable culinary creators at any point in their journey through a platform to share their talent and products with the world. Co-founded by Disha Gulati and Nicholas Florek, Here Here Market is a woman, minority, and LGBTQ+ company based in Chicago with a goal to uplift a diverse community of culinary creators. For more information, visit www.hereheremarket.com and follow @hereheremkt on Facebook and Instagram.
About the James Beard Foundation
The James Beard Foundation (JBF) celebrates and supports the people behind America's food culture, while pushing for new standards in the restaurant industry to create a future where all have the opportunity to thrive. Established over 30 years ago, the Foundation has highlighted the centrality of food culture in our daily lives and is committed to supporting a resilient and flourishing industry that honors its diverse communities. By amplifying new voices, celebrating those leading the way, and supporting those on the path to do so, the Foundation is working to create a more equitable and sustainable future—what we call Good Food for Good™.
As a 501c3 non-profit organization, JBF brings its mission to life through annual Awards, industry and community-focused initiatives and programs, advocacy, and events. Current programs include the Open For Good Campaign, Chef's Bootcamp for Policy and Change, Beard House Fellows, Legacy Network, Scholarship Programs, Smart Catch, and Women's Leadership Programs. In addition, JBF celebrates the chefs and local independent restaurants at the heart of our communities with numerous events and partnerships nationwide throughout the year—including the Taste America culinary tour, JBF Greens events for foodies under 40, the soon-to-open Pier 57 Market Hall, food festivals, and more. For more information, subscribe to the digital newsletter Beard Bites and follow @beardfoundation on Facebook, Twitter, Instagram, TikTok, LinkedIn, and Clubhouse.