Choose Chicago honors the work Michael Airhart of Taste for the Homeless
Media contacts:
Michelle Gonzalez, mgonzalez@choosechicago.com
Janet Isabelli, janet@isabellipartners.com
Photography Linked Here (Credit: Jeff Schear for Choose Chicago)
B-Roll Linked Here (Credit: Choose Chicago)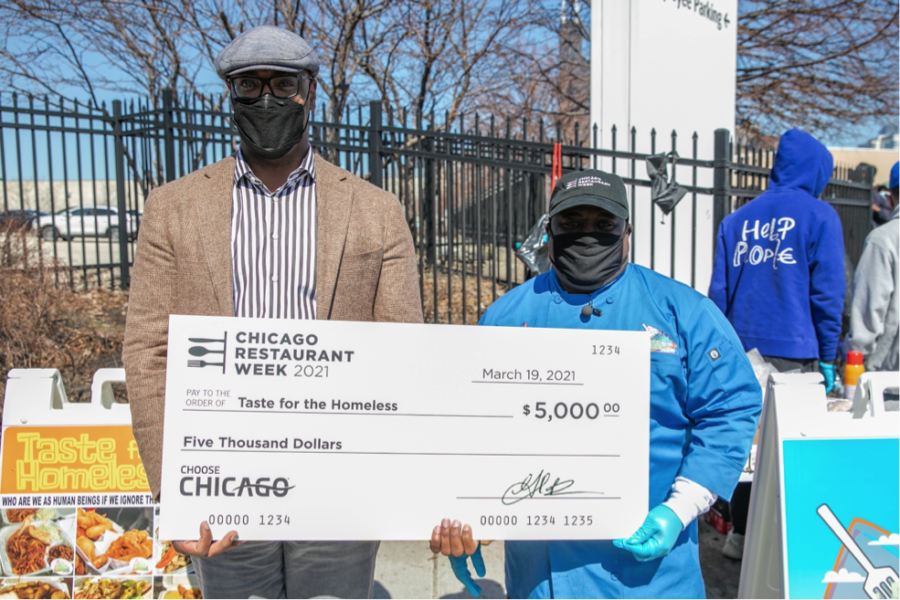 CHICAGO, IL (March 22, 2021) – On the heels of providing a surprise "First Serve" lunch for COVID-19 command center workers on Thursday, March 18, 2021 to kick off Chicago Restaurant Week – a 17-day dining extravaganza featuring nearly 300 participating restaurants throughout Chicagoland offering specially priced prix fixe menus at brunch, lunch, and dinner – organizers at Choose Chicago continued to celebrate the spirit of community on the day of the program's official launch with a "First Give" moment. On Friday, March 19, 2021, Choose Chicago Board Chair Glenn Eden visited Chef Michael Airhart, founder of Taste for the Homeless, where they gifted him with a $5,000 check.
This gesture represented a new take on Chicago Restaurant Week's annual kickoff event – First Bites Bash – which traditionally features tastings from participating restaurants. Due to gathering size restrictions, Choose Chicago did not hold the event in 2021 but, instead elected to "First Give" instead of "First Bites" on launch day. Each year, an honorary chef is featured at First Bites Bash, and in recognition of the challenges so many have had these past twelve months, and the important work being done to help the community, Choose Chicago wanted to recognize the admirable efforts of Chef Michael Airhart, founder of Taste for the Homeless, and support his feeding program.
"While much has changed this year, it was so important to keep our key traditions alive, including our incredibly popular annual Chicago Restaurant Week," said Glenn Eden, Board Chair, Choose Chicago. "Our local restaurant community needs us now more than ever, and it also important to utilize this space to celebrate someone helping those in greatest need."
A success story in his own right, Chef Mike began his life's work as an eight-year-old in a single-parent apartment in the projects on Chicago's South Side. It was there that he learned how to cook, sew, and provide for himself, two brothers, and others in the city's largest public housing development, Altgeld Gardens. Everyone came to know him as someone feeding the other kids – knocking on doors asking for a can of
tomato sauce, spaghetti, sugar. Little did he know that decades later, this innate spirit of hospitality would evolve into Taste for the Homeless. Michael is known on the street as a Chicago hero others can rely on. He started the Taste for the Homeless program eight years ago and now serves more than 1,500 meals daily to men, women, and children in need of a warm meal seven days a week at four locations starting at 5 a.m. He always has extra clothing and toiletries on hand for those in need and has partnered with North Side Housing and Supportive Services for weekly meal-giving and countless fundraising efforts.
"I am honored to feed our fellow sisters and brothers as God guides me and the organization to do. I could not pull this off without God leading me, having my beautiful wife by my side, the volunteers and other organizations who come out to help in any way they can, and all the people that make donations," said Michael Airhart, Chef and Founder of Taste for the Homeless. "It is such an honor that Taste for the Homeless was chosen by Choose Chicago to be part of their annual Chicago Restaurant Week and First Give – for that and more, I thank you."
Chef Mike plans to soon launch a mobile food truck – complete with a shower in the back – for Chicago's homeless community. To learn more about Taste for the Homeless and how to support its critical efforts, visit www.tasteforthehomeless.org. 
ABOUT CHICAGO RESTAURANT WEEK
Held from Friday, March 19 to Sunday, April 4, 2021 Chicago Restaurant Week 2021 will feature nearly 300 participants (91 first-timers and 35 suburban locales) representing 34 distinct Chicago neighborhoods. For 17 consecutive, dining-packed days, participating dining establishments will showcase specially curated prix fixe menus with prices set at $25 for brunch and lunch, and $39 and/or $55 for dinner (excluding beverages, tax, gratuity and delivery). Lending an ideal reason to explore Chicago's nationally lauded culinary scene, diners can experience new, showstopping restaurants and familiar favorites alike throughout the city's vibrant communities.
In an effort to support an industry in need, Southern Glazer's Wine & Spirits (SGWS) is also offering a special campaign in partnership with the Illinois Restaurant Association Educational Foundation (IRAEF) Restaurant Employee Relief Fund. This effort will help provide additional dollars for their one-time, cash grants to hospitality workers facing unforeseen financial strife as a result of the pandemic. The fund has disbursed more than $260,000 to those in need, with continued fundraising efforts in effect.
Choose Chicago has also announced a new ancillary campaign with leading Chicago hotels, "Lunch Is On Us." Throughout Chicago Restaurant Week, participating hotels will offer special overnight packages featuring a $50 value – the equivalent of a Chicago Restaurant Week lunch for two. Encouraging Chicagoans to book a Chicago Restaurant Week-themed getaway, "Lunch Is On Us" provides an ideal opportunity to enjoy a relaxing overnight visit filled with food, fun, and the world-class hospitality for which Chicago is lauded. Participating hotels offer a range of experiences from a variety of properties from value to luxury. $50 value-adds include room rate discounts, food and beverage credits, discounted parking, and more – savings that can go towards a Chicago Restaurant Week lunch for two. A complete list of participating hotels to date is listed here.
Reservations are available now at eatitupchicago.com.
Chicago Restaurant Week 2021 is sponsored by 100.3 FM WSHE, 101.9 FM The MIX, OpenTable, Smithfield Culinary, Southern Glazer's Wine & Spirits and Yelp.
Fans are encouraged to follow @choosechicago on Facebook, Instagram and Twitter and tag #ChicagoRestaurantWeek. 
# # #
About Choose Chicago
Choose Chicago is the official sales and marketing organization responsible for promoting Chicago as a global visitor and meetings destination, leveraging the city's unmatched assets to ensure the economic vitality of the city and its member business community. Follow @ChooseChicago on Twitter and on Instagram @choosechicago. Like us on Facebook. For more, visit www.choosechicago.com. #ChicagoHome | #Only1Chicago