A note from the President and CEO
September 14, 2022
Dear Partners,
Welcome to the relaunched Partner Insights Newsletter! As the new President and CEO of Choose Chicago, I am honored to introduce this refreshed newsletter. I also wanted to take this opportunity to share an update on my activities during my first four months in this role.
To begin, I want to thank everyone that has made me feel so welcome in this new role. I have spent much of these four months establishing essential connections and listening to our many stakeholders. While I have been a long-time Choose Chicago partner and board member, I wanted to make sure to broaden my understanding of all of our partners. I have enjoyed meeting our many partners, including hoteliers, restaurateurs, cultural leaders, sports executives, attractions and more. I look forward to continuing to engage and meet more of you over the coming months! Chicago is blessed to have so many incredible assets – you can understand why we have been named Condé Nast Traveler's Best Big City in the U.S. for five years in a row!
Our neighborhoods have been booming this summer! How can you not love going to any of our amazing festivals like Mole De Mayo in Pilsen or the Randolph Street Market, or dining at one of our many restaurants in the Alfresco program. It has been a pleasure to expand on my work at the Chicago Architecture Center in developing the October festival Open House Chicago and encouraging residents and visitors to enjoy everything our city has to offer.
It has been great to reconnect Chicago to the national and international stage by attending important industry events including IPW (which we will host in 2025), Destinations International, US Travel and client events such as the American Society of Association Executives. I have learned so much by interacting with other Destination Marketing Organizations and Convention & Visitors Bureaus on trends, best practices and the issues of what keeps us up at night from increased crime in our cities to getting workers back to our CBDs. It is a very welcoming industry and everyone is excited to help make Chicago a success!
One of my first tasks has been to work with my colleagues in the public and private sectors to try to attract the Democratic National Committee to Chicago for the 2024 DNC Convention. We could not have asked for more perfect weather for their site visit in July and the city shone. We are one of four finalists with a decision coming by late fourth quarter of this year.
While we are excited about the possibility of hosting the 2024 convention and the economic impact that would come with it, we are also actively preparing for other major events that are confirmed in the coming years. Our sales team has been hard at work attracting major conventions to Chicago, and they've had some significant wins since my arrival, including Ace Hardware's return in 2024 and 2025, Informa Aviation Week in 2028 and the American Association of Cancer Research in 2034. I am thrilled to add these new commitments to our already packed schedule and pleased to say that meetings are back! This week, we are welcoming over 90,000 attendees to McCormick Place for IMTS and we look forward to continuing our strong recovery from the COVID-19 pandemic.
I am excited to plan for future events while also building up Chicago on the world stage to attract more business and leisure travel. In July, I joined Mayor Lightfoot in London as we sold the city as a good place to visit and a good place to do business. I will be accompanying her on similar trips in the future as we explore significant marketing opportunities around the world.
This summer, I also enjoyed the T-Mobile United States Sail Grand Prix Chicago and the AT&T WNBA All Star Game – both firsts for our city! We are also looking forward to Chicago hosting NASCAR's first-ever street race next July. Marquee sporting events such as these are a key part of Chicago's ongoing appeal as a destination, and we look forward to continuing to attract these events and engaging closely with the community to ensure they are conducted safely and successfully.
Before concluding, I want to take time to introduce Dustin Arnheim, our new Senior Vice President of Sales and Services. I am so excited to have Dustin onboard to lead our sales team and attract the major conventions and meetings that are critical to our industry. You can read Dustin's full bio below – we are thrilled to have him leading the team during this important time. Check out our website for the full Choose Chicago team, including contact information.
It is an honor to be the President and CEO of Choose Chicago and sell the city I love. I encourage you all to read this month's newsletter for the latest on our marketing campaign, sales, global development and other important partnership updates. The relaunch of this newsletter is a key part of my goal to increase the frequency and effectiveness of our communication – additional information will be coming soon, including a public safety messaging toolkit and more information about the NASCAR Chicago Street Race.
It is clear that there is so much amazing work being done at Choose Chicago and throughout the hospitality and tourism industries. I am thrilled that we have made so much progress towards recovery and I am proud of the steps we have laid in my first 100+ days. I also know that there is so much more to be done and I look forward to continuing this important work in partnership with all of you as together we drive visitors to our amazing city.
Sincerely,
Lynn Osmond
President and CEO
Choose Chicago
---
Welcome new partners
Please join us in welcoming our new partners
Café Bionda
CSI DMC
Devon Seafood + Steak
Fabio Viviani Hospitality Group
Fierce Staffing Services
Hard Rock Café
Here Here Market
Hubbard Inn
Joy District
Klairmont Kollections
National Hellenic Museum
Nisos Mediterranean
Red Clay Dance Company
Silver Spoon Desserts
Solita Tacos & Margaritas
SR Music
View Outdoor Chicago
---
Don't miss the September networking event
Join us at the Steppenwolf Theatre Company
Join us September 27th for our next Partner Engagement Event! Engage and build relationships with key Choose Chicago department staff while learning about opportunities to work together to maximize your partnership. This informal and energetic networking event is a great opportunity to connect with industry colleagues! Enjoy light bites and beverages at the event which will take place from 4:30 – 6:00 pm on Tuesday, September 27th at Steppenwolf Theatre. Following the event, you will have the opportunity to take advantage of a special $25 ticket offer for the 8:00 pm performance of The Most Spectacularly Lamentable Trial of Miz Martha Washington written by 2022 Pulitzer Prize-winner James Ijames. To access $25 tickets to the show use code CHOOSECHI online at www.steppenwolf.org or call Audience Services at 312-335-1650.
Also, event attendees are eligible for a special $5 parking rate when you mention "Choose Chicago" at the Steppenwolf garage.
Tuesday, September 27
4:30pm – 6:00pm
Steppenwolf Theatre Company
Enter through doors at 1646 N. Halsted, Chicago IL
---
Get ready for Chicago Restaurant Week 2023 (CRW)
Once again Choose Chicago is excited to announce the 16th annual Chicago Restaurant Week promotion taking place Friday, January 20 – Sunday, February 5. All dining partners are eligible to participate in the most anticipated culinary celebration each year. Diners throughout the city and suburbs can take advantage of pre-fixed meals for brunch, lunch, and dinner at discounted prices at some of their favorite restaurants. Or, they might try something new throughout one of Chicago's many diverse neighborhoods.
Back this year to kick off CRW will be the First Bites Bash taking place on Thursday, January 19. This ticketed event is open to the public and will showcase more than 50 Chefs and restaurants sampling sweet and savory food items from their CRW menus.
Don't miss out on the opportunity to participate! The deadline to register for CRW is Friday, October 28.
Questions? Contact us at restaurantweek@choosechicago.com.
---
Meet the new SVP of Sales and Services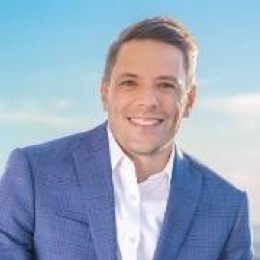 Choose Chicago is thrilled to welcome Dustin Arnheim as the new Senior Vice President of Sales and Services. Dustin began at Choose Chicago in July and he leads the team that is responsible for securing new conventions and meetings at venues throughout the city, most notably McCormick Place Convention Center. Dustin began his career in Chicago and he brings two decades of successful convention experience to Choose Chicago, most recently serving as Visit Baltimore's Senior Vice President of Sales & Customer Experience. To help with the transition into the new role, Dustin has begun an internal and stakeholder listening tour to identify priorities for the sales and services team and ensure that we are as successful as possible in attracting meetings and events to Chicago and generating hotel tax revenue for the city.
Over the summer months, the Sales and Services team has been busy meeting with clients and attending events around the country in order to show the world that Chicago is the premier destination for conventions and meetings. Our team recently returned from Connect Marketplace in Detroit, the SISO Summer Conference in Oklahoma City, the ASAE Annual Meeting in Nashville and Maritz Next& in Tampa Bay. These events are great opportunities to showcase Chicago to professionals around the county while connecting with experts to ensure we are on top of the latest innovations in the travel and trade industry. We are also gearing up for CEIR Predict in the Washington, DC, area and IMEX America in Las Vegas.
---
Latest from the Global Development Team
As we continue recovering from the COVID-19 pandemic, the Choose Chicago Global Development team is hard at work connecting with tour operators, receptive operators, travel agents, group leaders and bank travel managers all around the world to enhance Chicago's profile as a top leisure destination domestically and internationally.
In August, the team attended the Receptive Tour Operate (RTO) Marketplace trade show in Detroit and conducted a sales mission to the United Kingdom and Ireland, which included hosting Irish travel trade and media at the Northwestern vs. Nebraska football game in Dublin in partnership with the North Shore CVB, Aer Lingus, and Visit USA Ireland. We also recently completed a Brand USA Gateway Chicago Destination Webinar for the Japanese market.
In the coming months, the Global Development team will be heading to Brazil and Italy for trade shows to promote travel to Chicago. We are also hosting contingents of tour operators from Italy and France – the first from each of those countries since the pandemic!
---
Instagram giveaway series extended through December
Submit your content for a chance to be featured
The When You Go You Know campaign was launched in June to promote Chicago as a world-class, immersive, and inclusive travel destination and drive overnight hotel stays. To provide momentum for the campaign, Choose Chicago has been running a weekly Instagram giveaway series featuring our partners; this trivia and giveaway is a fun way to engage the public and provide exposure for our partners. We are now accepting new partner submissions for the giveaway series through Friday, October 7. To be considered for the series, you'll need to share a unique fact or something special about your business or attraction that people will only discover if they go there.
---